Paris Left Bank Literary Promenade – Tracking The Lost Generation
They changed modern literature. Lost Generation writers like Ernest Hemingway, F Scott Fitzgerald, Ezra Pound, James Joyce, George Orwell, and even William Faulkner flocked to Paris after World War I, lured by cheap accommodation, free-flowing alcohol, and a booming artistic scene. Let's follow in their footsteps on a Paris promenade to visit the apartments, hotels, restaurants, and bars they frequented and where they helped to create the Left Bank literary scene.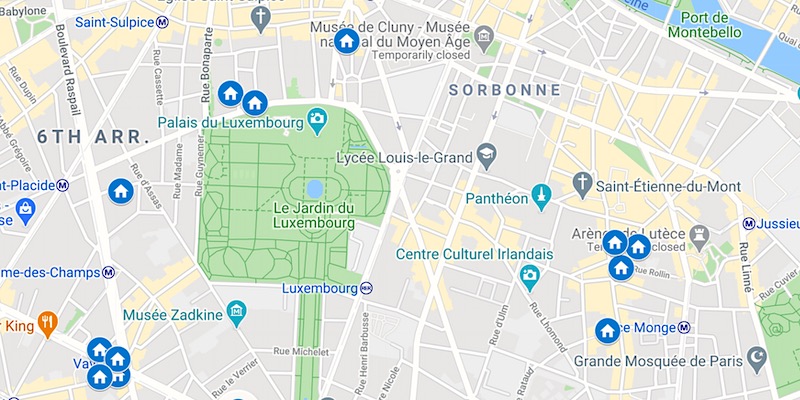 Our tour begins in the 5th Arrondissement at the Cardinal Lemoine Metro station, where Rue du Cardinal Lemoine meets Rue Monge. The literary route covers just over six kilometres — four miles — and takes about three hours to complete. Need to refuel along the way? Stop at Les Deux Magots or Café de Flore and think back to the time when Jean-Paul Sartre and Simone de Beauvoir spent days here in deep intellectual thought. Are you ready, boots?

Discover What's On When You're Here...
Discover What's On When You're Here
1. James Joyce's Apartment – 73 Rue du Cardinal Lemoine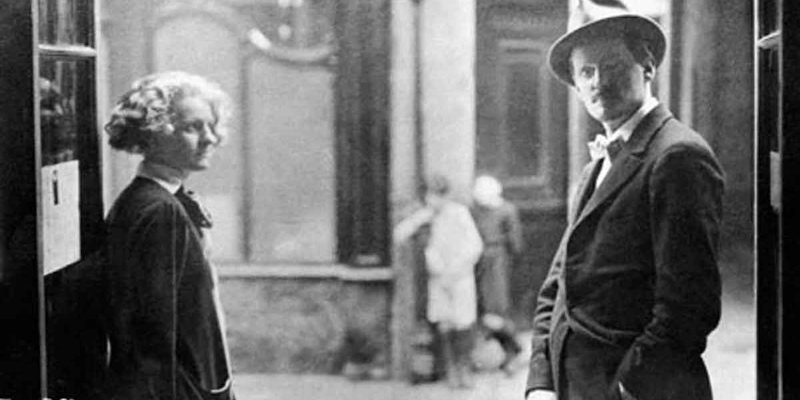 Take Rue du Cardinal Lemoine up the hill, past the red doors of the fire station, past Rue Clovis to 73 Rue du Cardinal Lemoine. Irish writer James Joyce (1882-1941) landed in Paris in 1921 and ended up spending twenty years here, almost as long as he spent in Dublin. By the time he arrived at Gare de Lyon he was middle-aged and nearly blind. (During his life he would undergo ten eye operations). Joyce admired Paris for its quiet elegance, perfect for the life of a writer.
It was Ezra Pound who brought Joyce to Paris and introduced him to, among others, Sylvia Beach, who ran the bookstore Shakespeare and Company. Beach would be instrumental in ushering Joyce's then-controversial book, Ulysses, into publication. (That's Joyce and Beach in the photo, in 1925.)
Joyce moved house a lot in Paris — in fact, thirteen times. The prettiest place was a kind of mews at 73 Rue du Cardinal Lemoine, among the jumble of streets behind the Pantheon, just down the hill from pleasant Place de la Contrescarpe. It's said that Joyce finished Ulysses at this address. An historic plaque (up on the second floor) today marks the building.
2. Ernest Hemingway's Apartment – 74 Rue du Cardinal Lemoine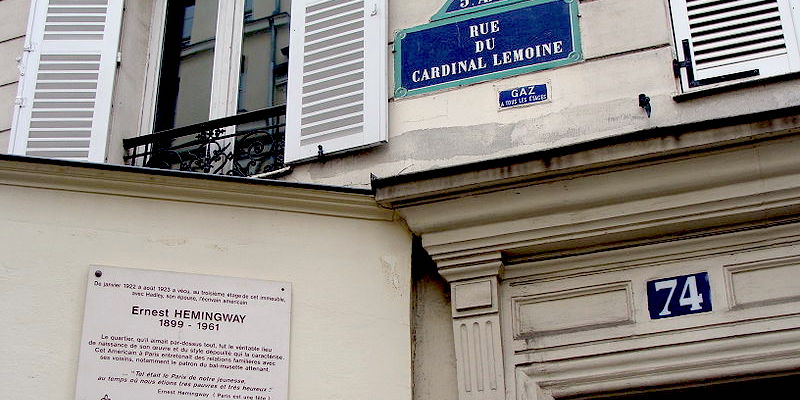 Hemingway and his wife, Hadley, also arrived in Paris in 1921 and first stayed in room 14 at Hotel Jacob et d'Angleterre, still in operation, at 44 Rue Jacob as Hotel d'Angleterre. (We've pegged the modern hotel at Highly-Rated Plus.) To celebrate their arrival, Ernest and Hadley splurged on an expensive dinner at Café de la Paix, also still in operation in Place de la Opéra.
The couple's first Paris apartment was at 74 Rue du Cardinal Lemoine, a bare-bones set of rooms with no running water, just up the street from Joyce. It features prominently in what is probably Hemingway's most-read book, A Moveable Feast, about his time in Paris. Glance up to the third floor, where the young couple lived. Also look for the exterior wall plaque with a quote from the book (in French), "This is how Paris was in our youth when we were very poor and very happy." Read more about his time in Paris in our complete article.

3. Paul Verlaine's Garret – 39 Rue Descartes
Although the Hemingways lived on Rue du Cardinal Lemoine, Ernest wrote in a top-floor garret around the corner at 39 rue Descartes. You can ignore the plaque outside that incorrectly states Hemingway lived here from 1921 to 1925. He wrote here.
It's the same hotel where French poet, Paul Verlaine (1844-1896) had died fifteen years earlier. (There's another plaque for that.) Verlaine's last years were filled with drinking absinthe in nearby cafes, drug addiction, and poverty. (That's him in the photo, looking worse for wear and drinking absinthe in 1892.) The good news is that Verlaine's early poetry was rediscovered late in his life and in 1894 he was voted the Prince des Poètes by his fellow writers.
4. George Orwell's Boarding House – 6 Rue du Pot de Fer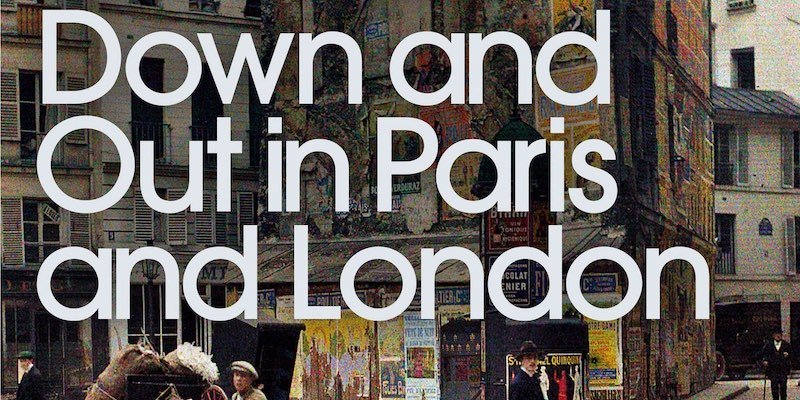 Walking south from Verlaine's garret, Rue Descartes becomes Rue Mouffetard. Head down this historic market street for about four minutes to turn right on Rue du Pot de Fer for our next literary location. In 1928 Eric Blair, better known by the nom de plume of George Orwell (1903-1950), stayed in a cheap boarding house called the Hotel des Trois Moineaux at 6 Rue du Pot de Fer while working as a dishwasher.
Orwell had a few advantages over some other English-language writers. He spoke French fluently (his father was French) and he had family connections in Paris. But even with these advantages, his life in Paris was not pleasant. He became ill and spent time in a repulsive hospital; he was robbed and had to pawn his clothes; and he ate nothing but dry bread for days on end. He left Paris after eighteen months. Even so, his experience here was the basis for his first published work, Down and Out in Paris and London (1933).

5. Allen Ginsberg's Hotel – 9 Rue Git le Coeur
From Rue du Pot de Fer head down to the Seine, across from Notre Dame, and turn left to follow the river along Quai des Grands Augustins, where Hemingway once bought books from the stalls of the bouquinistes that line the river. A block past Pont Saint-Michael turn left to reach 9 Rue Git le Coeur, the location of Relais Hotel du Vieux Paris, a favorite of Beat writer Allen Ginsberg (1926-1997).
Jack Kerouac (1922-1969) also stayed at this "Beat Hotel" when he was in France researching his French roots. He and Ginsberg, so the story is told, would kick back a few drinks at a bar down the road called Gentilhomme at 28 rue St-Andre des Arts and at the Irish pub, Corcorans. Both are still in existence — the bars, not the men — and you can still book a room at the hotel, which has a surprisingly high traveler-rating.
6. Picasso's Studio – 7 Rue des Grands Augustins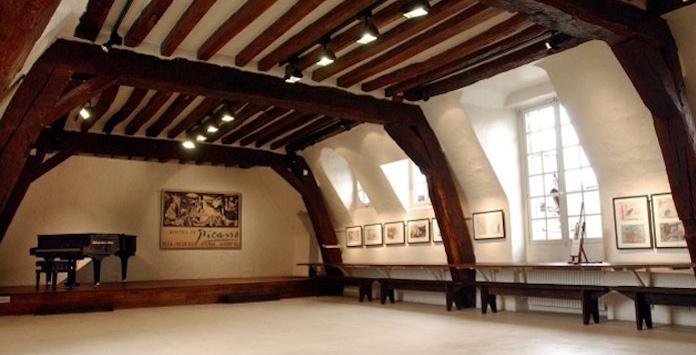 Go back to Quai des Grands Augustins, turn left, and walk a couple of streets to Rue des Grands Augustins. Turn left to find the studio where Pablo Picasso (1881-1973) lived for almost twenty years. It's where he completed his masterpiece Guernica in 1937 and where he weathered the Nazi occupation of Paris from 1940 to 1944.
Even though it is an important site in the modern master's life, the studio on Rue des Grands Augustins, a block from the Seine in the 6th Arrondissement, was abandoned for many years. Picasso's daughter, Maya Widmaier-Picasso, finally convinced French authorities to declare the building an historic site and announced that the studio would be rehabilitated and open to the public. That was in 2014 and we haven't heard anything since. If you're reading this, Maya, give us a call.

7. Shakespeare & Company – The Original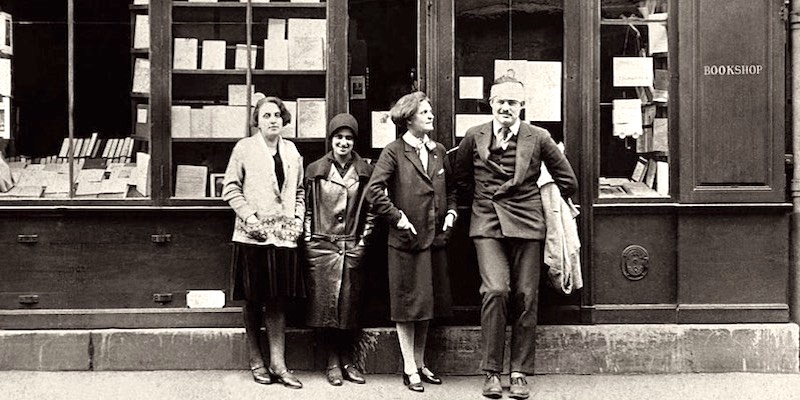 Keep walking up Rue des Grands Augustins and wind your way across Boulevard St-Germain to find Rue de l'Odeon. It ends at Place de l'Odeon where you'll find the lovely Odéon Theatre. Before you reach the theatre, though, stop at 12 Rue de l'Odeon. It was here that bookstore owner Sylvia Beach (1887-1962) lent books to Hemingway and helped to launch Jame Joyce's Ulysses in 1922.
The bookshop opened in 1919 and closed during the Nazi occupation when, the legend goes, Beach refused to sell her last copy of Joyce's Finnegan's Wake to a Nazi officer. Today the only trace of the store is a small plaque up on the second level. (In the photo find Beach & Hemingway on the right.)
The current bookstore of the same name was opened by American George Whitman in a different location in 1951, with Sylvia Beach's blessing.
8. Henry Miller's Room – Hotel St-Germain des Prés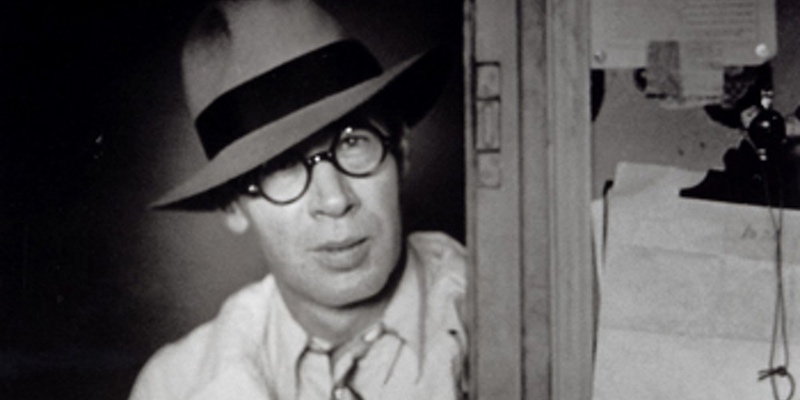 Now, backtrack to Boulevard St-Germain and turn left for about 5 minutes until you come to Rue Bonaparte in the 6th Arrondissement. Down this street, to the right, at number 36, is where Henry Miller called home in the 1930s.
"I have no money, no resources, no hopes. I am the happiest man alive," Henry Miller wrote. In the spring of 1930, Miller (1891-1980) stayed at Hotel St-Germain des Prés and later wrote about the experience in Letters to Emil. (The hotel, still located at 36 Rue Bonaparte, is now called Hôtel Fougère.) Miller came to Paris because he thought he could live a more dignified life in poverty here than in the USA, where poverty was viewed as a moral failure. He spent almost a decade in Paris, where he wrote and published Tropic of Cancer. He eventually met Anaïs Nin and they moved to an apartment at 18 Villa Seurat in the 14th Arrondissement. But that is another story!

9. Oscar Wilde's Last Hotel – 13 Rue des Beaux-Arts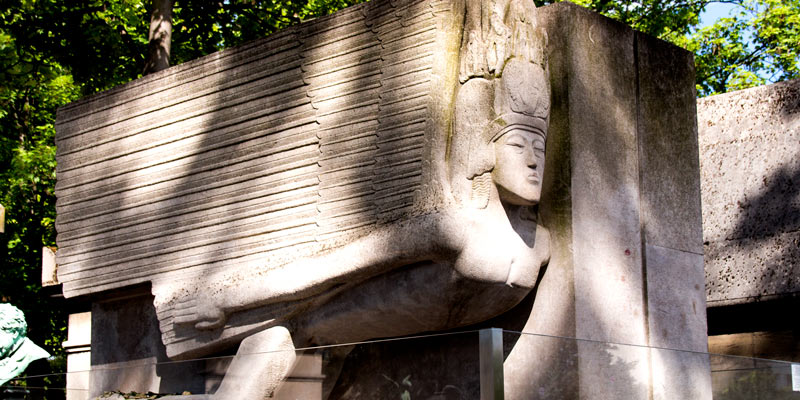 Just a few minutes walk away, around them corner on 13 Rue des Beaux-Arts is another literary landmark. Irish writer and wit Oscar Wilde (1854-1900) spent his dying days at the Hotel d'Alsace. He was only 46 when he died of meningitis on November 30, 1900, impoverished and outcast. In his golden era of the early 1890s, when he was enjoying an enormous London literary success, Wilde often traveled to Paris for extended stays where he was a regular at Café de Flore on the Boulevard St Germain. He also went to the Moulin Rouge, only two years after it had opened.
Hotel d'Alsace has today been transformed into the luxurious accommodation, L'Hotel. You can still book a posh room in Oscar's last residence. On his deathbed in the hotel Oscar quipped, "My wallpaper and I are fighting a duel to the death. One or the other of us has to go." Oscar Wilde is buried in Pere Lachaise Cemetery, his tomb is shown above.
10. Gertrude Stein's Apartment – 27 Rue de Fleurus
To get to our next literary destination, go back to Rue Bonaparte and walk north to all the way to Jardin du Luxembourg. Follow the edge of the park on Rue Guynemer to Rue de Fleurus. Gertrude Stein (1874-1946) lived here, first with her brother Leo and then her life-long companion, Alice B Toklas. In her famous Saturday evening salons Stein entertained Matisse, Picasso (who painted her portrait — you can spot it in the photo above), Georges Braque, Gauguin, Thornton Wilder, Joyce, Ezra Pound, and the young Ernest and Hadley Hemingway.

11. Hemingway's Posh Apartment – 6 Rue Férou
Unfortunately, Hemingway and Hadley weren't happy and poor for long. In 1926, when The Sun Also Rises made him rich and famous, Ernest left Hadley and quickly married his mistress, Pauline Pfeiffer. They moved to a luxury apartment at 6 Rue Férou, near the Musée du Luxembourg.
Rue Férou is only a short walk from Gertrude Stein's apartment — it runs north from the front of Musée du Luxembourg. Our next stop is a minute or two away, around the corner at 42 Rue de Vaugirard.
12. William Faulkner – Hotel Luxembourg Parc
In 1925 Mississippi writer William Faulkner (1897-1962) lived at 42 rue de Vaugirard in what is now the fabulous Hotel Luxembourg Parc. He stayed here because it was so close to one of his favorite places in Paris — Jardin du Luxembourg. Faulkner is one of the most celebrated writers in American literature and won the 1949 Nobel Prize in Literature. His books A Fable and The Reivers both won the Pulitzer Prize for Fiction. Hotel Luxembourg Parc is one of our recommended Paris hotels and we rate it "Superb".
13. Yet Another Hemingway Apartment – Montparnasse
On the other side of Jardin du Luxembourg, south of the park behind Boulevard du Montparnasse, was another Hemingway & Hadley apartment at 113 Rue Notre-Dame des Champs. In 1924, after a stint in Toronto, the couple and their baby son Jack returned to Paris and moved to Notre-Dame des Champs. There's nothing left of the building they lived in, but walk two minutes further east to the intersection with Montparnasse to find restaurant La Closerie des Lilas, where Hemingway wrote most of The Sun Also Rises.
14. Literary Cafes of Montparnasse
End your literary tour at the Port Royal Metro station, next to La Closerie des Lilas. But take another stroll, west along the boulevard to Vavin Metro station to pass by the famous literary cafes and restaurants like Le Dome and Le Select and La Coupole and La Rotonde. Dingo Bar was at 10 Rue Delambre (it's now a restaurant), where Hemingway and F. Scott Fitzgerald met for the first time, became friends, and went onto change the face of modern literature.

15. Rue Ernest-Hemingway – 15th Arrondissement
Next time your find yourself at the southern edge of Paris in the 15th Arrondissement, perhaps visiting Parc André-Citroën, pay a call on the short street named for Ernest Hemingway. "There is," Hemingway once wrote, "never any ending to Paris." Metro Balard.