Getting Around in Paris – Metro, Bus, Boat, Bike, Train…
Walk, peddle, ride above ground, ride underground, or go by boat. It's a relatively compact city, so combining your own two feet with low-cost public transportation is the best way of of getting around in Paris. In fact, it's one of the best walking cities in the world, and it also has one of the best public transportation systems. Have a Metro map with you and you'll never be lost.
That's what we do — we walk whenever we can, because there's just so darn much to experience. But, when we need to go farther across the city, or when we're in a hurry, we hop on the Metro or a bus. There a lot to see in Paris, and you can walk between museums, monuments and attractions in a matter of minutes! For example, the footbridge from Musée d'Orsay gets you across the river and into the Tuileries Garden in less than five minutes.

Travel Underground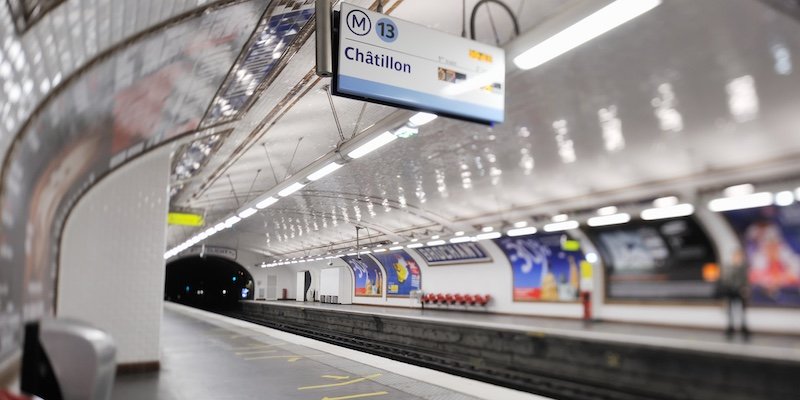 It's one of the oldest and best subways systems in Europe and the top way for getting around in Paris. The Paris Metro is convenient, extensive, affordable and safe. One ticket gets you anywhere in Paris.
For you history buffs, the first Metro line was designed by engineer Fulgence Bienvenue and opened in July 1900. Now, 200 kilometers of rail connect 300 stations. Today, a Metro station is within a 9-minute walk of virtually anywhere in Paris. Metro tickets/cards can be used on the Metro, on city buses, on the trams that operate on the edges of the city, and on the RER (the deep underground commuter trains) within the central city.

More Metro Information
Getting Around Paris by Public Bus
Riding the Metro is efficient, but don't ignore the city bus system. Buses are a wonderful way to travel around Paris while seeing a lot of the city. There are approximately a gazillion bus stops in the city and there will be one very near to your hotel or apartment or anyplace else you happen to be.
Each bus stop posts the routes of the buses that stop there. Most of the bus stops have displays that show you when the next bus will arrive. The newer bus stops are pretty high-tech, with interactive maps, photo shows and more.
In the daytime, buses usually run from five to seven minutes apart, so even if you miss one, another one will soon arrive. Remember, you can use your Metro ticket or pass on the bus, making it very convenient.

Insiders Metro & Bus Map Secret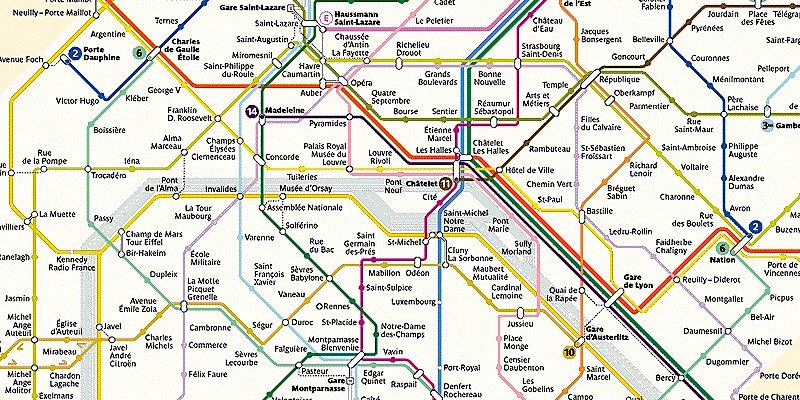 One of the greatest things you find at the RATP website (Régie Autonome des Transports Parisiens, the public transportation authority in Paris) is an interactive route map for the Metro, buses and RER.
You can use this to plot the best route from any one point in Paris to another. Enter either the actual street addresses, or enter Metro stops. You can choose whether to travel by Metro or bus, or let them choose the best route for you. You can enter either departure time (right from your hotel or apartment) or arrival time (at your final destination).
In short, it's a fabulous and extremely useful tool, and here's the link to the English-language route map page —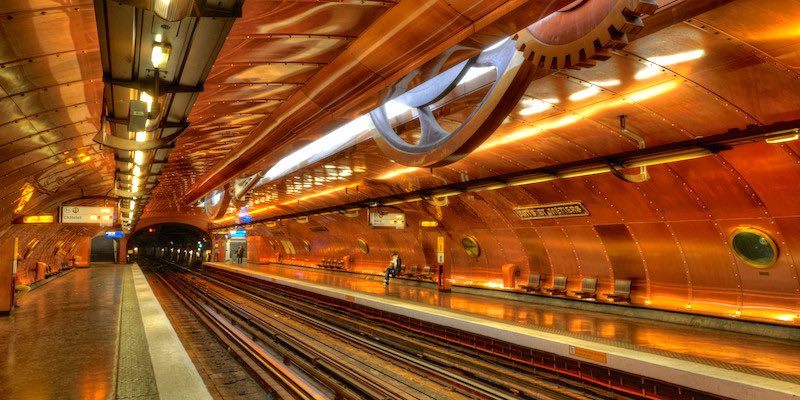 The Paris Metro has been around for 120 years and there are now 14 lines and something like 300 stations in the system, which is one reason the Metro is so convenient. While each of the Metro stations has something to offer, there are a handful that are downright interesting. Let's take a ride to these 10 landmark stations.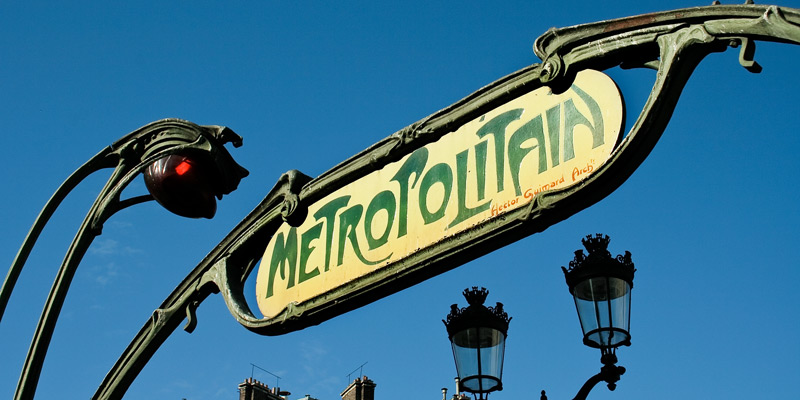 Hector Guimard was an architect and designer whose work spanned the later 19th and early 20th centuries. Although he designed buildings, furniture, and other objets, today he is most well remembered for his entrances on the Paris Metro. He produced a slew of designs for Metro stations right from its inception in 1900. Although many of them were destroyed (sorry, we mean "replaced for progress") in later years; luckily there are dozens extant today. Let's visit them. Do you have your Metro Pass in hand?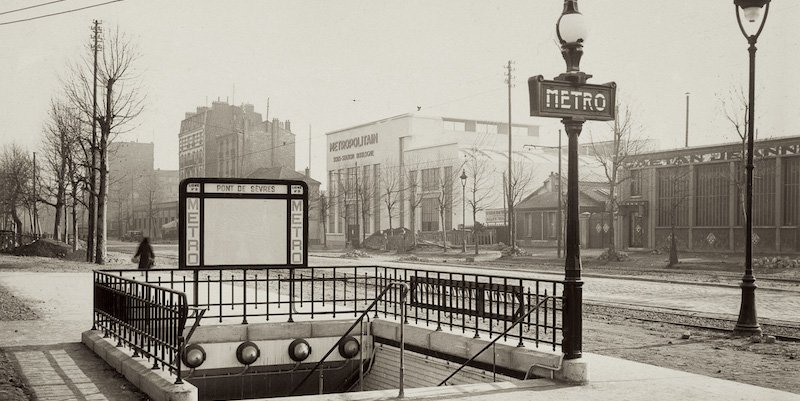 To celebrate the opening of three new stations on ultra-modern Line 14 — on December 14, 2020 — the City of Paris compiled a list of 14 significant dates in the 120-year history of that transportation network. As is our wont, we took that idea and ran with it to create this expanded basket of Metro fun facts…
The Batobus is a boat service that runs up and down the Seine from May to the end of September, and it's a fun way to get around in Paris. You have the option to buy a 1-day pass or a 2-day pass, although the best deal is an annual pass, if you like Paris so much that you just can't leave!
The circuit includes eight stops —
Eiffel Tower – Port de la Bourdonnais
St. Germain-des-Prés – Quai Malaquais
Musée D'Orsay – Port de Solferino
Notre Dame – Quai de Montebello
Hotel de Ville – Quai de l'Hotel-de-Ville
Jardin des Plantes – Pont d'Austerlitz
Champs Elysées – Pont Alexandre III
Louvre – between Pont Royal and Pont du Carrousel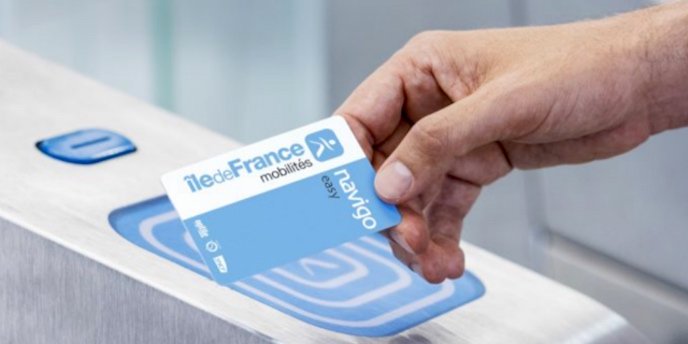 Paris just keep getting better, and recent changes to the city's transportation system are examples of that. Let's take a look at the new, better buses from the airports, flat-rate taxis, a new name for the old RER, and improvements to the Navigo Metro card.
Les Velibs: The Paris Public Bicycle System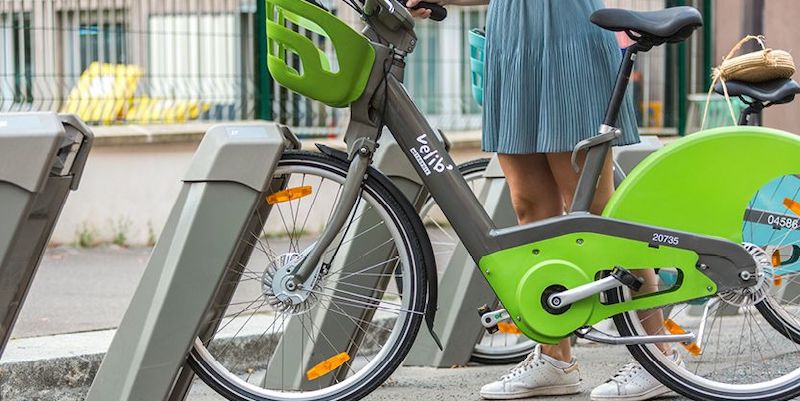 Paris Velib, a contraction of the French for "free bicycles" (or maybe it's "bicycle freedom"), is the public bike sharing system. In just a relatively few years it has become an important part of city life.
There are Velib bike racks all over the city, where you can rent bicycles from the automated terminals, using a credit card. Online, you can buy a one to three day pass for regular or even an electric bike. Once you have a pass, bicycles are free for the first half-hour every time you use one (forty-five minutes for electric bikes), and you can make as many free trips as you want.
Velibs are not meant for touring around the city, but they are perfect for getting around from one place to another. Grab a bike from a rack near your hotel, pedal to your favorite museum (in 15 or 20 minutes) and return the bike to a rack there. When you're done at the museum, grab another bike and pedal to the Eiffel Tower, or Arc de Triomphe, or a cute bistro for lunch, and return the bike to a rack at that site. You get the idea.
Taxis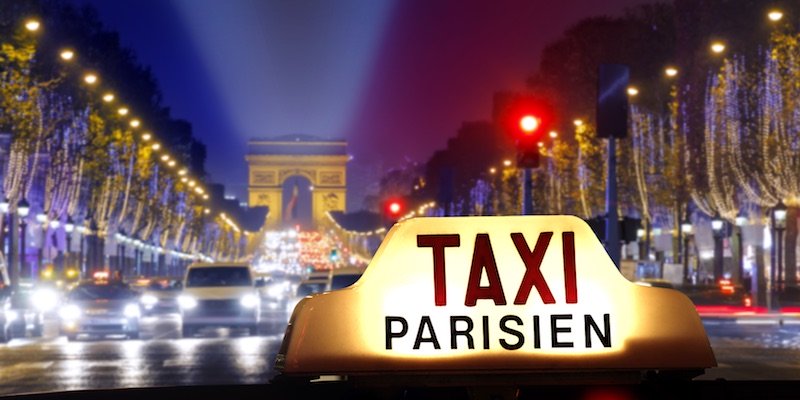 There are almost 16,000 taxis in Paris, and over the past few years it's become easier to find one. You no longer necessarily have to find a designated taxi stand to find a cab. We see people hailing cabs on the street all the time, in fact, we do it ourselves!
In general, we find Paris taxis to be cleaner and the drivers more professional than in many other cities. Taxis are also one of the most convenient ways to get from the airport to central Paris.

Trains To & From Paris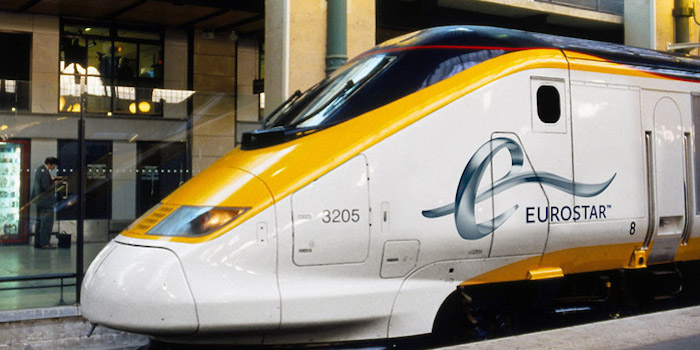 The capital of France is the hub of an extensive rail network. It's very easy to travel from Paris to any of the major cities in Europe, as well as hundred of French cities. And you travel in style, as well, on high-speed trains with frequent departures, in comfortable first and second class cars.
Automobiles…
Or, How NOT to Get Around in Paris
Notice we didn't mention cars as a way to travel around Paris? That's for a very good reason. Driving in Paris can be a nightmare and finding a parking space is even worse. Except in the luxury class, there are not many hotels that offer parking for your car. But, not to worry! With all the options we've given you in this article, you'll never need a car in Paris.
We can't leave the subject without again mentioning walking. Paris is a very walkable city. Not only will you work off some of the calories from those meals you've eaten, you'll also see a lot of wonderful things you can't spot from the Metro or a car!