Beyond The Eiffel Tower – The Bustling 15th Arrondissement Of Paris
We love spending time in this southwestern arrondissement. The 15th (sometime broadly called Vaugirard after the long street that runs through it) starts at the Champ de Mars, just south of the Eiffel Tower and is living, breathing proof that there is a lot of Paris beyond the Tower.
There's a real a feeling of neighborhood life here and the streets are lined with shops, restaurants, salons, markets, and boulangeries to serve the 240,000 who live in the 15th. Let's take a short stroll around a quartier that is full of life and home to so many Parisians.

16 Great Things About the 15th Arrondissement of Paris
1. Île aux Cygnes
Joggers on Île aux Cygnes, photo by Mark Craft
The reason this small island is completely straight is that it is man-made, created in the 19th century along with Pont de Grenelle and intended to protect the bridge from the large barges then plying the Seine. This "isle of swans" is best known today for the replica of the Statue of Liberty located at its downriver end and for the (long, straight) running path. Île aux Cygnes is only 11 metres wide but since it's also 850 metres long it clocks in as the third largest island in Paris, behind Île de la Cité and Île Saint-Louis (also a man-made island).
Seine River, on the border of the 15 & 16 Arrondissements
Metro – Passy or Bir-Hakeim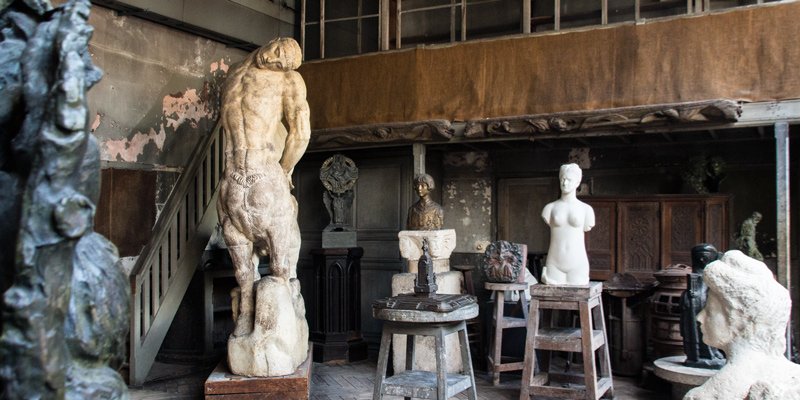 Antoine Bourdelle's workshop, photo by Mark Craft
A student of Rodin, sculptor Antoine Bourdelle (1861-1929) created stunning bronze and marble sculptures. You can now visit the pleasant gardens and studio where he lived and worked. There is a garden full of over-sized statues and some unfinished pieces are still in his workshop. Admission is free and it makes for a fascinating visit.
18 Rue Antoine Bourdelle
15th Arrondissement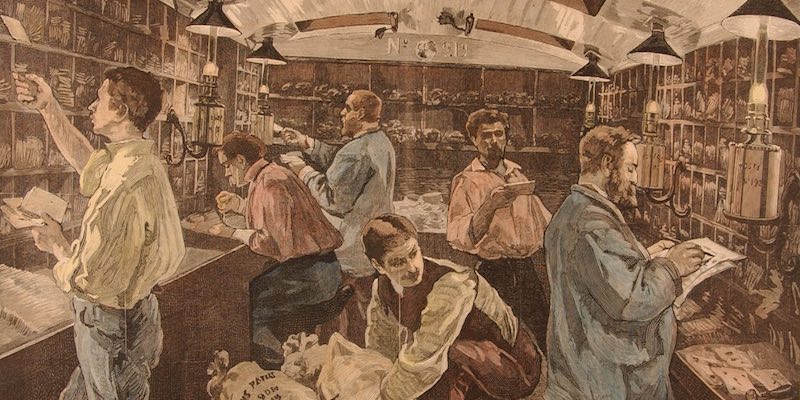 Illustration of postal workers in the early 20th century
Postal Museum boring? NOT! This captivating museum details the history of communication — semaphore, telegraph, and telephones, including work by Alexander Graham Bell.
34 Boulevard de Vaugirard
15th Arrondissement
4. Musée de la Libération de Paris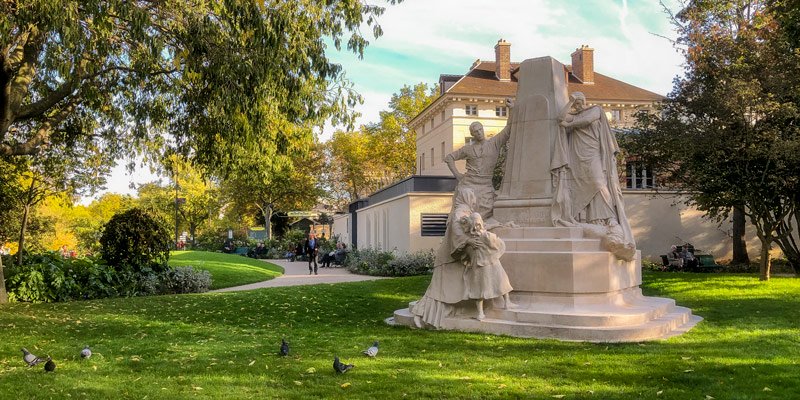 Musée de la Libération de Paris, photo by Mark Craft
First of all, this museum has moved to a much better location in the neighboring 14th Arrondissement, but we still want tell you about it. Secondly, the museum covers not just the August 1944 Liberation of Paris, but also includes the Musée Jean Moulin, covering the French Resistance in World War II.
World War II remains an extremely important memory in France, as does the Resistance that fought against the German invaders. The important dates, the battles, and the heroes are etched into the French psyche. This museum remembers the poignant stories of two iconic French WWII leaders — Marshal Leclerc and Resistance leader Jean Moulin. It's a compelling and moving experience. Admission is free.
4 Avenue du Colonel Henri Rol-Tanguy
14th Arrondissement

5. Jardin Atlantique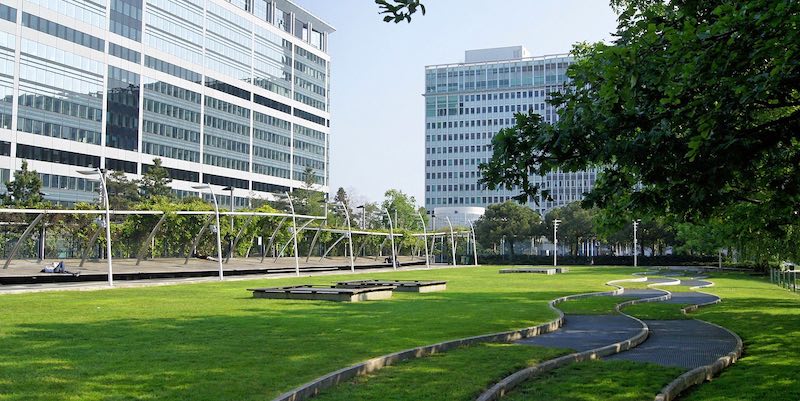 Jardin Atlantique, high above Gare Montparnasse, photo by Besopha
High up on the roof of Gare Montparnasse is a garden built to commemorate the trains that ran (and still run) from the gare out to Brittany and the Atlantic Ocean. Having a garden here is quite an undertaking when you consider that it is built 55 feet above the train tracks and that the giant concrete tubs that hold soil, plants, and hundreds of trees each weigh…well, we don't know what they weigh, but it's a lot!
Typical of Parisian garden design, there are a number of thematic gardens located in the overall plan (like "aquatic plants" and "grasses moving in the wind") as well as pine trees that are meant to remind us of the coast of Brittany. Visit Jardin Atlantique the next time you're at the gare to meet a train.
14th & 15th Arrondissements, the boundary line goes right through the center of the jardin
6. The View of Paris from Tour Montparnasse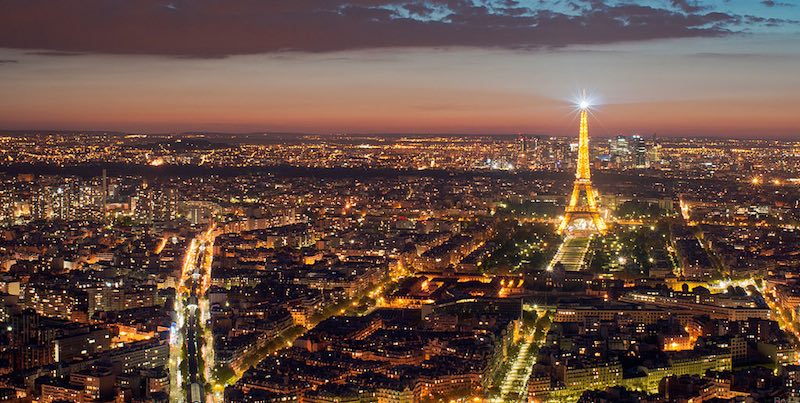 View of Paris from Tour Montparnasse, Wikimedia Commons, by GetFunky
This 56-story skyscraper may be a bit of an eyesore, but the view of Paris from the observation deck is superb. Take Europe's fastest elevator (38 seconds) 640 feet above Paris where, on a clear day, you can see for more than 25 miles and spot all the landmarks of Paris, including the Eiffel Tower.
3 Avenue du Main F
15th Arrondissement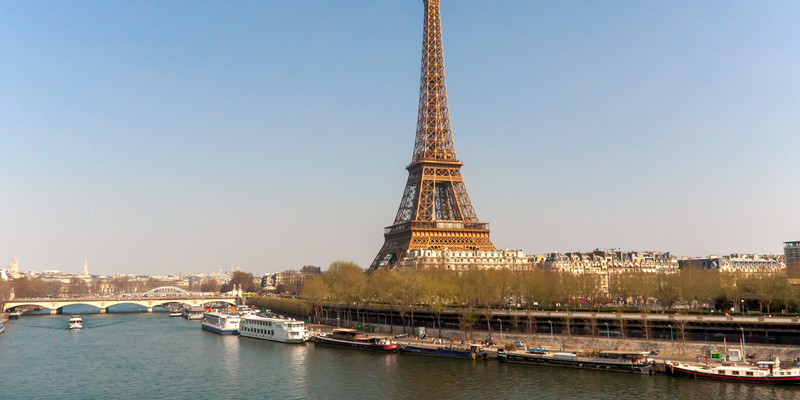 Eiffel Tower from Metro Line 16, photo by Mark Craft
Line 6 of the Paris Metro starts in the east at Place de la Nation in the 12th Arrondissement, crosses the river, and then in the shape of an arc passes through the southern Left Bank arrondissements — the 13th 14th, and 15th. (Line 6 is mirrored on the Right Bank by Line 2, which arcs from Place de la Nation to Charles-de-Gaulle-Étoile in the west, where it meets up again with Line 6.)
It's in the 15th Arrondissement that Line 6 gets interesting, for that's where it rises above the ground to run on elevated tracks, giving the rider a good overview of this part of this southern quartier. The train ascends from the depths just past station Pasteur and continues in open air all the way to the river, passing over, among other things, the site of the Grenelle Market.
If you stay on board past station Bir Hakeim you cross the Seine, still above ground on a bridge. If you sit on the north side of your Metro car, you'll be able to catch one of the best views of the Eiffel Tower as you speed over the river. (Photograph above from March 2012.)
8. Rue du Commerce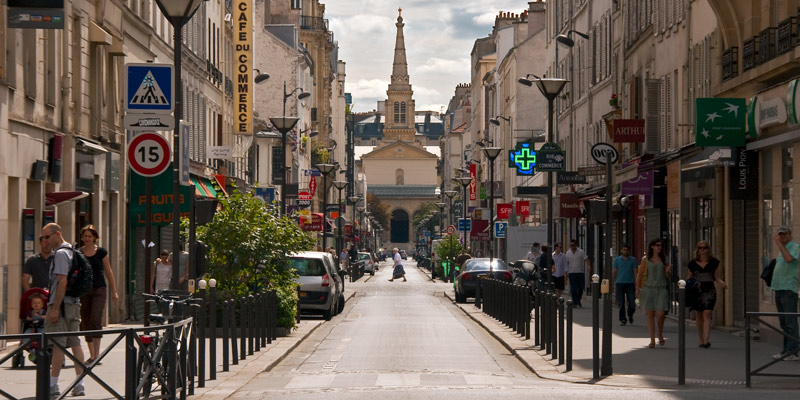 Bustling Rue du Commerce, photo by Mark Craft
This is a lovely, one-way shopping street that runs in the 15th from Boulevard de Grenelle right up to the church of St Jean Baptiste de Grenelle. It's busy all day with local shoppers and there's a lot to do and see. While a number of Parisian chain stores have taken up residence here (like boulangerie Paul), there are still local businesses to be found, as well as good food shopping.
Metro – La Motte Picquet Grenelle, Avenue Emile Zola, or Commerce.
15th Arrondissement

9. Grenelle Market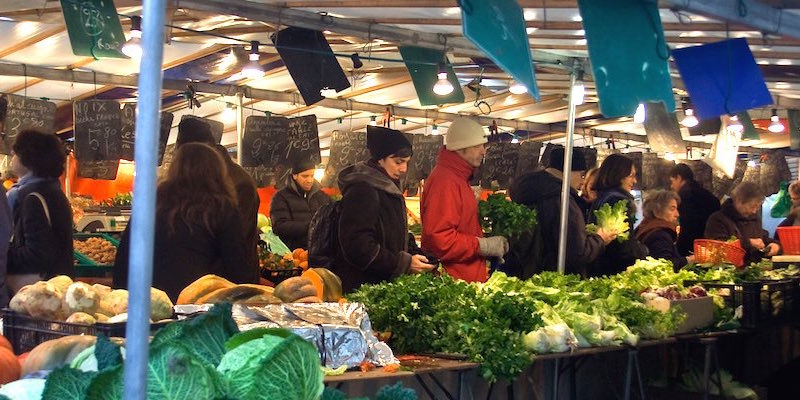 Grenelle Market on a winter's day, photo by Diane Shaskin
Along Boulevard de Grenelle at Rue Commerce is where you'll find this lively and popular food market. It runs every Wednesday and Sunday, rain or shine. Rain doesn't really bother shoppers, since the market is set up under the overhead tracks of Metro Line 6. If it's winter, bundle and join local Parisians for one of the better markets in the city.
Boulevard de Grenelle, between Rue de Lourmel and Rue du Commerce
15th Arrondissement
Wednesday 7:00 AM To 2:30 PM; Sunday 7:00 AM to 3:00 PM
Metro – La Motte-Picque–Grenelle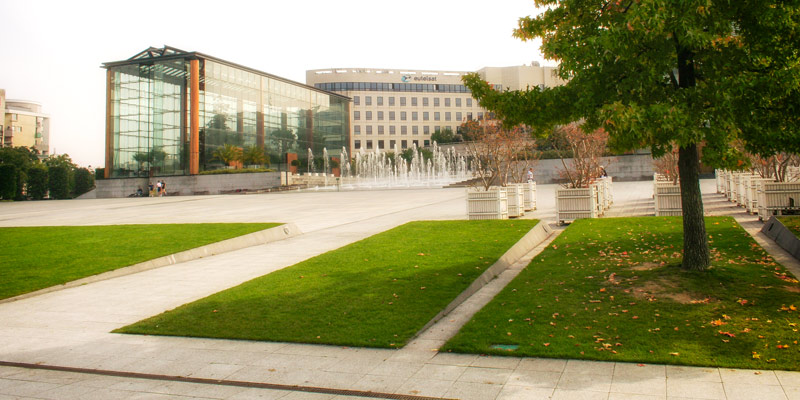 Greenhouse at Parc Andre Citroen, photo by Mark Craft
At the outer extremity of the 15th, running along the Seine, is the modernistic Parc André Citroën. The area is called Javel and it's where bleach used to be made in the 19th century (and the reason "Javel" is a name for bleach). In the 20th century, though (starting in 1915), it was the site of André Citroën's massive automobile manufacturing plant. By 1932 it was the fourth largest car manufacturer in the world.
The plant was closed in the 1970s and the land lay vacant. Then, in the early 1990s, this modernistic park was designed and built on the site. There's tons of open space, modernistic buildings and structures, and a real feeling of a new century. It's unlike any other park in Paris. It's sort of far out (both from central Paris and, you know, "far out"), but a great place for kids to run around.
Metro Place Balard, at the end of Line 8
15th Arrondissement
11. Parc Georges Brassens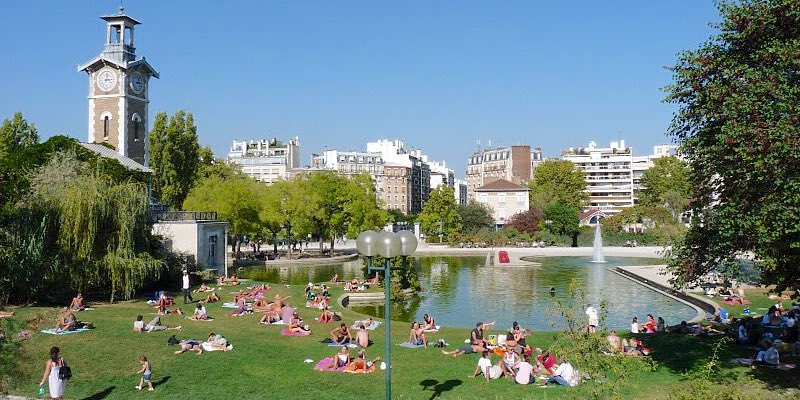 Parc Georges Brassens, Wikimedia Commons, photo by relf.treinen
Georges Brassens was a very popular poet/songwriter/singer who played guitar while singing verses from his poems, as well as other poems by well-known French writers (like Victor Hugo). His dark humor and anarchist tendencies didn't stop the city of Paris from naming a park after him in 1984, just a few years after Brassens died.
The site was formerly home to a slaughterhouse and horse market (think horse meat). Residents of the 15th breathed a sigh of relief when these less-than-salubrious neighbors were closed for good in 1979. It wasn't out of civic pride that the land was turned into a park. It turned out that the presence of abandoned limestone quarries made the site unsuitable for the sports complex city planners favored, so a park was built instead.
It ended up being a serendipitously wonderful decision that created a great space for residents of this part of the city. There's a large central pond, lots of trees, a rose garden, and even a medicinal plants garden. Two sculpture bulls flank the main entrance gate as a nod to the site's previous use.
2 Place Jacques Marette
15th Arrondissement
Metro – Convention (a 10-minute walk)
12. Promenade de la Petite Ceinture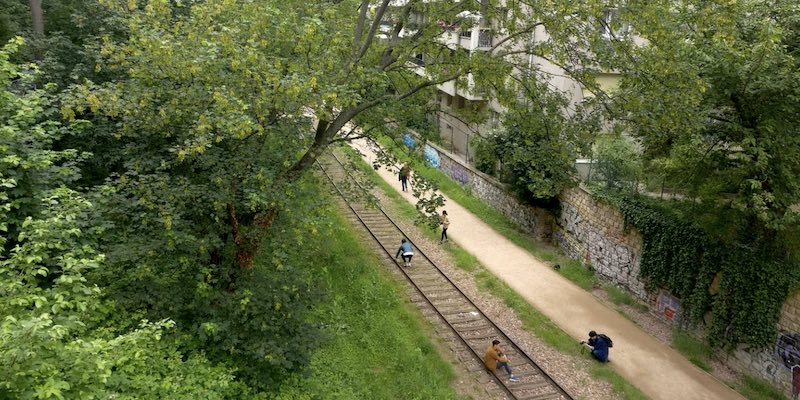 Along the Promenade de la Petite Ceinture, photo by Simon Gale
La Petite Ceinture ("little belt") is a railway line built between 1852 and 1869 that circled around Paris in the outer arrondissements. The last passengers rode the train in 1934, although parts of the system were in use for freight transportation up to the 1970s. In the 15th La Petite Ceinture served the Citroën factory (now the location of Parc André Citroën and the slaughterhouses of Vaugirard (now Parc Georges-Brassens).
After being abandoned for decades, parts of La Petite Ceinture railway line are slowly being turned to other uses. In the 15th Arrondissement the line of the tracks has been turned into a green pedestrian-only walking path running from Rue Balard to Rue Olivier de Serres. The tracks have largely been left in place, but now there are walkways running alongside the tracks or, in a few places, on top of the tracks.
The pathway is less than two kilometres long and there are only a few access points. Perhaps that's why the path is rarely busy – that and the fact that it doesn't really go anywhere yet. There is talk, though, of opening up the tunnel at one end or the other and of directly connecting to the two parks mentioned above.
Perhaps the best walk is to start by spending time at Parc Georges-Brassens then cross Boulevard des Maréchaux to find the promenade access point next to 108 Rue Olivier de Serres. (There are both stairs and an elevator to get you down to track level.) After a pleasant perambulation you reach the end of the line (so to speak) and find yourself on Rue Leblanc (stairs and elevator again) where you're only 2 minutes away from the southeast entrance to Parc André Citroën.

13. Le Cordon Bleu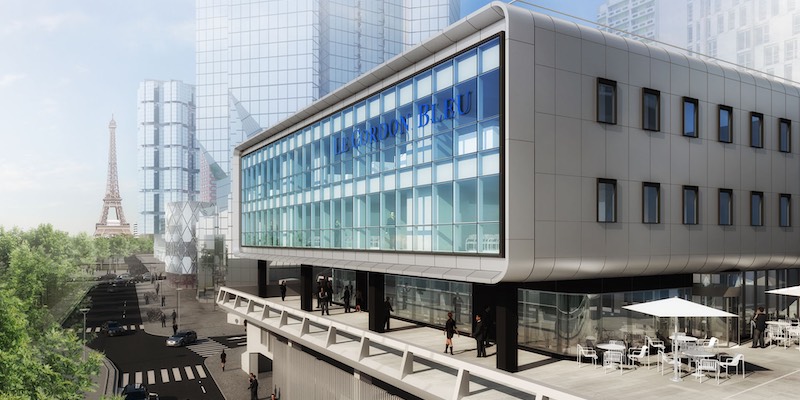 The modernistic new location of Le Cordon Bleu
The most well-known cooking institute in Paris, Le Cordon Bleu, has been around since 1895. It's French Cooking Training Central for both professional chefs and interested amateurs. Even though there are now Cordon Bleu locations around the globe, many foreign students still prefer to attend the Paris campus since the city remains the center of things culinary. (There was an American named Julia who attended Cordon Bleu in the 1940s. We hear that she went on to do a few food related things.)
Over the years, Le Cordon Bleu has moved around in Paris. It once was located on Rue du Champ de Mars, near the Eiffel Tower (where Julia Child attended classes), then in 1988 moved to Rue Léon Delhomme, in the 15th (where we once attended classes). In 2016 the cooking school moved again to a sparkling modern building on the banks of the Seine, also in the 15th. There are over 40,000 square feet of classrooms, training kitchens, wine cellars, and display areas. We think Julia would be pleasantly surprised.
Next time you're here why not book a free school tour?
13–15 Quai André Citroën
15th Arrondissement
Metro – Javel-André Citroën or Charles Michels
14. The Market on Rue Saint-Charles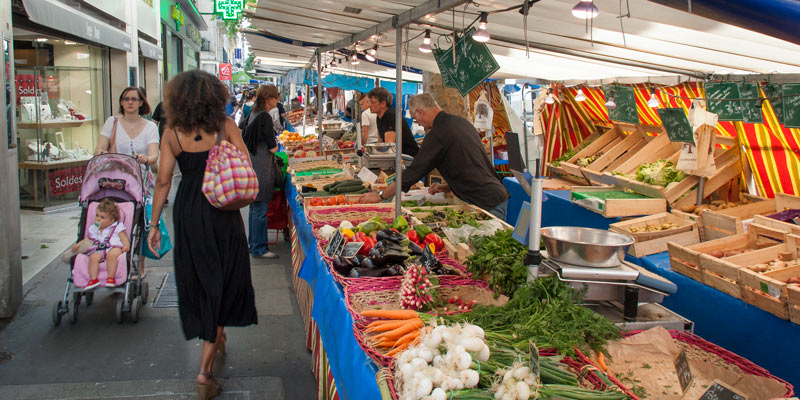 Market on Rue Saint-Charles, photo by Mark Craft
Rue Saint-Charles is a lively shopping street on any day. It's lined with shops and boutiques of all kinds — from clothing to pastry, from grocery stores to perfumeries. It's the destination street for local shopping. But, come Tuesdays and Fridays Rue Saint-Charles virtually explodes with vendors — rows of market stalls fill the space between the sidewalk and the curb. It's dynamic, exciting, and crowded, and you're going to find whatever you need.
Rue Saint-Charles, between Rue de Javel and Rue des Cevennes
15th Arrondissement
Tuesday & Friday 7:00 AM to 2:30 PM
Metro – Boucicaut or Javel–André Citroën
15. Beaugrenelle Shopping Complex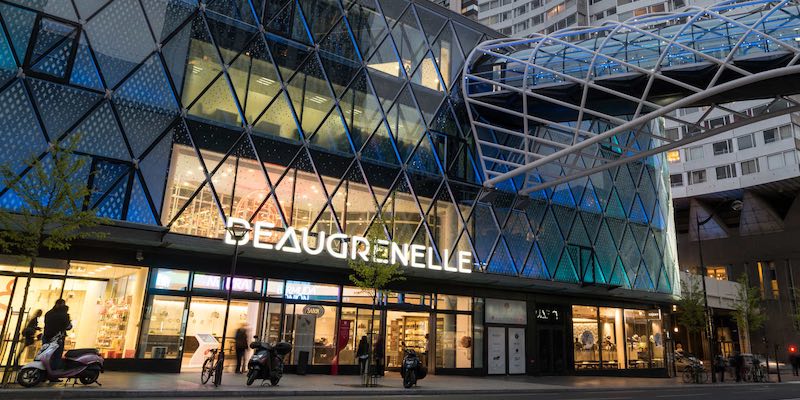 If you find yourself needing a dose of Big Shopping this retail complex along the Seine will supply your fix. All the major brands found in France are here (including UNIGLO) along with hotels, high-rise apartments, and entertainment. This district — Front de Seine — was fairly run down in the mid-2000s when it was slated for redevelopment. There's really not much of Parisian-style interest here, but the shopping is extensive.
12 Rue Linois
15th Arrondissement
Metro – Charles Michels
16. Bowling Front de Seine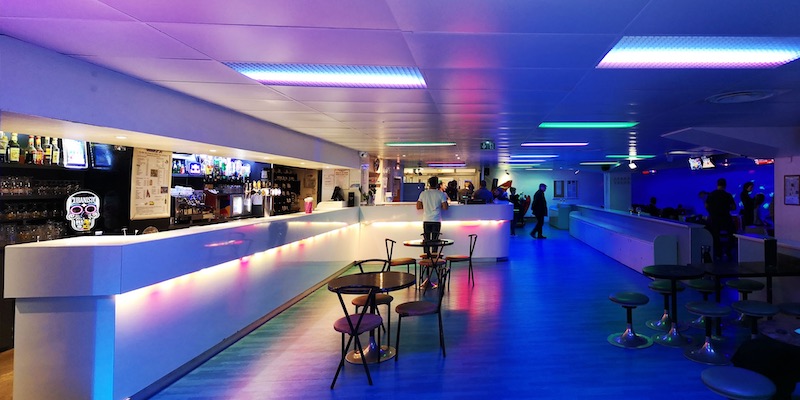 The action at Bowling Front de Seine
The main reason for making us making our way out to Beaugrenelle would be to bowl a few frames at Bowling Front de Seine. We like this new-style round-ball experience where you can get trendy colorful drinks while rolling a line for as little as €2.60 on weekday mornings. You can also sign up for tournaments or league play. Did we mention the colorful drinks?
15 Rue Gaston de Caillavet
Beaugrenelle Shopping Area
15th Arrondissement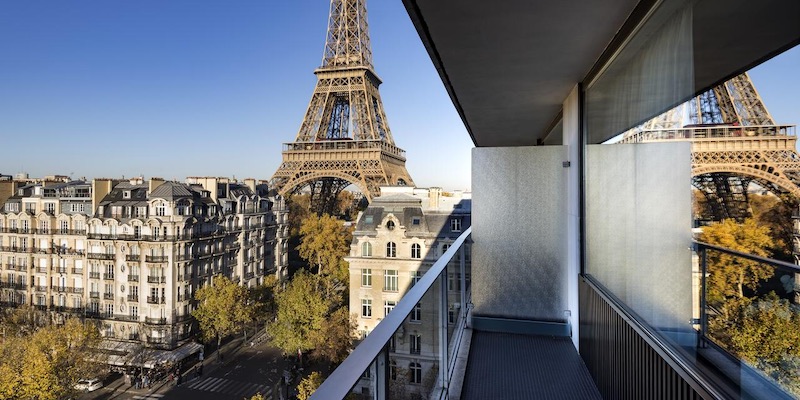 At only 350 metres, and a 4-minute walk, the Pullman Paris is the closest hotel to the Eiffel Tower, but that's not the only reason to consider staying here. In a new building, the Pullman has all of the amenities you expect in a modern hotel. Rooms here are definitely larger than you find at most other Paris hotels. The views on the Eiffel Tower can't be beat.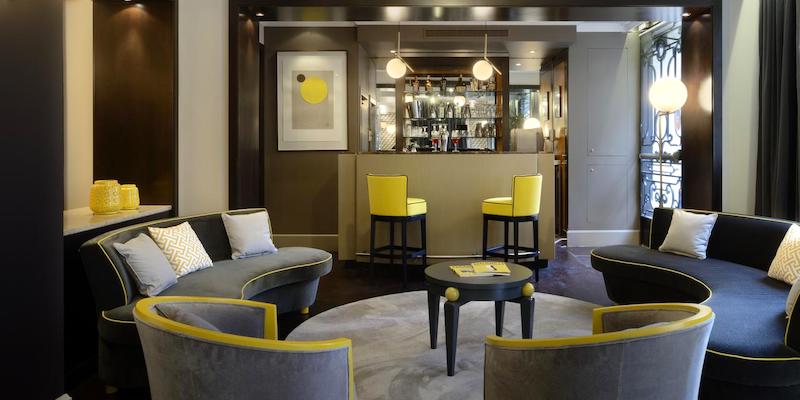 Between the Champ de Mars and the raised tracks of Metro Line 6 is where you'll find hotel Le Marquis Eiffel. Having "Eiffel" in a hotel's name is no guarantee it will be close to the Tower, but this one is — only a twelve-minute walk along the paths of the champ. Le Marquis Eiffel is housed in a classic early 20th-century building with high ceilings, completely fitted with modern hotel conveniences and oozing a boutique hotel feel. We choose the Executive Double rooms — they give you more space plus a little table. You always need a place to set your wine glass.
15th Arrondissements Resources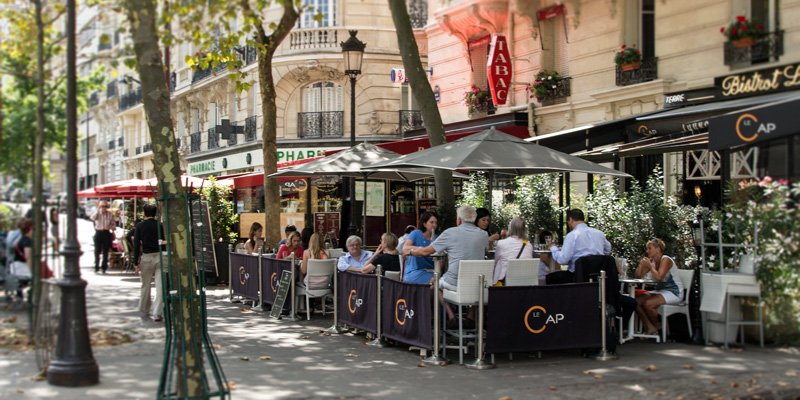 Outdoor dining in the 15th, photo by Mark Craft
There are a three Metro lines that run northeast-southwest to service the 15th. Line 12 runs along Rue de Vaugirard right out to Porte de Versailles. (It connects to the Right Bank at Concorde.) Line 8, which also connects at Concorde, runs under Rue du Commerce and continues to to periphery along Felix Faure. Line 10 cuts across the north corner of the arrondissement all the way out to Parc André Citroën.
The largest Paris train station, Gare Montparnasse, in found in the 15th (barely, it's right on the border with the 14th). From here you'll access the west and southwest cities including Bordeaux, Tours, Nantes and Rennes. Gare Montparnasse is on Metro lines 4, 6, 12 and 13.
A large exhibition and sport complex is located at the south of the 15th. This is where you'll go for special shows, expos, and events, including the annual wine expo and chocolate expo — you're likely to spot us there!