Ernest Hemingway's Paris – In The Footsteps Of History
Ernest Hemingway will always be connected to Paris, despite only having lived here for a relatively few years. No matter that he in lived many other places, fished big fish, hunted big game, and loved Cuba; Paris is the place we most associate with him.
He may have been in Paris for only a short time, but what a time it was. A Lost Generation, trying to shake off the mantel of World War I, were drawn to Paris because, for one thing, it was a cheap place to live and few of them had any money, but also because "it was where all the interesting people were". (It may be Hemingway himself who said that.)

Hemingway in Paris 1921 to 1928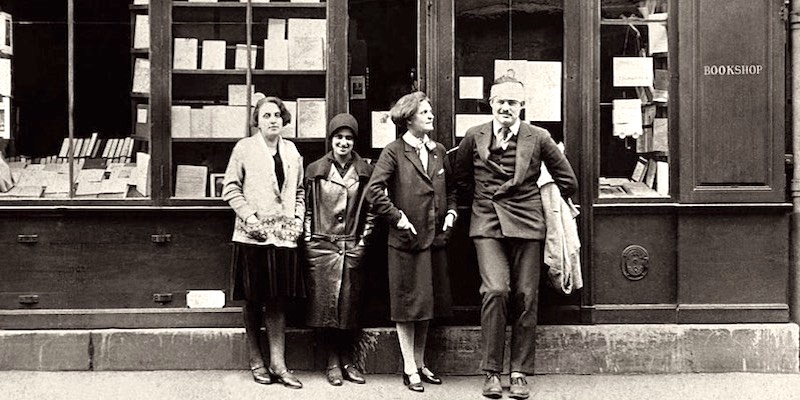 This was a legendary decade in Paris, although the stories later told by the ex-pats who lived here during the period may well be as much imagination as fact. Ernest Hemingway moved to Paris in 1921, with his wife Hadley, to work as a foreign correspondent for the Toronto Daily Star, and to write. He met, drank with, loved, and loathed people like Gertrude Stein, James Joyce, Ezra Pound, F. Scott Fitzgerald, Joan Miró, even Pablo Picasso.
During the decade Hemingway and Hadley left Paris for only a brief spell (in 1923) so their son could be born in North America. It was while he lived in Paris that Hemingway decided to begin writing novels (he had been cranking out short stories) after reading F. Scott Fitzgerald's manuscript of The Great Gatsby. Ernest's first novel, written in Paris in 1926,The Sun Also Rises, was his first big step towards literary fame.
By 1927 the novel was published, the marriage was over, and Hemingway was remarried. A year later he left Paris to move to Key West in Florida.
The Latin Quarter
At the beginning of 1922 the Hemingways settled in a small apartment in the Latin Quarter, at 74 Rue du Cardinal Lemoine, near the Pantheon. (James Joyce lived just down the street.) Today, there's an historical plaque on number 74 that reads —
"From January 1922 to August 1923, on the third story of this building, with his wife Hadley, live the American writer Ernest HEMINGWAY (1899-1961). This quartier was the true birthplace of his work and the uncluttered style that characterizes it. This American in Paris maintained good relations with his neighbors, including with the owner of the bal-musette [a bar with music] next door.
"Such was the Paris of our youth, the days when we were very poor and very happy."
– Ernest Hemingway, A Moveable Feast
At the same time Ernest Hemingway also rented a room at nearby 39 Rue Descartes to have a place he could write in peace.
Gare de Lyon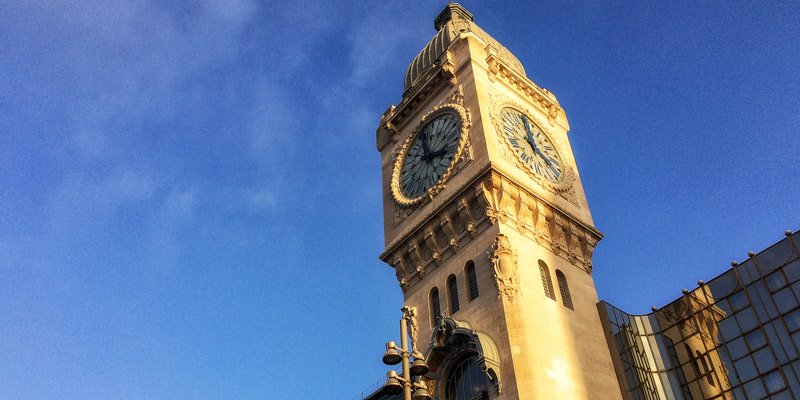 To Hemingway the Gare de Lyon was equated with tragedy. In his early years in Paris, Hemingway was writing like mad, publishing two important collections of short stories, In Our Time (1925) and Men Without Women (1927). But, in December 1922, when she was catching the train to meet Hemingway in Switzerland, Hadley somehow lost a suitcase filled with his manuscripts at this train station.

The Markets of Rue Mouffetard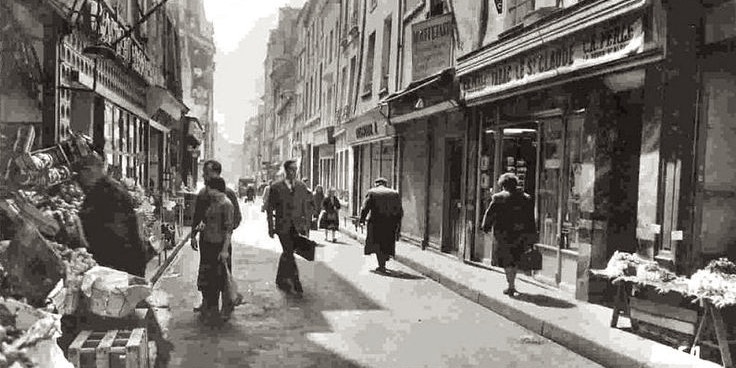 Hemingways' Latin Quarter apartment was at the top of Rue Mouffetard, which runs down the hill to the church of Saint Médard, and is one of the very best market streets in Paris. Hemingway recalls it fondly in A Moveable Feast, as does anyone else who's ever visited — including, famously, Julia Child.
The Three Cafes of Saint-Germain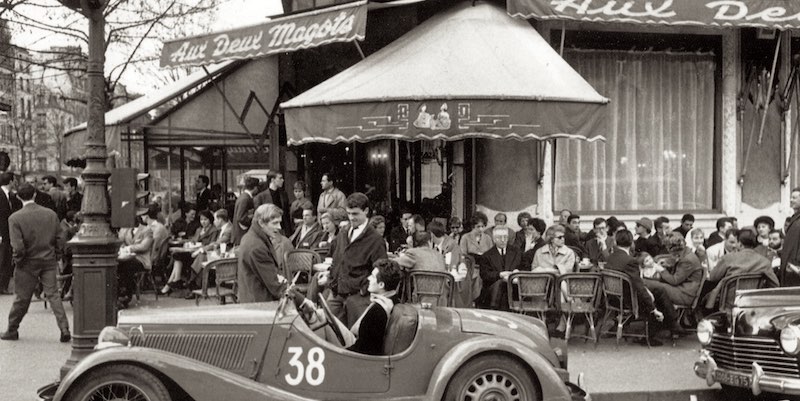 Hemingway didn't write solely in his room on Rue Descartes, he also spent quite a bit of time writing in the cafes of Saint-Germain-des-Prés. One of these, Les Deux Magots, is now a busy tourist spot, but for much of the 20th century it was a meeting place and de facto office for artists and writers, young Hemingway among them. Hemingway used it as a place his character would meet in The Sun Also Rises. Later, of course, it was the haunt of Simone de Beauvoir, Jean-Paul Sartre, Albert Camus, and even Julia Child.
Next door to Les Deux Magots, on Boulevard Saint-Germain is another cafe favored by the same cultural crowd, Cafés de Flore. When Hemingway was feeling hungry and cold (as he often did in those days), and when he had a small amount of money, he would tuck into Brasserie Lipp just across the street for beer and sausages with pommes à l'huile.
LES DEUX MAGOTS
6 Place Saint-Germain-des-Prés
Website…
CAFÉ DE FLORE
172 Boulevard Saint-Germain
Website…
BRASSERIE LIPP
151 Boulevard Saint-Germain
Website…
Montparnasse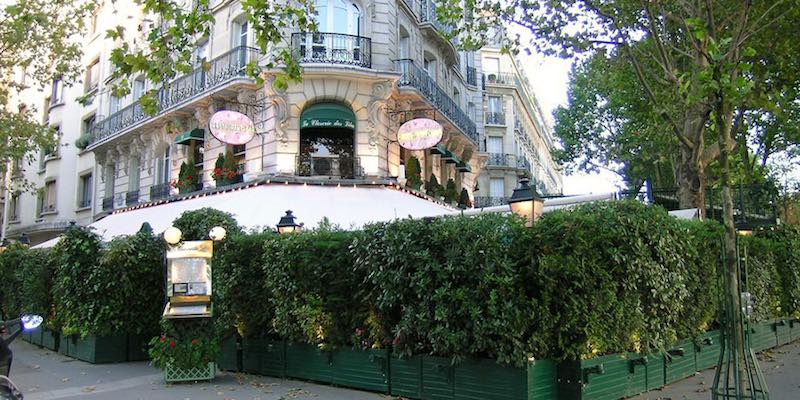 When the Hemingways returned to Paris in January 1924 they moved to a new apartment in the 6th Arrondissement quartier known as Montparnasse. They lived at number 113 on Rue Notre-Dame des Champs, a small street that runs just behind Boulevard du Montparnasse. It's a fairly undistinguished street today, but dozens of French and foreign celebrities lived on this street in the late 19th and early 20th centuries, even including Victor Hugo.
As if following Ernest, Montparnasse became the new artistic hub of Paris for the next decade. (The usual suspects — Hemingway, of course, and Picasso, Marc Chagall, James Joyce, Ezra Pound, Henry Miller… the list goes on.) Something like 30,000 ex-pat Americans were living in Paris by this time, and the cafes along Boulevard du Montparnasse were where many of the poorest of them could be found whiling away an evening.
Period cafes like Le Dôme, La Rotonde, Le Select, and La Coupole are still in business today, but Hemingway preferred a smaller place, where Notre-Dame des Champs meets the boulevard, La Closerie des Lilas. It was convenient to his apartment and it was here that wrote most of The Sun Also Rises. Today, La Closerie des Lilas offers a lovely, expanded terrace and it's a nice place for a Hemingway-loving visitor to while away an evening
LA CLOSERIE DES LILAS
171 Boulevard du Montparnasse
Website…

The Pigeons of Jardin du Luxembourg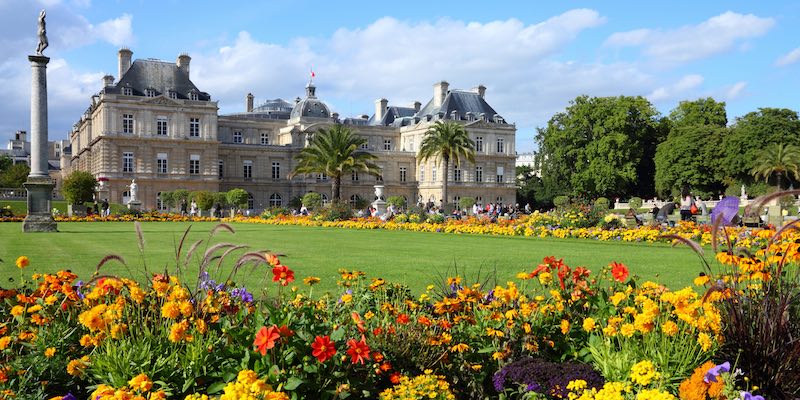 Hemingway always remembered being hungry in Paris. He often recalled visiting the Musé du Luxembourg (at that time a museum devoted to living artists), where he claimed that hunger made him better appreciate the art.
The Jardin du Luxembourg itself was where he would take his infant son for a "nature experience". The story goes, told by the writer himself, that Hemingway would go to the park to catch a pigeon, wring its neck, and hide it in the baby stroller so he could smuggle it home for dinner.
Bar Hemingway at the Ritz Hotel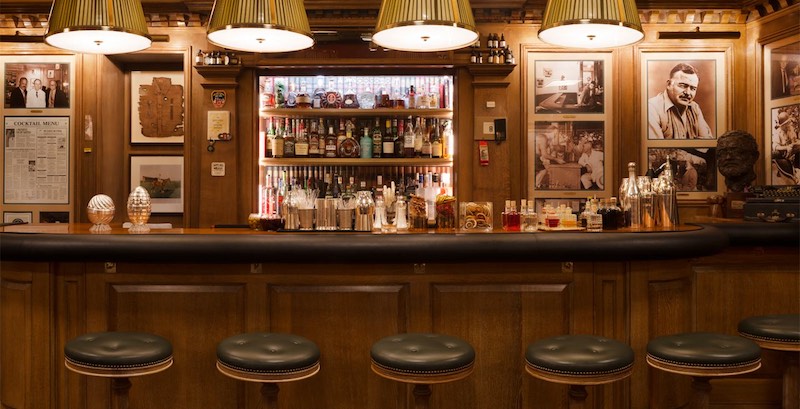 "Whenever I dream of afterlife in Heaven," Hemingway wrote, "the action always takes place at the Paris Ritz." Indeed, whenever he was Paris it seems that the Ritz was his first stop, his home away from home. He and F. Scott Fitzgerald and others would drink together at the hotel bar. The hotel even makes an appearance in The Sun Also Rises.
The most famous story about Hemingway and the Ritz takes place near the end of World War II, during the Liberation of Paris in August 1944. Hemingway somehow made his way to France to report on the Allied soldiers. (He actually managed to get aboard one of the landing craft during the D-Day invasion, but was not allowed to go on shore.)
Anyway, Hemingway claimed that he was one of the first to arrive in Paris to liberate the city. He wasn't, but he did "liberate" the Ritz Hotel Bar with a motley troupe, ordering up champagne and camping out in the hotel. The Ritz bar that he frequented with his cronies, including Fitzgerald, is now named for him — Bar Hemingway.

A Moveable Feast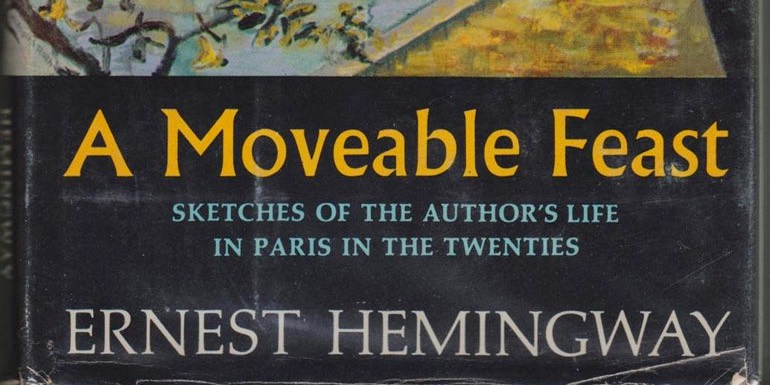 Hemingway didn't write about his life in Paris in the Twenties until the late 1950s. Why he only started then is another part of the Hemingway legend. In 1956 he was back in Paris having lunch at the Ritz Hotel with a friend when the hotel manager approached to ask him if he knew there was a trunk of his in the hotel basement storage room. Ernest didn't remember.
During Hemingway's time living in Paris, Louis Vuitton, the luxury luggage company, had created a special trunk for him. It had been stored at the Ritz since March 1928, when Hemingway was moving from Paris to Key West. In the trunk were stacks of notebooks that he thought had been long lost, with his handwritten notes of the events, places, and people he knew in Paris back then.
The story goes that once he found them, Hemingway carted those notebooks around for the rest of his life —to Cuba, to Spain, to Idaho — working on the memoir that would become A Moveable Feast. Hemingway killed himself in Idaho in 1961 and the book was published in 1964.
If you love Paris, and particularly if you've visited some of the places that Hemingway frequented when he lived here, we guarantee you are going to find this book fascinating. Here's the first thing you read in the book, taken from a letter Hemingway wrote in 1950 —
"If you are lucky enough to have lived in Paris as a young man, then wherever you go for the rest of your life, it stays with you, for Paris is a movable feast."