Parc André Citroën – A Modernistic Take On Paris Park Design
Recently we were writing an article about Place des Vosges, one of Paris' first public green spaces, dating back to the 1600s. It's an interesting study in contrast to compare that place to Parc André Citroën, for two green spaces in Paris couldn't be more different. First of all, there's the difference in time and space: Place des Vosges was built in the Marais at the beginning of the 17th century, André Citroën was built at the edge of Paris in the late 20th century. Next up is size: Place des Vosges is a perfect square with sides of 150 yards, under five acres, while Parc André Citroën is seven times larger at thirty-five acres.
But the biggest difference is design. Place des Vosges has a Renaissance, Italianate sensibility, with a square shape and uniform building forms on all four sides, while André Citroën is sprawling, modernistic, deconstructionist, concrete, lines, and with a massive lawn. Let's journey out to the 15th Arrondissement and look more closely at one of the newest of the large parks of Paris.

Javetz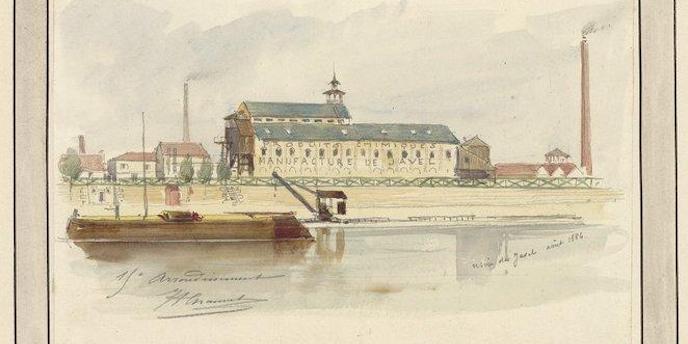 Bleach factory at Javel, 1886
Back in the 15th century, on the site that is now Parc André Citroën, there was a settlement known as Javetz that had sprung up around a small port and boat dock. By the 17th century the area, by then called Javel, was surrounded by market gardens that fed Paris, there was swimming in the river, there were fishing boats harvesting the waters. Oh, yeah — there were windmills, too.
In around 1777 this rural tranquility was upset by the building of a chemical factory to produce the newly-discovered disinfectant, sodium hypochlorite, that we now know as bleach but in France is still called eau de Javel.
André Citroën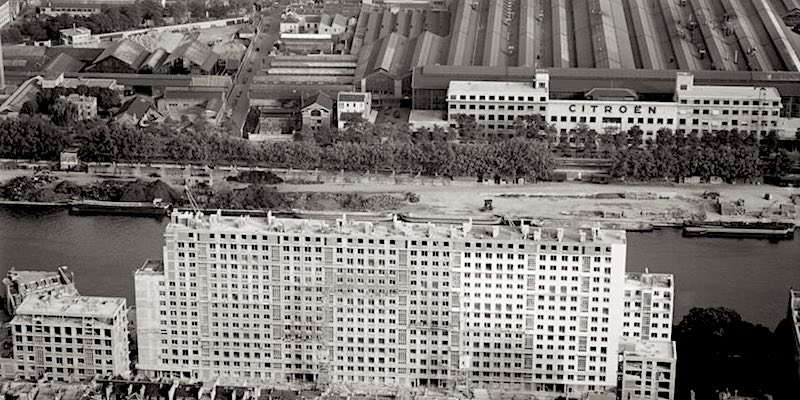 Citroën auto plant at Javel in the 1950s
When World War I shattered the peace of Europe a manufacturer named André Citroën began producing munitions at a factory he built at Javel in 1915. Even though he employed up to 35,000 workers during this period, Citroën knew that when the war ended he would need to find another use for the factory.
Because André Citroën had a background in automobile manufacturing (he even met Henry Ford in Detroit in 1913) it was natural for him to convert the plant to manufacturing his eponymous vehicles. In 1919 the first first mass-produced European car rolled off the assembly line, the Citroën Type A 10 HP. Within a dozen years Citroën was the fourth-largest automobile manufacturer in the world.
The glory didn't last very long for André. Costs involved with developing a new model, the Traction Avant, forced him into bankruptcy in 1934. The plant was taken over by Citroën's largest creditor, the Michelin tire company. André himself died of stomach cancer the next year.
Citroën manufacturing carried on and the Traction Avant became the most innovative, most popular, and biggest money-making car the company produced. The factory at Javel continued to produce Citroëns right up until 1975, when the manufacture was moved to a more modern plant elsewhere in France. That left a 59-acre site available for… something.
Parc André Citroën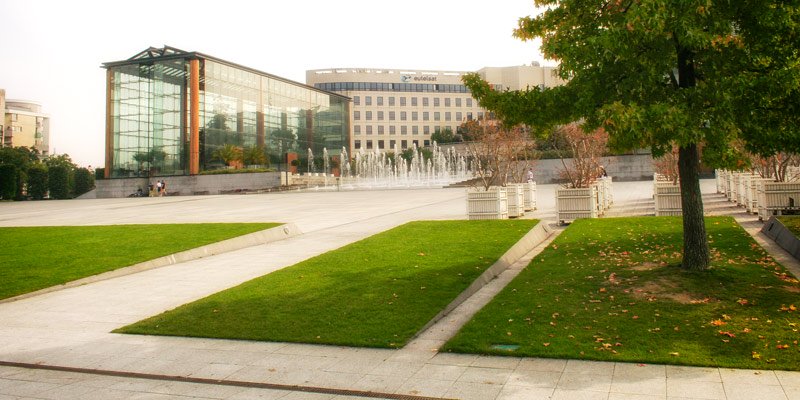 Greenhouse at Parc André Citroën, photo by Mark Craft
In the 1990s a modern, cutting-edge urban park was designed for 35 acres of the factory site. As was common with park design of that era, it combined a park for recreation, with a large expanse of open lawn, plus a series of smaller, floral parks, each with a distinctive theme and look. A map of the park looks like it's been cobbled together from various spaces, with a large central "torso", two "arms", and even "feet" along the river side.
Two large greenhouses were also included, reminiscent of the orangeries in the Tuileries and Luxembourg. But Parc André Citroën's orangeries are definitely a modern take, with massively high glass walls supported by a metal framing. In a way it reminds one a bit of the high stained glass walls of La Sainte Chapelle.

Plan of Parc André Citroën

In front of the two greenhouses is a large paved courtyard punctuated with water fountains that dance to their own rhythm. ("No playing in the fountains," a sign warns the visitor. But try to explain that to children on those warm summer days.)
Along the south boundary of the park is a long, straight "canal", reminding users of the historic canals that were built to bring water into Paris. (The two Napoleons were responsible for much of that.) There are walkways both along the canal and higher up the hill, and they connect modernistic concrete "guardhouses" that are surprisingly pleasing to look at.

Modernistic buildings bordering Parc André Citroën, photo by Mark Craft

Neighboring Parc André Citroën on the south are the striking modern buildings that house the administrative offices of the Préfecture de Paris et d'Île-de-France, the region of France that includes Paris. The mirrored buildings with angles and strict, straight lines seem the perfect companions to the modern park.
Since 1999 there's been a tethered balloon at Parc André Citroën. Visitors can buy tickets for a 10-minute ride that rises as high as 300 metres (that's as tall as the Eiffel Tower) but seems to stop at 150 metres. Nevertheless, it affords a spectacular view.
The Six Serial Gardens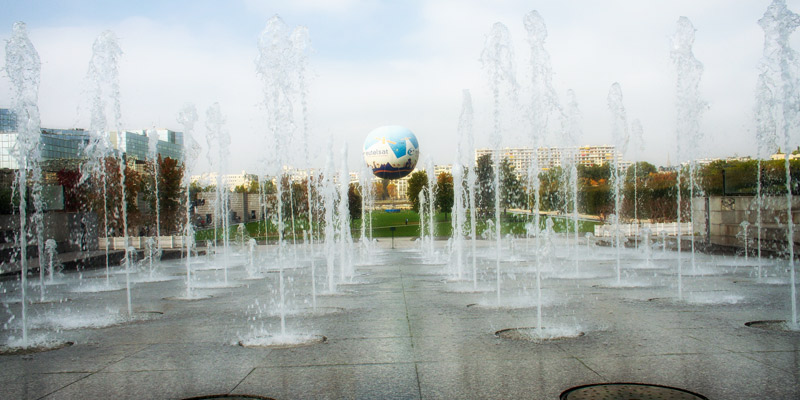 Playful fountain at Parc André Citroën, photo by Mark Craft
Scattered though the 35 acres, and largely hidden from the sight of those sunning on the lawn, are six themed gardens, each one distinct and each one associated with a color, a metal, a planet, a day of the week, water, and one of the human senses.
The blue garden represents copper, Venus, Friday, rain, and our sense of smell. The red garden is all about iron, the planet Mars, Tuesday, waterfalls, and taste. Orange honors the metal mercury, the planet Mercury, Wednesday, creeks, and the sense of touch.
There's a silver garden that pays homage to silver (naturally), the Moon ("The moon is like a silver penny," wrote Oscar Wilde in Salome), Monday, rivers, and sight. Its cousin, the golden garden, brings us gold, the Sun, Sunday, evaporation, and whatever the 6th sense is. Finally, the green garden represents tin, Jupiter, Thursday, spring water, and hearing.
Parc André Citroën Resources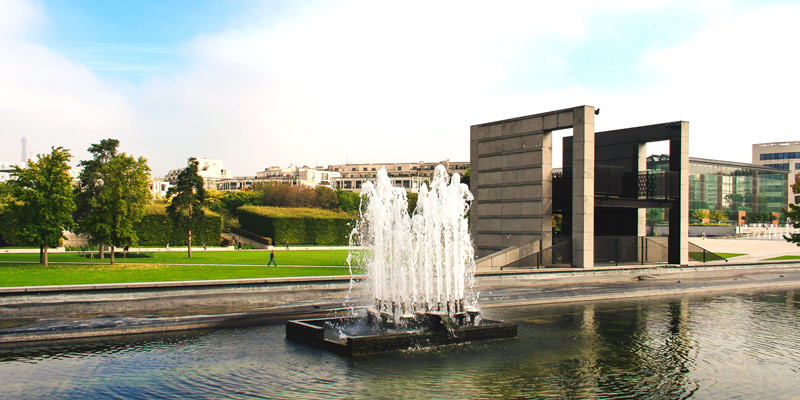 Parc André Citroën, photo by Mark Craft
Opens at 8 AM weekdays, 9 AM weekends
Closes for the night at times that ranges between 5:45 PM and 9:30 PM, depending on the season
Entrances off Rue Balard, Rue Saint-Charles, and elsewhere
Metro – Lourmel or Balard, at the end of Line 8