Impressionists In Paris – What They Painted & Where To See Their Art
We love traveling to Giverny just outside of Paris to see where Monet lived when he was painting his famous nymphéas (waterlilies), but there are numerous sights in Paris that he and his fellow Impressionist painted — and we get great pleasure seeking out those locations, to see what the Impressionists saw. Come with us on a virtual Impressionist art history tour of Paris to visit where just a few of the masterpieces were painted.

Our Top-Rated Museum Tours in Paris
Claude Monet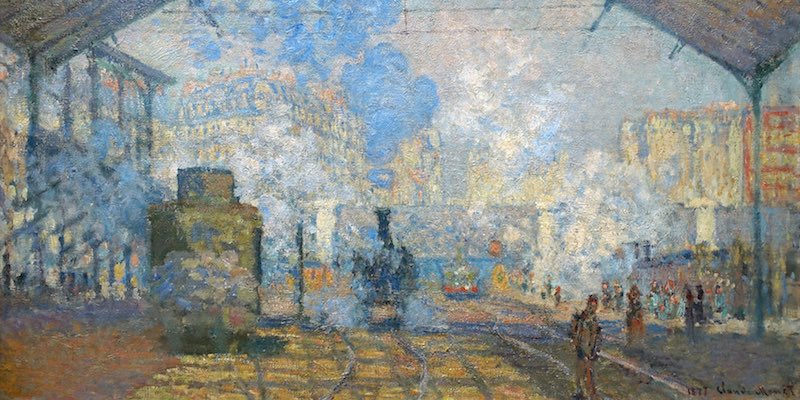 Gare Saint-Lazare, Claude Monet, 1877
It's appropriate to start with Claude Monet, the most well-known and enduring Impressionist master, since he was born in Paris at 45 Rue Laffitte, in the 9th Arrondissement, just down the street from Église Notre-Dame-de-Lorette where baby Claude was baptized on May 20, 1841. He didn't live in Paris long as a youth, but he later returned to the city to study art under a painter named Charles Gleyre and to hang around with Renoir, Sisley, and Bazille.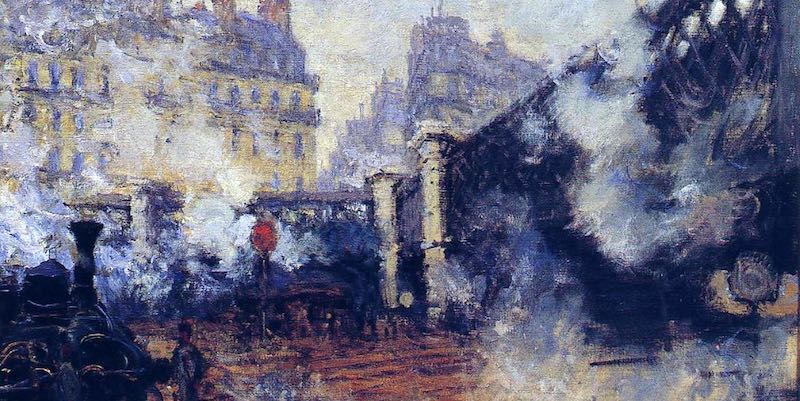 Pont de l'Europe, Claude Monet, 1877

Perhaps Monet's most famous Paris pantings are his studies of Gare Saint-Lazare that he executed in 1877 (top picture), after he was already mildly famous. Other Impressionists, including Manet (view painting), also did paintings in and around the gare, particularly at the bridge spanning the railroad tracks, Pont de l'Europe. In fact, Monet himself painted Pont de l'Europe, shown directly above.
GARE SAINT-LAZARE
Rue Saint-Lazare at Rue d'Amsterdam, 8th Arrondissement
Metro lines 3, 12, and 13
See these paintings at Musée d'Orsay and Musée Marmottan Monet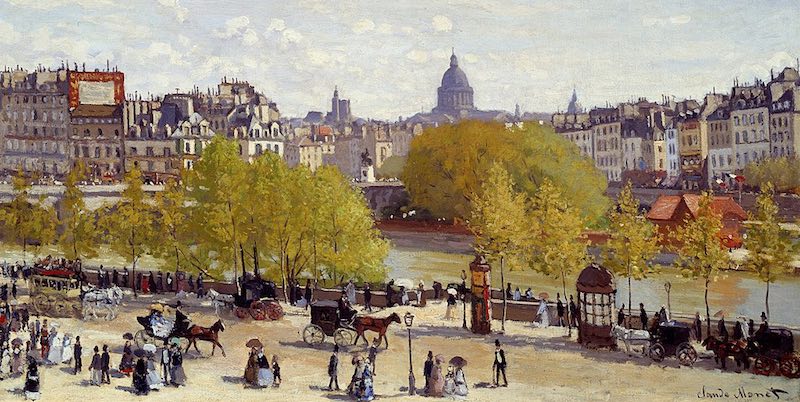 Quai du Louvre, Claude Monet, 1867

The story goes that when Monet visited the Louvre and saw all the other artists doing reproductions of the Masters on display there, Claude set his easel up at the window and painted what he saw outside, which was the Quai du Louvre. The view looked like this (above) when Claude was there. Today you would also see the Pont des Arts from this same window.

Pierre-Auguste Renoir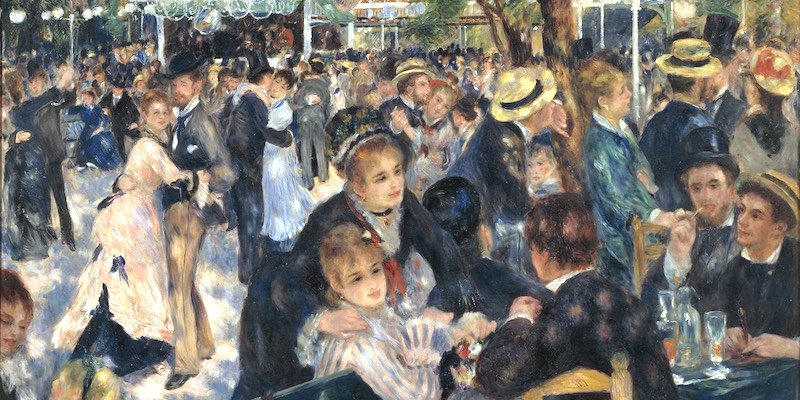 Bal du Moulin de la Galette, Pierre-Auguste Renoir, 1876
Renoir was one of four painter-friends who shared a love of painting from real life — including landscapes — as opposed to the more traditional subjects of art from mythology, history, and religion. Claude Monet, Pierre-Auguste Renoir, Alfred Sisley, and Frédéric Bazille would meet up at Cafe Guerbois on Avenue de Clichy and arrange for trips to the countryside to paint from nature.
Like most of the others, Renoir also lived for a time and painted scenes of Paris as well. Perhaps his most famous work was painted in Montmartre, Bal du Moulin de la Galette, an evening at the then-famous dance hall Moulin de la Galette, where working-class Parisians would dress up and spend the evening. We can assume Renoir, who lived nearby in Montmartre, was a frequent visitor.
Moulin de la Galette was once a working mill and it sported a windmill — a common feature in Montmartre in the 18th and 19th centuries — famous for its small bread called a galette. The moulin still exists today, but it was moved in the 1920s to a new location on the corner of Girardon and Lepic.

Pont Neuf – Monet, Renoir & Pissarro
Pont Neuf, Claude Monet, 1871
Pont Neuf is a bit of an enigma — the name means "new bridge" yet it's the oldest bridge in Paris, started by Henry II in the late 16th century. Perhaps the irony of its name was what attracted Impressionists to paint the bridge. Monet did a version in 1871 (above) followed by his pal Renoir in 1872 (below)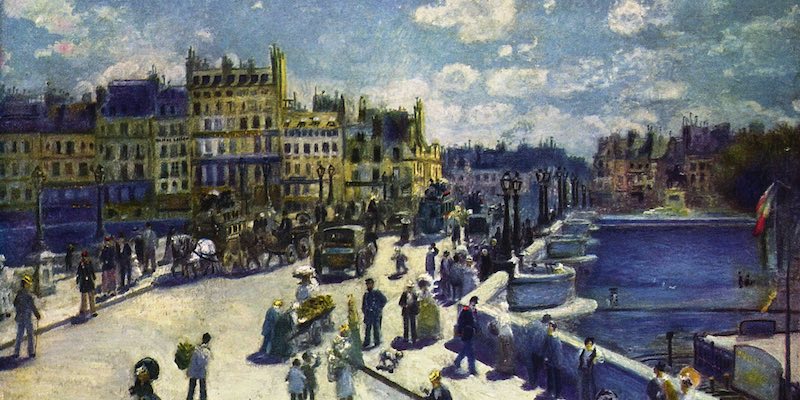 Pont Neuf, Pierre-Auguste Renoir, 1872

But the murkiest version is the one that Camille Pissarro painted thirty years later in 1902 (below). This was just a year before he died and during the period he was suffering from an eye infection that prevented him from painting outdoors. Perhaps his eye condition is what accounted for the change in his style. (Some historians prefer to think of Pissarro as a sort of post-Impressionist, but we always think of him as simply a later Impressionist.)

Pont Neuf, Camille Pissarro, 1902

What's very interesting about the three paintings is not only their different styles, but that they all share a similar perspective (Monet's and Renoir's appear to be identical) — painted in a hotel room overlooking the Seine.

Edouard Manet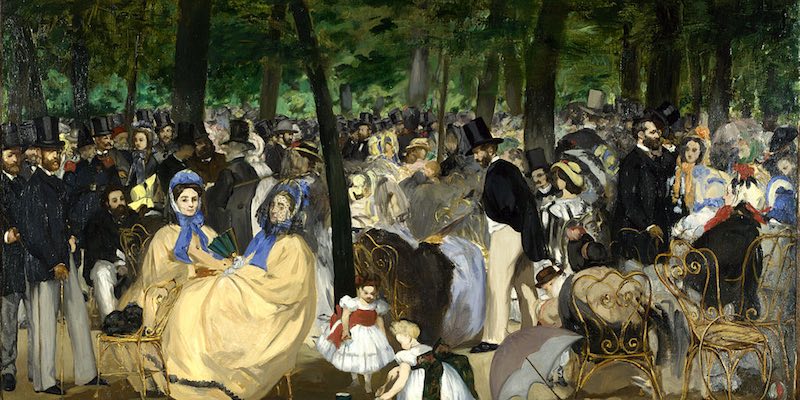 La Musique aux Tuileries, Edouard Manet, 1862
Let's finish off this brief art-in-Paris tour with the painter that most Impressionists considered one of their major influences, although Edouard Manet himself never exhibited with the other Impressionists. Manet set the example of a painter who was interested in scenes of Paris life, and not so much in traditional painterly subjects. His 1862 Music in the Tuileries is a perfect example of that interest, depicted a scene from a weekly concert in the famous garden adjoining the Louvre. Like later Impressionists, he included portraits of some his friends in the painting. In fact, that's Manet himself at the far left.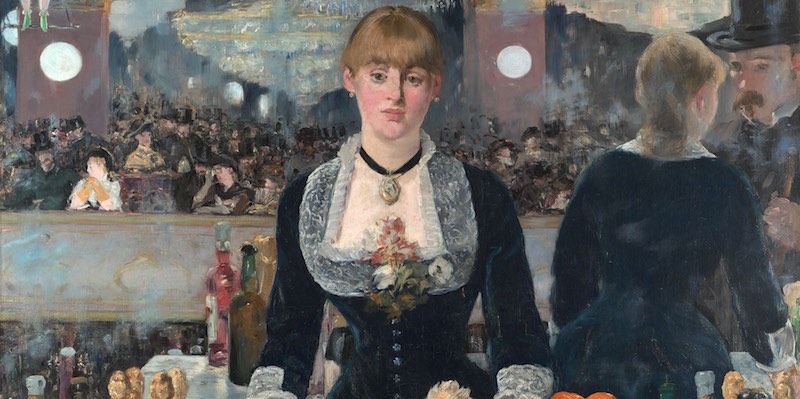 Un Bar aux Folies-Bergèr, Edouard Manet, 1882

But for us, the most interesting of Manet's scenes of Parisian life is a later work, Un Bar aux Folies-Bergère — A Bar at the Folies-Bergère (1882). You can see the theatre seating reflected in the mirror behind the barmaid. and that's probably Manet himself reflected in the mirror, ordering a glass of champagne we like to think. The Folies-Bergère is still in operation today in the 9th Arrondissement, and if you have the chance to attend a show or event held there it will be like taking a step back to the Belle Époque.

Seeing Impressionist Art in Paris Today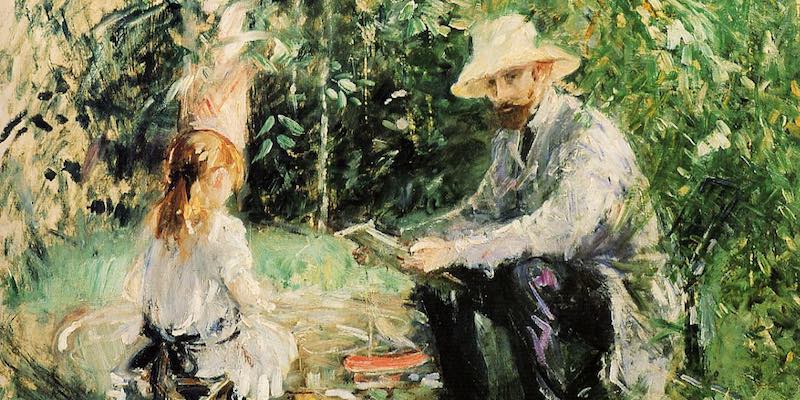 Eugene Manet et sa Fille, Berthe Morisot, 1881
Marmottan Monet Museum
It makes sense that there is a lot of Impressionist art on display in Paris today. A wonderful example is the Marmottan Monet Museum located out in the 16th. Here you can see a wide selection of the works of Monet, including his iconic Impression: Sunrise. The Marmottan also has a great collection of the too-often-overlooked female Impressionist painter, Berthe Morisot. That's her painting above, of her daughter and husband (the brother of Manet) in a garden.
Of course, the most stellar collection of Impressionism in the world is at Musée d'Orsay on the Left Bank. This Belle Époque former train station has been turned into an Impressionist paradise, with major works by all the most famous Impressionists. Here you can view important pieces by everyone from Monet to Manet, Renoir to Van Gogh, Sisley to Pissarro. Musée d'Orsay is a must-see destination whenever you're in Paris.
Musée de l'Orangerie
Perhaps you've spent time in the Jardin des Tuileries, but even so you may have missed the exquisite Musée de l'Orangerie set up against Place de la Concorde. This houses Monet's later work, the monumental series of waterlily paintings — Les Nymphéas. Eight giant curved panels fill the sides of two specially-built rooms, the construction and layout of which was supervised by Monet himself.
Petit Palais & Musée Rodin
Two more Paris museums should be mentioned here. The Petit Palais in the 8th Arrondissement houses the city's Museum of Fine Arts and has among its collection a superb Monet in the style of his Impression: Sunrise. Surprisingly, entrance to the museum is free — there's no better deal in the art world. Musée Rodin over in the 7th includes that artist's personal art collection which contains a Monet and a Renoir nude.

Impressionists in Paris Resources