Nine Four-Star Hotels In Paris We Have A Soft Spot For
We've selected the best four-star hotels in Paris based on several factors. High customer satisfaction, of course; stellar location; and a certain je ne sais quoi — hidden gardens, art collections, complementary champagne hour — those wow factors that make it worth your while to splurge during your stay in the city of romance, style and sophistication.
Looking for a stylish boutique hotel? Try the Hotel Prince de Conde in St. Germain des Prés. Or, if you want to be smack in the middle of the Latin Quarter, opt for Hotel Meliá Colbert. If you're looking to find a perfect 4-star hotel in Paris with beaucoup de charme and plenty of creature comforts, we've created this list for you.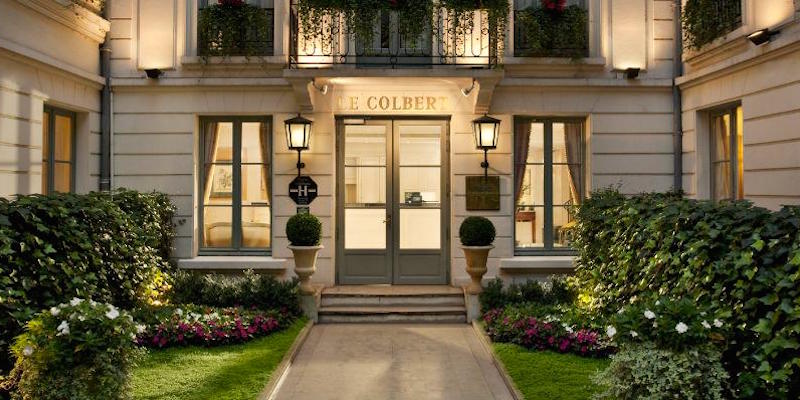 This tranquil hotel is built around a garden courtyard on a very quiet street. The centuries-old townhouse is steps from the both the Seine and the Notre Dame, so if your ideal vacation in Paris involves wandering the winding streets of the Latin Quarter, this is the perfect address.
Polished professionalism and good old-fashioned service make it one of the most sought-after small hotels in Paris. Some of the rooms overlook Notre Dame, others look over the peaked rooftops or the courtyard. All of these earthly pleasures do not come at bargain prices, but it's well worth the splurge.
How Our Ratings Work
Superb Plus = 93%+ Travelers Rating
Superb = 88%+ Travelers Rating
Highly Rated Plus = 85%+ Travelers Rating
Highly Rated = 80%+ Travelers Rating

Our Rating — Highly-Rated-Plus
• 7 Rue Hotel Colbert
• 5th Arrondissement
The big question is why this hotel doesn't have a 5th star? More French country chateaux than Paris hotel, Saint James is comfortably set in an 18th century estate surrounded by gardens and anchored by a large fountain. Every detail adds up to unbridled luxury! At the decoration helm is Parisian designer Bambi Sloan whose eclectic design touches add whimsy to the neoclassical structure.
In the kitchen, the Michelin-starred chef invents new delicacies for each season. All rooms are equipped with with Nespresso machines, iPod docks and free WiFi. Dining options include the Michelin star restaurant, a library bar, and a terrace cafe.
Our Rating — Superb-Plus!
• 43 Avenue Bugeaud
• 16th Arrondissement
A Paris Insiders Guide Favourite
Can't quite afford the Ritz? Consider staying just down the road at Hotel Mansart, named after Louis XIV's top architect who designed among other things, Place Vendôme (where the hotel is located) and Versaille's Grand Trianon.
What can you expect? Elegant, spacious hallways, high ceilings, marble fireplaces, stained-glass windows, and spectacular period furnishings. Each of the 57 rooms are individually decorated with antique furniture, authentic works of art and luxurious French fabrics.
Breakfast at Le Mansart is served in a formal room with arched stained-glass windows and plush banquettes. Other luxury touches include an open access bar in the afternoon in the lounge and the in-house art collection — 120 works of period paintings, engravings, sculptures and furniture on display in the rooms and public spaces.
Our Rating — Highly-Rated-Plus
• 5 Rue des Capucines
• 1st Arrondissement
This elegant converted townhouse faces the Pantheon on imposing Place du Pantheon in the heart of the Latin Quarter. The manicured entry leads to an attractive lounge with an atrium garden. Each of the 34 rooms are decorated with antique furniture, textile-covered walls and floor-length curtains hanging from 14-ft ceilings.
Naturally, the front rooms facing the Pantheon are always in demand. But if you crave silence and serenity, ask for one of the back rooms. What not to expect at Les Dames ? A neutral color palette ! The decor has beaucoup de personality — the Deluxe Pantheon Room features original wooden beams, the Junior Suite Cocotte is decorated in bold red and black.
Our Rating — Superb
• 19 Place du Panthéon
• 5th Arrondissement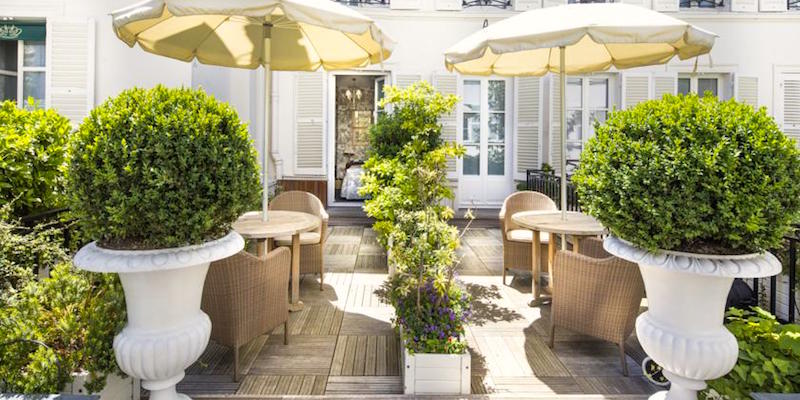 This romantic hotel is built around a courtyard garden with many of the rooms opening onto it, while several larger rooms and suites that open onto their own private terraces (very rare for Paris). Rooms are decorated with rich fabrics, antique writing desks, paisley wall coverings, velvet armchairs & chandeliers. It's not surprising to learn that the original owners were antique dealers.
You can find their handsome collection throughout the hotel — from the stately grandfather clock in the lobby to the marble-topped dressers in the bedrooms. The downstairs cellar bar has quiet corners and velvet love seats to cozy up in. All in all, the 18th century townhouse is a peaceful haven on a quiet street in the Saint-Germain-de-Prés neighborhood.
Our Rating — Superb
• 14 Rue de Saint-Simon
• 7th Arrondissement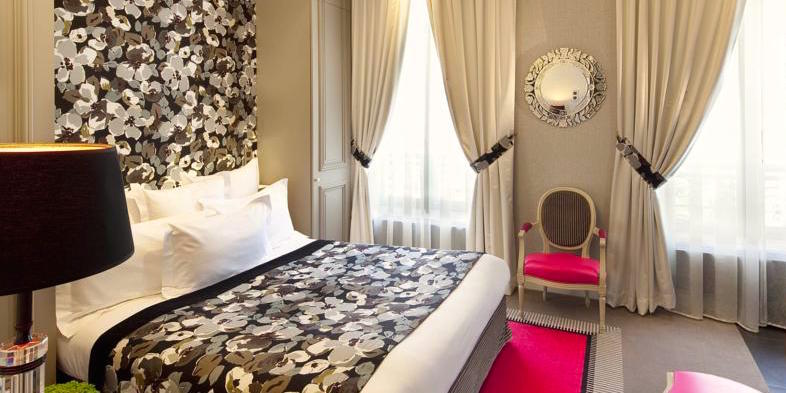 Built by Napoleon III for his personal physician, this historic site is a now a refined and sought-after garden hotel. Hidden behind a high brick wall, you're guaranteed peace and quiet, yet you're only a few minutes' walk from Champs-Elysées and Arc de Triomphe.
The rooms feature high ceilings, crystal chandeliers, decorative moldings, marble fireplaces, brass beds, floor-to-ceiling mirrors, and authentic period furnishings. Some of the rooms connect (ideal for families) and have large walk-in closets. Most rooms overlook the garden, which is artfully landscaped with large shade trees, gazebos, statues, flowering walkways and a terrace with tables for breakfast or tea.
Our Rating — Superb-Plus!
• 6 Rue Pierre Demours
• 17th Arrondissement
The focus of the Elysées Mermoz is a glass-roofed garden room flanked by a dining room done in sunny yellows. To one side is a lobby , where the garden theme is carried out further by the use of tiled floors and wicker settees and chairs. The 21 rooms and five suites offer up-to-the-minute amenities every traveler appreciates, and the imaginative use of colors prints and furnishings creates visually appealing surroundings in all.
Our Rating — Superb-Plus!
• 30 Rue Jean Mermoz
• 8th Arrondissement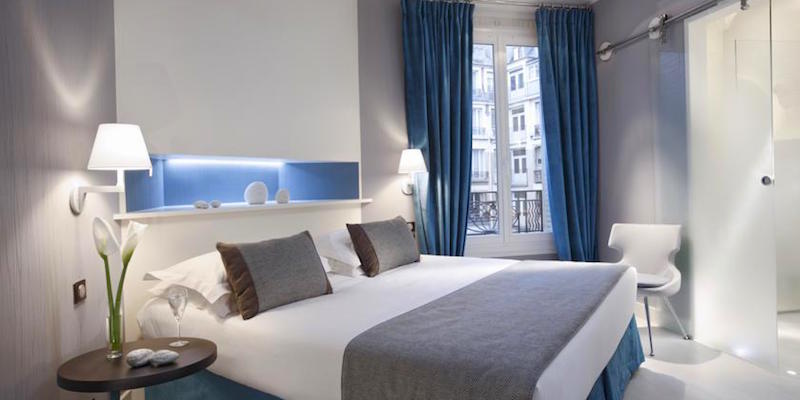 This classic Paris hotel is a jewel. Rooms are modern, all-white affairs with clean lines and floor-to-ceiling doors that open to a balcony. The Art Deco building was designed in 1927 by Jerome Bellat, the architect responsible for many of the wonderful buildings of the 17th Arrondissement.
The 17th Arrondissement neighborhood is famous for its squares, gardens and its timeless markets like the flower market of the Place des Ternes and the food street of Rue Poncelet. Hotel de Banville highlights include the grand piano in the lobby, the marble sweeping staircase, the tasteful rooms decorated in blue, grey and white.
Our Rating — Highly-Rated-Plus!
• 166 Boulevard Berthier
• 17th Arrondissement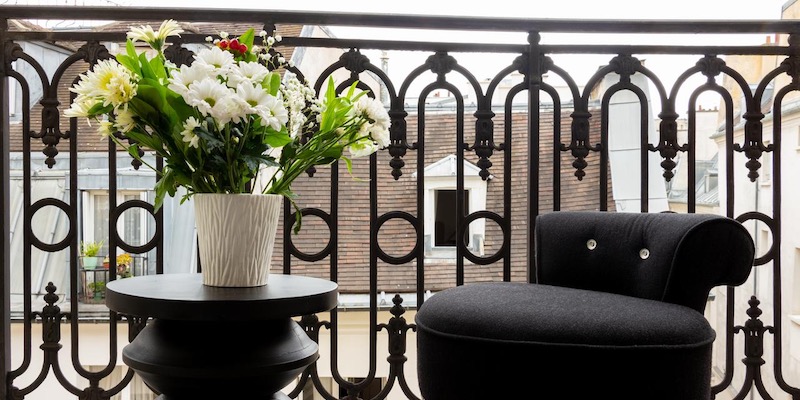 This smart, discreet St-Germain hotel, Le Prince de Conde, shows its good taste and pedigree from top to bottom, with all the 11 rooms facing the picturesque rue de Seine. This is the sort of place that people with old money like to stay — classy, understated and never showy.
Given its historical location, the rooms are decorated to best show off its assets — exposed stone walls, cozy lounges with fireplaces, bookshelves and leather club chairs. From the hotel you're close to Rue de Buci Marché, the Seine, Café de Flore, Les Deux Magots, and you're within walking distance to the Louvre
Our Rating — High Rated
• 39 rue de Seine
• 6th Arrondissement