Ten Four-Star Hotels In Paris For A Little Touch Of Luxury
When we're in Paris we look for a soupçon of luxury, a few things to make us feel just a bit special. Paris is that kind of place. So, we've selected our favorite four-star hotels in Paris that will make you feel a little special. High customer satisfaction, stellar location, and a certain je ne sais quoi — hidden gardens, Art Deco styling, views of the city — those wow factors that make it worth your while to splurge during your stay.

Our Top-Rated 4-Star Hotels
A Paris Insiders Guide Favourite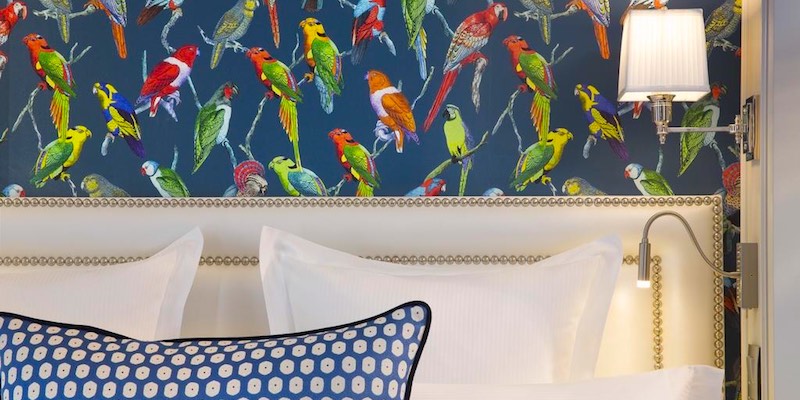 It's no surprise to us that Hotel Monge appears on many of our Best of Paris lists — best of the year, best of the Latin Quarter, travelers' top hotels, and so on. Since it first opened it's been our go-to hotel when we need a place in Paris, and especially when we need to be in or near the 5th Arrondissement.
It was the charming decor that first attracted us, then the super-comfortable beds, then the perfect lighting, then the helpful and attentive staff, then the amazing morning coffee… Putting that all together, it makes us come back time after time.
How Our Ratings Work
Superb Plus = 93%+ Travelers Rating
Superb = 88%+ Travelers Rating
Highly Rated Plus = 85%+ Travelers Rating
Highly Rated = 80%+ Travelers Rating

Our Rating — Superb-Plus!
• 55 rue Monge
• 5th Arrondissement

Discover What's On When You're Here...
Discover What's On When You're Here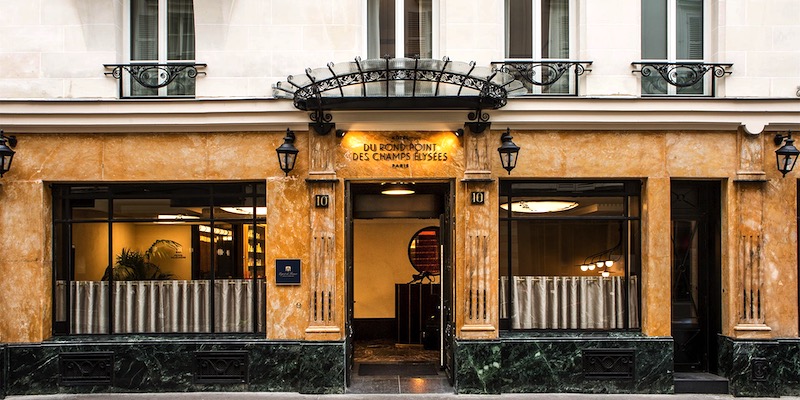 On a small, unassuming street tucked in behind Champs-Elysées in the 8th Arrondissement is this welcoming and charming hotel that's part of the Esprit de France collection. We love the Art Deco inspiration in the rooms and public spaces and the fact that you get free, unlimited international telephone calls. You're close to the Champs-Elysées (naturally), the Grand Palais, Metro Franklin D. Roosevelt (Lines 1 & 9), even the Canadian Embassy!
Hotel du Rond-Point's Art Deco vibe comes naturally. In the 1920s two floors were added to what was already an elegant 19th century house and the whole thing was decorated in the then-current style. With a recent complete refurbishing and modern updating this is most certainly a 21st-century hotel. And somehow, in all the traditional styling. they've managed to add an attractive "water experience" pool and spa area.
Our Rating — Superb
• 10 Rue de Ponthieu
• 8th Arrondissement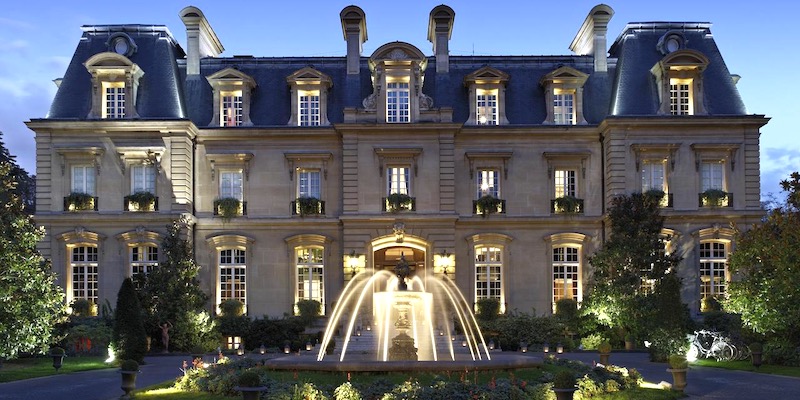 The big question is: why doesn't this hotel have a 5th star? More French country chateaux than Paris hotel, Saint James is comfortably set in an 18th-century estate surrounded by gardens and anchored by a large fountain. Every detail adds up to unbridled luxury. At the decoration helm is Parisian designer Bambi Sloan whose eclectic design touches add whimsy to the neoclassical structure.
All rooms are equipped with with Nespresso machines and free WiFi. Dining options include restaurant Bellefeuille (with a Michelin star), a library bar, and a terrace cafe, although we propose you dine at nearby restaurant Nomicos. And speaking of nearby… that may be the only downside to the Saint James — being out on the edge of the 16th Arrondissement, it's a bit far from the most popular Paris attractions. But, Paris is a small city and it is only a 17-minute walk to the Trocadero (for instance) and its wonderful views of the Eiffel Tower.
Our Rating — Superb-Plus!
• 43 Avenue Bugeaud
• 16th Arrondissement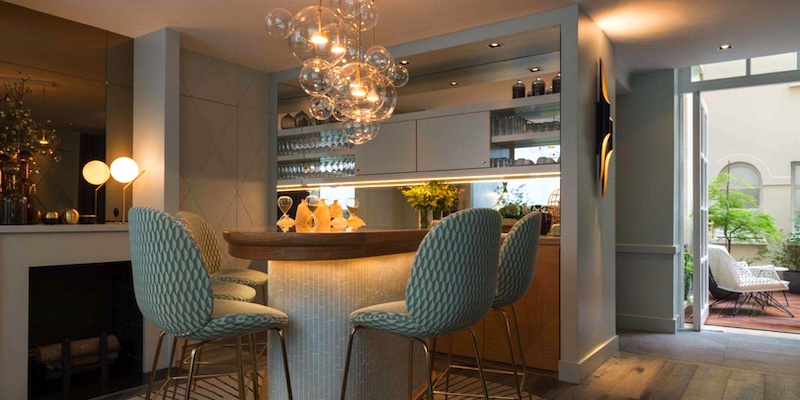 Much closer to the heart of Paris, Hotel Millésime in the Saint-Germain-des-Prés quartier, offers the Three Ls — Location, Location & Luxury! Your near neighbors include Église Saint Germain des Prés (3-minute walk); Musée d'Orsay (14 minutes), even Place Dauphine on IÎle de la Cité. Heck, one of the places that made our Best Restaurants in France 2020, Les Climats, is just around the corner, 10 minutes away. Rue Jacob itself is a narrow, one-way street with reduced traffic.
The hotel features a small courtyard garden, high-end French bed linens, and charming (there's that word again!) decor. The Millésime was completely redone in 2016 and the sparkling newness shines through. We like the Millésime Suite on the top floor that gives you 35 square metres of space and views across the rooftops of Paris.
Our Rating — Superb-Plus!
• 15 Rue Jacob
• 6th Arrondissement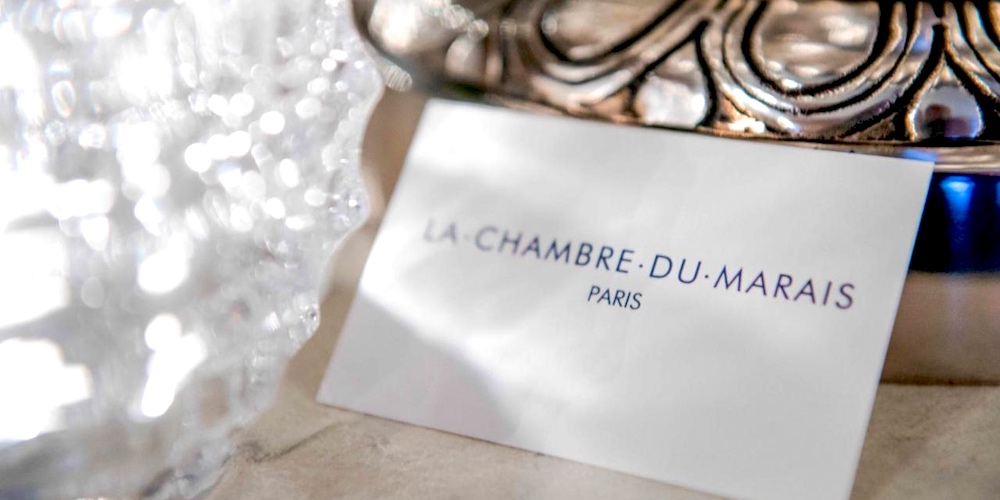 Also in the heart of things, this time in the Marais, is this boutique and romantic hotel that's perfect for couples. La Chambre du Marais is modern yet set in an historic building in a historic neighborhood. This hotel sits kitty-corner from the mairie, or town hall, of the new administrative district called Paris Central with a lovely park right across the street.
Elegance is the word that comes to mind when describing La Chambre. Every detail appears to be well thought out and executed. Here, again, we go for size and choose La Résidence deluxe suite for its size, comfort, and view.
Our Rating — Superb-Plus!
• 85 Rue des Archives
• 3rd Arrondissement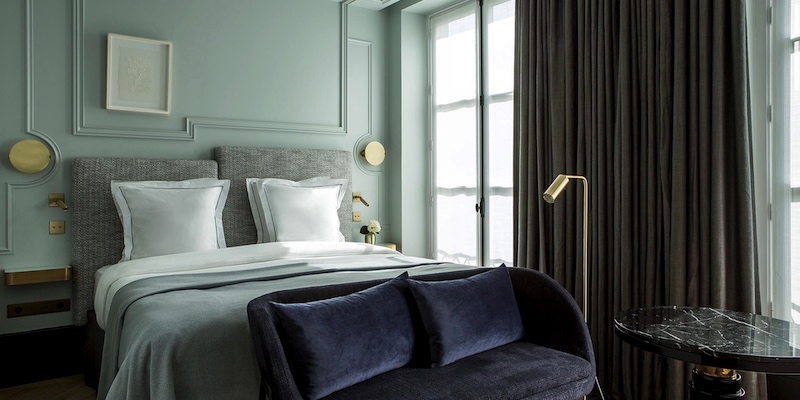 If you really want to be in the heart of things, this is the 4-star hotel for you. In the 1st Arrondissement — in the center of a rectangle formed by Jardin des Tuileries, Place de la Concorde, Église de la Madeleine, and Place Vendôme — is another shiny new hotel, Maison Armance. Your near neighbors are… well, everything you want to see in Paris.
The hotel, the staff, and the location are getting rave reviews, especially from seasoned Paris travelers. Unusually, the lobby is on the top floor, with the look and feel of a Paris apartment, and nice views across city rooftops. Our personal room choice is Suite Concorde. At 28 square metres there's enough space for a separate bedroom, sitting area, and large shower. Nespresso machines, of course.
Our Rating — Superb-Plus!
• 5 Rue Cambon
• 1st Arrondissement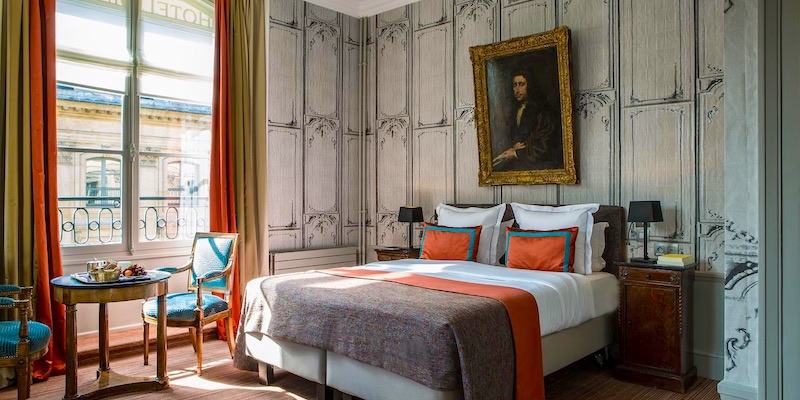 Can't quite afford the Ritz? Consider staying just down the road at Hotel Mansart, named after Louis XIV's top architect who designed among other things, Place Vendôme (where the hotel is located) and Versaille's Grand Trianon.
What can you expect? Elegant, spacious hallways, high ceilings, marble fireplaces, stained-glass windows, and spectacular period furnishings. Each of the 57 rooms is individually decorated with antique furniture, authentic works of art, and luxurious French fabrics.
Breakfast at Le Mansart is served in a formal room with arched stained-glass windows and plush banquettes. Other luxury touches include an open access bar in the afternoon in the lounge and the in-house art collection — 120 works of period paintings, engravings, sculptures and furniture on display in the rooms and public spaces.
Our Rating — Superb
• 5 Rue des Capucines
• 1st Arrondissement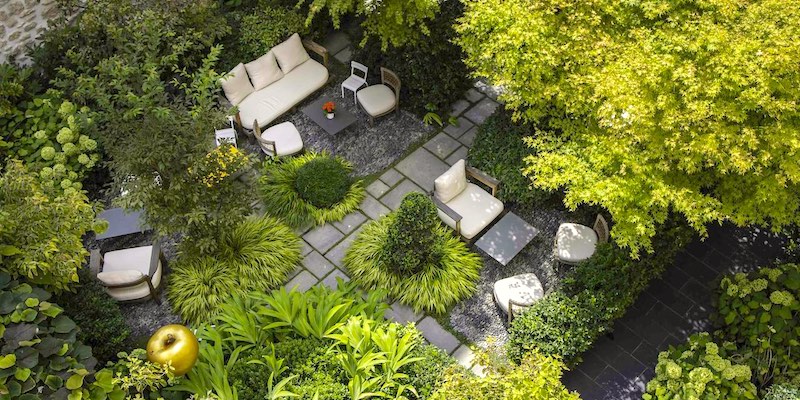 In a mansion built by Napoleon III for his personal physician, this historic site is a now a refined and sought-after garden hotel. Hidden behind a high brick wall, you're guaranteed peace and quiet, yet you're only a few minutes' walk from Champs-Elysées and Arc de Triomphe.
The rooms feature high ceilings, crystal chandeliers, decorative moldings, marble fireplaces, brass beds, floor-to-ceiling mirrors, and authentic period furnishings. Some of the rooms connect (ideal for families) and have large walk-in closets. Most rooms overlook the garden, which is artfully landscaped with large shade trees, gazebos, statues, flowering walkways and a terrace with tables for breakfast or tea.
Our Rating — Superb
• 6 Rue Pierre Demours
• 17th Arrondissement
This elegant converted townhouse faces the Pantheon on imposing Place du Pantheon in the heart of the Latin Quarter. The manicured entry leads to an attractive lounge with an atrium garden. Each of the 34 rooms are decorated with antique furniture, textile-covered walls and floor-length curtains hanging from 14-ft ceilings.
Naturally, the front rooms looking onto the Pantheon are always in demand. But if you crave silence and serenity, ask for one of the back rooms. What not to expect at Les Dames ? A neutral color palette ! The decor has beaucoup de personality — the Deluxe Pantheon Room features original wooden beams, the Junior Suite Cocotte is decorated in bold red and black.
Our Rating — Superb
• 19 Place du Panthéon
• 5th Arrondissement
This romantic hotel is built around a courtyard garden with many of the rooms opening onto it, while several larger rooms and suites open onto their own private terraces (very rare for Paris). Rooms are decorated with rich fabrics, antique writing desks, paisley wall coverings, velvet armchairs & chandeliers. It's not surprising to learn that the original owners were antique dealers.
You can find their handsome collection throughout the hotel — from the stately grandfather clock in the lobby to the marble-topped dressers in the bedrooms. The downstairs cellar bar has quiet corners and velvet love seats to cozy up in. All in all, the 18th century townhouse is a peaceful haven on a quiet street in the Saint-Germain-de-Prés neighborhood.
Our Rating — Superb
• 14 Rue de Saint-Simon
• 7th Arrondissement