Six Places In Paris Worth A Detour – One Of Them Involves Bon-Bons !
In the City of Light there are still places that are a little out of the way — places you may not have heard about, places you have to search to find. Seeking out these sites can deliver a little thrill of pleasure; you feel like an explorer finding the unexpected in a city we think we know so well. Here are six places in Paris that may not be hidden, but are a bit off the beaten path.

Discover What's On When You're Here...
Discover What's On When You're Here
À la Mere de Famille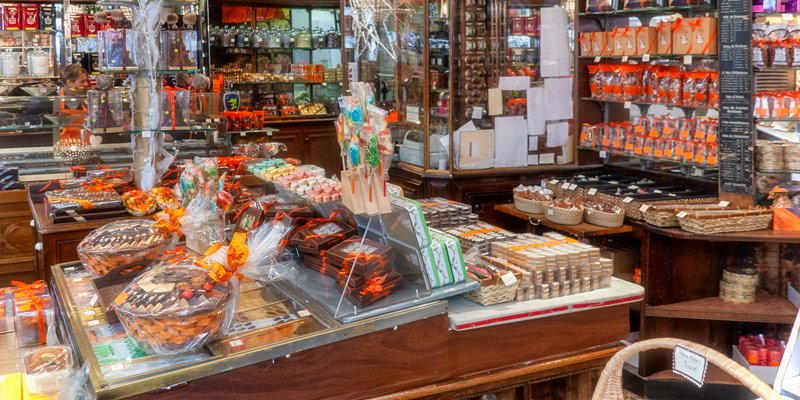 In French baking, there is a special category called pâtisserie sec, which refers to cookies, pound cakes, tuiles, palmiers, meringues, and macarons. This is the delicious world of À la Mere de Famille — part chocolatier, part pâtisserie sec, part candy maker. In their 250-year-old location in the 9th Arrondissement they've created an adult version of a kid's candy store.
In the 9th, la Mere's original location, chocolates, caramels, marshmallow, nougat, and almond calisson line antique wooden shelves that literally seem to groan with the heaped goodies. The floor, too, has heaved over the centuries, so now the entire port side of the store sinks towards le grand magasins a few blocks away. Since 1761, À la Mere de Famille has only sold confiserie — a French goodies store with a lot more than bon bons.
Although there are now something like nine locations in Paris, a trip to the 9th Arrondissement to visit the original À la Mere de Famille is well worth the effort.
33 Rue du Faubourg
9th Arrondissement

Du Pain et des Idées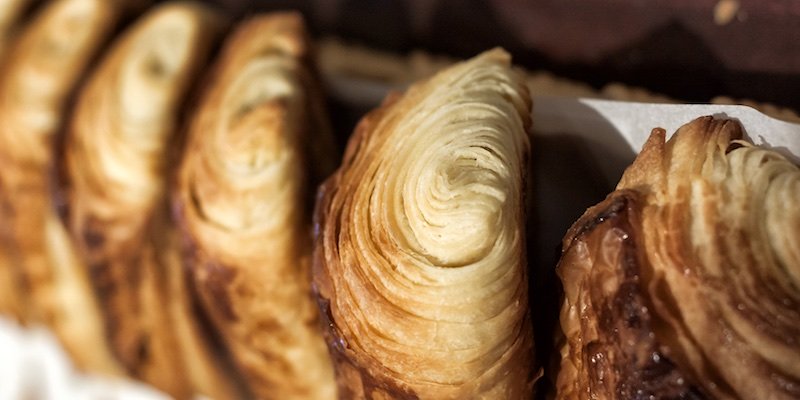 You're likely not the only one who thinks this is an unexpected name for a boulangerie. But, to us, the name signals that the baking is "fresh" — and by that we mean new, exciting, innovative. When we first caught up with Christophe Vasseur a few years back, he was shoveling snow off the sidewalk in front of his shop, Du Pain et des Idées.
"Ever since I was a child I wanted to become a baker. But it wasn't until I was thirty that I decided to leave the fashion business to become a boulanger." Six years after opening Christophe received the coveted Gault Millau award for the best boulangerie in Paris.
"When I first saw this location," Christophe told us, "I knew I had to have it. It is authentic, turn of the century. Look at the details, the classic architecture." Inside, every inch of the shop is beautiful and carefully considered. Don't miss the pain des idées, made with #65 flour for a darker color, elastic mie (interior), and smoky flavor. Also the delicate escargots de pistaches — think cinnamon bun filled with pistachio paste.
34 rue Yves Toudic
10th Arrondissement
La Seine Musicale
It's as if an aquatic spaceship has landed on the Seine — a curving boat-like shape with a glass-and-steel globe squashed on top. We're sure that architect Shigeru Ban would not like to hear that description, for this is La Seine Musicale, a relatively-new music venue in Paris, and it really is an amazing work.
Like another famous architect-designed modern space, Parc Andre Citroën, the new music complex is built on the site of a former automobile factory, in this case a Renault plant that closed in 2005. The modern space that replaces it curves along the island and seems to float on the water. There's a large solar "sail", embedded with more that 10,000 square feet of photovoltaic panels, that rotates to follow the daily course of the sun.
There's a large, multi-use concert hall with state-of-the-art acoustics, music studios, smaller music venues, spaces for meetings and receptions, and an expansive park on the island itself.
Île Seguin
92100 Boulogne-Billancourt

Cinémathèque Française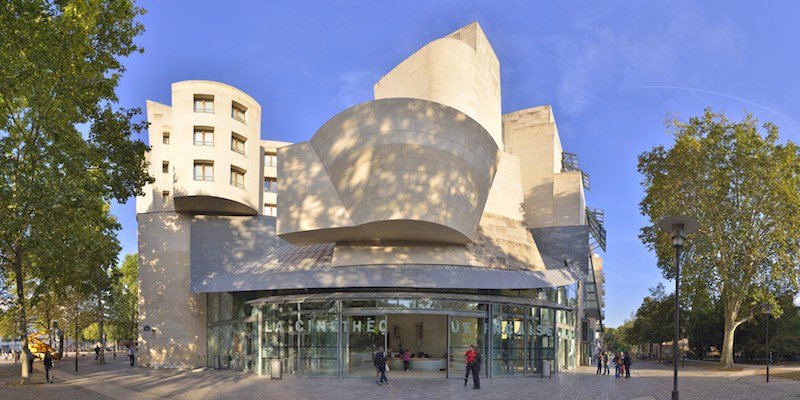 Did you know that one of the world's greatest film archival collections is found in Paris? We wouldn't be surprised if this is news to you, since Cinémathèque Française is located in the 12th Arrondissement, at Parc Bercy, off the main tourist routes. This film institute also features a museum of cinema. Bu, interesting to us are the retrospective screenings focusing on the work of one director or actor, often with commentary by a contemporary filmmaker.
For example, when the institute presented an Ingmar Bergman retrospective, the introduction was written by famed french director Olivier Assayas. Three dozen films by the Swedish master were shown over the space of seven or eight weeks, from his earliest shorts to his later works like Fanny and Alexandre.
The Cinémathèque Française building is itself a work of art.Designed by Frank Gehry, it was built in 1994 as something called "The American Center", supposedly a kind of cultural link between the New World and the old. Or something like that. Whatever its purpose, The American Center didn't last very long (it closed in just two years), but it wasn't until 2005 that Cinémathèque Française moved in, putting the fabulous modernist building to good use.
51 Rue de Bercy
12th Arrondissement

Paroisse Notre-Dame-du-Travail
It's easy to spot the Montparnasse quartier from anywhere in Paris. Tour Montparnasse, the city's sole skyscraper sticks up 210 metres like a giant menhir, marking the centre of the busy district and towering over the train station, Gare Montparnasse. But it wasn't always like this.
This area was outside of the city limits when the first train station was built here in 1840. It was a rural place, with fields, small towns, and villages. On the south side of where the gare is today was the hamlet of Plaisance, near the village of Vaugirard (which gave its name to what now is the longest street in Paris). The train station brought growth, and workers, to the village so that by 1850 it had 2,000 inhabitants.
The train station was enlarged — once, twice — and in 1860 the area became part of the City of Paris and continued to grow. The small parish church, Notre-Dame de Plaisance, serving the workers of the district, needed more space as the end of the century approached. Abbot Soulange-Bodin conceived the idea of a church dedicated to Notre Dame du Travail, Our Lady of Labour, to meet the need of the parishioners.
Influenced by the iron work of Gustave Eiffel and architect Victor Balard (who designed the iron-and-glass buildings of Les Halles), the new church was intended to remind workers of the factories, to feel at home in an environment of iron and wood — materials they worked with every day. The church, started in 1896, was completed in time for the Paris Exposition Universelle of 1900.
The church is worth a trip to the 14th. It's a fascinating addition to the more famous (and older) Gothic churches of Paris. In addition to the iron and wood construction you can see four paintings from the 1920s that represent the four saints of the world of work — Saint Luc (crafts), Saint Francis of Assisi (creation and ecology), Saint Eloi (metallurgy and silversmithing), and Saint Fiacre (gardening and market gardening)
59 Rue Vercingétorix
14th Arrondissement
Metro: Pernety

Place de Séoul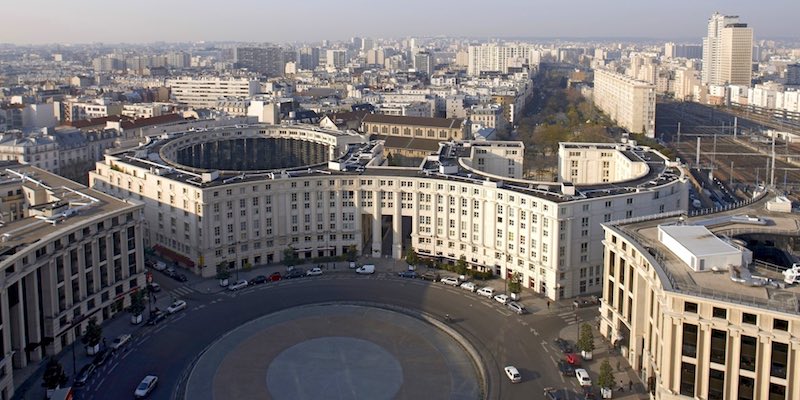 Most rail passengers arriving and departing from the busy Gare Montparnasse in the 14th Arrondissement don't realize that within shouting distance is a spectacular 1980s-era residential complex feature unique places and bevy of curved buildings. The centerpiece of the whole thing is Place de Séoul, which is surrounded by a curved, mirrored building nearly completing a circle. (Place de Séoul is in the circle to the center left. Paroisse Notre-Dame-du-Travail can be seen just behind, in the center of the photograph.)
By the time Paroisse Notre-Dame-du-Travail was being built the Plaisance district had become an unhealthy slum. Rapid growth and insufficient planning had resulted in unhealthy conditions, slip-shod construction, and workers living in sheds and other inadequate housing.
It wasn't until the end of the 1960s, though, that changes began to happen. 4,400 homes were demolished and a new urban plan was developed that would create 5,700 new homes (including social housing). Visionary architect Ricardo Boffil was brought in to redesign the area of 32 acres.
Place de Séoul is tucked in between two other round plazas — the smaller Place Slimane Azem and the étoile of Place Catalogne (in the photo foreground) — and the whole district has a clean, modernist feel. (Hotel Concorde Montparnasse, which serves the train station, is on Place Catalogne.)
Access off Place Catalogne via Rue Vercingétorix