Buly 1803 – Is This The Most Romantic Skin Care Shop in Paris?
L'Officine Universelle Buly, AKA Buly 1803, may be the most romantic skincare boutique in Paris. The romance of the senses, if you will. Wedged between art galleries, antique shops and the École Nationale des Beaux-Arts, the charming apothecary and boutique is the brainchild of Parisian couple Ramdane Touhami and Victoire de Taillac. Talking about the place we find our speech littered with superlatives.

Discover What's On When You're Here...
Discover What's On When You're Here
A Romantic Take on What a Shop Should Be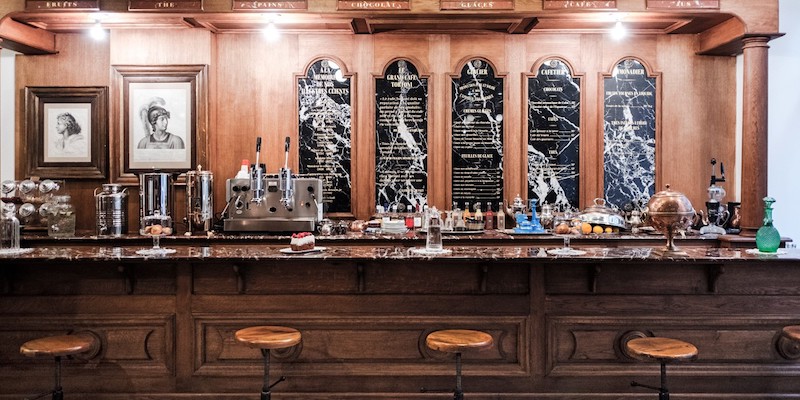 Inside Buly 1803 the walls are lined with patinated cabinets made of aged elm, walnut & oak, with French marble countertops. Decorative turquoise- and cream-enameled terracotta tiles cover the floor. Although the design is new, it looks as if the decor has been here for centuries and, like a cabinet of curiosities, it holds some of Paris' oldest beauty secrets. Luxurious handmade soaps, water-based perfumes, and beauty products in romantic, whimsical packaging are created from natural ingredients from around the globe.
The idea for Buly 1803 came from an Honoré de Balzac novel about a Parisian perfumer. Founders Touhamie and de Taillac were so taken by the tale that they went deep into it to discover the character was based on a real French fragrance tycoon. Jean-Vincent Bully established his body care shop in 1803 on Rue Saint-Honoré and made a name for himself with his perfumes and scented skincare vinegars (popular at the time for cleansing). For over 100 years the company flourished, before it faded into obscurity.

Updating Balzac & History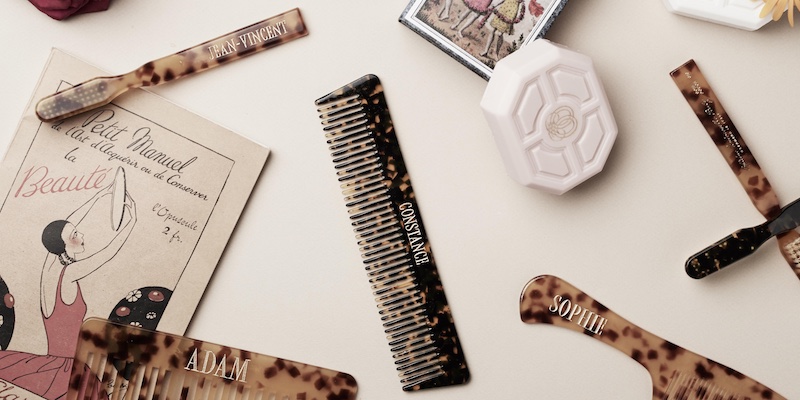 After the couple discovered Bully, they decided to reformulate his original skin care recipes (and drop the second L from his name) by combining the latest technology with age-old beauty secrets. After several years of research and development the flagship store on Rue Bonaparte opened in 2014, followed by a second location in the Marais in 2017. Officine Universelle Buly offers fifteen product lines covering head-to-toe beauty using unique plant oils with butters, powders, and clays.
Among their treasures is the legendary Minebari comb made for the Emperors of Japan. It takes 300 years for the trees to grow and then 100 years for the wood to dry. Before they are ready to be sold, the combs must sit in camellia oil for three years to soften. It takes hundreds of years and the skill of generations of craftsmen to produce a comb, but it does last a lifetime.
No detail is left to chance at Buly. As alcohol can be irritating, the couple invented water-based perfumes made from emulsions, like a vinaigrette. There are eleven scents in the collection including a favorite called Scottish Lichen with notes of wet earth, moss and grass. Once you try their water-based perfumes, you'll never go back to alcohol. Other enticing blends are the Sevillian Bigarade with fresh flowers, citrus, mint and rosemary and the Calabrian Bergamot with notes of bitter orange and earl grey.


Although the extensive Buly lines contain 700 products, the staff have been trained in the benefits of each of one of them, from tucuma seed oil and rose hip oil to origata — the Japanese art of gifting — and calligraphy. Every Buly 1803 product is hand labeled by an in-house calligrapher who writes your name on your purchases. It's an above-and-beyond gesture that you leaves you feeling like you have been cared for.
There's even a healing mouthwash, named La Belle Haleine,sourced from a natural spring in Casteran Vitruvian, a small village in France. The water has a special pH and has been used for healing since the Romans started using it over 2,000 years ago. Another of their Willy-Wonka-like products is Kami soap, made into thin sheets of paper. You simply place a small sheet of the Kami soap in your hand and, with a little water, it turns into a lather.

Body & Home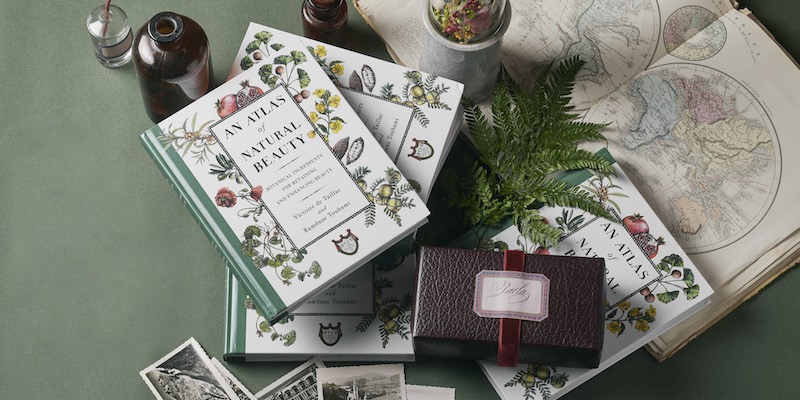 Victoire de Taillac is a sort of aristocrat turned shopkeeper. (If the name seems familiar, it might be because we've also written about her sister, Paris-based jeweler Marie-Hélène de Taillac.) Victoire can still be found in the boutique helping customers select the right products to care for their complexion or explaining the usefulness of aloe vera macerate. (Hint: it soothes the scalp.)
After your body is taken care of, Buly 1803 tends to your home as well using the art of perfuming with plant-based scented candles, matches, incense, and alabaster. The alabaster stone is a new way of fragrance diffusion without heat or steam. The alabaster is a painted porcelain box incorporating a piece of porous sedimentary stone with a honeycombed structure. The scent is simply poured onto the stone and the fragrance is released. The alabaster fills a room, big or small, with all-natural fragrance. We're partial to the Campagne d'Italie made from grapefruit, bergamot and sandalwood. There's also Alexandrie made with lemon, blackcurrant and ginger, and Sacre with pine, incense and cedar.
Walking through the door of the Rue Bonaparte shop is like stepping into the 1800s, when Jean-Vincent Bully displayed his own collection of fragrances, all-natural oils, powders, clays, incense, and potpourris. More than two hundred years later, Buly 1803's perfumes, ointments, creams, and salves are waiting for the modern shopper. If you're lucky enough to be staying at the Hotel de Crillon, your bathroom will be stocked with products by Buly 1803.

Buly 1803 Resources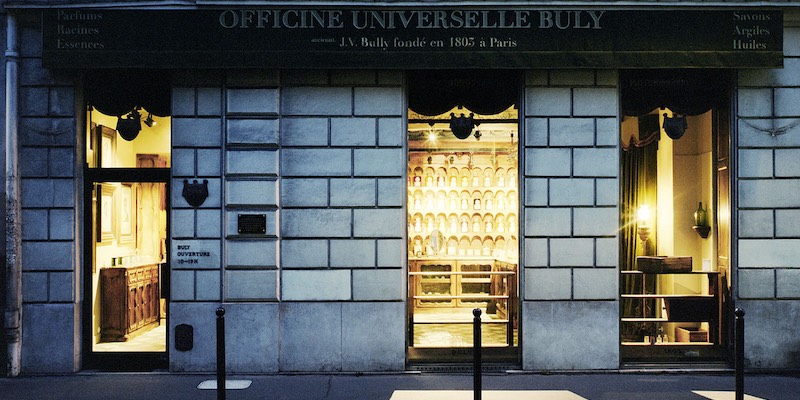 6 Rue Bonaparte
6th Arrondissement
Metro: Saint-Germain-des-Prés
45 Rue de Saintonge
The Marais, 3rd Arrondissement
Metro: Filles du Calvaire