Bastille Day Celebrations in Paris 2017
Whether you call it Le Quatorze Juillet or La Fête Nationale, Bastille Day celebrations are a big deal in Paris and throughout France. On Avenue Champs-Elysées there's a military parade that is a high point of the national holiday celebrations. The parade starts at the Arc de Triomphe and ends on the Place de la Concorde.
In the evening, the city of Paris stages a massive free concert and the city's only fireworks show of the year. The concert takes place on the Champ de Mars right near at the base of the Eiffel tower. Let's take a look at the complete list of the festivities.

2017 Bastille Day Celebrations in Paris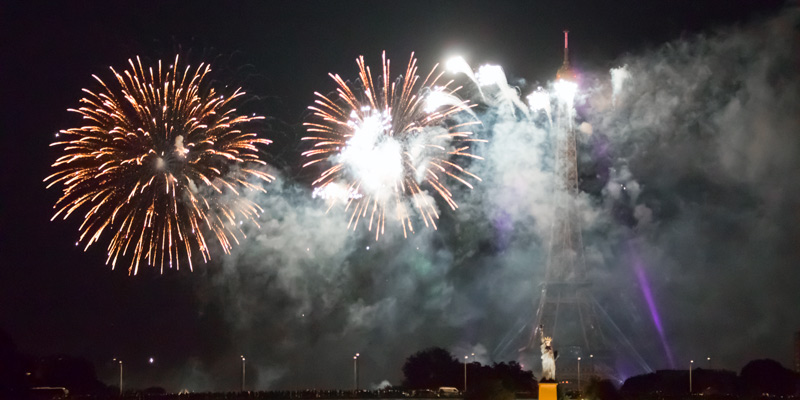 On Friday, July 14, 2017, a spectacular fireworks display will be set off from the Eiffel Tower. The best place to see the display is from the Champs de Mars at the base of the tower or the plaza at Trocadéro across the river. However, you can also watch the fireworks anywhere along the Seine River. (Last year we watched it from the quay along the Seine just downstream from the Bir Hakeim bridge.) The festivities start at around 9:00 pm as people gather in Champs de Mar for an outdoor music concert. The fireworks start at around 11 pm and last about 35 minutes.
Bastille Day Dinner Cruise on the Seine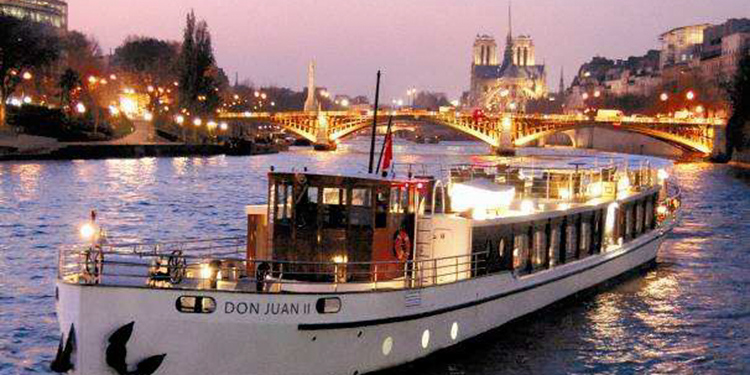 Even better than being on the banks of the Seine is the view of the fireworks from a boat on the river. If you're going to be in Paris on July 14, try to book a dinner cruise, it's the perfect place to admire the event and you'll be away from the crowds.
This is our readers' favorite dinner cruise, featuring a 3-course classic French dinner with wine. We also like that it includes hotel pickup and return. But if you're going to book for the Bastille Day celebrations, do it far in advance!

VIP Gourmet Dinner Cruise on the Private Yacht, Don Juan II
It's easy to see why we personally like this dinner cruise even better. It takes place in the intimate setting of a private yacht and it's arranged by our Paris Concierge, so we know it's going to be very nice. This is definitely going to sell out, so inquire right away. We can't guarantee there will be space.
→ Inquire Now…

Défilé Militaire du 14 Juillet – The Bastille Day Parade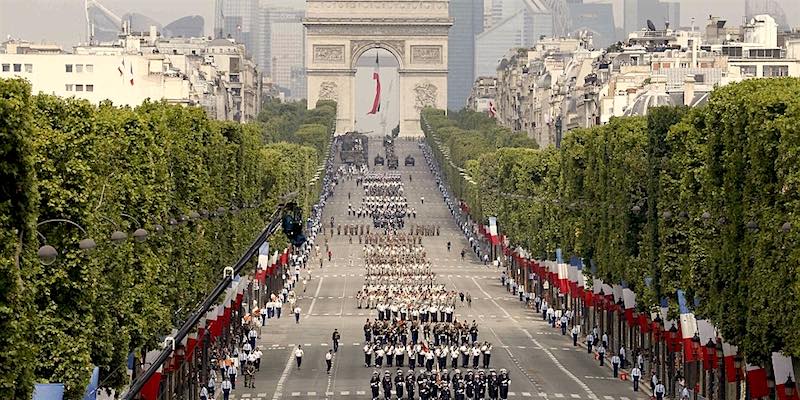 The military parade has been held every July 14 since 1880. (As expected, though, there was no parade during the years of Nazi occupation during World War II.) It's a big deal and the event is broadcast on French television. If you want to get a glimpse of the President of France or secure a good place to see the parade make sure to arrive at least an hour before the start time.
Minute-by-minute description of the parade —
10:10 am: The President of France arrives at the Arc de Triomphe at Avenue de Friedland to inspect the troops.
10:25 am: A tribute is paid to the President of the France.
10:30 am: The opening ceremonies
10:44 am: The French acrobatic patrol (Patrouille Acrobatique de France) airplanes fly over
10:54 am: The foot troops commence
11:36 am: The motorized and mounted troops commence
11:51 am: The parade officially ends
11:55 am: The President departs
A Brief French History Lesson
Bastille Day commemorates the storming of the Bastille prison on July 14, 1789. The French Revolution transformed France into a land of equality and democracy with the Declaration of the Rights of Man. Here's a very short synopsis of what happened in the following years —
1790 – The first Fête de la Fédération is held on July 14.
1792 – France becomes a republic.
1793 – King Louis XVI is executed.
1799 – The French Senate is founded.
1804 – Napoleon Bonaparte declares himself the first Emperor of France.
It's A Social Event
The Bastille Day celebrations are another reason for family and friends to gather outdoors for a picnic. If you could peek into one of their picnic baskets you might find strawberries, a baguette or two, cheeses, smoked chicken, pastries, summer fruit, and perhaps a bottle of champagne. Many restaurants feature special Bastille Day menus and the parks are filled with locals playing pétanque.
Fireman's Ball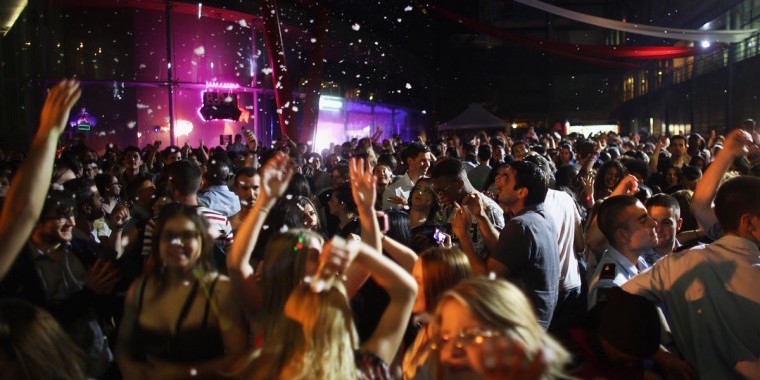 The French adore their pompiers (firemen) and for good reason. Each year, on July 13 and 14, from 9 pm to 4 am, the fire stations of Paris welcome visitors in an open house celebration. There's dancing, drinking and plenty of merriment. It's a very popular event with sometimes long lines.
Bastille Day Firemen's Balls in Paris —
Rousseau Station, 21 rue du Jour, 1st Arr. Metro Les Halles
Sevigne Station, 7-9 rue de Sevigne, 4th Arr. Metro Saint-Paul
CCL5 Station, 47-59 rue Monge, 5th Arr. Metro Place Monge
Colombier Station, 11 rue du Vieux Colombier, 6th Arr. Metro Saint-Sulpice
Blanche Station, 28 rue Blanche, 9th Arr. Metro Trinite d'Estienne d'Orves
Chaligny Station, 26 rue de Chaligny, 12th Arr. Metro Reuilly Diderot
Port-Royal Station, 53-55 boulevard Port-Royal, 13th Arr. Metro Les Gobelins
Massena Station, 37 boulevard Massena, 13th Arr. Metro Porte d'Ivry
Grenelle Station, 6 place Violet, 15th Arr. Metro Commerce
Boursault Station, 27 rue Boursault, 17th Arr. Metro Rome
Montmartre Station, 12 rue Carpeaux, 18th Arr. Metro Guy Moquet
Bitche Station, 2 place de Bitche, 19th Arr. Metro Crimee
Menilmontant Station, 47 rue Saint-Fargeau, 20th Arr. Metro Pelleport

Bastille Day Celebrations Information
Bastille Day is a national holiday in France, so expect all banks and some museums to be closed.
The Louvre Museum is free of charge and not as crowded as you might expect
If you want to sound like a vrai Parisien, don't call it "Bastille Day". Instead, ppt for La Fête Nationale.
During the time of the parade, many of the Metro stations along Line 1 will be closed — Charles de Gaulle-Etoile, George V, Franklin D. Roosevelt, Champs-Elysees-Clemenceau, Concorde, and Tuileries.
Most large department stores will be open, many small shops will be closed.