55 Of The Best Things To Do In Paris In August 2019 – It's Summer!
Les vacances (the annual month-long vacation) is on everyone's mind as August approaches and tout le monde flees Paris for their annual vacation. But, it's a Paris Insiders secret that August is one of the best months to visit — the weather is great and, with much smaller crowds, the city becomes your own personal playground.
Most Popular Activities
The Best Things to Do in Paris August 2019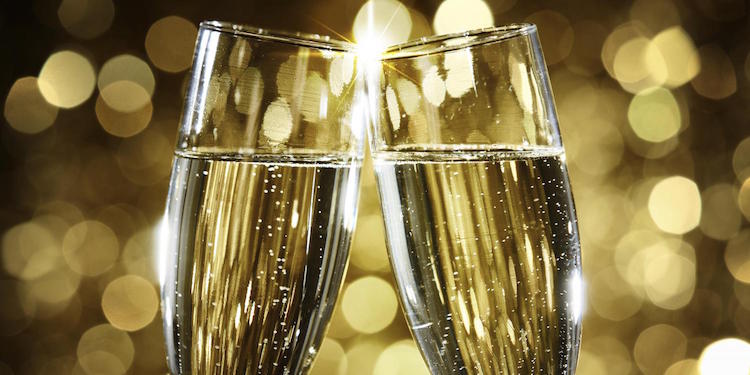 Why not celebrate your stay Paris with a champagne-fuelled cruise down the most romantic river in the world. We think that this is one of the very best ways to see the sights of the city — gliding past iconic buildings and monuments on a bateaux… while sipping bubbly!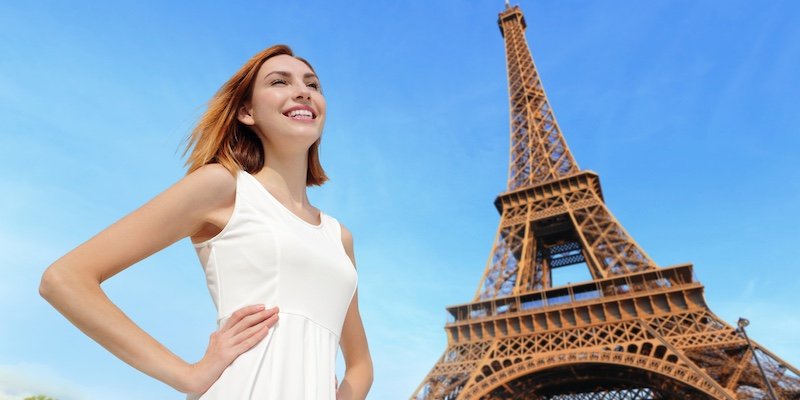 The Eiffel Tower gets 9 million visitors a year and that means long lines all the time. We don't waste our precious time in Paris waiting in line, we book a skip-the-line tour that takes us past the long lineup and right up the Tower. Eiffel Tower tours will be certain to sell out, so book as early as you can.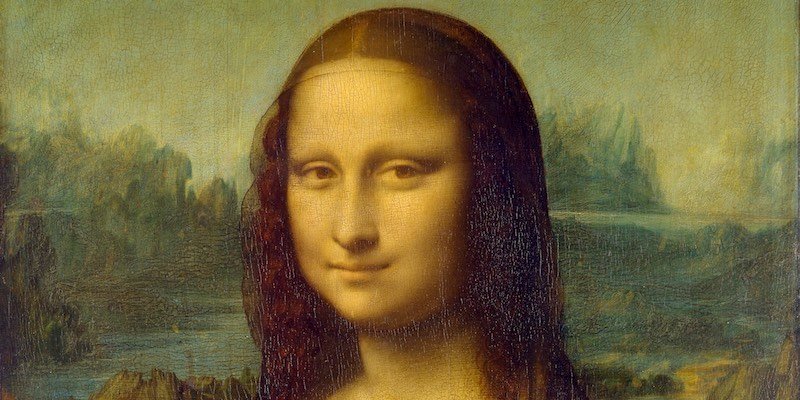 Here's another way to to have a lot of fun during an evening in Paris. Nine million people visit the Louvre every year, and that means lineups. But this tour walks you past the ticket lines and right to the best artwork in the Louvre — in the evening, when the crowds are smaller. After the museum closes you go to a cute wine bar to end the evening with tastings. Can you guess why it's our favorite way to see the Louvre! Also see, The Top 10 Ways To Skip The Lines In Paris…

Skip-the-Line at the Louvre Museum
Not interested in wine tasting? Then go for this other great guided tour of the Louvre that leads you past the lines and right to the most famous works of art, also allowing you plenty of time to wander. These tours sell out, so be sure to book early.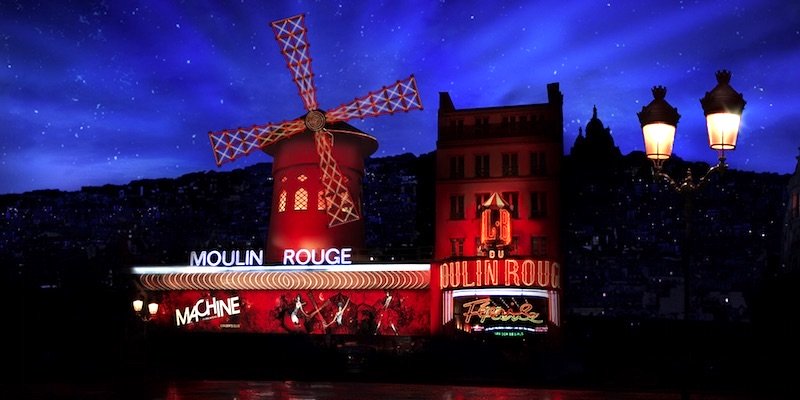 Everyone loves this complete night on the town. The popular tour combines the best of Paris — dinner on the Eiffel Tower, an evening cruise along the Seine, and the fabulous Moulin Rouge for champagne and a show. All the details are taken care of. Remember, you're on vacation, let someone else do the planning work! Also see, The 6 Best Evenings In Paris…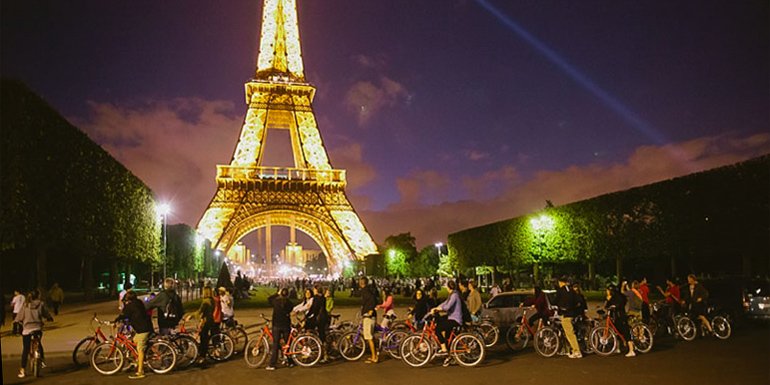 Summer is a great time for this fun guided cycling tour around the most famous landmarks of Paris, and this 2-for-1 tour delivers. Stop for a cone at the Bertillon, the city's most celebrated ice cream shop, and then hop on a river boat for a nighttime cruise along the Seine. A glass of wine is included, of course!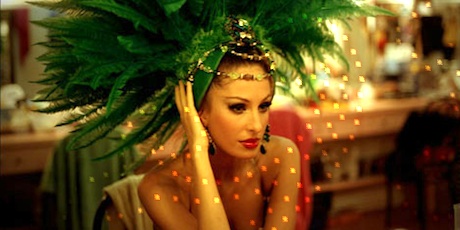 Dine at the Moulin Rouge and take in the number-one rated cabaret in Europe. This is the the easy way — no need to figure out how to get there or what to do when you're ready to leave. Everything is arranged for you, right from the door of your hotel. Moulin Rouge sells out weeks in advance, so be sure to book ahead of time. Also see, 7 Ways To See The Hottest Show in Town…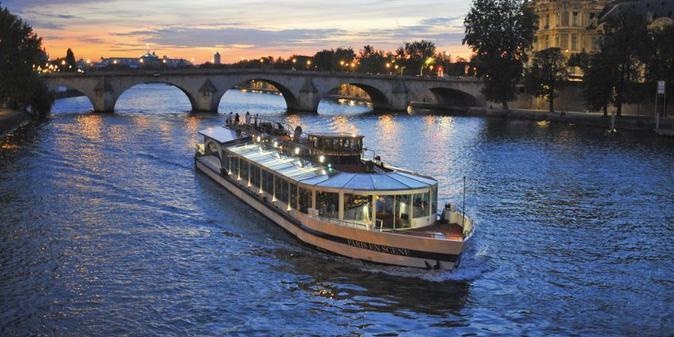 This popular nighttime activity combines cruising along the river, dining on a gourmet meal, and listening to live music. We think you'll find that everything looks better from a bateau at night. Famous landmarks will pass by as you enjoy a multi-course French meal with wine. Also see, The 6 Top Dinner Cruises in Paris…
Louvre + Seine River Cruise + Eiffel Tower + Notre Dame. This smart tour gets you to the best of the city in a single day. Skip past the lines and into the Louvre for the highlights, then take a Seine river cruise to the Eiffel Tower, where you skip the lines for lunch at restaurant 58 Tour Eiffel. But you're not done yet — you also visit Notre Dame Cathedral on the picturesque Île de la Cité. Also see, The 6 Best Paris City Tours…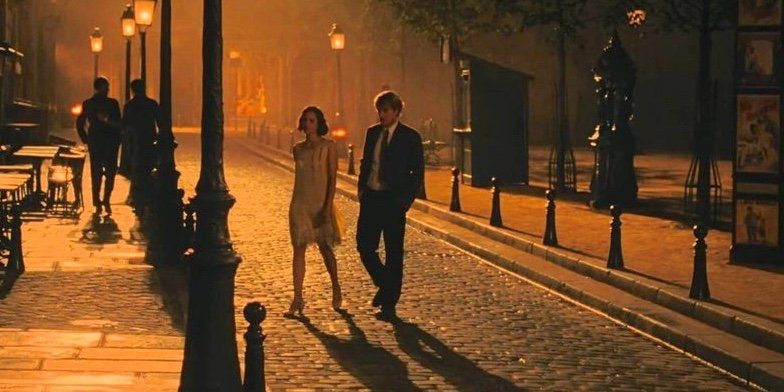 On a glorious August evening make time for this tour of the dark side of the City of Light. Explore the winding streets and hidden alleys of a city with over 2,000 years of history. In that amount of time there have arisen lots of legends and stories about ghosts, the Black Plague, wars, and the unexplained. Our readers love this walking adventure led by an informative guide. Also see, The 10 Best Walking Tours Of Paris…
If Paris is wonderful by day, it's even better at night — from the illuminated monuments, churches & historic buildings to the view of Paris from the river. And on this 2-in-1 activity you see it all. If you have only a short time in Paris, this 4-hour illuminations tour & river cruise is a perfect way to experience the city.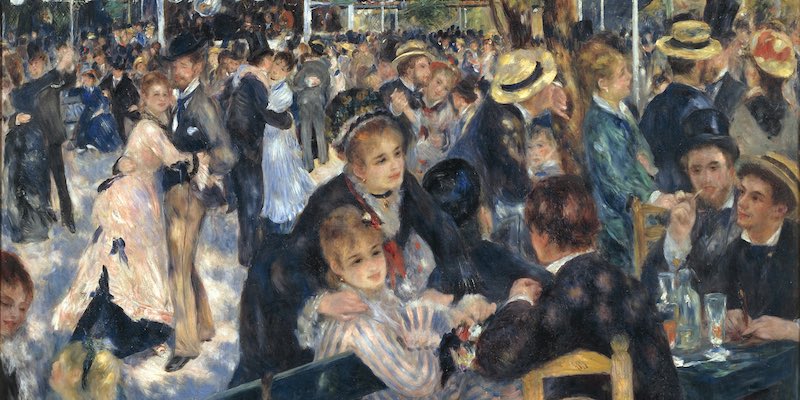 This art-lover's tour of Montmartre combines the fascinating setting of this hilltop quartier with the history of the artists who have lived here. Visit the house where Van Gogh lived, the famous windmill cabaret of Renoir, the site of Picasso's early studio, and more. Also included is a skip-the-line ticket for the famous Impressionist museum, Musée d'Orsay. This activity has hundreds of 5-star reviews, so be sure to book early,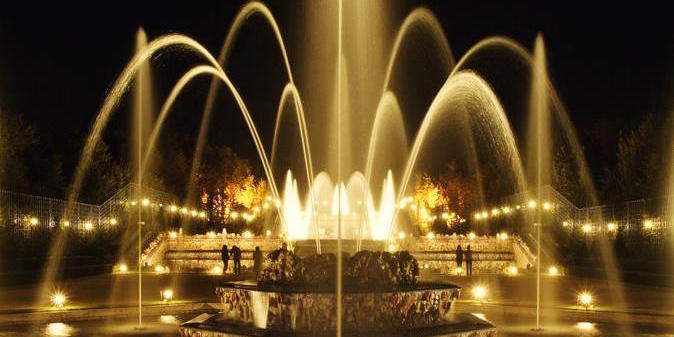 At its peak, Versailles had 2,400 fountains running. Today there are about 50 and the best of them can be viewed during the summer-only fountain show, choreographed to music from the court of Louis XIV. It's one of those summer events that you don't want to miss — only on weekends on special tours like this one. This half-day tour also includes priority access to the palace.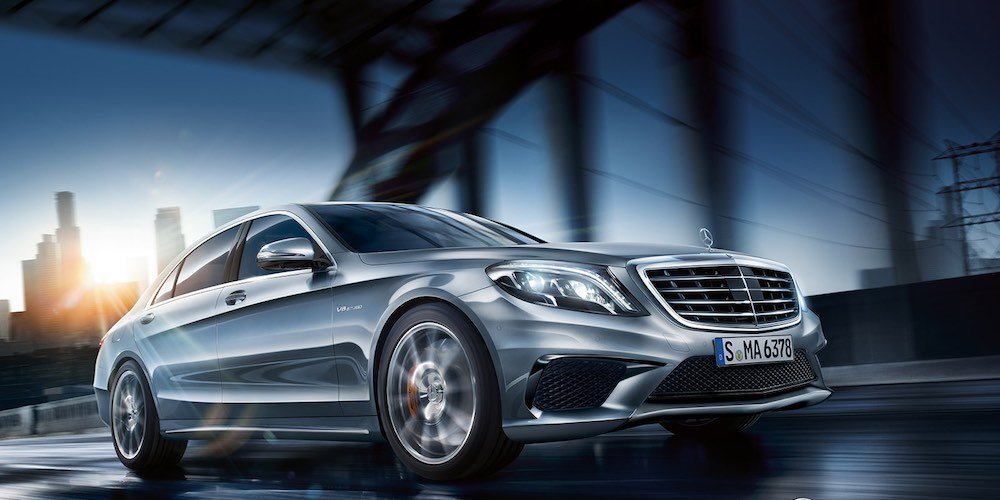 One of our most appreciated pieces of advice is to pre-arrange transportation from the airport into central Paris. We find it's comforting to be prepared and to know what's going to happen when you arrive. An easy and affordable transfer is by shuttle van service right to your hotel. Or you might want to go with best tip — a VIP private transfer in a luxurious Mercedes S-Class. Honestly, it's the only way to do it!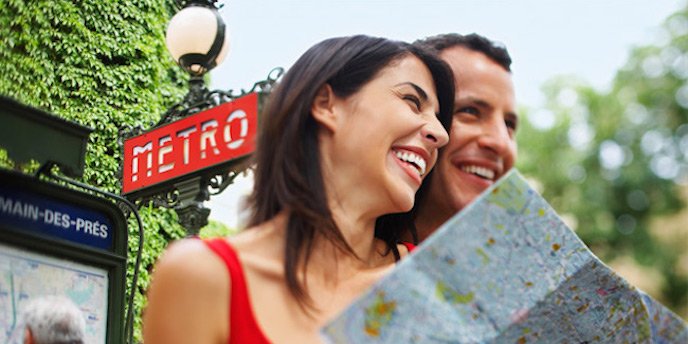 We know that travelers want to save time in Paris, but why not save money as well? That's why we created our very own Paris Insiders Pass — you get into the museums for free and ride the Metro for free. Even better, we've arranged special savings for you. Use the discount code INSIDERS5 for extra savings. But to us the big advantage is skipping the looong Paris lines. Also see, Complete Guide to the Paris Insiders Pass…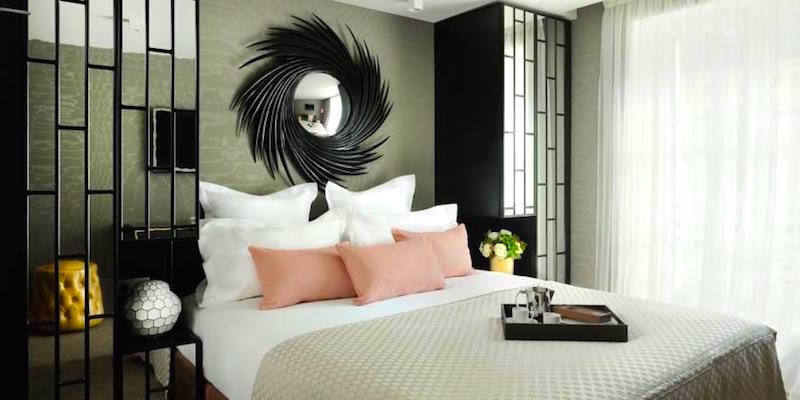 Who doesn't love staying on the Left Bank of Paris? Since Hemingway and the Jazz Age, the Left Bank has defined the essence of Paris. The Saint-Germain neighborhood is charming, and so are the best of the hotels in the quartier. In fact, here are our picks of the top 5 Left Bank hotels — with a couple of bonuses as well!
The Top Day Trips From Paris
Things to Do in Paris August 2019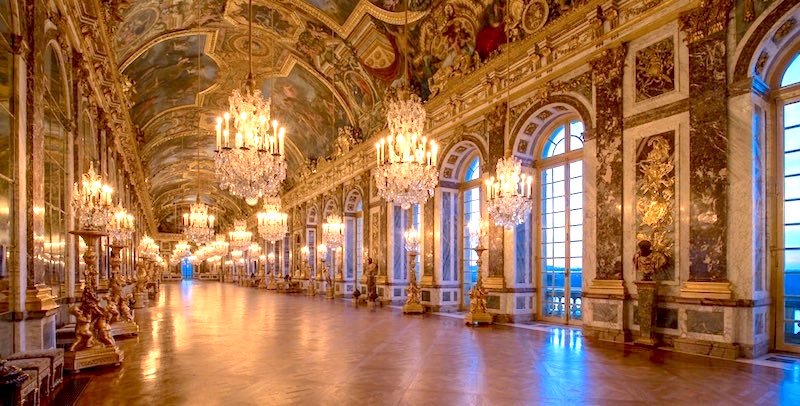 Versailles is a symbol of grandeur and royal decadence. The chateaux and gardens are don't-miss destinations when you're in Paris — and so close that it's an easy day trip. The only way to avoid standing in the long lines it to go the royal route. Book a skip-the-line tour with a driver/guide to make the past come alive. Includes transportation to and from your hotel.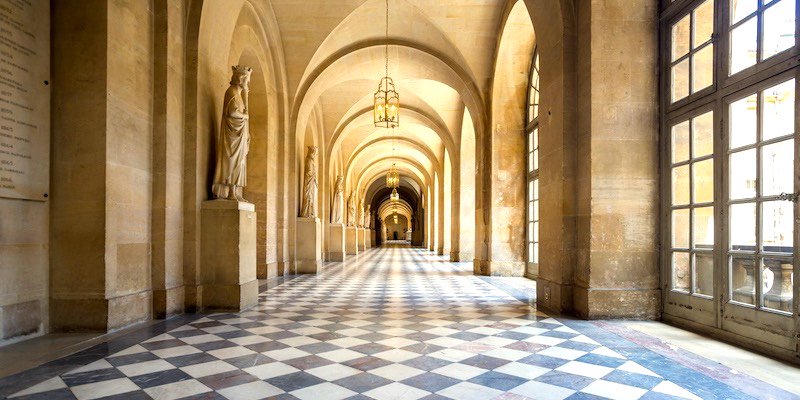 If you're like us, you love getting behind the scenes. (Heck, that's why we call ourselves "Paris Insiders Guide" !) This VIP tour lets you experience the Versailles most tourists will never see — the apartments, the personal library, and the Opera House built for the royal wedding. On the morning tour you get entry into the Hall of Mirrors just as the doors of the palace open, and before the crowds arrive.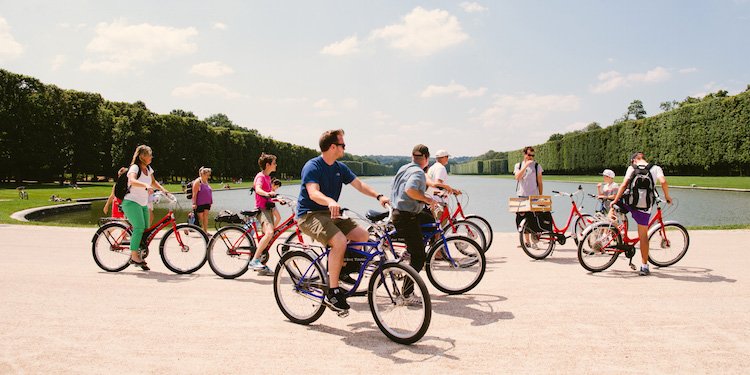 We love this summer 2-in-1 activity. Ride the train with your guide to Versailles, where you pick up your bikes. Then cruise the countryside as you glide through forests and pastures, to the local market, to the gardens of Versailles, and past the historic grounds & buildings. You also use your VIP skip-the-line passes to explore the chateau as long as you like. This makes for a wonderful day, but be sure to book right now!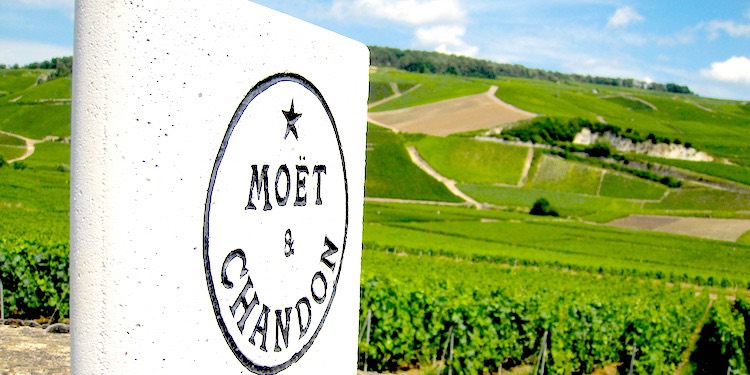 Focus on the bubbly on a day trip to the famous Champagne country, only an hour from Paris. Get picked up at your hotel and driven through the beautiful wine country to visit the most famous champagne houses. Finish with a guided tasting of the Grand Crus of Champagne. Sample as much as you want — your expert guide is doing the driving! Available as a private tour as well. Also see, The 3 Top Day Trips to Champagne…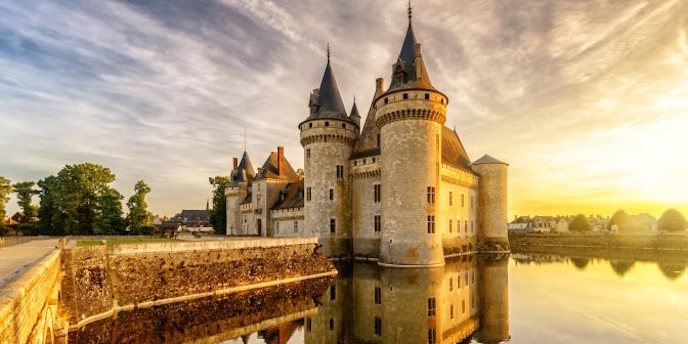 This beautiful Renaissance valley is known for more that just its famous chateaux. The Loire Valley also produces world-renowned wines. This very popular tour gets you guided tours into the most famous castles, but it also includes a guided wine tasting of the best varietals from the region. The wine tasting happens during a bountiful French lunch. It's like two trips in one!

If you want to concentrate on the castles, then opt for this fun day trip from Paris, sans wine, that gets you to the three most important chateaux – Cheverny, Chenonceau and Chambord.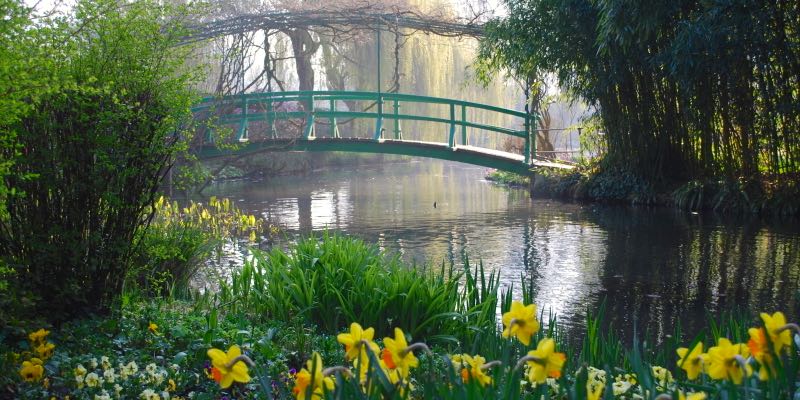 The only thing more popular than visiting Versailles or Claude Monet's gardens at Giverny is visiting them both of them in one day. The gardens will be at the peak of the season when this tour takes you first to Versailles and then to Monet's house and gardens. Here you will see his Impressionist world blossom in front of your eyes. On this small-group tour you are picked up at your Paris address and driven to both locations for guided tours. Lunch is also included.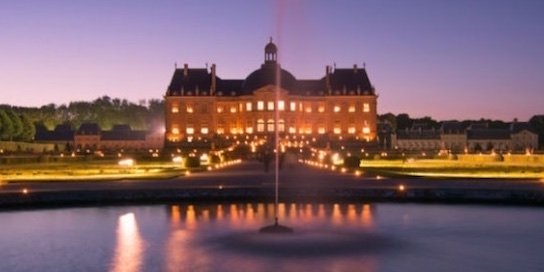 Both of these royal chateaux are close to Paris and this 2-for-1 activity gets you to both of them in one day. "The true home of kings, the house of all centuries," Napoleon said of Fontainebleau, one of the largest of French royal castles and still worth visiting today. Also on your agenda is Vaux le Vicomte, the stunning castle and gardens that were the direct inspiration for Versailles. Also see, Vaux-le-Vicomte Tour with Champagne and Luxury Car Transport…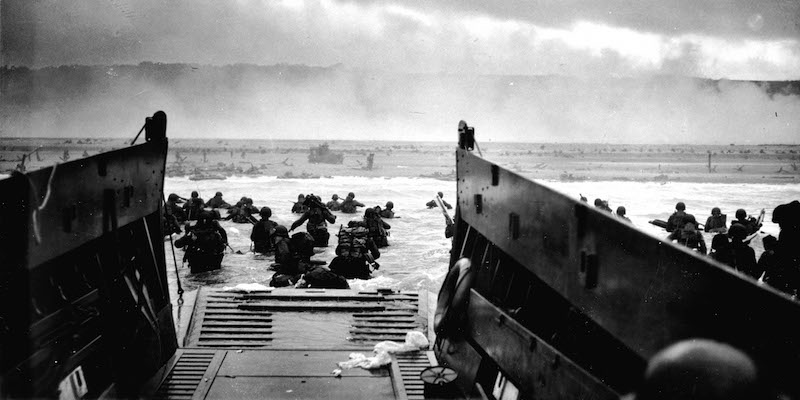 Ride through the beautiful Normandy countryside on your way to vist the most important sites of World War II — memorials, landing beaches, and cemeteries. Hard to believe that it was three-quarters of a century ago that the end of that war began on the beaches of Normandy. We strongly recommend this small group tour in which your driver picks you up at your Paris address. Lunch is included.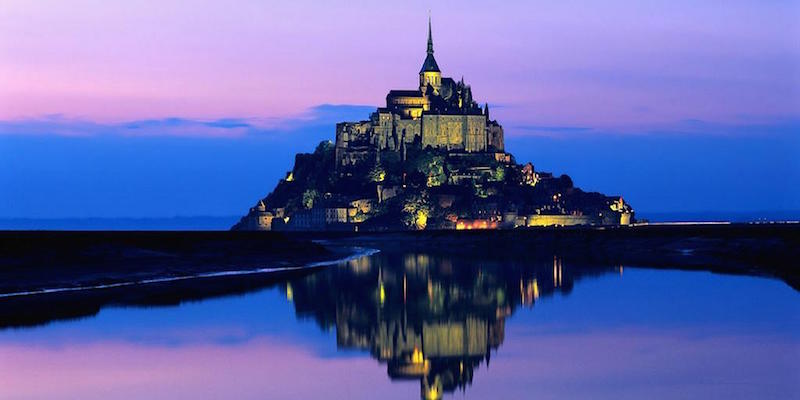 Spend a day exploring the coast of Normandy and the fairytale island of Mont Saint-Michel. Visit the Benedictine abbey that becomes separated from the mainland during high tide. Wander along the narrow streets, the shops, and the abbey's ramparts. On your way you drive through the picturesque Normandy countryside. Everything is included, even pick-up at your hotel.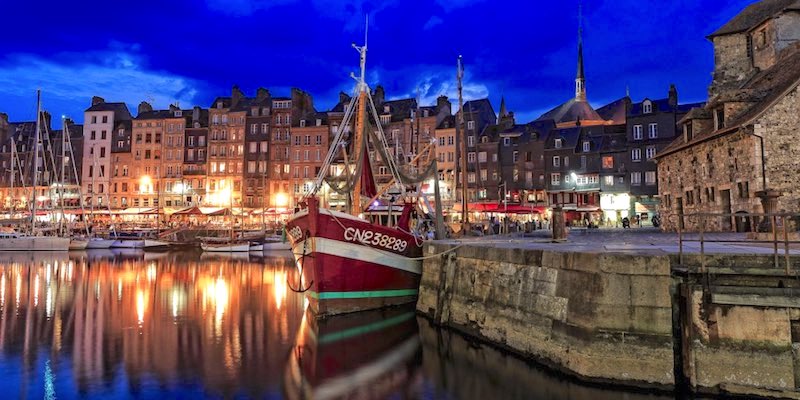 The long days of summer are the perfect times to go beyond the Paris city gates and visit the treasures of France. Take a day trip to historic Rouen, to the World War One battlefields, Bruges, and even London. Read our guide to the six essential summertime excursions from Paris to make your France vacation better than ever.
Classical Music, Opera & Ballet
Things to Do in Paris August 2019
Concerts at La Sainte Chapelle
A Paris Insiders Guide Favourite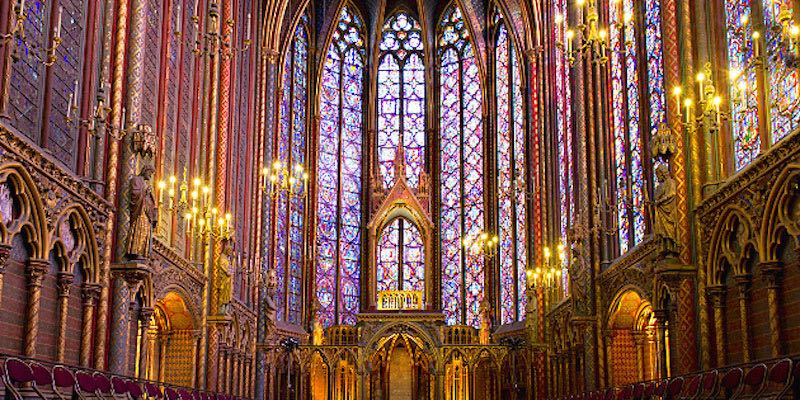 Well-known classical musicians perform timeless pieces at the stunning French Gothic church, La Sainte Chapelle. This jewel of Paris — with massive stained glass walls and soaring ceilings — was built in the 13th century and restored in the 21st in a dazzling renovation. This is the perfect way to spend a sizzling August evening in Paris. The acoustically-perfect La Sainte Chapelle is our favourite venue in Paris for classical music.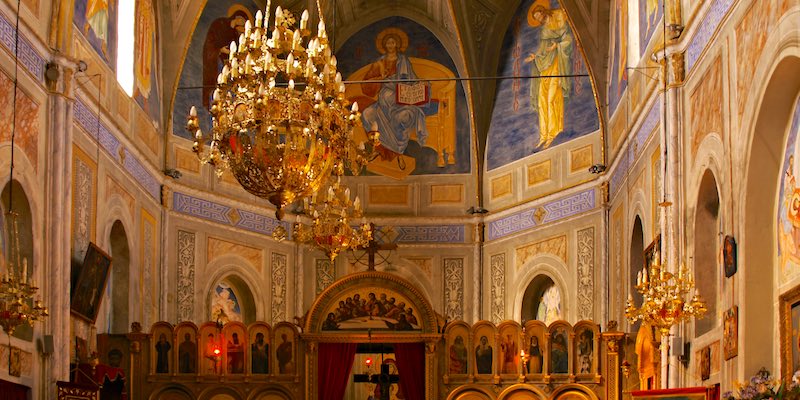 The outstanding acoustics and remarkable ambience of Eglise Saint-Ephrem provide a wonderful setting for the classical music of world-famous composers. Saint-Ephrem is located in the historic heart of Paris, the Latin Quarter, that got its name from the medieval scholars who studied at the universities located here.
Vivaldi's The Four Seasons at La Madeleine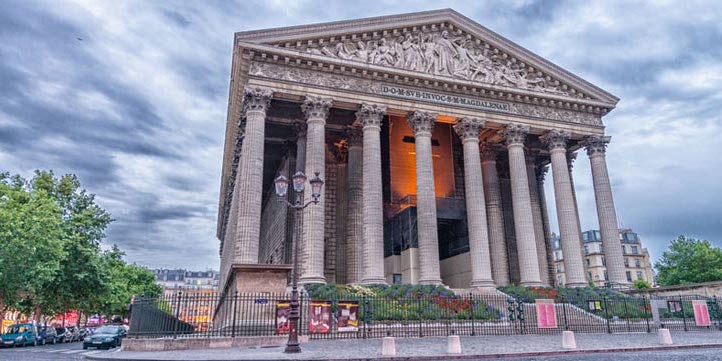 More Greek temple than typical church, the classically-inspired Église de la Madeleine owes its existence to France's last kings and to its first emperor. It sits proudly in the center of Paris as a monument to the history of the city. Today, it's also a popular venue for classical music concerts, including this month's performance of The Four Seasons.
Classical Concerts at Saint Germain des Prés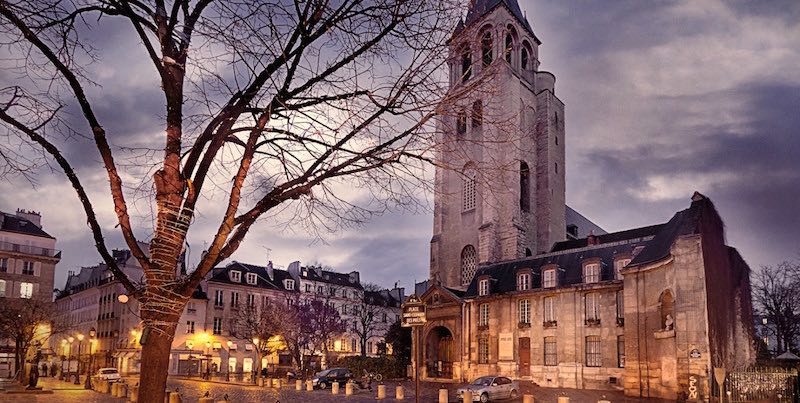 With 1,500 years of history, Église Saint Germain des Prés is the oldest church in Paris. The elegant 11th-century tower features 19th-century frescoes and the tomb of French philosopher René Descartes. After the concert, take some time to stroll the charming streets of this iconic Left Bank neighborhood.
Classical Music in Paris in August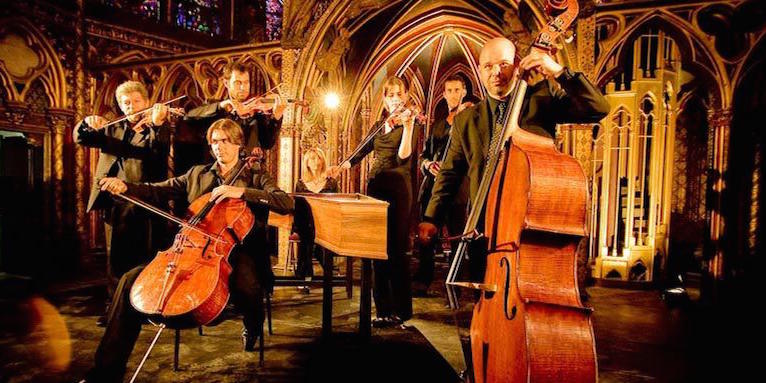 Paris is renowned for its collection of magnificent Gothic churches. But the great things about Paris is that many of these historic buildings are also venues for classical music played by some of the top musicians. If you consider that Paris is also home to Palais Garnier and Opera Bastille, you can be assured that you can hear a great performance on almost any night in Paris.
The Top Food & Wine Activities
Things to Do in Paris August 2019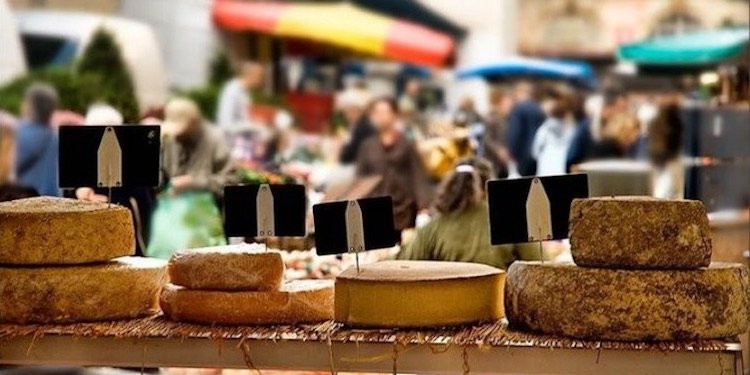 This is a new food tour that visitors are loving — and rewarding with 5-star reviews. It takes you around the historic Marais neighborhood to visit the top food & wine shops. What do you taste? The best food of France, like cheese, charcuterie, baguettes, chocolate, and the most famous wines. And it all starts out at the oldest food market in Paris.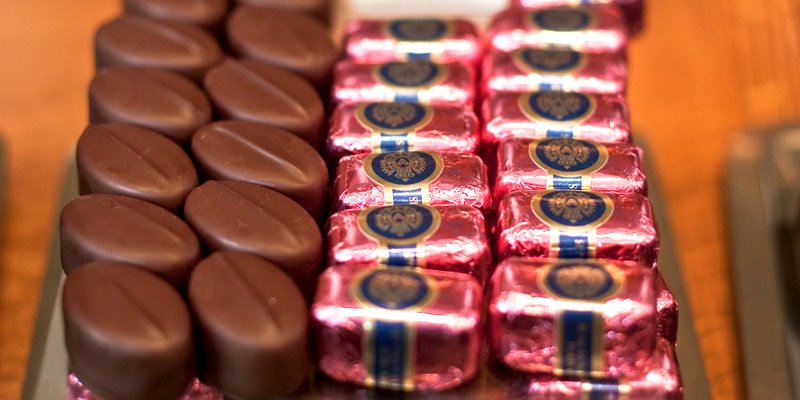 If wine and Paris go together, what about Paris, chocolate and pastries? Is it a wonder that visitors love this guided walking tour? Get behind the scenes of traditional French desserts, including regional specialities. Along with plenty of sampling of course! And don't worry, any calories will be burned off by the walking.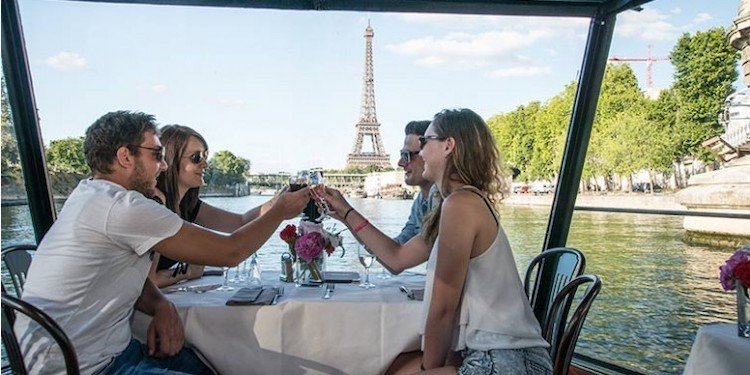 Here is a fun, casual, and affordable activity that also involves a multi-course meal and a river cruise. Combine great dining with a tour of Paris… riverside. A cruise on a bateau is something you must do in Paris, so why not have lunch at the same time? Look out the window at the monuments of Paris passing by. This lunch cruise has become very popular, so book early.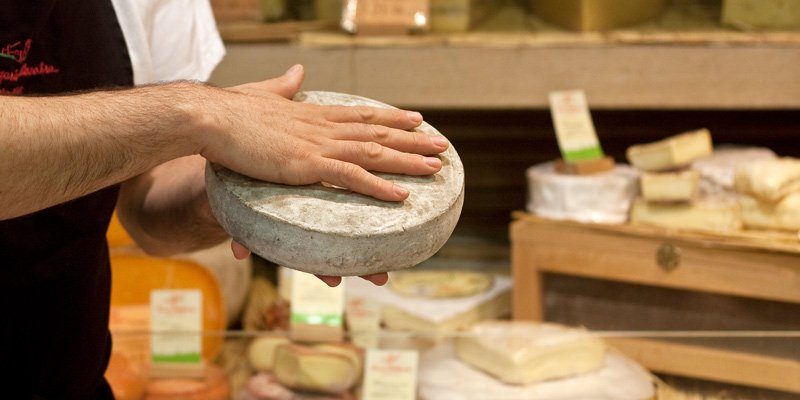 We all know that Paris is a food capital, and you'll discover why on this walking tour. Visit and sample tastings at small speciality shops in an iconic neighborhood with a food-expert guide. Boulangeries, cheese shops, charcuteries, foie gras merchants, a street market — there's a lot to experience and a lot learn about French food. Also see, The Top Ten Food & Wine Experiences …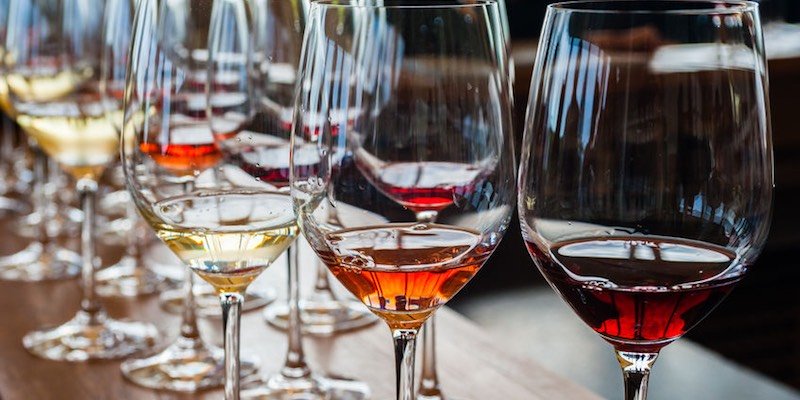 France, Paris, Wine — they just go together, don't they? Take the opportunity to learn about the country's wine regions and taste the wines, with guidance from an expert sommelier. We recommend the 2-hour grand cru tasting — it gives the rare opportunity to taste some of the finest wines of France. It all takes place in a charming wine bar very near the Louvre.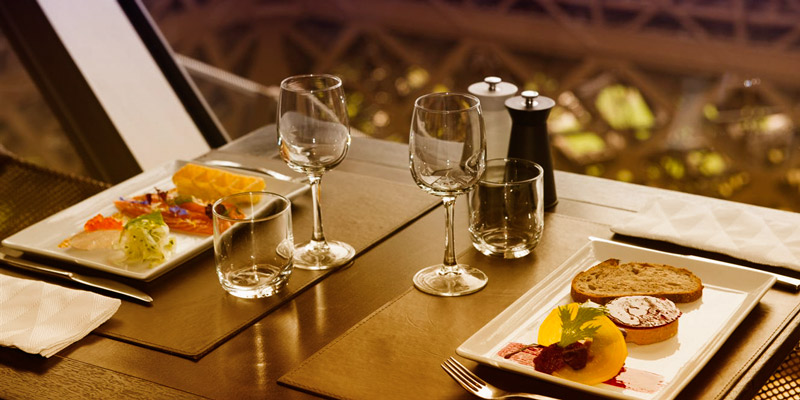 Dine on a 4-course classic French meal as you gaze down on Paris — taking in a birds-eye view of the river Seine below you as well as the Champ de Mars, Les Invalides, Montparnasse Tower, Montmartre. Your priority-access pass gets you past the lineups and up the tower to restaurant 58 Tour Eiffel. Wine is included, of course. Lunch is also available.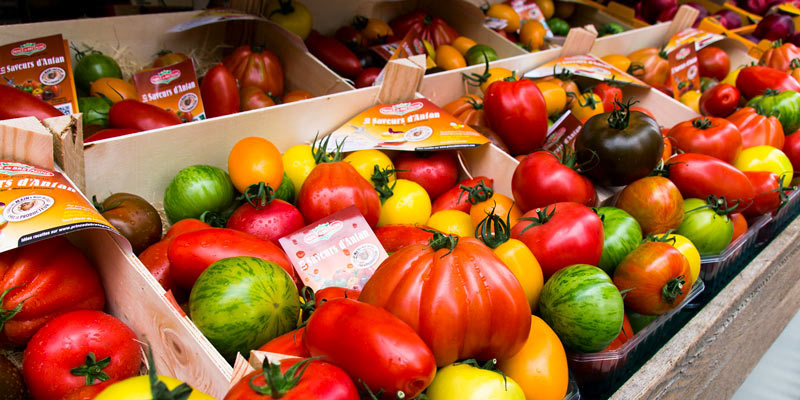 Have you ever dreamed of taking a cooking class in Paris? This popular class guides you (under the tutelage of a Paris chef) through the creation of an entire French meal — entrée, plat, et dessert. At the end of the cooking, sit down and enjoy what you've made. Be sure to choose the option that includes a guided tour of the local markets to meet butchers, fishmongers, and produce sellers as you gather the fresh ingredients for your class.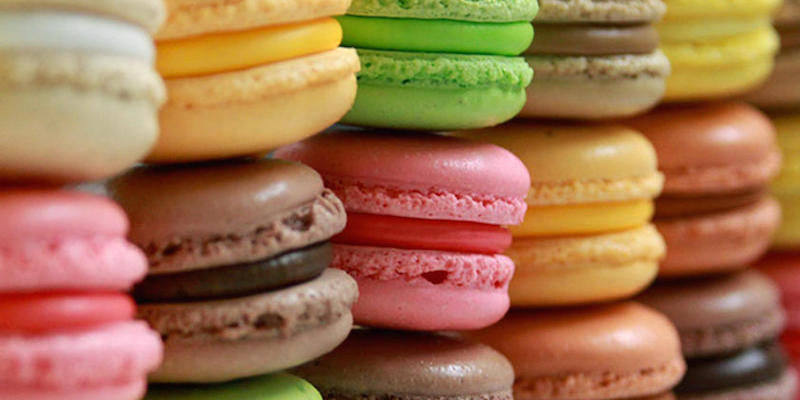 It's no wonder Parisians continue to be mad about macarons. These delicate meringue-based confections are like eating a dream. Learn to make your own macarons in this small-group class, where you get loads of attention from Chef Marthe while creating your own confections. At the end you have a box of the delicacies to take with you.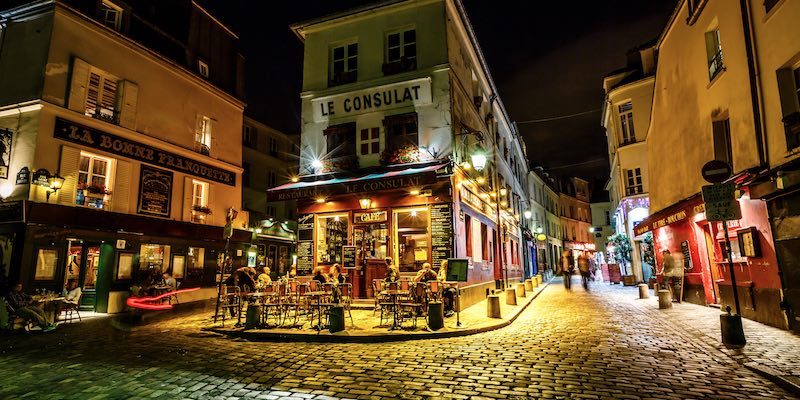 Up on the hill of Montmartre you meet your guide for delicious tastes and artistic discoveries at every turn. Sample crusty baguettes, tender crepes, cured speciality sausages, and a glass or two of wine at wine bars along the route. As you taste your way around the neighborhood you'll also learn about the many hidden & artistic landmarks of Montmartre.
The Best Events in Paris
Things to Do in Paris August 2019
Paris Plage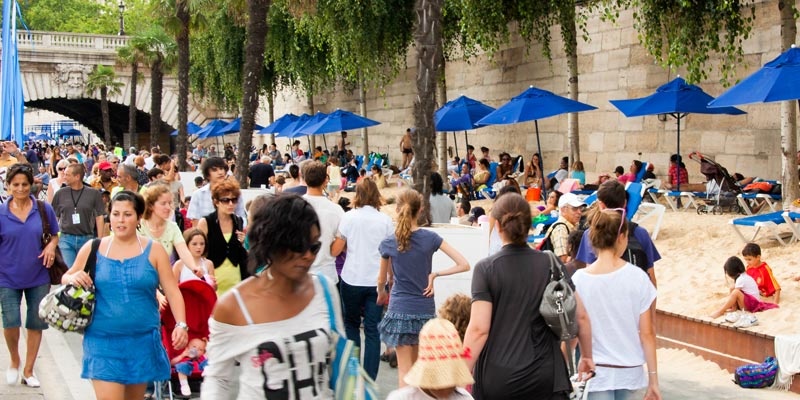 Can't make it to the beach? No worries, the beach will come to you. 30 days of summer, 1350 tons of sand, 2 miles of Seine banks, and 250 umbrellas make this one of the greatest annual events in Paris.
• On the banks of the Seine
• Ends late August

Festival Paris L'Ete – Arts, Scenes & Sun
This event features 100 performances at 40 locations throughout Paris — near monuments, in parks, and public squares. What a way to celebrate summer in the city!
July 12 to to August 3
→ Information…
Les Pestacles
No, that's not a typo. We're not sure there's a direct translation for pestacles but we do know it's an event created by the City of Paris. A summer full of shows, music, plays, workshops, lectures, and get-togethers at Parc Floral all summer long.
June to September
Ete du Canal – Summer on the Canal
It's the 11th year for this event — the Canal de L'Ourcq celebrates the summer with a fun program of dance, concerts, water activities including boat cruises, films screenings and street art. Canal de L'Ourcq is a trendy part of the Parisian canal network up in the 19th Arrondissement.
July 7 to August 26
→ Information…
Rock en Seine
Join Parisians as they rock out! Pont de St-Cloud.
August 23 to 25, 2019
→ Information…
Assumption Day
Warning — this is a national holiday in France. Many shops, restaurants and services will be closed.
August 15 2019
Classique au Vert
Classical music concerts in Parc Floral, Bois de Vincennes.
August to September
→ Information…
Silhouette Festival – Free!
A festival to celebrate short films. Opening night starts with a concert.
August 25 to September 3, 2019
Parc de la Butte du Chapeau Rouge, 19th Arrondissement
→ Information…
Tréteaux Nomades
A traveling festival featuring burlesque, poetry and the performing arts.
Arènes de Montmartre
August 27 to September 9
Parc de la Butte du Chapeau Rouge, 19th Arrondissement
→ Information…

At the Museums
Things to Do in Paris August 2019
What's On at the Museums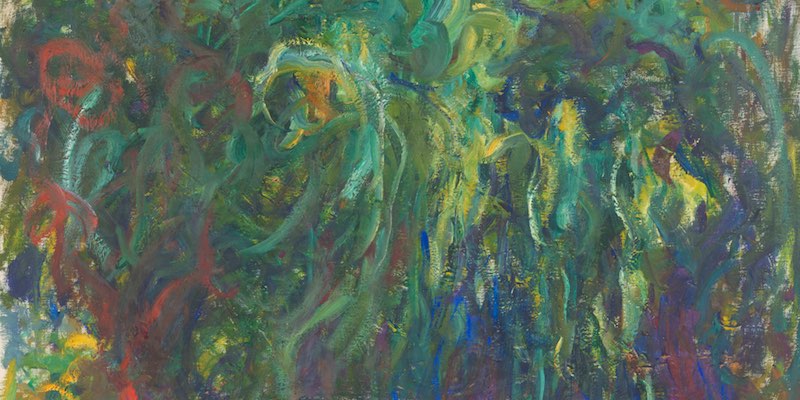 So many fantastic Paris museums, so little time. So, we've put together the highlights of popular exhibits during the month of August. These are the last days to see the American Impressionists' Water Lilies show at the Orangerie, that also includes what they call "the last Monet" (pictured).

In Colour: Polychrome Sculpture in France
Fifty polychrome works where painted waxes are added to sculptures.
Musée d'Orsay
Ends September 23, 2018

Paintings from Afar
200 never-before-seen works demonstrate the evolution of the Western perception of distant and not-so-distant populations, societies and territories.
Musée du Quai Branley
Ends January 6, 2018

The Little Explorer's Box Of Delights
Quai Branly
Ends October 7, 2018

Pastels At The Louvre – The 17th & 18th Centuries
View rare pastels, including works by Liotard, de La Tour, Boucher and Le Brun.
Louvre
Ends September 10, 2018

The Water Lilies – American Abstract Art & the Last Monet
Musee de l'Orangerie
Ends August 20, 2018