The Best Things To Do In Paris In August 2022 – It's Summer In The City!
August is one of the best months to visit Paris. The weather is great and, with many Parisians out of town for les vacances — the annual month-long vacation — the crowds are much smaller. The city becomes your own personal playground and, yet there are still plenty of spectacular events, food tours, river cruises, and museum exhibitions. C'est l'été en ville !
Most Popular Activities
The Best Things to Do in Paris August 2022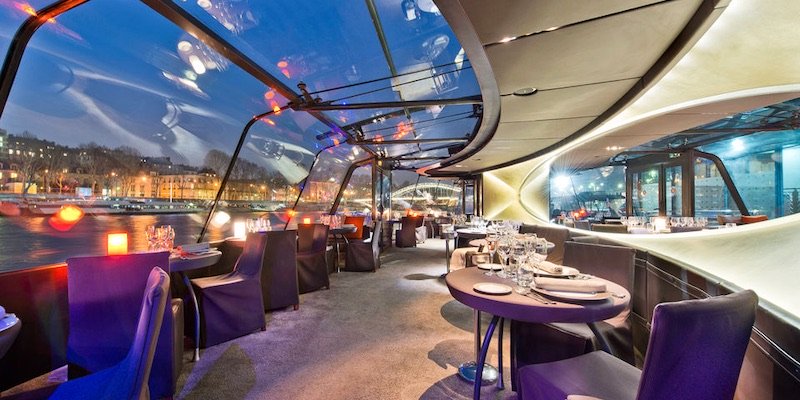 It's no wonder this multi-faceted nighttime activity is so popular. It combines cruising along the river while dining on a gourmet meal and listening to live music. You'll find that everything in Paris looks better from a bateau at night. Famous landmarks will pass by as you enjoy a multi-course French meal with wine. Choose the 8:30 PM sailing and the Service Privilege option for the best seating, best meal, and the ultimate experience.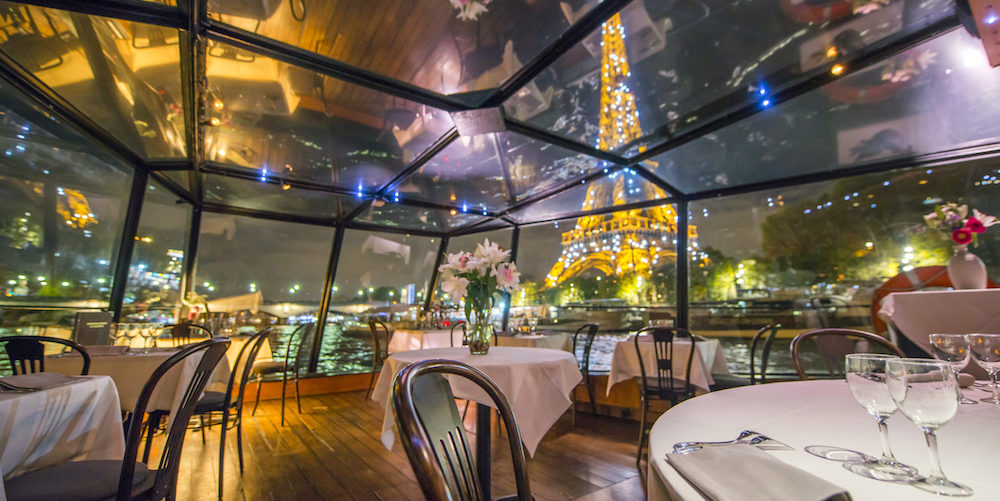 Indulge your inner romantic when you're in the City of Love by booking a table on this magical evening cruise to view Paris at its most magical. While you dine on a classic multi-course French dinner, accompanied by live music on-board, your bateau slowly floats past the most famous illuminated landmarks — Louvre, Notre Dame Cathedral, the Eiffel Tower. Sailing at 8:30 PM.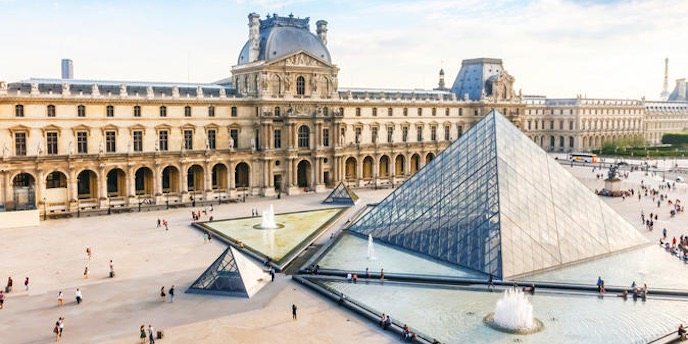 There's good reason why the Louvre is the most popular museum in the world. That's also why there are long lineups. So, we suggest you sign up for this marvelous guided tour that leads you past the lines and right to the most famous works of art, also allowing you plenty of time to wander. These tours tend to sell out, so be sure to book early.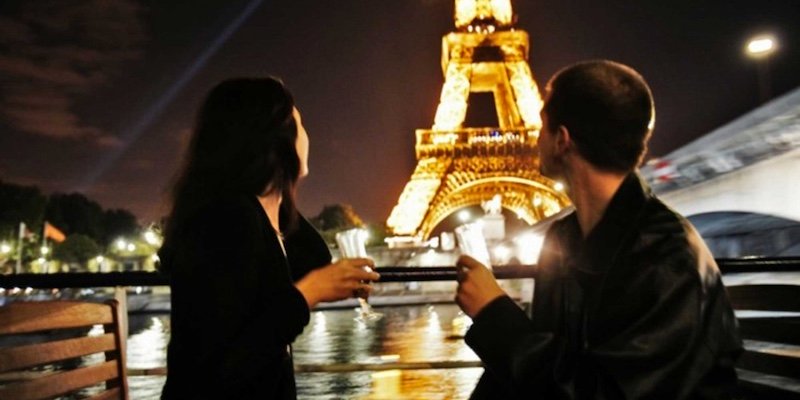 You know why this is one of our favorite activities — it matches Paris with champagne, a marriage made in France. From your perch at the front of the bateau sit back and enjoy the scenery. And what a scenery it is! Glide past world-famous monuments while sipping bubbly and discovering that perhaps the best way to see the City of Lights is from the river.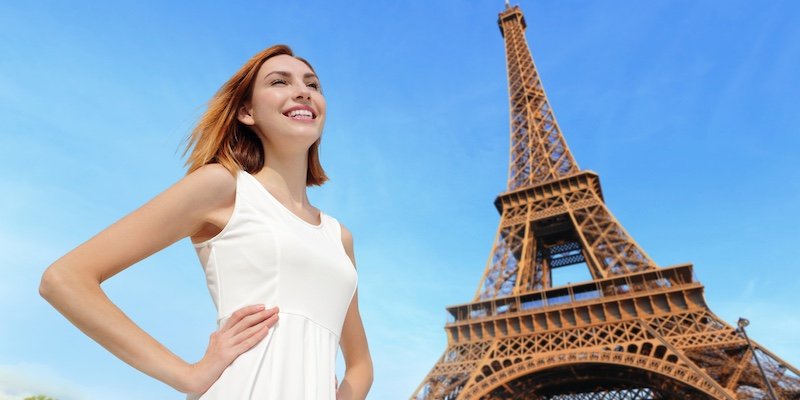 The Eiffel Tower is the most popular monument in the world and the ticket lines are always long. We don't know about you, but we don't want to spend our time in Paris standing in lines. That's why we strongly recommend skip-the-line activities the very top, for the best views. Also see, Big List of Eiffel Tower Tours…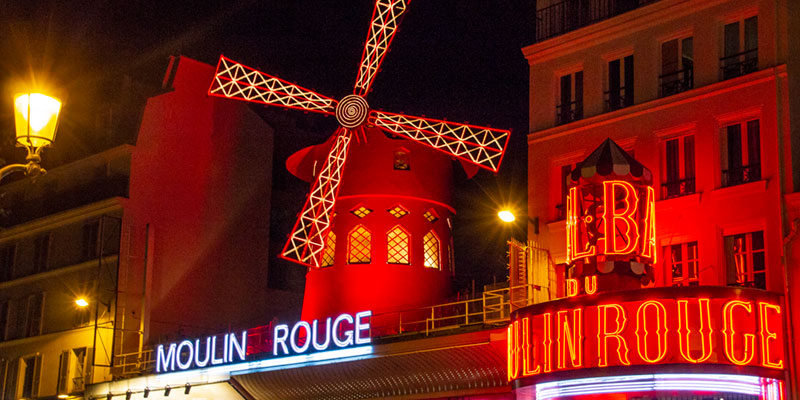 Discover why the historic Moulin Rouge is still the number-one rated cabaret show in Europe. Experience VIP service with a 4-course dinner, champagne, and a view of the show from best seats in the house. The evening starts with dinner, wine & champagne. Then sit back and marvel at the spectacular show. This is a special, VIP evening that you will remember for years to come.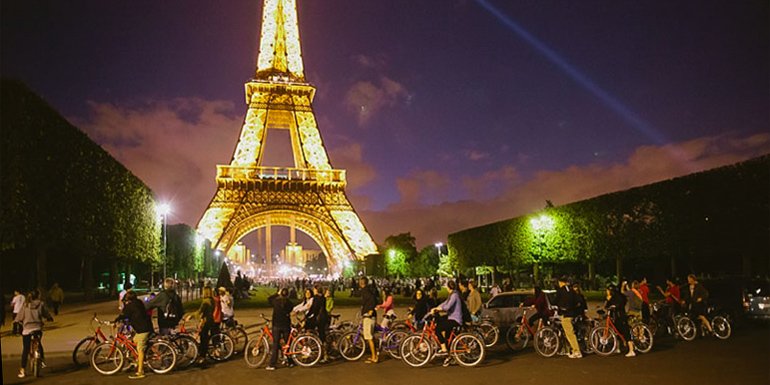 Summer is the perfect time for a fun guided cycling tour around the most famous landmarks of Paris, and this 2-for-1 tour delivers. Not only do you visit the most famous sights, you also stop for a cone at Bertillon, the city's most celebrated ice cream shop, and then hop on a river boat for a nighttime cruise along the Seine. A glass of wine is included, of course!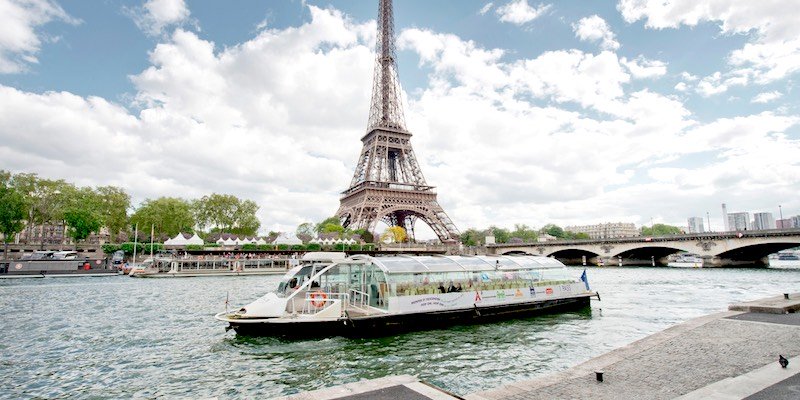 Can you really see Paris in one day? We think this tour does it in style. At the Louvre museum you skip the lines as your guide leads you to the best artwork at the iconic museum. There's a relaxing river cruise that shows off the best of the city from the Seine. Next is a tour of Montmartre. On top of all that (literally) there's a skip-the-line visit to the Eiffel Tower, right up to the very top! Everything is included.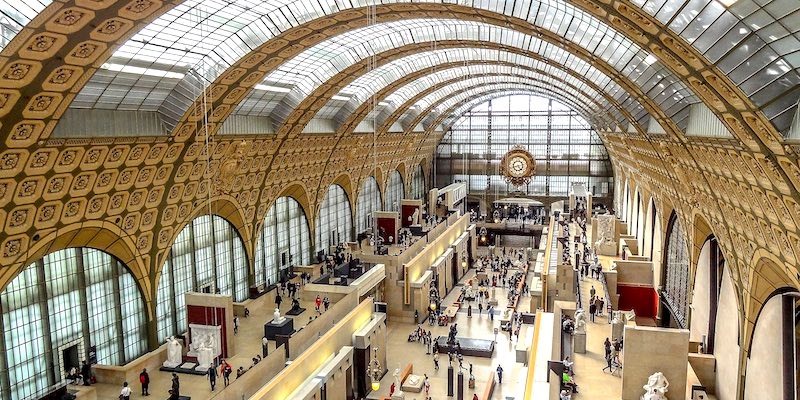 It's not really a secret that the Musée d'Orsay is a very busy place. What is a secret is this small-group tour – the best way to see the highlights of the collection and beat the crowds. You skip the long line and follow your guide directly to the masterpieces of Manet, Monet, Degas, and Van Gogh, all the while learning all about the Impressionists and the story of the magnificent museum that was once a train station.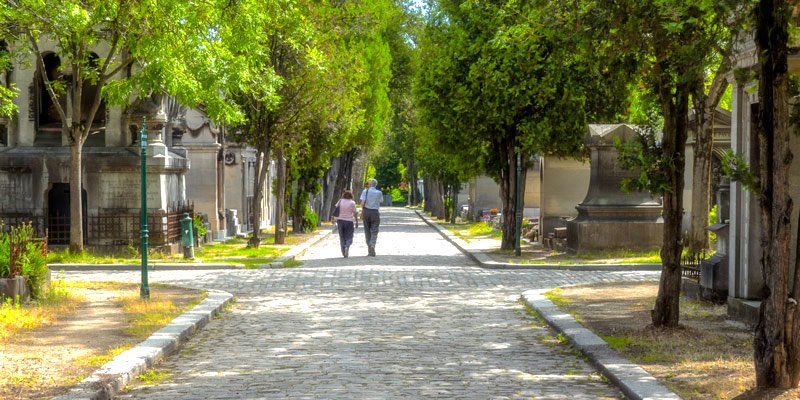 Although you can wander historic Pere Lachaise Cemetery on your own, taking a small-group walking tour with an informed guide was one of the best activities we've every signed up for in Paris… and we've done a lot! The stories behind the gravestones came alive and you'll learn more in few hours than you could have in days on your own. The tour is one of our top walking tour recommendations.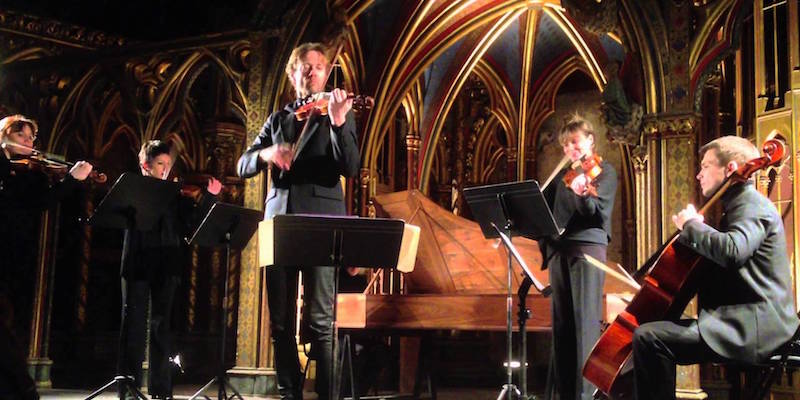 Paris is renowned for its magnificent Gothic churches, and many of these historic buildings are also venues for classical music. The acoustically-perfect La Sainte Chapelle is one our favourite venues. This jewel of Paris — with massive stained glass walls and soaring ceilings — was recently restored in in a dazzling renovation. This is the perfect way to spend a sizzling August evening in Paris. But concerts do sell out, so book today.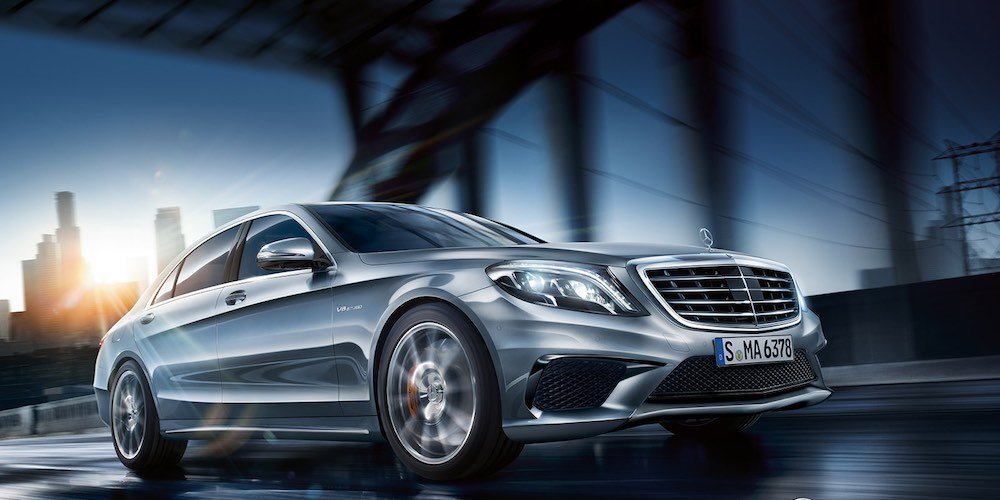 One of our most appreciated pieces of advice is to pre-arrange transportation from the airport into central Paris. We find it's comforting to be prepared and to know what's going to happen when you arrive. Our favorite way is to have a driver waiting upon our arrival to whisk us directly to our hotel. There's something magical about starting your trip to Paris with a touch of luxury and comfort.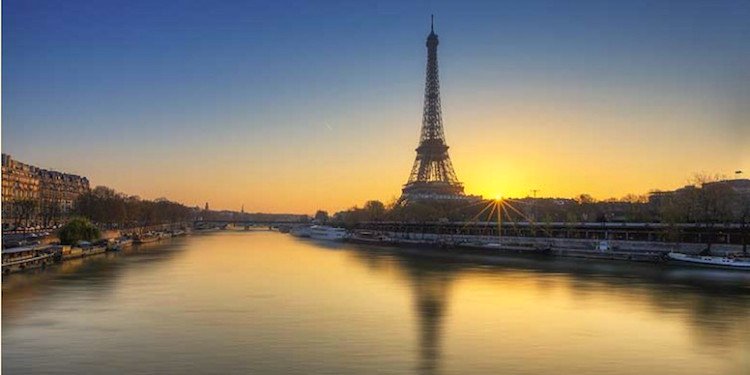 Unwind after a busy day of sightseeing with a sunset cruise on the Seine while sipping champagne. Refreshed by the bubbles, you then proceed to the Eiffel Tower for skip-the-line access to the second floor. From the second level you can see Paris at your feet. A little insider tip, you don't really need to get to the summit to enjoy the magnificent views. Available every day.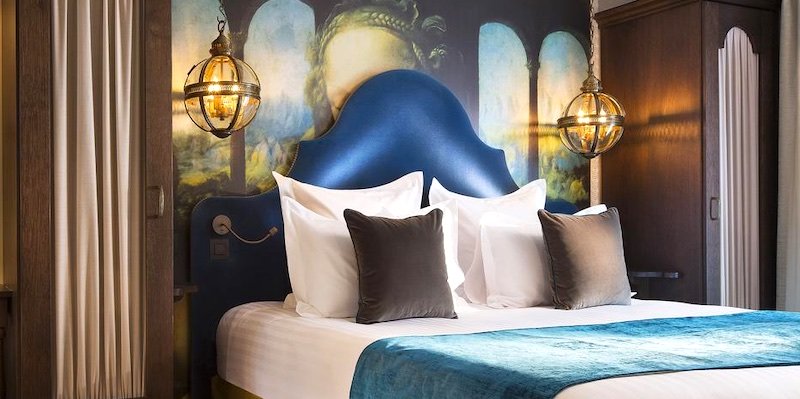 Who doesn't love staying on the Left Bank of Paris? Since Hemingway and the Jazz Age, the Left Bank has defined the essence of Paris. The Saint-Germain neighborhood is charming, and so are the best of the hotels in the quartier. Let's take a look at our top picks of Left Bank hotels, updated for 2022.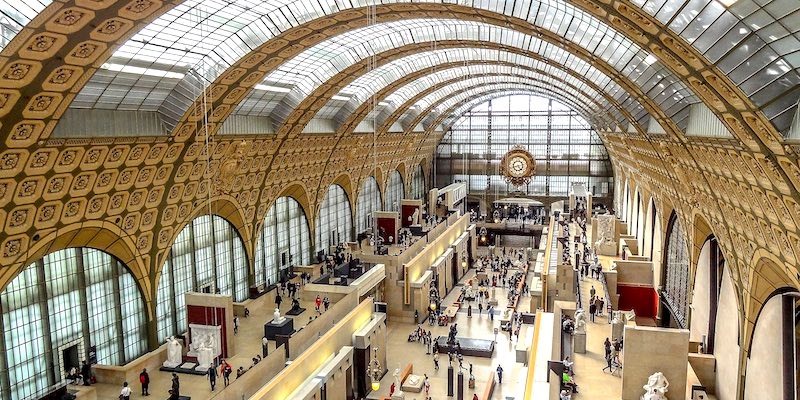 What we love about this combo tour is the efficiency! In a few hours you are able to get a better understanding of the two most popular museums of Paris than you would in days on your own. First up is the Louvre where you'll see the highlights of this historic palace turned museum. Then, it's over to the d'Orsay to enjoy the masterpieces by Monet, Renoir and Van Gogh.
The Top Day Trips From Paris
Things to Do in Paris August 2022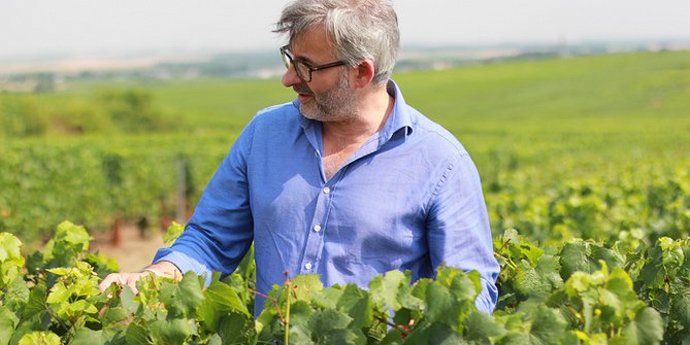 Focus on the Land of Bubbly on a day trip to the famous Champagne region, just an hour from Paris. Get picked up at your hotel and driven through the beautiful wine country to visit the most famous champagne houses. Finish with a guided tasting of the Grand Crus of Champagne. Sample as much as you want — your expert guide is doing the driving! A multi-course lunch is also included.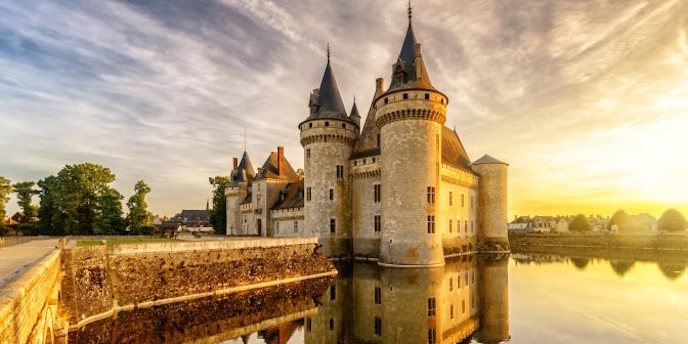 This magnificent Renaissance valley is known for more that just its famous chateaux. The Loire Valley also produces world-renowned wines. This very popular tour gets you into the most famous castles, and also includes a wine tasting of the best varietals from the region. Also included is a multi-course French lunch. It's like two trips in one!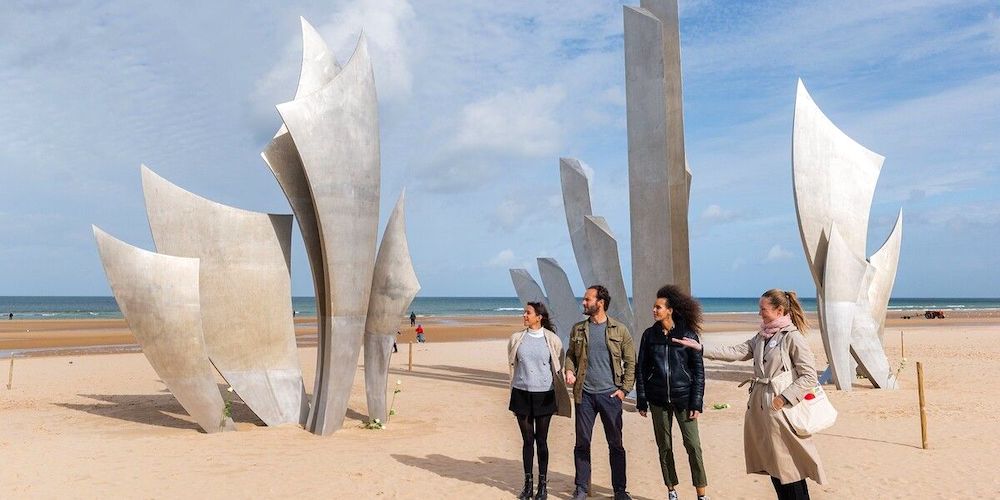 Ride through the beautiful Normandy countryside on your way to visit the most important sites of World War II — memorials, landing beaches, and cemeteries. Hard to believe that it was three-quarters of a century ago that the end of that war began on the beaches of Normandy. A classic French lunch is included as is a special tasting session of the region's famous cider.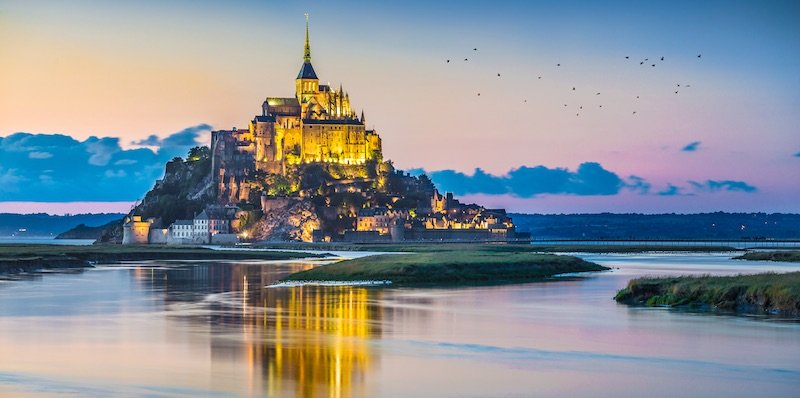 Spend a day exploring the coast of Normandy and the fairytale island of Mont Saint-Michel. You visit the Benedictine abbey that becomes separated from the mainland during high tide. Wander along the narrow streets, the shops, and the abbey's ramparts. On your way to the UNESCO World Heritage Site, you drive through the picturesque Normandy countryside.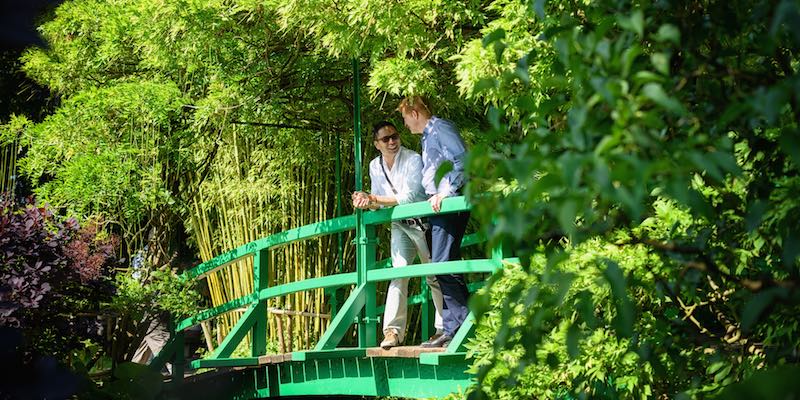 The gardens where Claude Monet painted will be at their peak of summer perfection, as well as the waterlilies at the idyllic pond. No need to worry about trains or tickets. Choose this small-group tour to spend the afternoon on all things Monet — his stunning pink house & the historic gardens in Giverny. Includes transportation from central Paris.
The Top Food & Wine Activities
Things to Do in Paris August 2022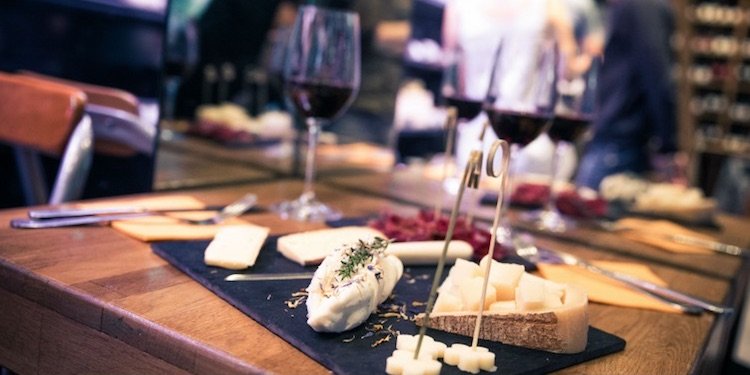 This is the #1 food activity in Paris. Visit the Marais to descend into a private cheese cellar with an affineur — an expert in aging cheeses. Learn about the proper way to age seven classic French cheeses and how to match them with wines. The small group is limited to 10 to ensure there's more cheese for you! Be sure to book early.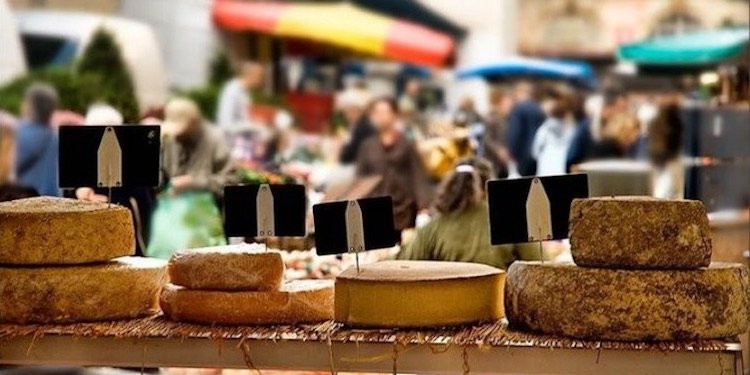 Explore the Marais, a culinary hotspot, with a gourmet expert to dive into the rich melting pot of French cuisine. Walk the historic neighborhood neighborhood to visit the top 10 food shops. What do you taste? The best food of France, like cheese, charcuterie, baguettes, chocolate, and the most famous wines. Including a visit to the oldest food market in Paris.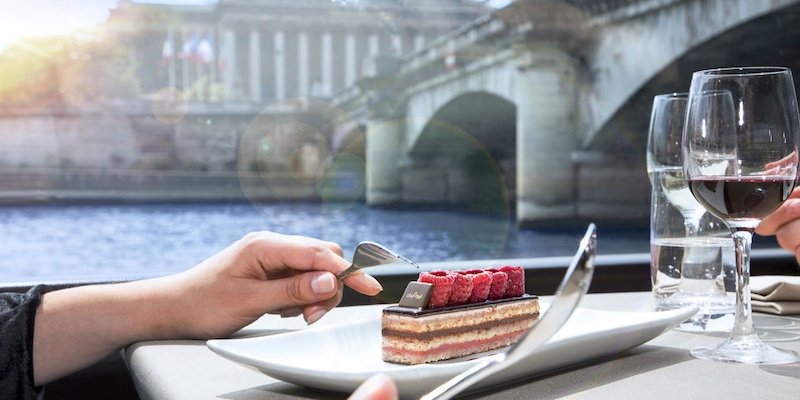 Cruise along the Seine while enjoying a classic 3-course French lunch aboard Bateaux Parisiens. Soak in the views of the Louvre, Eiffel Tower, Notre Dame and Musée d'Orsay as you choose from an a la carte menu with wine. The extras? Live entertainment and a glass of cool champagne to start your adventure. Choose the Service Privilege option to guarantee a window seat.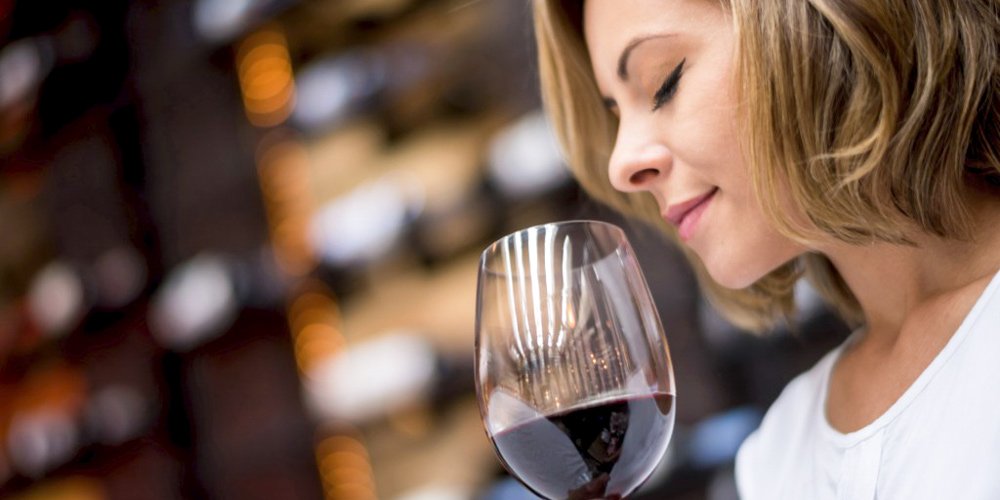 France, Paris, Wine — they just go together, don't they? Take the opportunity to learn about the country's wine regions and taste the wines, with guidance from an expert sommelier. We recommend the 2-hour grand cru tasting — it gives the rare opportunity to taste some of the finest wines of France. It all takes place in a charming wine bar very near the Louvre.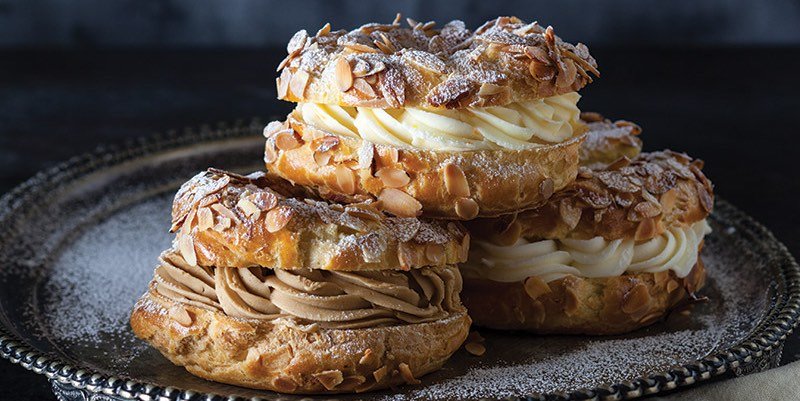 If wine and Paris go together, what about Paris, chocolate and pastries? Is it a wonder that visitors love this guided walking tour? Get behind the scenes of traditional French desserts, including regional specialities. Along with plenty of sampling of course! And don't worry, any calories will be burned off by the walking.
Tarte au citron, souffles, Madeleines — imagine learning how to make these classic French pastries in a cooking class… in Paris! Spend the afternoon creating classic French pastries with a French chef. The group size is limited to make sure you get more attention from the chef and have more pastries to enjoy afterwards!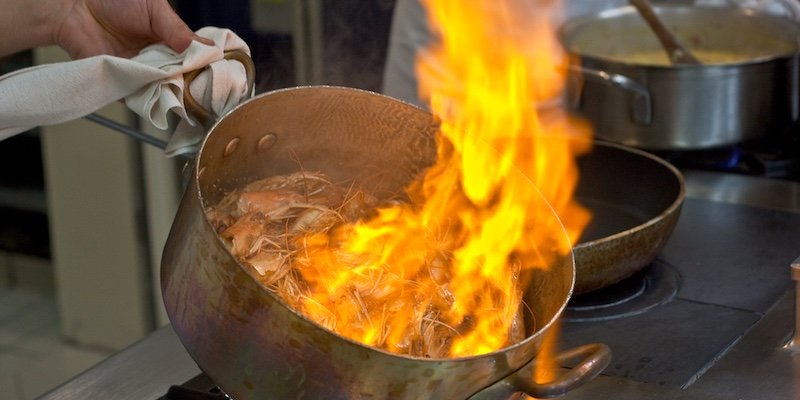 This popular activity guides you through the creation of an entire French meal, under the tutelage of a Paris chef — entrée, plat, et dessert. At the end of the cooking, sit down and enjoy what you've made. Choose the option that includes a guided tour of the local markets to meet butchers, fishmongers, and produce sellers as you gather the fresh ingredients for your cooking class.
The Best Ways to Visit Versailles from Paris
Things to Do in Paris August 2022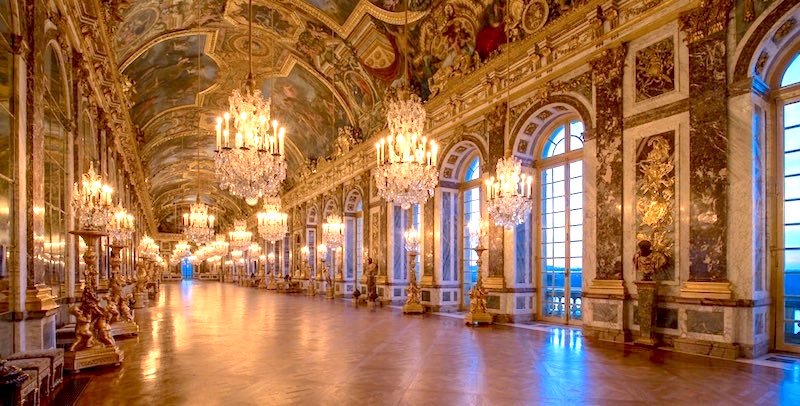 Versailles is a symbol of grandeur and royal decadence. The chateaux and gardens are don't-miss destinations when you're in Paris — and close enough that it's an easy day trip. The only way to avoid standing in the long lines is to go the royal route. Book a skip-the-line tour with a driver/guide to make the past come alive. Includes transportation to and from central Paris.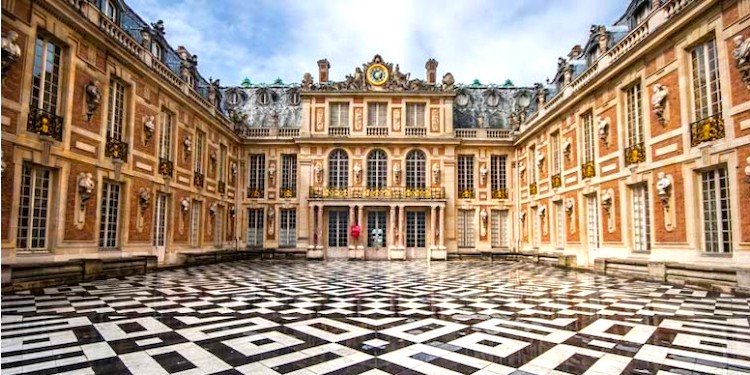 If you don't want to spend a full day, another good way to see Versailles is a half-day tour that also includes priority access and an expert guide. This is a small-group morning tour with transportation right from central Paris. If you prefer, you can opt for a private tour, for just you and your group.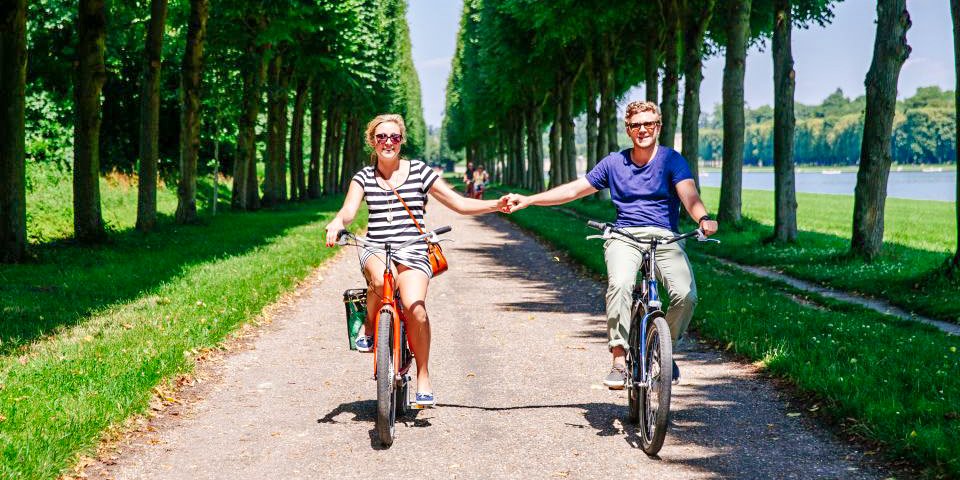 We love this summer 2-in-1 activity. Explore the Versailles countryside on two wheels as you glide through forests and pastures, to the local market, to the gardens of Versailles, and past the historic grounds & buildings. You also use your priority-access passes to explore the chateau as long as you like. This makes for a wonderful day, but be sure to book right now!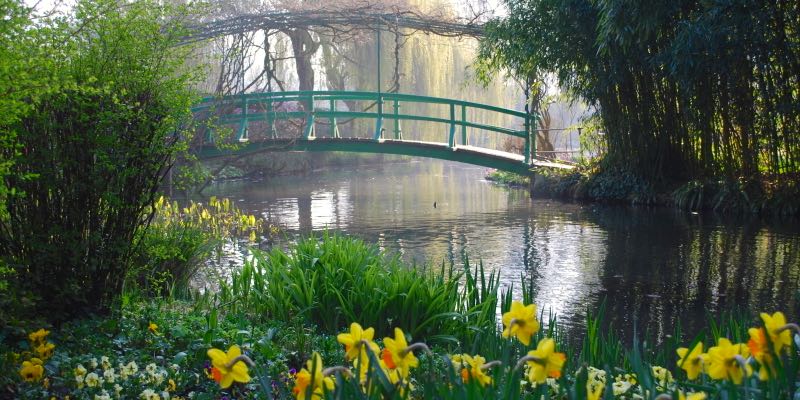 The only thing more popular than visiting Versailles or Claude Monet's gardens at Giverny is visiting them both on the same day. The gardens will be at the peak of the season when this tour takes you first to Versailles and then to Monet's house and gardens. Here you will see his Impressionist world blossom in front of your eyes. On this small-group tour you are picked up in central Paris and driven to both locations for guided tours. Lunch is also included.
What's On At the Museums
Things to Do in Paris August 2022
Romantic Heroines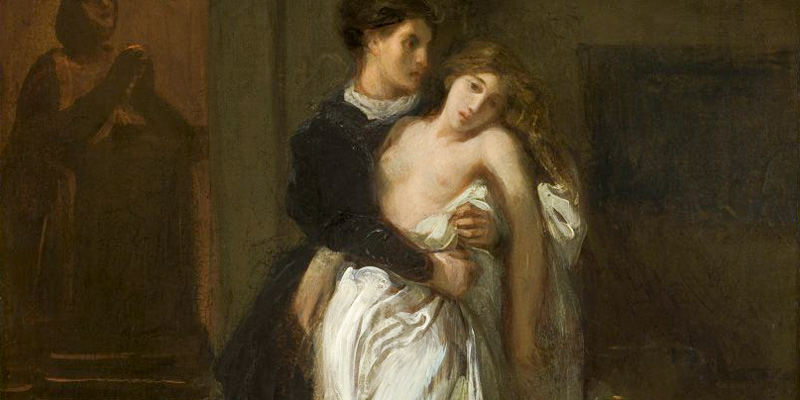 With more than one hundred paintings, sculptures, manuscripts and art objects, this exhibition showcases heroines as celebrated by Romantic artists. From Sappho and Joan of Arc to Marie Stuart, Heloise, Juliet and Ophelia, these women's dramatic histories helped to forge 19th century Romanticism.
• Musée de la Vie Romantique
• Ends September 4, 2022
• Information…
Aristide Maillol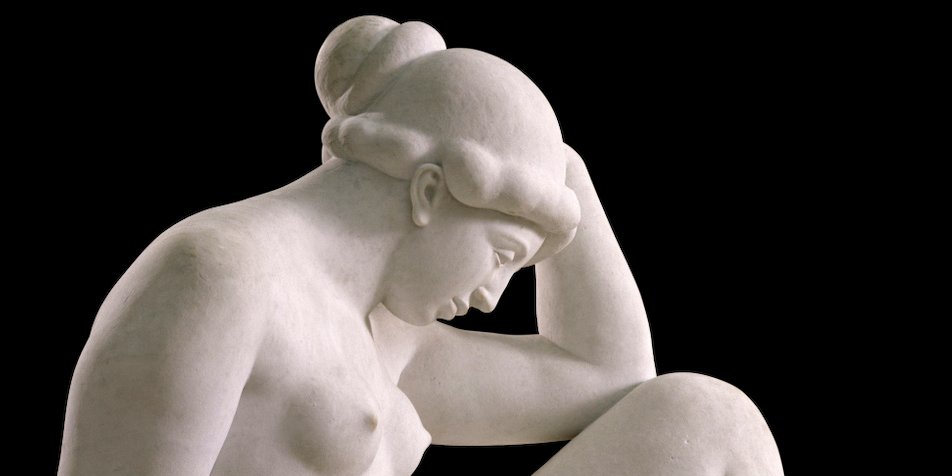 Maillol was born in a small fishing village in the Pyrénées and moved to Paris in 1881 to study painting at the École des Beaux-Arts. But a chance encounter with Paul Gauguin changed the direction of his art. By age 40, he was a dedicated sculptor. The Musée d'Orsay is finally devoting a major retrospective to him.
• Musée d'Orsay
• Ends August 21, 2022
• Information…
Picasso – New Works of Art
The exhibition celebrates the nine masterpieces by Picasso donated to the French National Collections by his daughter, Maya Ruiz-Picasso.
• Musée Picasso
• Ends December 31, 2022
• Information…
Picasso à l'Image
Here's a chance to see art films, archives, and documentaries shot during Picasso's lifetime, presenting facets of his personal and artistic life.
• Musée Picasso
• Ends February 12, 2023
• Information…
Cézanne – The Light of Provence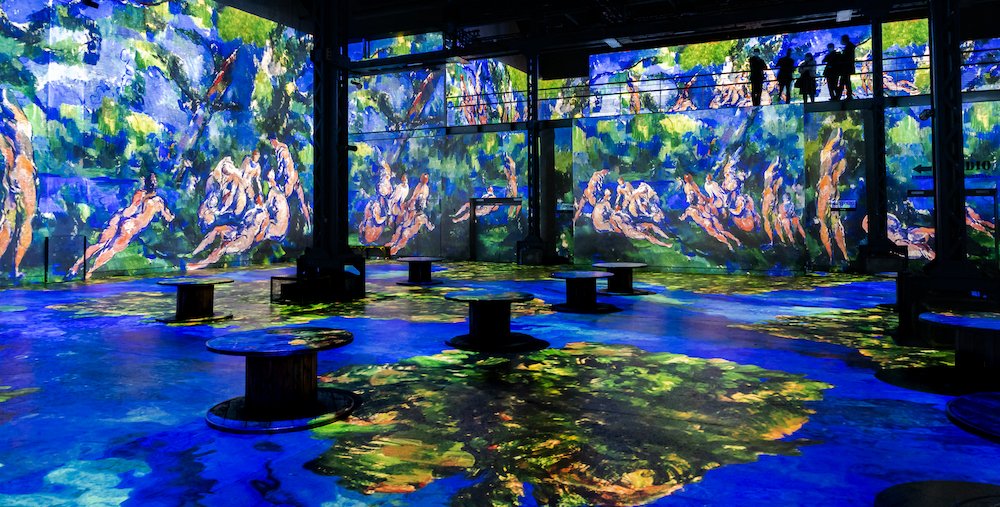 This new exhibition features some of Cezanne's best work, displaying his composition, his approach to light and color, and his greatest source of inspiration.
• Atelier des Lumières
• Ends January 2, 2023
• Information…

The Theatre of Emotions
Featuring paintings from Courbet to Dali, Picasso to Fautrier.
Musée Marmottan-Monet
August 21, 2022

Shirley Jaffe – Une Américaine à Paris
Born in 1923 in New Jersey, Shirley Jaffe studied art at Cooper Union and left for Paris in 1949. She remained here and forged a career in abstract art right up until her death at age 92.
Centre Pompidou
Ends August 29, 2022

Future Lullaby: The Cradle of Yesterday, Today and Tomorrow
This exhibition is all about lullabies heard through the ages and across continents. This one may be a sleeper hit!
Musée du Quai Branly
Ends September 25, 2022
The Best Events in Paris
Things to Do in Paris August 2022
Paris Plage
Can't make it to the beach? No worries, the beach will come to you. 30 days of summer, 1350 tons of sand, 2 miles of Seine banks, and 250 umbrellas make this one of the greatest annual events in Paris.
• On the banks of the Seine
• Ends late August
Annual Paris Jazz Festival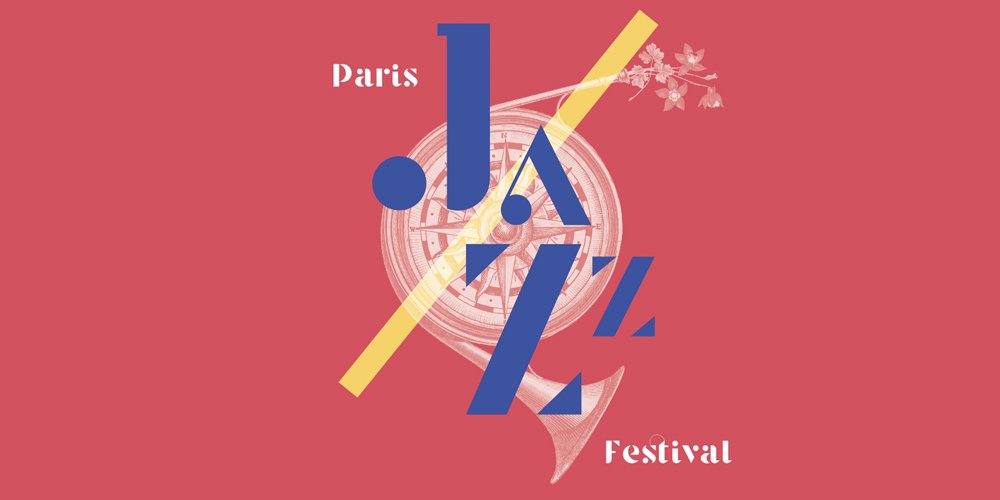 One of the truly magical international jazz events, held in the beautiful gardens of Parc Floral. Usually held in June & July, this year the musical extravaganza has been moved to August.
• Parc Floral de Vincennes
• June 30 to September 8, 2022
• Information…

Étê du Canal – Summer on the Canal
The Canal de l'Ourcq celebrates the summer with a fun program of dance, concerts, water activities including boat cruises, films screenings and street art. Canal de L'Ourcq is a trendy part of the Parisian canal network up in the 19th Arrondissement.
Canal de l'Ourcq
Ends August 15, 2022

Rock en Seine
Join Parisians as they rock out on the edge of the city!
Pont de St-Cloud
August 25-30 2022

Assomption – Assumption Day
This is a national holiday in France. Many shops, restaurants and services will be closed. So, not really different than Covid lockdown.

Tréteaux Nomades
A traveling festival featuring burlesque, poetry and the performing arts that runs the last week in August and the first week in September. Check the link for updates.
Check website for 2022 dates
Parc de la Butte du Chapeau Rouge, 19th Arrondissement