The Palace Hotels Of Paris – Ultimate Luxury Beyond 5 Stars
What's higher rated than 5-Star Hotels? In France, the answer is Distinction Palace, an official government rating for hotels that go beyond the already high 5-star standard. This relatively new and very coveted rating has been awarded to only a handful of hotels in Paris, in fact, in all of France.
It seems likely that the reason a number of Paris 5-star hotels have closed for renovations over the past few years is they were shocked not to have received a Palace rating. The Ritz, the Crillon, and the Lutetia have all recently reopened after lengthy renovations. The Hotel de Crillon was awarded the Palace status in September 2018, just months after reopening. The Hotel Ritz Paris is still waiting. Here, then, are the eleven superior hotels in Paris, designated as Palaces.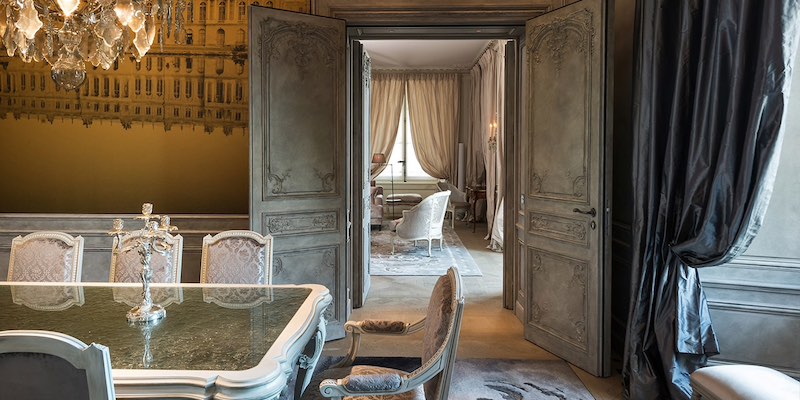 Did you know that you can convert a five-star hotel in Paris to a Palace hotel in only 5 years and at a cost of a mere $200 million? At least that was the experience at Hotel de Crillon on Place de la Concorde. Dissatisfied with not winning the coveted Palace Distinction designation, the hotel shut down for a complete makeover. And what a transformation it has been! See our review to find out how Karl Lagerfeld and Marie Antoinette fit into all this.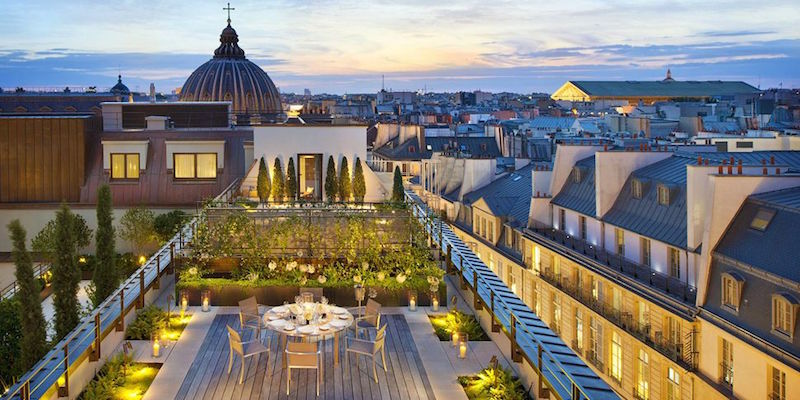 Mixing the tradition of luxury with state-of-the-art technology, the Mandarin Oriental is something new and unique among Paris luxury hotels.
Just step into the lobby and view the verdant courtyard through ceiling-to-floor windows and you'll know what we mean. Then take a peek into the rooms to be amazed by the modern aesthetics. Better yet, visit the rooftop dining terrace, surrounded by greenery and with absolutely stunning views of the sights and vistas of Paris.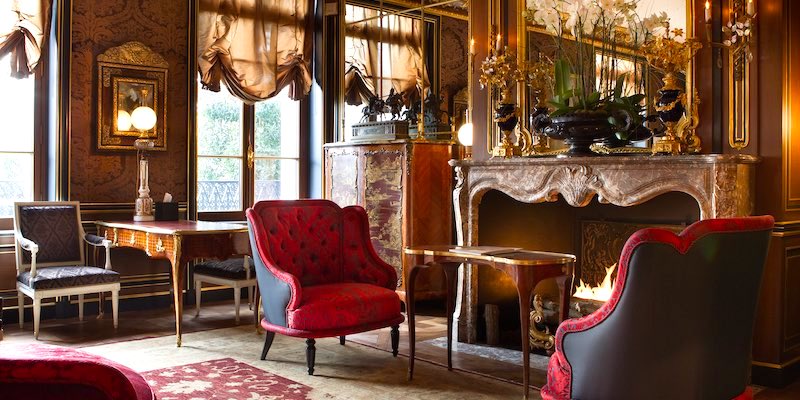 La Réserve is an an oasis, but right in the heart of Paris. This Palace-designated hotel has the feel of a discreet, private club where your needs and comfort are the top priority. We were impressed by the craftsmanship, the attention to detail, and the unsurpassed service. Take a little walk through true luxury by reading our review.
Hotel Bristol Paris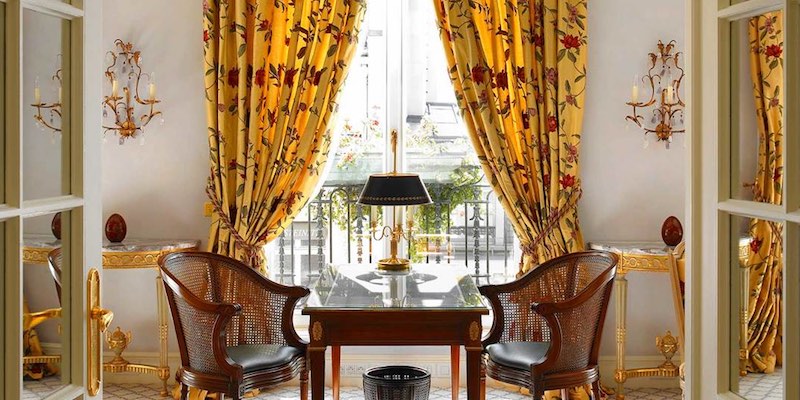 Le Bristol has a special significance for us. Not only was it the first hotel in Paris to be awarded Palace designation, it's also home to Chef Eric Frechon whom we've been following since he had his restaurant out in the 19th. Today, he oversees the kitchen in the 3-star Epicure restaurant at the Bristol.
It's hard to choose the top feature of Le Bristol, but if we had to we'd cite its amazing inner courtyard — a true green oasis in the middle of a very busy city. We love the rooms that look over this courtyard.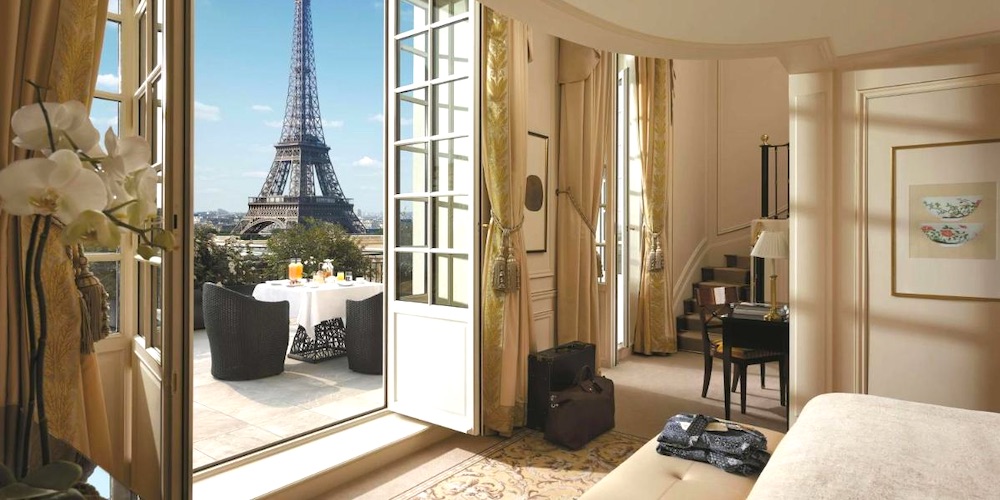 It took three years and umpteen-million Euros to renovate the Shangri-La Paris and turn it into a luxury classic. The rooms are apartment-size — every room has a terrace with views on the Eiffel Tower or the River Seine. Any superlatives you might have heard about this hotel are all true.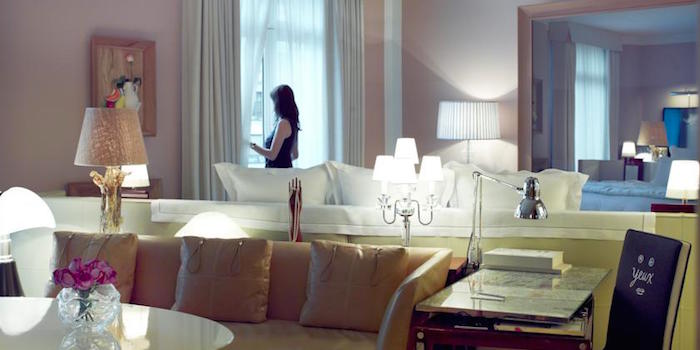 If you're looking for a modern luxe hotel in Paris, with a hip and innovative design (created in part by Philippe Starck) look no further than Le Royal Monceau-Raffles Paris (to give it its full name).
Of course the service is what you'd expect as well — the concierge, waiters, cleaners and valet go the extra kilometre to make your stay an unforgettable one. Oh, and if you happen to need some extra leisure activities, the hotel has a recording studio in case you want to cut an album while in Paris.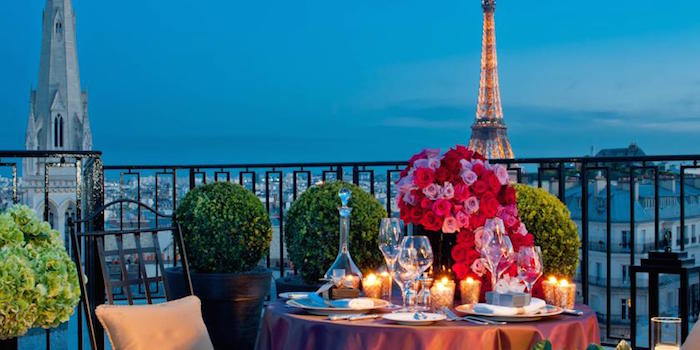 Just steps off the Champs-Elysées and a stone's throw from the Louis Vuitton flagship store is this very popular Paris Palace hotel. Le Sank (as it is pronounced) is authentic luxury. Even lunch at their restaurant, Le Cinq, combines gourmet food with a near-transcendent service.
In the rooms and suites a mix of modern amenities and antique touches make you feel at home. (Maybe better than home!) Traveling with children? They go out of their way to make your kids feel welcome with kid-size bathrobes and slippers, a children's menu and plenty of video and board games.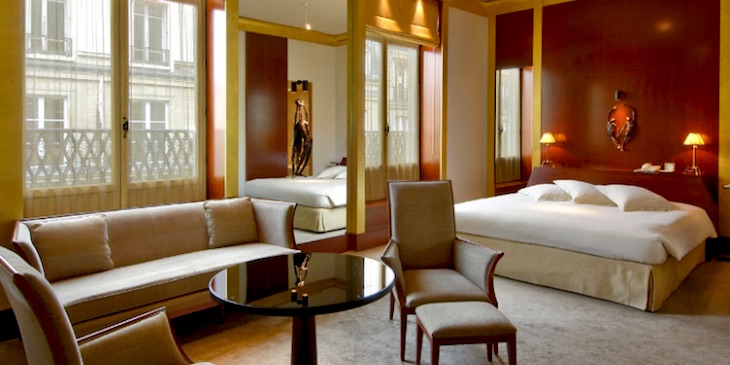 The Park Hyatt name usually means a unique luxury experience, but we think the Park Hyatt Paris Vendôme goes even farther.
There's a zen vibe to the combination of classic design and contemporary elegance. You'll find underfloor heating, a modernistic spa, as well as Japanese-inspired baths and other touches. You'll feel at home with the clean lines and classic comfort of the public spaces. The fab restaurants and the location can't be beat.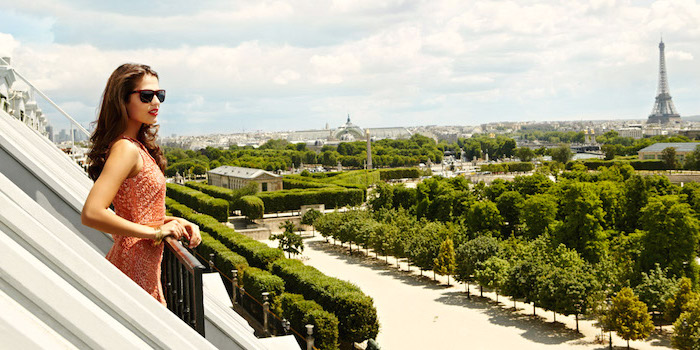 Stunning views can also be had from most of the luxurious rooms at Le Meurice, found on Rue de Rivoli facing the gardens of the Tuileries.
At this majestic Palace hotel, every room is a peaceful oasis of calm. The classically-decorated rooms feature marble bathrooms with both shower and bath. Each room is soundproofed and has air conditioning and multiple telephone lines. But what really makes Le Meurice special are the small details: the Honeymoon Package includes strewn rose petals, champagne and an in-room couples massage.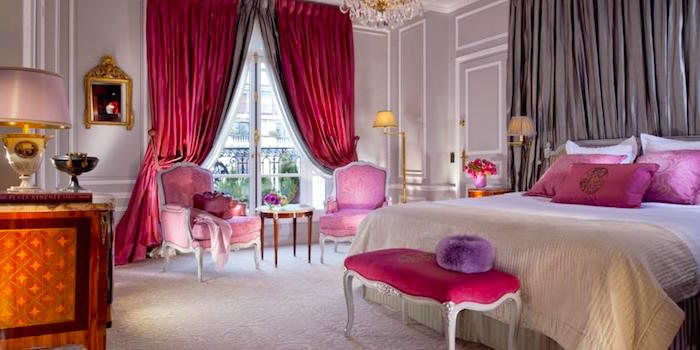 This well-liked Parisian luxury hotel is another one filled with elegance and charm. Located between Champs Elysées and the Eiffel Tower, the Plaza Athénée's gorgeous rooms, top-notch service, and fine décor make it one of the standards of luxury in Paris.
On top of all that, the Athénée's Michelin-starred restaurant is run by (and named after) Alain Ducasse, one of the greatest names in the history of French cuisine.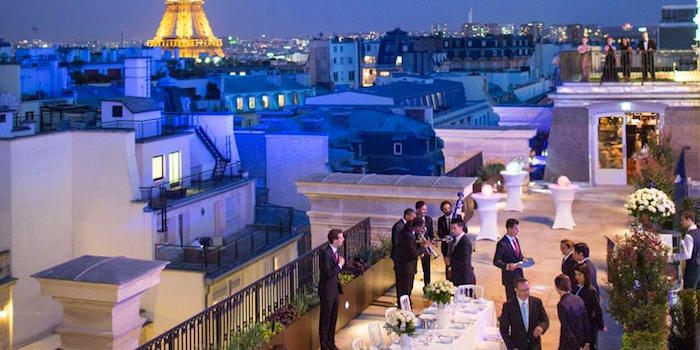 Another newish luxe hotel that gets a Superb rating from us (and has received a Palace designation) the Peninsula occupies the former Hotel Majestic, the haunt of celebrities of the Jazz Age in Paris.
This is a modern design that still manages to reflect the 1908 roots of the building, with incredible attention to detail everywhere. There are great suites with larges terraces that look onto the Eiffel Tower, but every room is a joy to stay in.