The Orsay Museum – How To Skip The Lines At This Impressionist Gem
The Musée d'Orsay, home of Impressionism, is a very popular destination in Paris, with 3.3 million visitors a year. It's one of the world's foremost museums, one of our personal favorites, and one that you simply should not miss. But popularity comes with a price — long ticket lines. So, if if you're like us, and hate wasting precious time in Paris standing in line, you're going to like the ideas we've found that let you avoid the queues. We're happy to share them.
Strategies to Avoid the Lines at Musée d'Orsay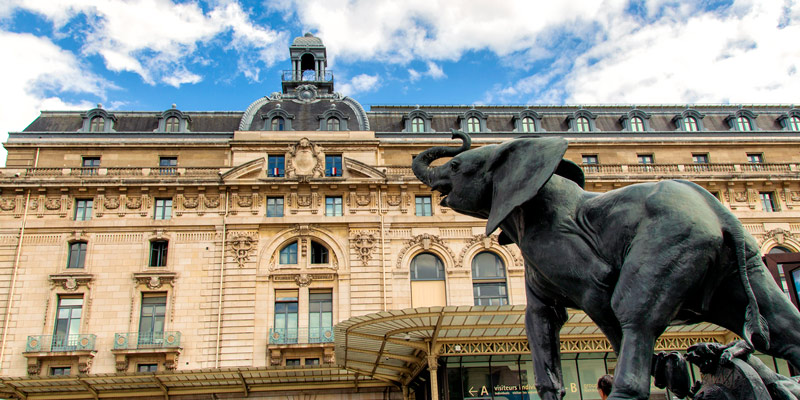 The only way to guarantee you'll be able to skip all the lineups at Musée d'Orsay is to book a skip-the-line guided tour. These tours enjoy priority access and enter through a special VIP door, Entrance B, where the tour operator has booked a specific time-slot.
The best Musée d'Orsay guided tours — such as those we recommend below — provide priority access, are led by an expert guide, and allow only a limited number of guests to ensure individual attention.
After the tour ends you are free to remain in the museum until closing time and explore on your own. Even with our long experience in Paris we always sign-up for a guided skip-the-line tour at the most popular museums because not only do we save time, we also learn a lot from the guide — much more than we would discover wandering around on our own. Here are our top recommendations for the d'Orsay.
The Best Musée d'Orsay Guided Tours

5-STAR REVIEW
"Our guide made this tour amazing. We love the idea of seeing the highlights, otherwise we might miss some really amazing pieces. The best Impressionist pieces gave me goosebumps. The guide was highly educated in art history and told great stories about the art pieces we saw. Very nice tour, well worth the cost."
2 hours
Group size less than 20
Tuesdays, Fridays, Saturdays
9:30 AM
Audio headset included to hear guide easily

5-STAR REVIEW
"Our guide was very informative and knowledgeable on the history and the art we saw. She made our experience amazing. We learned a lot more than a larger group tour, so the extra costs was well worth it."
2 hours
Semi-private, 4 people maximum
Tuesdays, Wednesdays, Thursdays, Fridays, Saturdays
Morning or afternoon tour
Personalized experience

5-STAR REVIEW
"My wife and I had seen the Orsay on our own on our last trip to Paris and opted for a guided tour for this trip. It was night and day. Our guide provided insights that we would never have seen. He was extremely knowledgeable and interesting without being overwhelming. This was well worth the cost, even without considering not waiting in line."

2 hours
Private tour for just you and your party
Tuesdays & Thursdays
Morning or afternoon tour
Personalized experience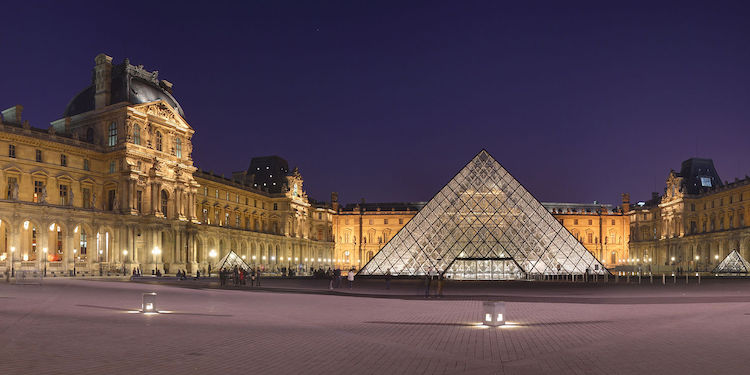 If you really want to soak up the Paris museum experience — and save tons of time while doing it — consider this 2-for-1 tour that gets you guided tours of the two major museums, skipping the lines at both. It's an extraordinary private tour package and the size is limited to 4 people, making certain you receive personal, hands-on attention. You can also bet that this tour will sell out in advance.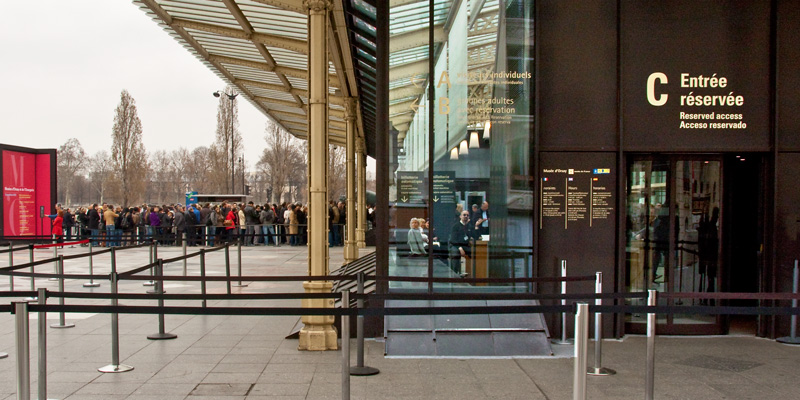 Another strategy for avoiding the ticket lines is to have our very own Paris Insiders Pass in your pocket. Instead of waiting for hours to buy a ticket, our pass lets you to bypass the ticket line and enter through the priority door, Entrance C, where you only have to go through the standard security procedure. (That's door C in the photo above, where there's no waiting time.)
The Paris Insiders Pass is a combination package. It includes both the Paris Museum Pass that gives you free entrance into 60 museums and monuments in Paris, plus the Paris Metro Pass for unlimited transportation on the city's Metro, buses, RER, and trams. Paris Insiders Pass is purchased online, and there's a generous cancellation policy in case you change your mind.
Visit in the Off Season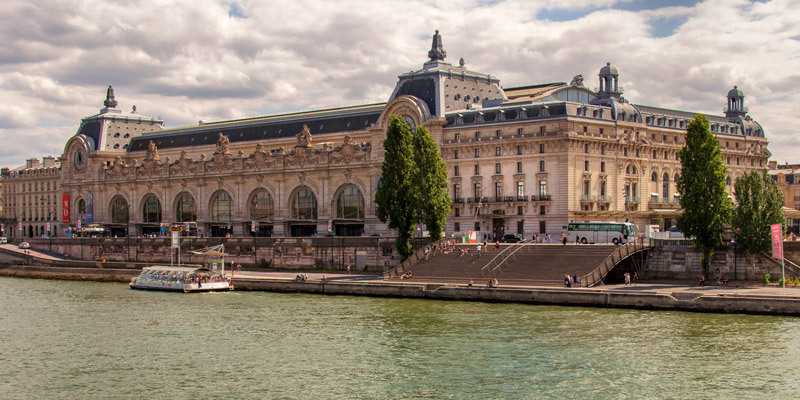 If you're in Paris in the off-season months — January through early March, October, November — you're not likely to have a long wait at the Orsay Museum, with the biggest delays caused by the security procedures (part of the admission process in every Paris museum). The general admission and ticketing line at Door A should be manageable.