The Orsay Museum – How To Skip The Lines At This Impressionist Gem
The Orsay Museum, one of the most popular museums in Paris, welcomes 3.5 million visitors a year. And for good reason — it's one of the world's foremost museums, one of our personal favorites, and one that should not be missed. But, millions of visitors means long lines. If you're like us, you hate wasting time in Paris standing in line. Don't worry, we've got some advice for you. There are a couple of ways to avoid standing in the ticket lines.
The Paris Museum Pass not only gets you free entrance into over 60 museums in Paris, it also allows you to skip the ticket lines, including at the Orsay Museum. We recommend you get a Museum Pass before you leave home as part of the multi-faceted city pass, The Paris Insiders Pass. This also get you unlimited rides on the Metro (and lots of other perks). For more information, check out our review of the Paris Insiders Pass…

Skip-the-Lines, Small-Group Musée d'Orsay Tour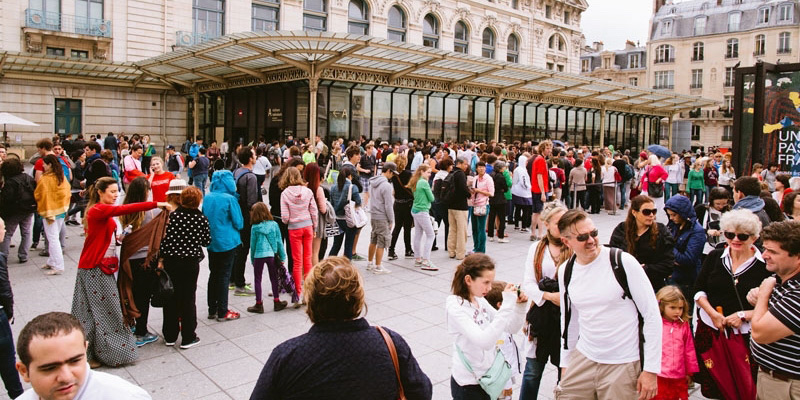 If you're a first-time visitor to this great Impressionist museum, or if you want to learn more about Impressionism, consider booking this fave guided tour of the Orsay Museum. Instead of spending your precious time in Paris standing in lines, like those folks above, this 2-hour guided tour gets you right into the museum. Group size is limited, so you don't get lost in the crowd.
Your guide takes you directly into the museum and to most famous Impressionist paintings where you learn the history of the artwork, the artists, and of the building itself. You'll discover how this Parisian art movement changed the landscape of western art and you'll see famous masterpieces by Manet, Van Gogh, Monet, Renoir, Degas and many, many others. It is, hands down, the top Impressionist museum on the planet.

Make a Day of It
Or make it a full day of art with a visit to Musée d'Orsay and a trip to the famous artists' colony at Barbizon, just outside of Paris
→ Check Prices & Availability…
VIP Private Tour at the Orsay Museum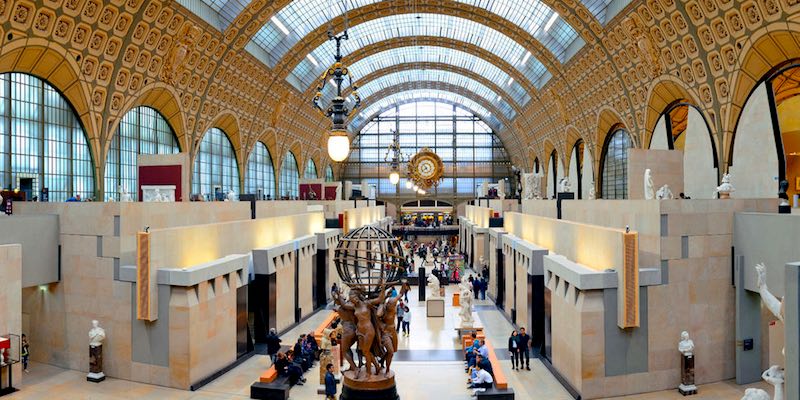 If, like us, you crave a little special attention, and an in-depth visit to d'Orsay, then we suggest a private tour.
This tour is just you and your private group, to a maximum of four people, and is guided by an English-speaking art historian. You really get immersed in the world and colours of Impressionism and come face to face with the greats. Learn about the artists' history and their private lives. This kind of personal, in-depth service is well worth the cost.

The Whole Shebang
VIP Private Louvre Museum + Musée d'Orsay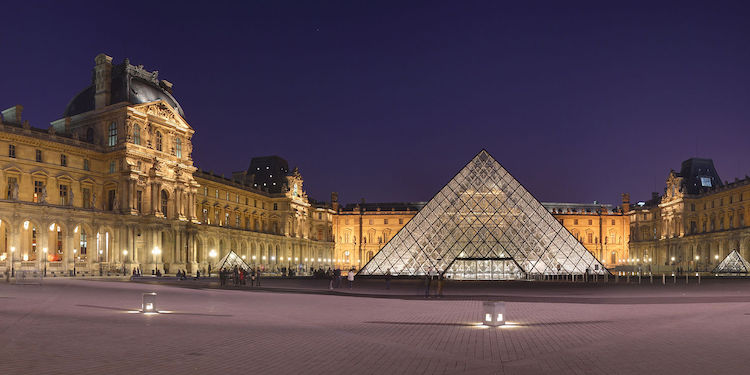 If you really want to soak up the Paris museum experience — and save tons of time while doing it — consider this 2-in-1 tour that gets you guided tours of the two major museums, skipping the lines at both.
It's an extraordinary private tour package and the size is limited to 4 people, making certain you receive personal, hands-on attention. You can also bet that this tour will sell out in advance.