Train Travel from Paris – To France & The Rest Of Europe
All of France is connected by a high-speed train network and other regional train systems. There are more than 20,000 miles of train rail and each day 14,000 trains run. Considering that France is just slightly larger than California, this means you are never too far from anywhere! The Atlantic Coast, Provence, and the Cote d'Azur are just a hop, skip and jump away from Paris using the highly sophisticated French railway system. Full disclosure — that it's our favorite way to get round France, so we're somewhat biased in our recommendations.
Board the TGV at Gare de Lyon and you'll be in sunny Provence in less than 3 hours. If you were to drive from Paris to Avignon, you'd have to spend up to 9 hours in the car. we've always found that here's no need to rent a car from Paris. We simply arrange to pick up a rental car when you arrive at the train station in Avignon, Bordeaux, Lyon, Trouville, or whatever our final destination.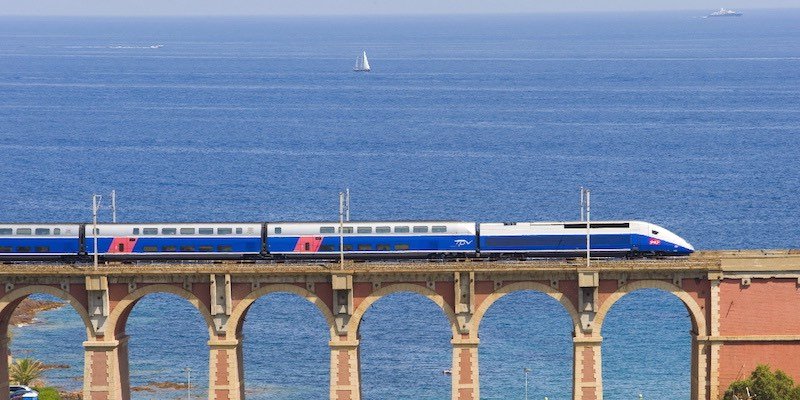 In the time of the average Vancouver (British Columbia) commute by car — about 67 minutes — you could hop from Paris to Reims and spend the day sipping champagne at Moët et Chandon, where Napoleon drank his champagne.
In little longer than the average Montreal commute (80 minutes) you could train travel from Paris to Nantes. There you could pick up a car rental and spend the day exploring the magnificent chateaux of the Loire Valley.
Luckily for us travelers, train travel from Paris also connects to all of Europe. You could take a romantic overnight train and wake up in Barcelona or Florence.
Although there are many cheap flights from Paris, you'll wonder about the true cost of them when you're stuffed like sardines into a flying tin can. (We know this from experience!) Instead, enjoy the comfort, speed, and convenience of train travel. And it's so much more pleasant to leave Paris from a centrally-located train station.
If you plan to do any train travel from Paris, it's best to purchase your online and in advance. That way you have your tickets with you when you arrive in France.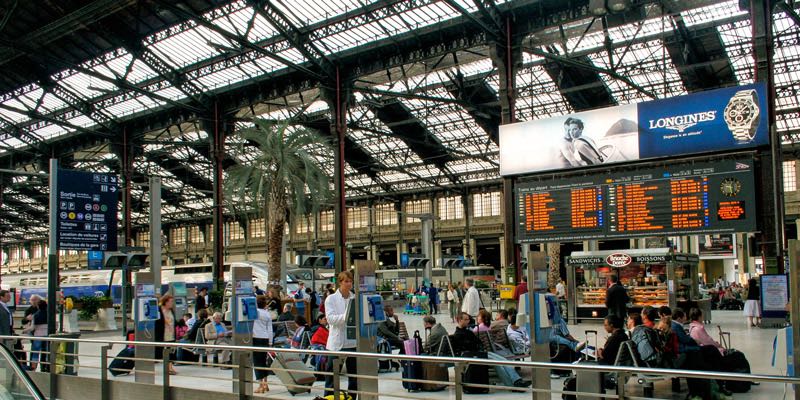 If you want to explore the regions of France using the local train service, you might want to consider a France Rail Pass. The Pass lets you hop on and hop off local trains at your convenience. These local trains arrive and depart frequently and are nicely comfortable.
A France Rail Pass gives you unlimited travel throughout France. Choose from 3, 4, 5, 6, 7, 8 or 9 days of train travel from Paris — that can be used consecutively or separately.

Popular Train Travel Destinations
Paris to Brussels — clocking in at 1 hour and 17 mins, the high-speed Thalys train will deliver you to this fabulous Belgium city.
Paris to Amsterdam — 3 hours and 18 minutes by Thalys.
Paris to London — 2 hours and 15 minutes on the Eurostar and you'll be saying hello to Big Ben.
Paris to Avignon — 2 hours and 36 minutes and you'll be soaking up the sun of Provence.
Paris to Bordeaux — 3 hours and 10 minutes to the center of wine country. From there it's an easy train ride to St. Emilion (30 minutes or so).
Paris to Lyon — 2½ hours gets you to the culinary capital of France.
Paris to Marseille — 3 hours later you'll be wandering the port city of Southern France.
Paris to Geneva — take the 3½ hour train ride and from there rent a car to visit Chamonix, Val de Bagnes and Gruyeres.