Memorable Paris Dining – A Retrospective Of Recent Years
We've eaten at a lot of restaurants in Paris. Some, of course, are better than others, but all of them have been memorable experiences. (And that includes the few that weren't so good.) Here we present a few of our dining experiences from recent years, as we traveled by Metro to practically every arrondissement. Let's start with the top three.

Les Trois Meilleurs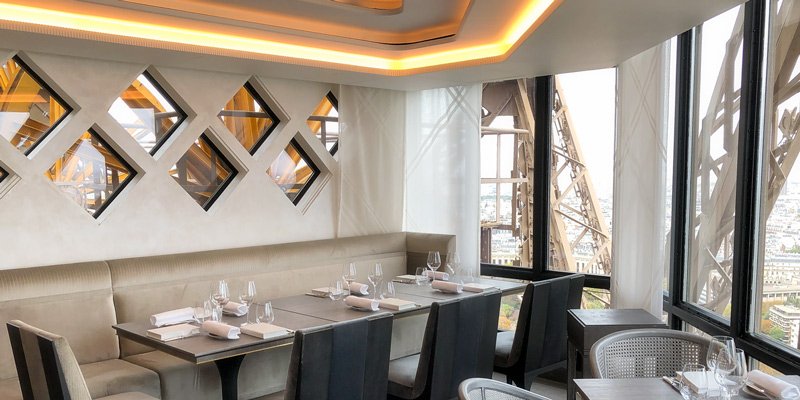 It was a fresh slate for this restaurant on the most popular monument in the world. Out with the heavy furnishings and distant rule of Alain Ducasse and in with the lighter, hands-on approach of Chef Frédéric Anton.
The improvements start at ground level with a short-cut entry (avoiding the long Eiffel Tower lines) to the private elevator for Le Jules Verne diners. The color scheme is now light and breezy and includes 2,500 sheets of gold leaf, applied by hand. Even better, though is the food. It's bold, daring, and as architecturally stunning as the tower itself. As soon as you book your flight to Paris, book your reservation at Le Jules Verne for what will be a meal of a lifetime. It's never been so delicious on the Eiffel Tower. One of our most memorable meals.
A temple to the wine of Burgundy, Les Climats, the impressive Art Deco restaurant with young chef Emmanuel Kouri at the helm, is turning out carefully constructed, delicious French classics, like lievre à la royale and ris de veau. But, there are also fresh, light offerings featuring lobster, sardines, scallops, and line-caught bass with unique, modern flavors and flourishes. We have many fond memories of our meal here, but even amongst all that goodness one dish stands out — the towering soufflé. Les Climats remains one of our favorites.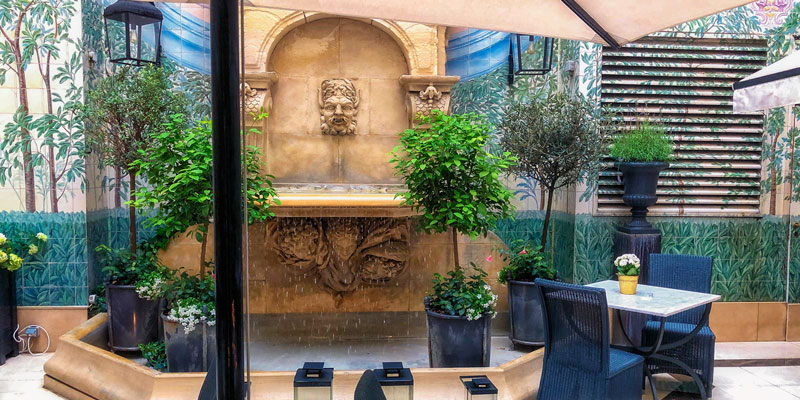 Although we usually don't seek out Italian cuisine in Paris, L'Assaggio changed that for us. In the refined restaurant of the Castille Hotel, on the elegant Rue Cambon where Coco Chanel set up her headquarters, L'Assaggio is combining Italian flavors and refined French techniques. Chef Ugo Alciati from Piedmont and Executive Chef Sasha Arandjelovic are creating exemplary dishes. We urge you to try their memorable tasting menu.

Other Memorable Paris Dining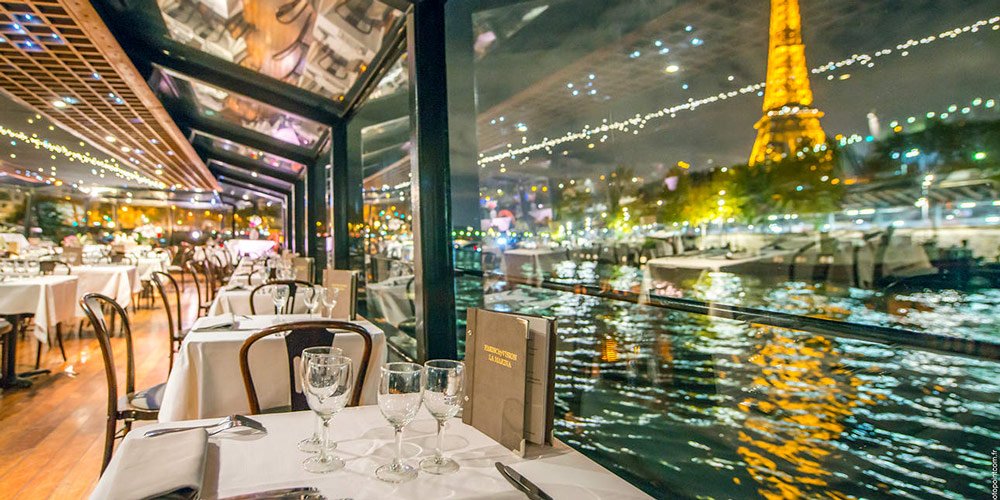 We loved this dinner cruise along the Seine. Not only did we view the iconic landmarks of Paris, we dined on a multi-course classic French meal that exceeded our expectations. Everything looks better from a bateau sailing along the river at night. For the the ultimate experience, choose the Service Privilege option with the best seating, the best meal, and more champagne!
La Verriere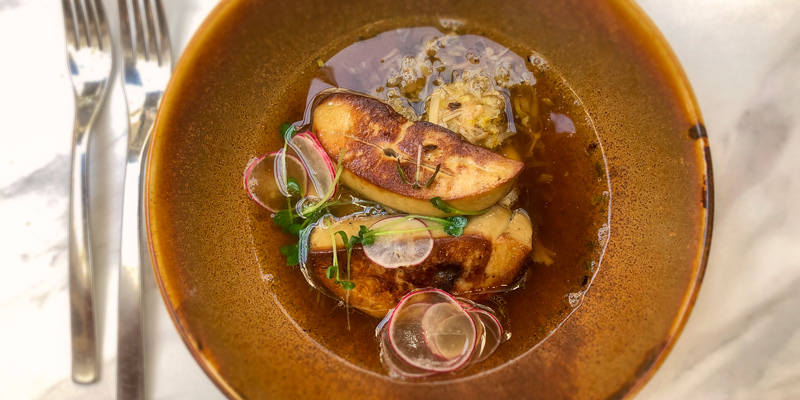 We dined at La Verriere by chance when we were looking for a place to have lunch before visiting the new Musée de la Libération de Paris (Museum of the Liberation) in the 14th Arrondissement. The neighborhood is funky but lively while the renovated Hilton hotel Maison Astor Paris, where the restaurant is located, is swish and modern.
Chef Kayori Hirano brings her Asian flavors and integrates them with French culinary savoir-faire. There are some very good dishes — like the foie gras a la plancha in a dashi broth, and the canette with garlic, ginger, and a Japanese pepper sauce called Sanshoe. Worth a Metro ride.
4 Rue Niepce
14th Arrondissement
Metro – Pernety

If the crowds milling around the Grand Magasins are getting to you, hop on the Metro and head up to the top of Montmartre to tuck yourself into the Hotel Particulier Montmartre's comforting restaurant, Le Grand Salon. It's found in a quiet, secret garden that's far, far away from that madding crowd. Sip champagne from vintage flutes, dine on the refreshing vegetable-forward menu, and wonder what it was like to have lived here when it was a private mansion.
Chez Janou
Bask in the sunny flavors of Provence at this popular bistro in the Marais. It's a crowded scene at lunchtime with regulars filling up on casual-fare favorites like roasted goat cheese rounds in a rich, flavorful tomato sauce; petite friture de poissons (deep-fried, bite-size fish); and a lamb, rabbit, or duck main course. Yes it can get packed, and sometimes the service can be sloppy, but it's worth it.
2 Rue Roger Verlomme
3rd Arrondissement
Metro – Chemin Vert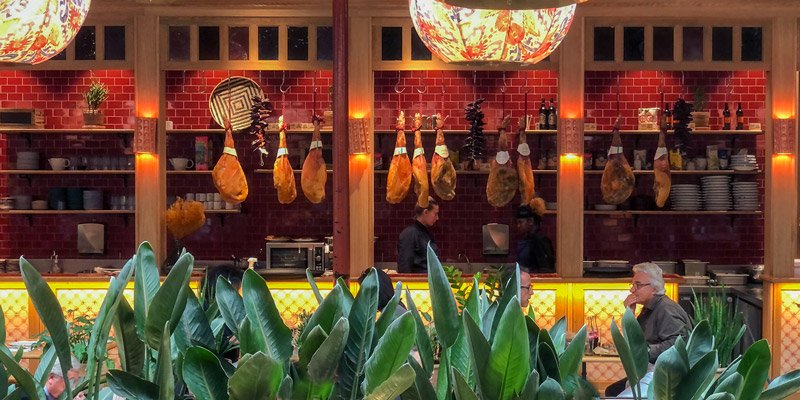 When your taste buds are in need of a boost of spice head to the beautiful La Muette neighborhood in the 16th Arrondissement to dine at the very large, international kitchen at La Gare. The Moma group brought on top designer Laura Gonzalez to bring in the colors and textures of the Mediterranean and hired Peruvian chef Gaston Acurio to bring the flavors from around the globe.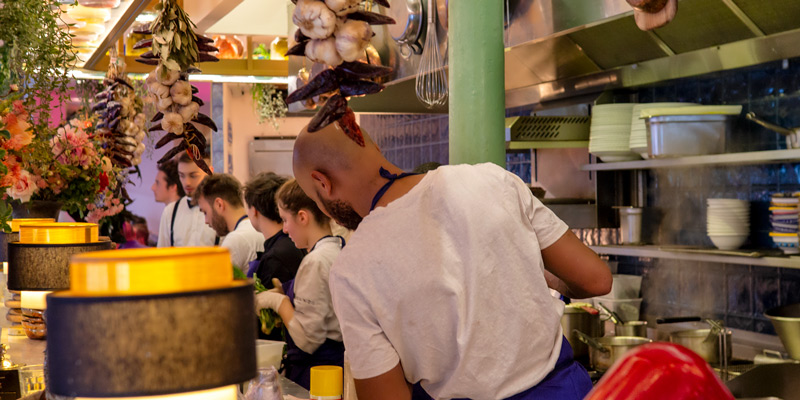 In a quiet corner of the 10th Arrondissement two friends named Victor and Charly are trying to revitalize the French brasserie. They've spared no expense in transforming a tired corner cafe into one of the best examples of an old-fashioned brasserie.
Nothing fussy or fancy about the food — it's stick-to-your-ribs French grandmother classics made with high-quality ingredients sourced from every part of France. Hams from the Auvergne, rich butter from Brittany, and fish from the shores of Normandy on a short, fun menu at bargain-basement prices. Worth the Metro ride.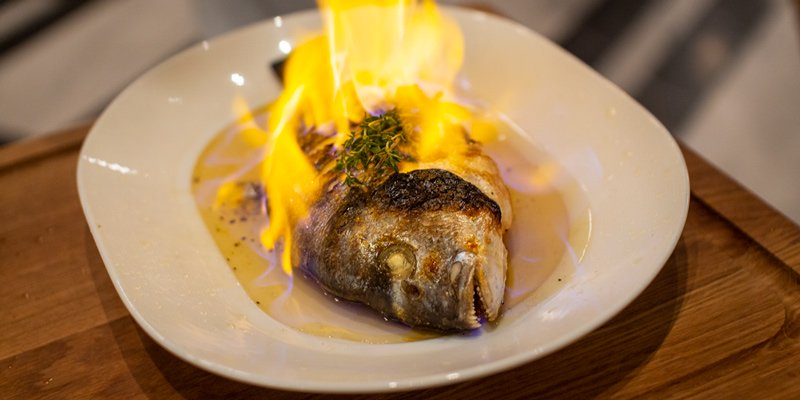 Four years and a zillion euros (approximately) in the making, Hotel Lutetia has revealed its new look and feel, including the restored restaurant, Brasserie Lutetia. Chef Gérald Passédat has brought his seafood sensibilities from his Michelin 3-Star restaurant in Marseille to launch the renovated brasserie. This is the place to fill up on fresh oysters, with seafood platters and whole fish as the stars of the show.
More Paris Restaurants Memories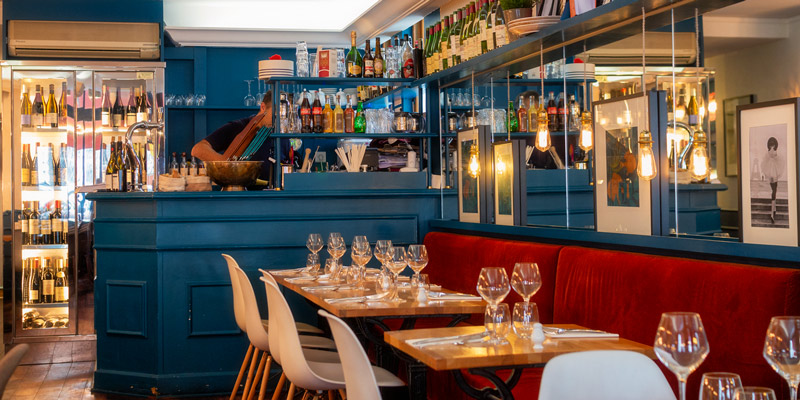 In the 7th Arrondissement, among the French government ministries and foreign embassies, is the modern bistro, L'Escudella. On a rainy, chilly day in early March we booked a lunch in this pleasant space, where everything is inspired by the flavours and colors of the Occitan region of the south of France.

Les Cocottes – Retrospective Review
At one time, a culinary visit to Paris for us wasn't complete without a meal at one of Chef Christian Constant's restaurants. If you lodged around Rue St-Dominique near the Eiffel Tower, it was hard not to dine at one of them — three of his restaurants dominated the last block of the street. Among them was Les Cocottes.
However, Christian Constant retired and most of the restaurants he created are now closed. But, we have fond memories of dining at Les Cocottes. We remember seared duck with Asian vegetables, scallops served in the shell with a purée of celeriac, flavorful roast chicken (served on Sundays only), and Basque cheese with black cherry jam. Bonne retraite, Chef Constant.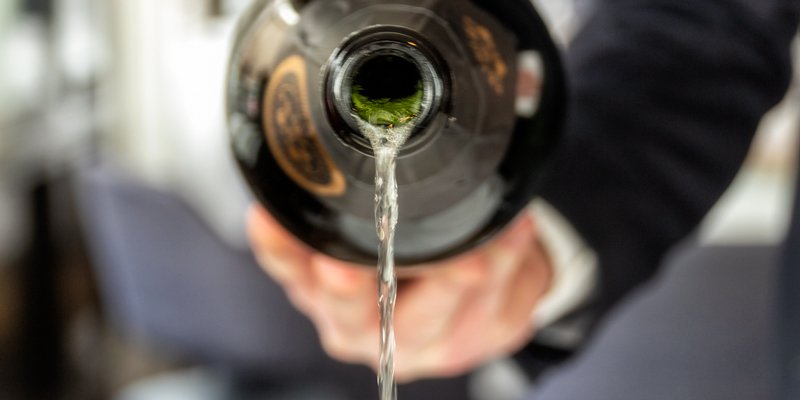 In any other circumstance, seafood restaurant Antoine would be included in the top section of this page, as one of Les Quatre Meilleurs. We had a memorable lunch there, on the banks of the Seine, gazing at the Eiffel Tower in the distance, just before the pandemic lockdown in France, which forced all restaurants to close. By late summer 2020 the restaurant, still closed, posted a notice on its website telling sad patrons (like us) that they would not be reopening.
Nonetheless, it's still a pleasure to look back on our memorable meal, and we do just that in our retrospective review.