10 Epic Sculptures Of Jardin du Luxembourg You Won't Want To Miss
If you love the history of Paris as much as we do, you know the best classroom is the city itself. There's nothing better than wandering the gardens and parks, admiring the sculptures and then, being the history nerds that we are, researching and learning more about the artists and their work. One of our favorite outdoor "classrooms" is the Jardin du Luxembourg.

Discover What's On When You're Here...
Discover What's On When You're Here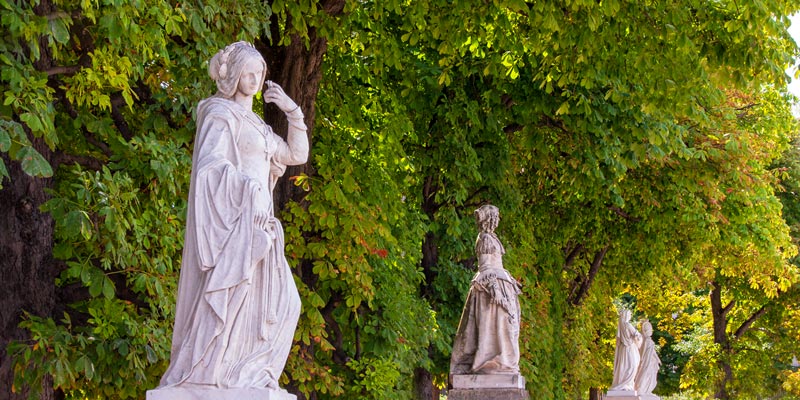 In a previous article, we explored the statues of 20 queens of France found in the Jardin du Luxembourg. But there's more to the gardens than the reines, there are also dozens of other statues created by some of the the great sculptors of France — think Rodin, Zadkine, Bartholdi, Bourdelle, and Dalou. Here we present 10 epic sculptures of the Jardin du Luxembourg you won't want to miss, plus a few honorable mentions. Let's delve into the hidden treasures found in this extensive urban oasis. Then, see if you can find them all on your next visit!
The 10 Epic Sculptures of Jardin du Luxembourg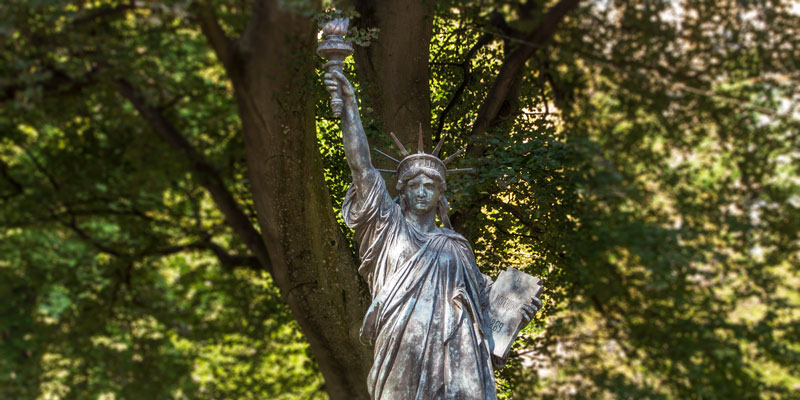 The Statue of Liberty by Bartholdi, photo by Mark Craft

1. The Statue of Liberty, 1900
AUGUSTE BARTHOLDI (1834-1904)
For the Universal Exhibition of 1900, sculptor August Bartholdi donated to the Luxembourg Museum the bronze statue that served as the model for the Statue of Liberty (dedicated in 1886 on Liberty Island in New York Harbor). The original of this model was placed in the Jardin du Luxembourg in 1906, but was removed in 2012 for conservation reasons. In its place now is now a bronze replica.
The Statue of Liberty stands in front of an oak tree. Beneath is a plaque that reads: "This American oak is dedicated to the memory of the victims of September 11, 2001 in the United States of America. Gift of the American community of Paris as a symbol of Franco-American friendship by M. Christian Poncelet, President of the French Senate in the presence of Honorable Howard Leach, Ambassador of the United States of America to France."


Monument to Delacroix by Dalou

2. Monument to Delacroix
AIME-JULES DALOU (1838-1902)
The large bronze monument, inaugurated in October 5, 1890, pays homage to Eugene Delacroix, a powerhouse of French painting in the 19th century. Born in 1798, Delacroix is considered the father of Romanticism. (One of his masterpieces, a mural titled Jacob Wresting the Angel, can seen just a five minute walk away at Église Saint-Sulpice.) A bust of Delacroix himself sits on a pedestal above a 5-metre-wide fountain. For the complete Delacroix experience, head to Saint-Sulpice, then to the Delacroix Museum, a few blocks away in Saint-Germain.

3. Stendhal
AUGUSTE RODIN (1840-1917)
The bronze medallion of French 19th-century writer Stendhal was inspired by a drawing by sculptor David d'Angers. Marie-Henri Beyle, whose pen name was Stendhal, is knowns for his novels Le Rouge et le Noir (The Red and the Black) and La Chartreuse de Parme (The Charterhouse of Parma). Fun fact — Stendhal worked for Napoleon in an administrative role during the disastrous 1812 invasion of Russia. After seeing this sculpture, you're sure to want to visit the Rodin Museum in Paris.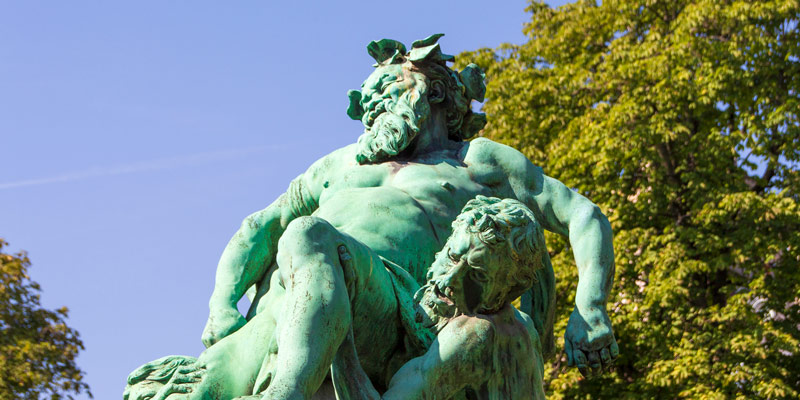 Le Triomphe de Silene, by Dalou, photo by Mark Craft

4. Le Triomphe de Silene, 1885
AIME-JULES DALOU (1838-1902)
The bronze statue, in a shape of pyramid, depicts Silenus — father of Dionysos, god of the vine and wine — drunk and staggering, perched on the top of a donkey, a nymph, and a mix of naked bodies, ready to collapse.
Dalou, the star pupil of another great sculptor, Jean-Baptiste Carpeaux, is considered one of the most brilliant French sculptors of the 19th century. Dalou's other famous works in Paris are the tomb of Victor Noir in Pere Lachaise Cemetery, Triumph of the Republic located at Place de la Nation, and, as we have seen, the monument to Delacroix here at Luxembourg.

5. Leconte de Lisle
DENYS PUECH (1854-1942)
Inaugurated in 1898, this statue is dedicated to French poet Leconte de Lisle (1818-1894). Famous for his poetry, he is also remembered for his translations of Ancient Greek authors like Aeschylus, Sophocles, Euripides, and Horace.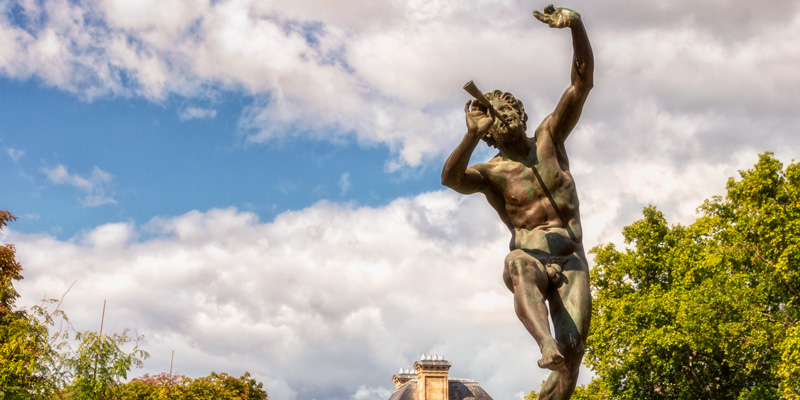 Faune Dansant by Lequesne, photo by Mark Craft

6. The Faune Dansant
EUGENE LOUIS LEQUESNE (1815-1887)
Faune, descended from Faunus, was a Roman god of shepherds and herds. Unlike the Greek satyrs, who were rather repulsive, faunes were depicted with fine, elegant features. Faunes loved music and dance and the Romans thought they invented the trumpet from a sea conch. French sculptor Lequesne made his dancing faune, joyous and happy, with a carefree Peter Pan attitude.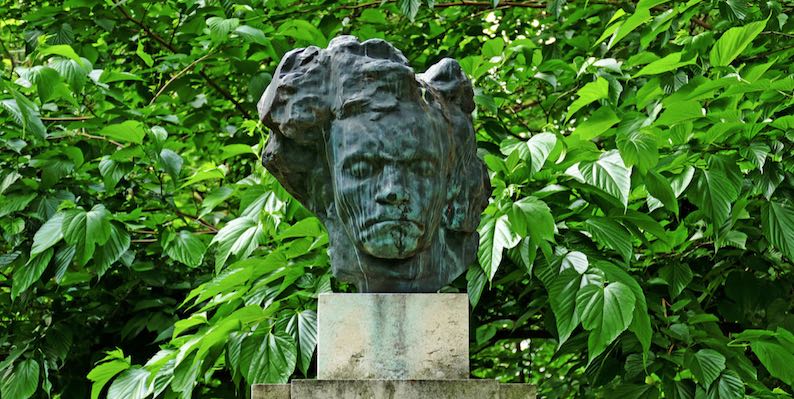 Bust of Beethoven by Bourdelle, photo from Flickr by Leo Reynolds

7. Beethoven
ANTOINE BOURDELLE (1861-1929)
Legen has it that as a young man Bourdelle, while reading a book about Beethoven, was struck by his own physical resemblance to the composer. From that day on the French sculptor produced over eighty sculptures of Beethoven plus countless drawings and pastels.
Bourdelle's daughter, Rhodia Dufet Bourdelle (1911-2002) donated this sculpture to the French Senate and, with the aid of the French Beethoven Association, the bust was unveiled in October, 1978.

8. Le Marchand de Masques (The Mask Seller)
ZACHARIE ASTRUC (1835-1907)
French painter poet, and sculptor Zacharie Astruc's bronze sculpture depicts a young boy holding a mask of Victor Hugo. At his feet, at the base of the statue, are other masks representing famous writers, painters, and musicians from the 19th century. Although Astruc's work is not widely known, he was presented in the first Impressionist exhibition of 1874 and the 1900 Paris Exposition Universelle.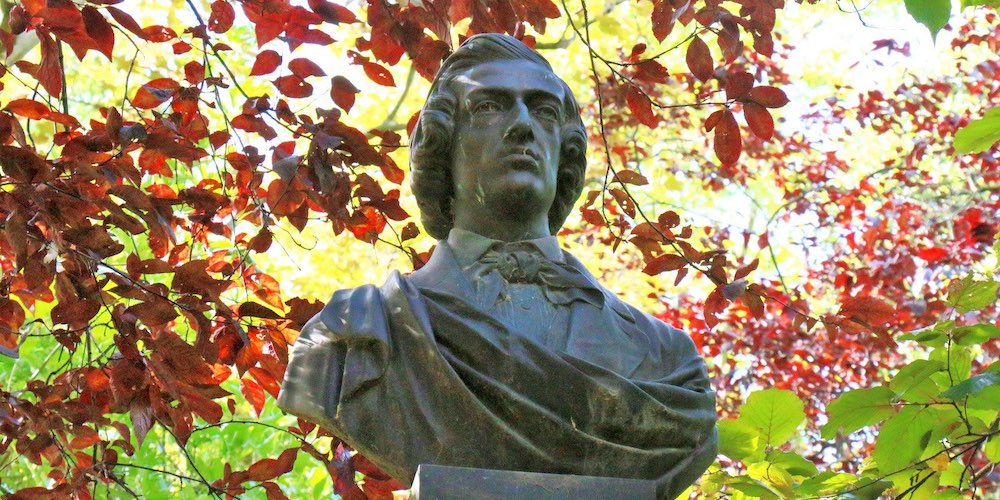 Bust of Frederic Chopin by Georges Dubois

9. Frederic Chopin
BOLESLAW SYREWICZ (1835-1899)
Chopin, the celebrated Polish composer and pianist, was born in 1810 in Poland and died before his time in 1849 in Paris. He is one of the most famous virtuoso pianists of the 19th century and is one of the greatest music composers of the Romantic Era. Chopin and Franz Liszt are considered the fathers of modern piano music.
The plaster model of the bust of Chopin was presented at the Salon of 1899 and was inaugurated in Jardin du Luxembourg on October 17, 1900. In 1942, the original bust of Chopin was removed and is now preserved in the National Museum of Warsaw. In its place, the Polish government donated a bronze replica made in 1872 by the sculptor Boleslaw Syrewicz. The replica was inaugurated in the Jardin du Luxembourg in 1999, on the the 150th anniversary of the death of Chopin.
For the complete Frederic Chopin experience head to Pere Lachaise Cemetery to visit his gravestone and monument, and then over to Musée de la Vie Romantique, located in the hôtel particulier that hosted the likes of Chopin and Georges Sand.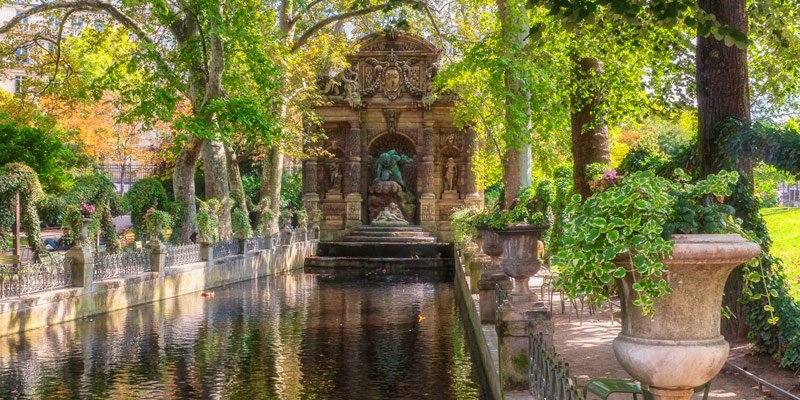 La Fontaine Medicis, photo by Mark Craft

10. La Fontaine Medicis
Originally built in 1630 during the first phases of the Jardin du Luxembourg, the fabulous fountain remains a highlight of the gardens. Constructed on order of Marie de Medici, its chief architect was Thomas Francini, who had worked on fountains of the Medici villas in Florence and Rome.
Unfortunately, La Fontaine Medicis fell into disrepair until 1811, when Napoleon Bonaparte (who else?) ordered its restoration. Architect Jean Chalgrin (he also designed the Arc de Triomphe) replaced the simple water fountains with two streams of water and added a white marble statue representing Venus in her bath.

Jardin du Luxembourg Sculptures – Honorable Mentions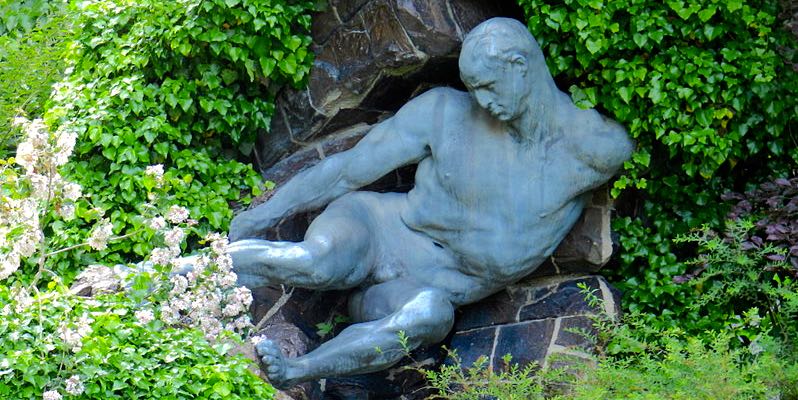 L'Effort by Roche, photo Wikimedia Commons

L'Effort
PIERRE ROCHE (1855-1922)
Originally designed as a fountain, L'Effort was inspired by one of Hercules' twelve labors. Surrounded by greenery, it's easy to miss this powerful sculpture found at the entrance off Rue de Vaugirard near the museum.

Monument Aux Etudiants Resistants
GASTON WATKIN (1916-2011)
Installed in 1956, this stark sculpture is dedicated to students and young people who died during the Resistance of World War II.

Homage a Paul Eluard
OSSIP ZADKINE (1890-1967)
Paul Eluard (1895-1952) was a French poet and one of the founders of the Surrealist movement. He is also buried in Pere Lachaise cemetery. Fun fact — Eluard was married to Gala Dali, before she married Salvador.