You Asked – What Are The Best Hotels For A Christmas in Paris?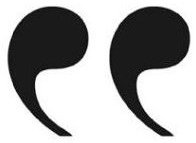 Bonjour! We are going to be spending Christmas is Paris (yay!) and were thinking about splurging and staying at the Ritz for Christmas Eve and Christmas Day. However, I've just discovered that the Ritz has closed for refurbishments for two years. [Since this question was asked, the newly-renovated Ritz has reopened.]
"Do you guys have any suggestions for lovely places to have Christmas brunch, lunch or dinner? Also, any hotels that may compare to the Ritz for comfort and luxury? Merci beaucoup for your time and any advice would be so appreciated."
– Kylie, Australia

We Answer – Christmas in Paris, Hotels & Restaurants
Dear Kylie,
You have a very good problem! At Christmas time in Paris, hotels book early, so it's a good idea to start searching now for your reservations.
Our top choices would always include The Mandarin Oriental Paris and the Shangri-La Hotel, both of which have been awarded the ultimate French hotel distinction, Palace. But let's also take a look at some of our other fave Palace hotels — each of them will make your Christmas in Paris a dream come true.
Christmas at Le Meurice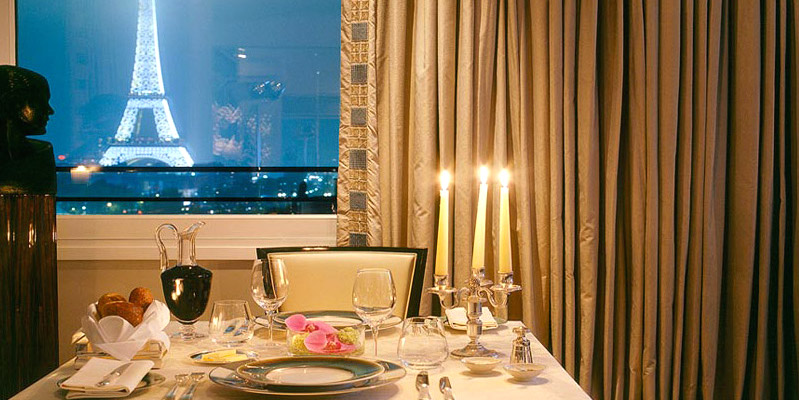 The opulent Palace hotel, Le Meurice is situated nicely on Rue de Rivoli, close to everything. The Louvre is just across the street as is the Tuileries Garden with Place de la Concorde at its far end. Just stepping inside the entry makes you feel like you're in a relaxing oasis of calmness.
Another thing in favor of the Le Meurice is star chef Alain Ducasse, who's behind their Michelin-starred restaurant Le Meurice. This would also be high on our list for a special seasonal splurge meal in Paris.
Plaza Athénée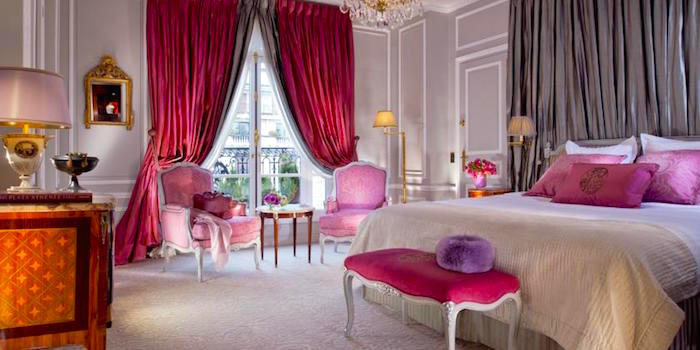 A massive renovation a few years ago made the Athénée more luxurious than ever. Expect to-die-for decor and a choice of Art Deco, Louis XVI, or Regency styling in your room..
Sometimes it's the little things that make the biggest impression, like a music library with 5,000 titles or a pillow menu. The mini-bar is stocked with dozens of wines and champagne and there are five in-house restaurants to choose from.
Alain Ducasse oversees the menu here as well, at the restaurant aptly called Alain Ducasse au Plaza Athénée.

Where to Eat in Paris at Christmas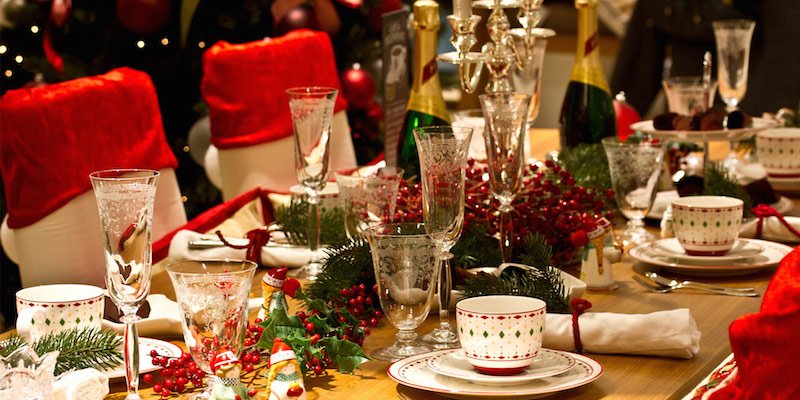 Paris restaurants will start posting their seasonal menus online around the end of October. That's the time to start seriously working on your Christmas Day restaurant reservations. Don't wait to get to Paris to arrange these special occasion meals, as they book well in advance.
It's a good bet that the top hotels will have their restaurants open for Christmas Dinner. This is their chance to showcase the best of season with foie gras, chestnuts, wild game, and plenty of champagne on the menu. A special meal like Christmas Dinner at a top hotel is a splurge, so expect to spend at least a couple hundred Euros per person on the once-in-a-lifetime experience.
Some of our top choices for Christmas in Paris special meals are the Epicure at the Bristol (under the hand of Eric Frechon), Restaurant Le Meurice, and Le V at the George V Hotel. Many of our most memorable meals have been during Christmas in Paris at these special places.