Things To Do In Paris, July 2020 – An e-Guide For Unusual Times
July in Paris is sizzling hot days and glorious warm evenings — and usually with plenty of parties and fireworks to celebrate Bastille Day. But, as you know, a coronavirus has made this a very unusual July in Paris. While you are waiting for Paris to become Paris again, why not use our illustrated e-guides to virtually ramble the streets of the city we love.
As Paris opens up following Covid-19 we will update information on the best things to do, places to eat, and the greatest ways to explore and enjoy the city we love. Meanwhile, you can imaginatively plan your next July visit by browsing through our recommendations below for the best things to do in Paris in July… a normal July, that is!
Most Popular Activities
Things to Do in Paris July 2020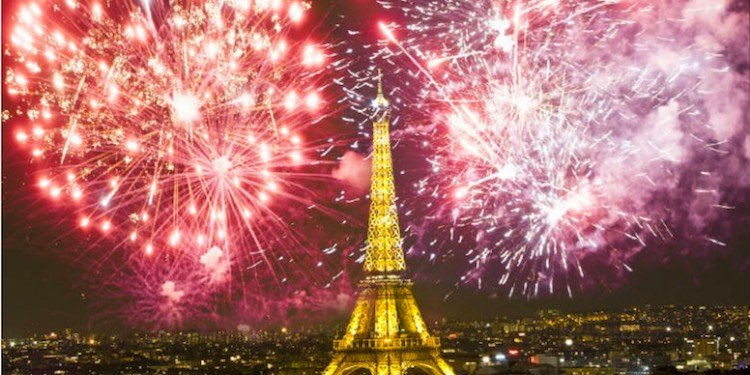 Celebrate Bastille Day in Paris with a dinner cruise on the Seine. The 3-course classic French meal includes champagne, wine, and dancing in a festive atmosphere. There are amazing views of the iconic sights of Paris — Notre Dame, the Louvre, Musée d'Orsay. Best of all is the fireworks show at the Eiffel Tower. This is something you don't want to miss, but book now as it is certain to sell out.
Celebrate Bastille Day in Paris with this dinner cruise on the Seine. The classic French meal with wine is served in a festive atmosphere. There are amazing views of the iconic sights of Paris — Notre Dame, the Louvre, Musée d'Orsay. After the cruise, back on shore, you'll be in a prime location to see the fireworks show that happens at the Eiffel Tower. This is something you don't want to miss, but book now.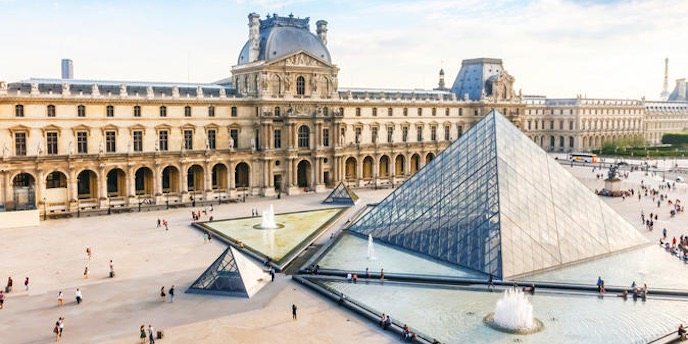 Nearly 10 million visitors a year means that the Louvre is full of art lovers and there are always long lines waiting to get in. That's why we insist on booking a skip-the-line tour to get past the crowds and into the museum quickly. Visit masterpieces of the ancient Greeks, the Italian Renaissance, and French emperors. You'll also spend time with the Big Three — Venus, Nike and Mona !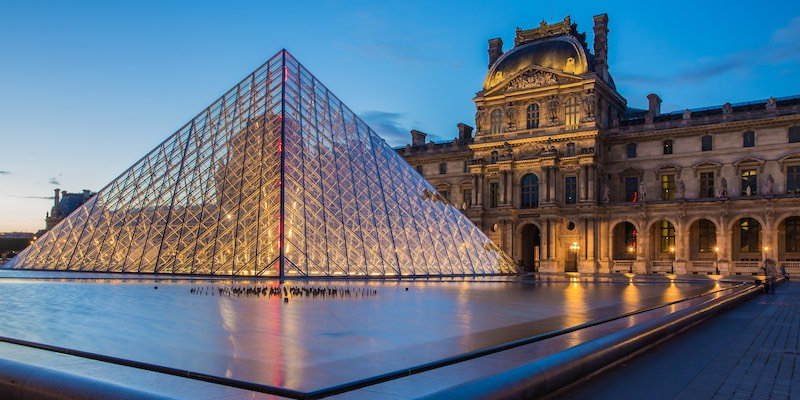 Our personal favorite combines two of our best-loved activities — fine wine and fine art. If you think it can't get better than that, listen up — you also get to skip the lines at the Louvre for an evening guided tour, when the crowds are smaller. Looking at great art makes a person thirsty… So, afterwards follow your guide to a nearby wine cellar for a guided tasting of a flight of French wines.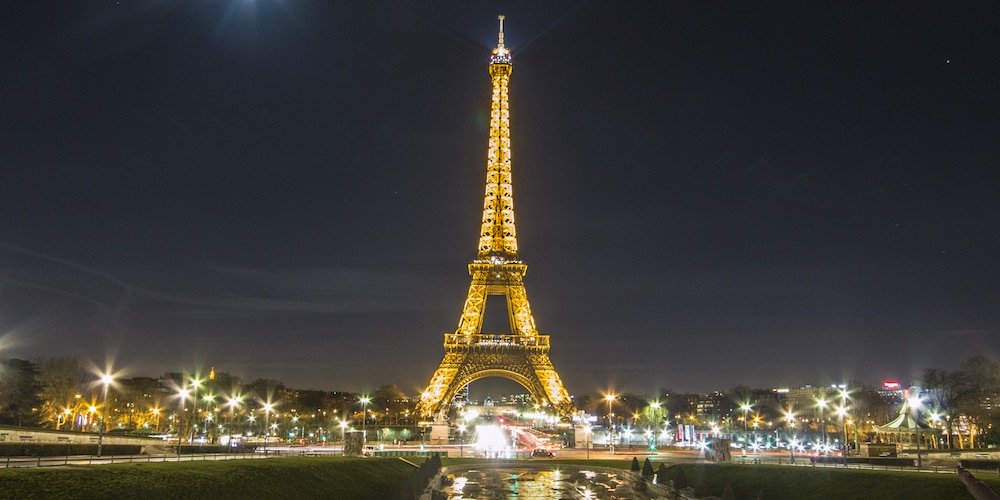 Combine the best of all Paris worlds in one glorious evening. Dine high above the city at the brand-new Eiffel Tower brasserie, relax on a Seine River illuminations cruise, then finish the evening with a cabaret show at the iconic Moulin Rouge. Everything is included — dinner with wine, river cruise, tickets to Moulin Rouge, and champagne (of course!). This is a very popular activity and sure to sell out.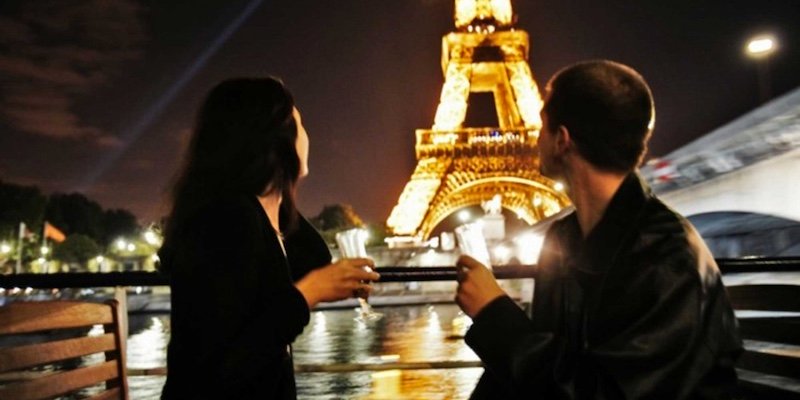 Wine. Champagne. Are you starting to see a pattern in the activities we like the most? This one pairs Paris with champagne — to us the perfect combination. Glide past world-famous monuments while sipping bubbly in a 3-champagne tasting guided by an expert sommelier. You learn about the champagnes as your guide also fills you in on the sights of Paris as you cruise by. Every day except Sundays.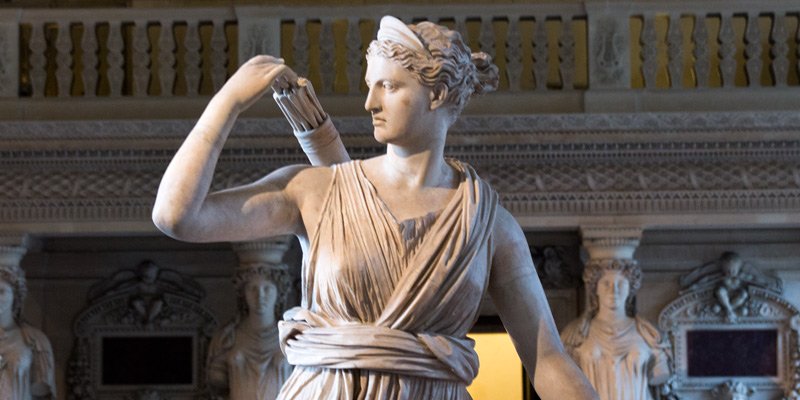 This full-day, five-star tour starts with pick-up at your Paris address for a morning tour of the Louvre with a professional guide. Next, your car takes you across town to the Eiffel Tower, where you also enjoy VIP access to get up the tower and take in the best views of the city. Your driver next takes you to historic Î le de la Cité to visit the island and Notre Dame before heading up the hill to visit Montmartre. It's a very full and very satisfying day in Paris!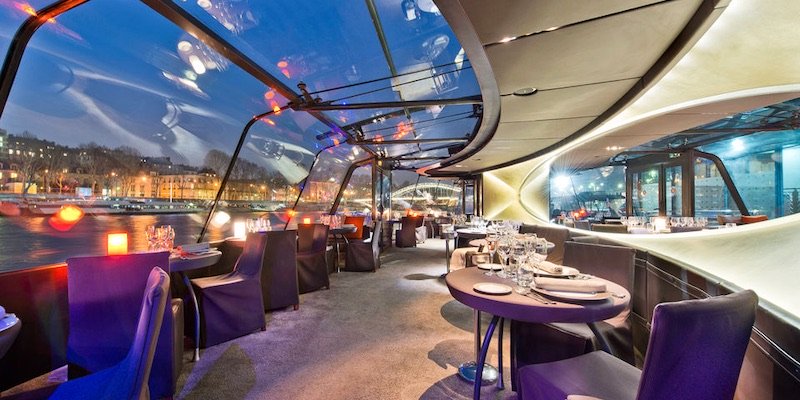 We highly recommend this very popular 3-hour evening sightseeing dinner cruise. Combine glamorous dining in Paris with views of the must-see attractions from a classic Bateaux Parisiens river boat. Live musicians entertain while you take in the lights of the city. Hotel pickup is included as is champagne and wine. What else would you expect in Paris? Also see, The Six Top Dinner Cruises in Paris…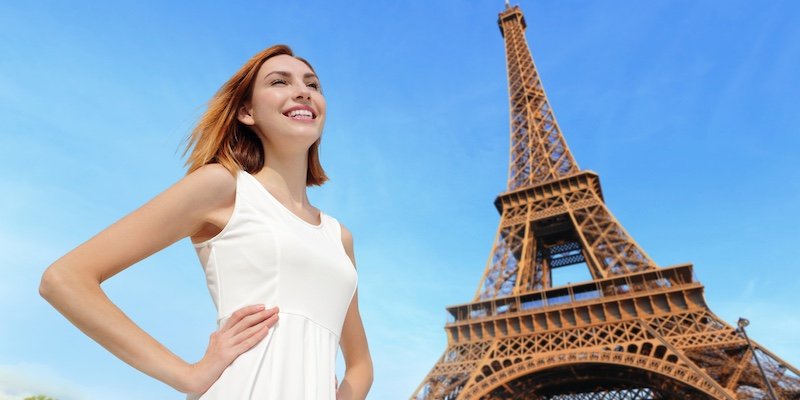 The Eiffel Tower is immensely popular and there are always long-ups. Since we hate waiting in line, we always search for an Eiffel Tower activity that lets us skip the queues. We've found a few that we'll share with you. Since availability and times tend to change regularly, the best way to approach a no-wait ET visit is to check with the Skip the Eiffel Tower Lines link below. Also see, Big List of Eiffel Tower Tours…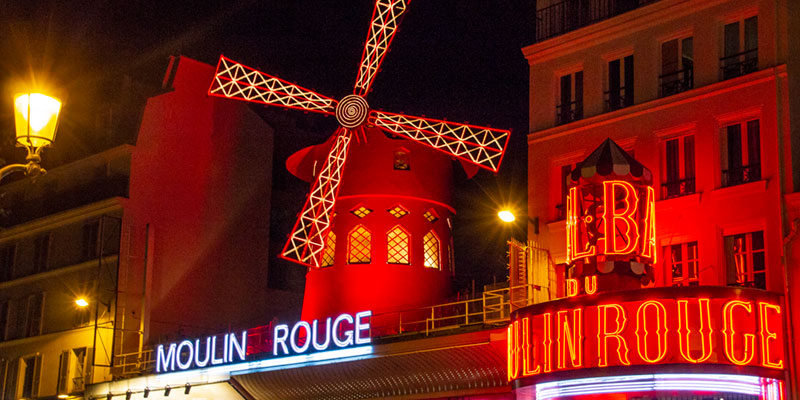 This is another complete evening out in Paris. Your driver meets you at your address and takes you on a magical illumination tour of Paris, ending at Montmartre and the Moulin Rouge. Dine at the number-one rated nightclub in Europe, and take in the amazing cabaret show. No need to figure out how to get there or what to do when you're ready to leave — your transportation is waiting for you. Also see, Seven Ways To See The Hottest Show in Town…
It's easy to see why this combination evening activity has received hundreds of 5-star reviews. Your guide leads you to the banks of the Seine where you board a bateau for a twilight river cruise. Gaze upon the sights of Paris while you sip bubbly in a VIP area at the front of the boat. Back at the dock, you head to the Eiffel Tower, past the long line-ups, and up to Level Two for even better views of Paris. We've done this tour and it's as good as it sounds!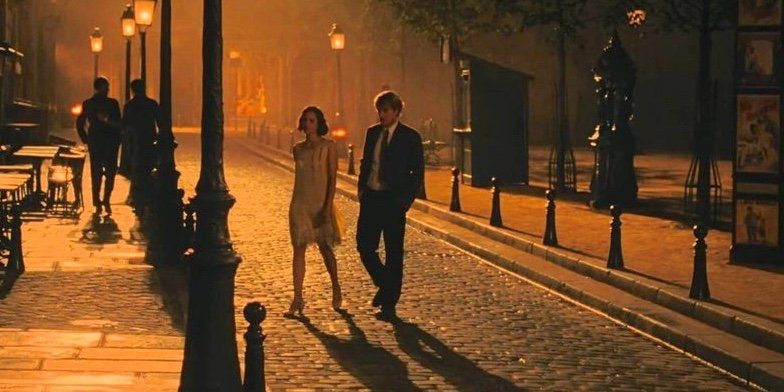 You might think of Paris as the City of Light, but it can also be…well, spooky. 2,000 years of history has resulted in a city that can be mysterious, even eerie, especially at night. Follow your guide along ancient, narrow streets and learn about the ghosts of Paris, the unexplained, the wars, and the spooky. Also see, The 10 Best Walking Tours Of Paris…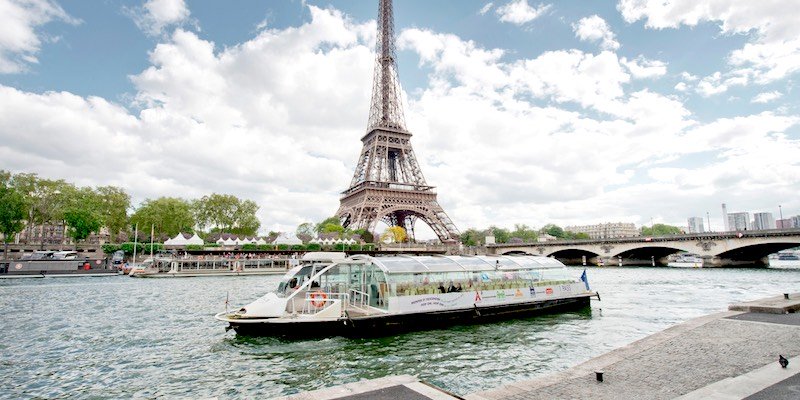 This is another good way to get up the Eiffel Tower without standing in line. Your driver meets you at your Paris address for a small-group tour of the city's most iconic sights — like the Champs-Elysées, the Arc de Triomphe, and Montmartre. When it's time for lunch you skip the long lines at the Eiffel Tower and go directly up to restaurant 58 Tour Eiffel, where the views of Paris are wonderful and a table has been reserved for you. The afternoon finds you cruising along the Seine on a bateau.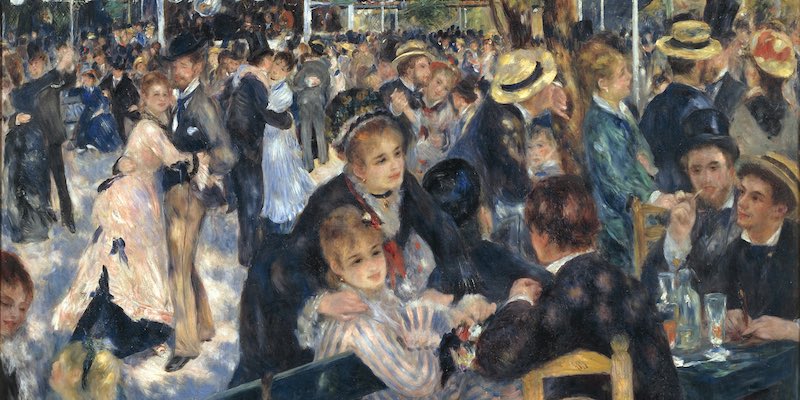 Visit the fascinating hilltop setting of Montmartre for a tour focusing on the history of the artists who made this area famous. See the house where Van Gogh lived, the famous windmill cabaret of Renoir, and the site of Picasso's early studio. Also included is a skip-the-line ticket for Musée d'Orsay. This activity has hundreds of 5-star reviews, so be sure to book early.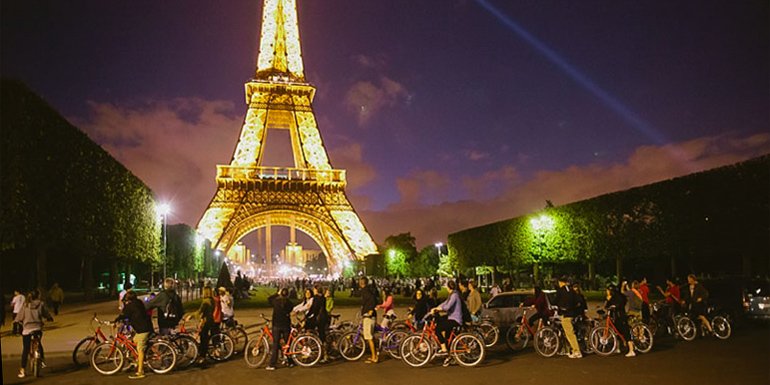 Visitors love this tour, especially on a summer evening in Paris. Follow your experienced guide as you pedal down ancient streets to visit the Louvre, the Eiffel Tower, and glide down the Champs Elysées. Cycle through Île de la Cité and witness Notre Dame as it is reconstructed. Then you hop on a river boat for a nighttime cruise on the Seine. A glass of wine is included, of course!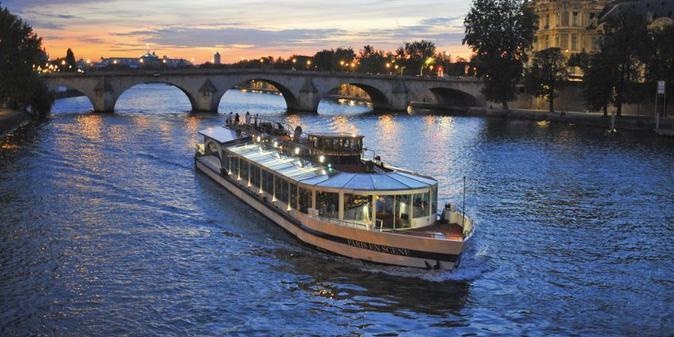 What could be better than cruising along the the most famous river in the world, seeing Paris all aglow, while dining at a private table? This is even better — finish the evening with a cabaret at the legendary Moulin Rouge. On a classic bateau in Paris you dine at a private table. Afterwards, your driver/guide whisks you across town to the Moulin Rouge and its iconic cabaret. The night includes hotel pick-up and return.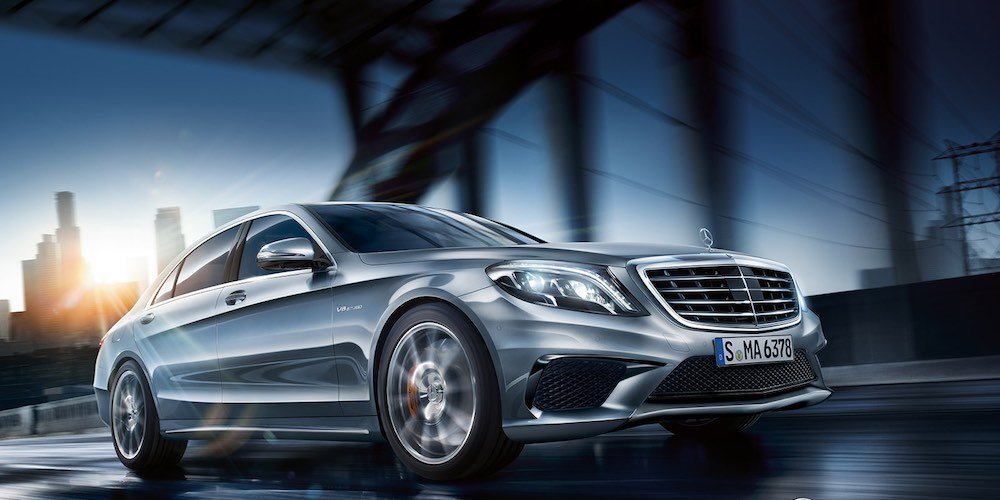 Know what's going to happen when you land at the airport — arrange transportation into Paris in advance. An easy and affordable way to do that is to book a shuttle van service right to your hotel. Readers have liked these services that also pick you up when you're ready to depart. But we suggest you go with our best Insiders tip — a VIP private transfer in a luxurious Mercedes S-Class. Honestly, it's the only way to do it!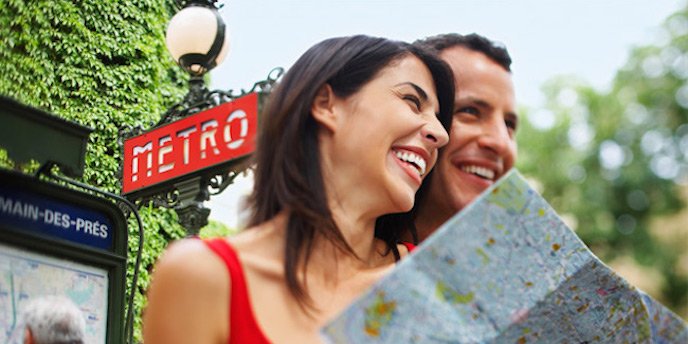 We know that most travelers want to save time in Paris, but why not save money as well? With the Paris City Pass you get into the museums for free and ride the Metro for free. Even better, we've arranged special savings for our readers. Use the discount code INSIDERS5 for our readers' discount. But for us the big advantage is bypassing the looong Paris lines. Also see, Complete Guide to the Paris City Pass…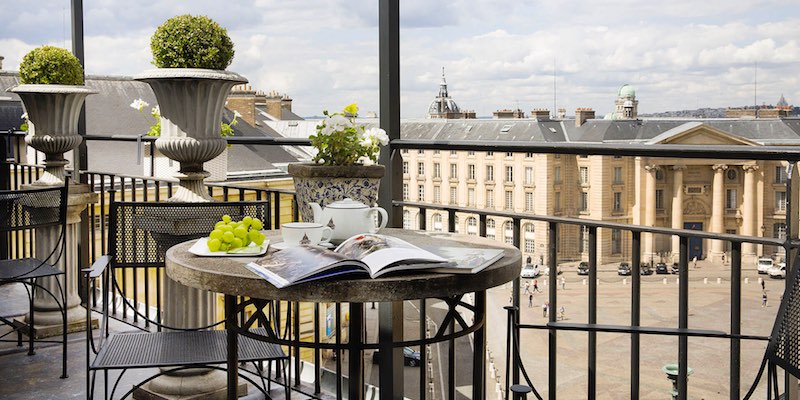 The historic and charming Latin Quarter is one of the best places to stay in Paris. Luckily, it's also home to some of our favourite hotels in the city. Here, you are in the center of things, with easy access to Saint-Germain, the Marais, the Seine, Notre Dame Cathedral. Let's take a look at our newly-updated, 2020 list of the best hotels in the Latin Quarter, with current prices.
The Best Ways to Visit Versailles from Paris
Things to Do in Paris July 2020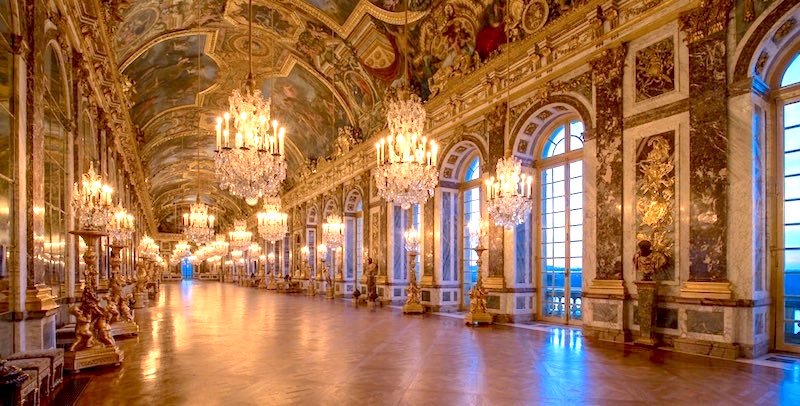 The day starts at your Paris address, whence your driver/guide whisks to the royal estate of Versailles, 40 minutes away. Included in your dossier are priority, skip-the-line tickets. Go directly inside to experience the grandeur of the chateau on a guided tour. Then stroll through the gardens until lunch near the Grand Canal. Afternoon finds you at the Grand Trianon and Marie Antoinette's farm, before you're driven back to Paris. Everything is included.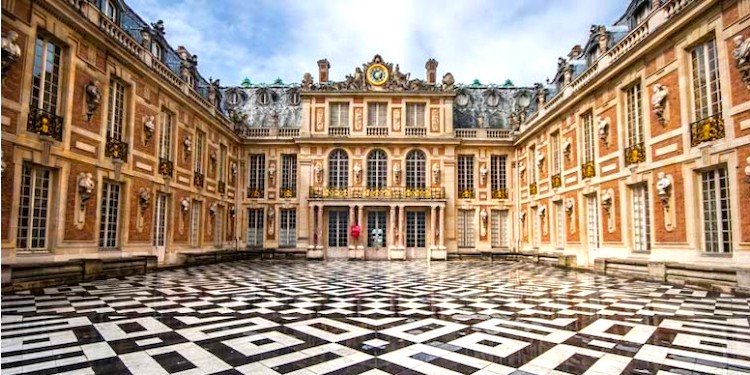 If you don't want to spend a full day at Versailles, then we recommend these highly-rated half-day tours that also include hotel pick-up. It's with a small group to ensure that you get individual attention from your expert guide. A private tour is also available.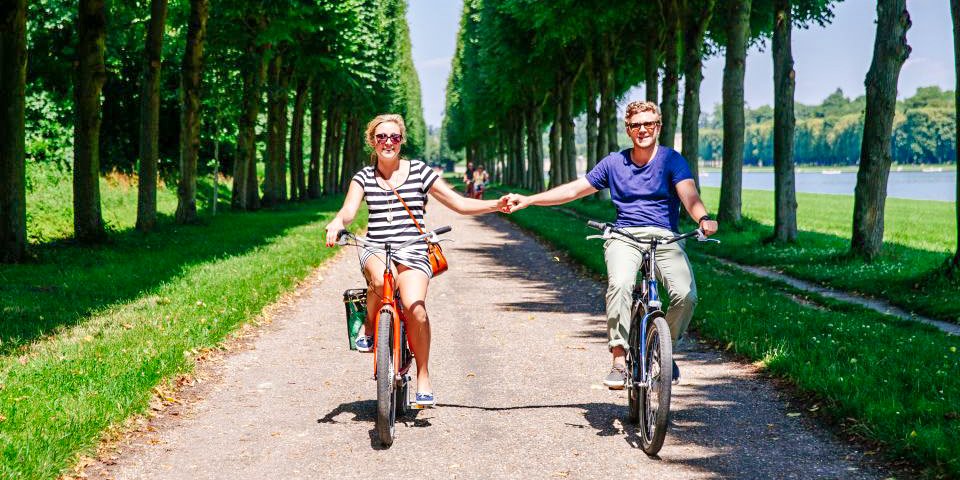 Kickstart summer with this 2-in-1 tour. You'll cruise the country around Versailles as your guide takes you through forests and pastures, to the local market and then into the gardens of Versailles to ride past the historic buildings, including Marie-Antoinette's Hamlet. Then use your passes to explore the chateau as long as you like. A great tour, but be sure to book right now!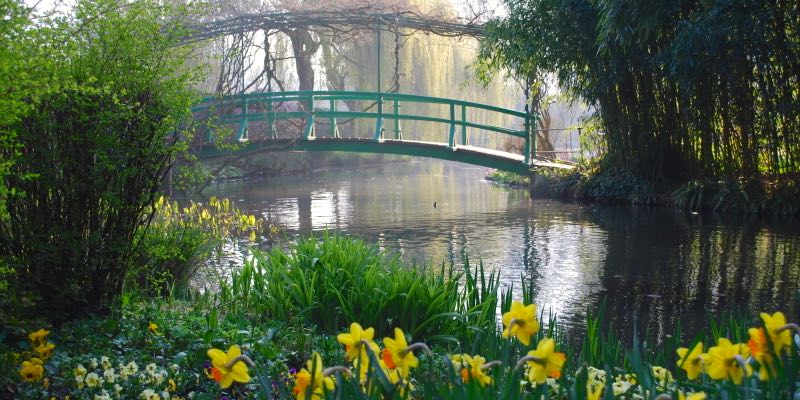 This 2-in-1 activity takes you to two essential landmarks in one day — the chateau and gardens of the royal estate at Versailles, plus the famous gardens of Impressionist master Claude Monet at nearby Giverny. On this small-group tour (no more than 8 people, to ensure personal attention) you are picked up at your Paris address and driven to both locations for guided tours. Lunch is also included on this very popular day trip from Paris.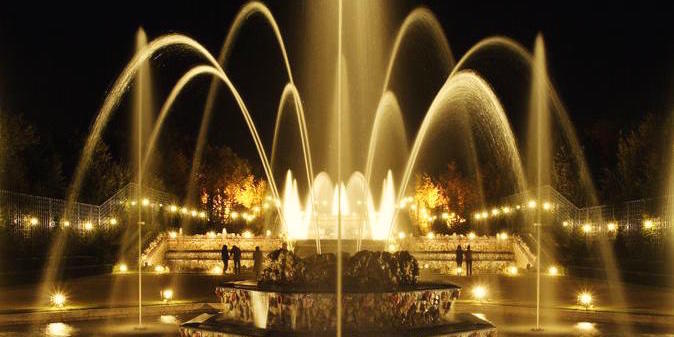 In the magnificent gardens of Versailles experience the summer-only fountain show, choreographed to music from the court of Louis XIV. It's one of those events that you don't want to miss and can only be seen on weekends in the summer months. This half-day tour also includes priority access to the palace. Weekends in July.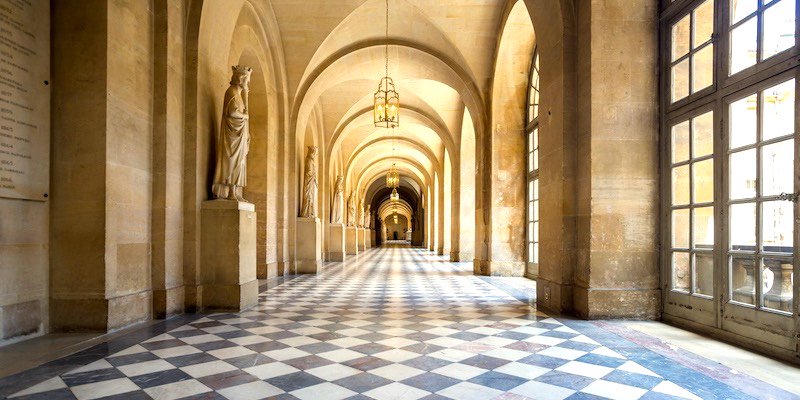 See the hidden rooms of Versailles other visitors will never see — Louis XVI's private apartments, his personal library, and the Royal Chapel built for the wedding of Louis and Marie Antoinette. If you opt for the morning tour, you get priority access to the Hall of Mirrors just as the doors of the palace open and before the crowds arrive.
The Top Day Trips From Paris
Things to Do in Paris July 2020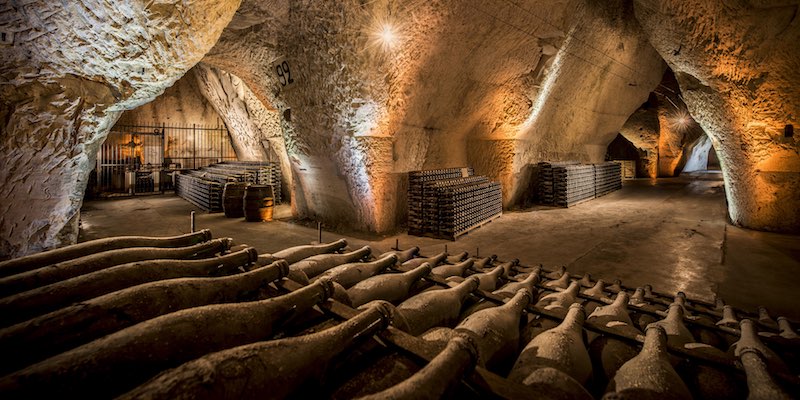 Visit the Land of Bubbly. On this day tour your driver/guide picks you up at your Paris hotel to take you to the Champagne Region, just about an hour away. You start your visit in Reims at the historic cathedral. But the day is mostly about visiting champagne makers and sampling, sampling, sampling. Lunch at a regional restaurant is included. Also available as a private tour. Also see, The 3 Top Day Trips to Champagne…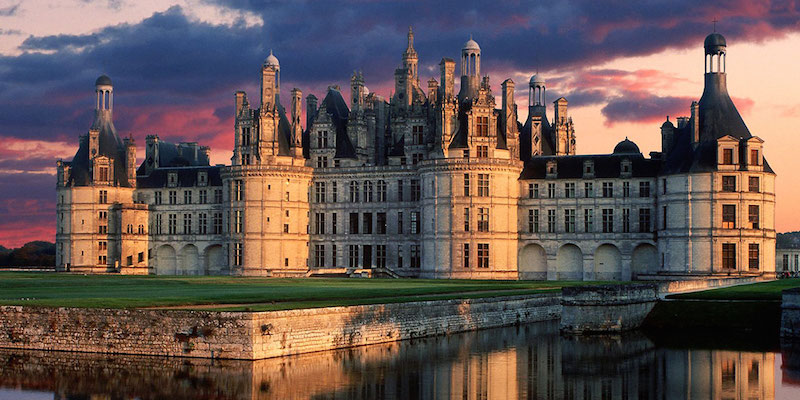 Discover the Renaissance castles of the Loire Valley and the wines produced in this fertile valley on a day trip from Paris. The day begins with a drive to the largest castle, Château de Chambord. Lunch is served at Château de Nitray vineyards with a selection of fresh, local ingredients and a tasting of the best of the region's wines. The final stop is Château de Chenonceau, considered the loveliest of the Loire Châteaux.

On this day trip you concentrate on the castles and spend more time visiting Chenonceau, Cheverny & Chambord, the three most spectacular castles in the valley. Also available as a private tour.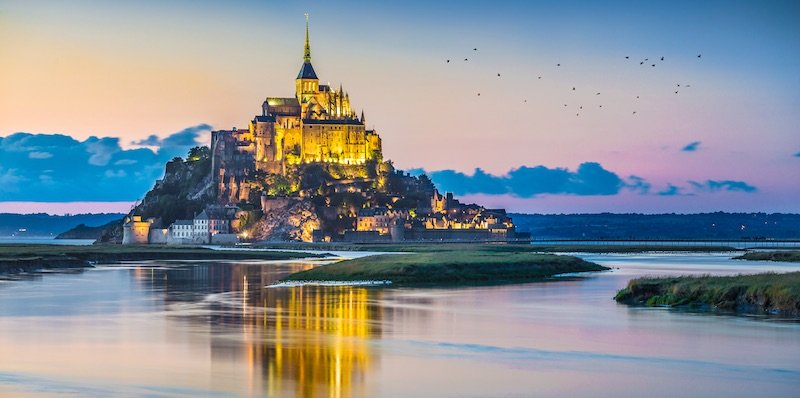 We like this 2-day trip from Paris that takes you to the fairytale island just off the Normandy coast. Explore the Benedictine abbey that becomes separated from the mainland during high tide. On day two you explore the best chateaux of the Loire Valley. Everything is included on this popular tour from Paris — tickets, guides, meals, accommodations, and a guided tasting of Loire wines on day two. Also see, The Best Ways to Visit Mont Saint-Michel…

Concentrate on the island and abbey of Mont Saint-Michel off the coast of Normandy on this day trip from Paris. The drive from Paris takes you through the picturesque Normandy countryside. Everything is included, even pick-up at your hotel, so no need to worry about anything.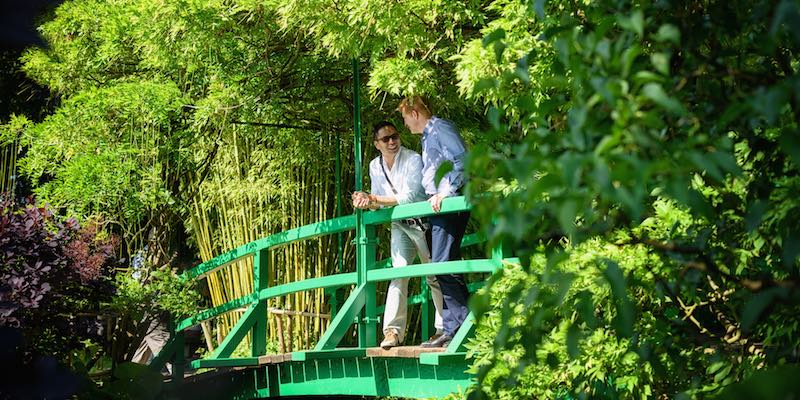 To spend the day with Claude Monet at his house & gardens in Giverny, choose this affordable, small-group afternoon tour that includes pick-up at your Paris address. The gardens will be at their peak of summer perfection as well as the waterlilies at the idyllic pond where Monet painted for 43 years. Also available as a private tour.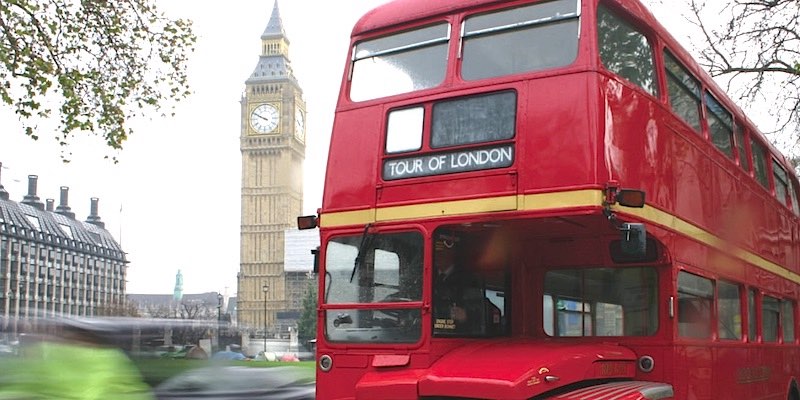 Modern high-speed trains and the channel tunnel have made it possible to visit London on a day trip from Paris. At Gare du Nord in Paris you meet your tour guide and hop on the Eurostar to London. The day includes an extensive, open-top bus tour around London and guided walking tours, including The Beatles London Walking Tour. It's an exhilarating trip that gets you back to Paris the very same day.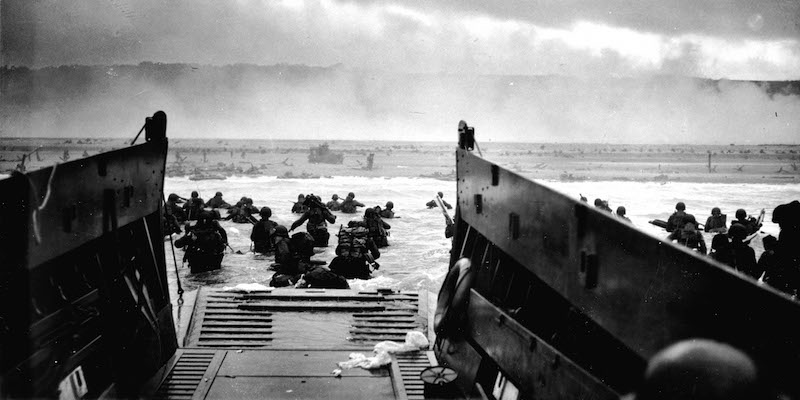 It was the largest seaborne invasion of World War II, and in history. Codenamed Operation Neptune, the Normandy landings marked the beginning of the road to liberation. On this compelling day trip from Paris you will visit the memorials, landing beaches and cemeteries that dot the haunting landscape. Your personal driver will pick you up at your Paris hotel or apartment. Lunch is included.
This two-day trip takes you to the best of the Normandy region, including Mont Saint-Michel and the D-Day beaches. You also visit the colorful port city of Honfleur and enjoy a guided tour of Saint Malo. Hotel, guides, transportation, most meals, even pick-up at your hotel is included. It's worth it to spend a couple of days discovering the beauty of Normandy.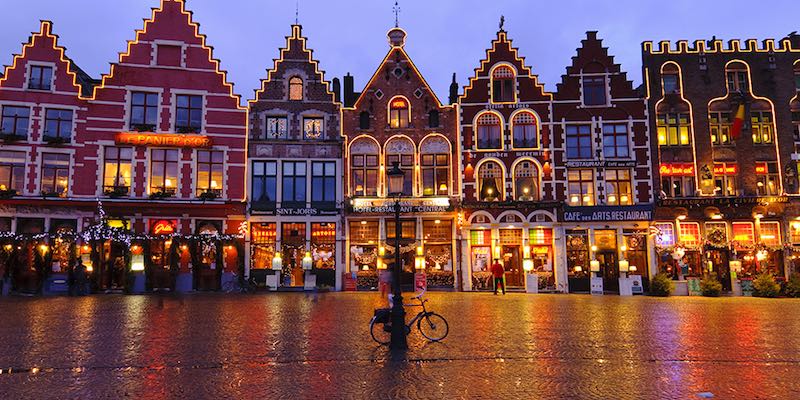 Bruges, in Belgium, is one of the most charming medieval towns in Europe and you can visit there on a guided day trip from Paris. Known as the "Venice of the North", the city is surrounded by canals. You're also going to find that it is a cornucopia of charming architectural and historic gems. For the best day out from Paris, you can choose to be picked up at your hotel.
The Top Food & Wine Activities
Things to Do in Paris July 2020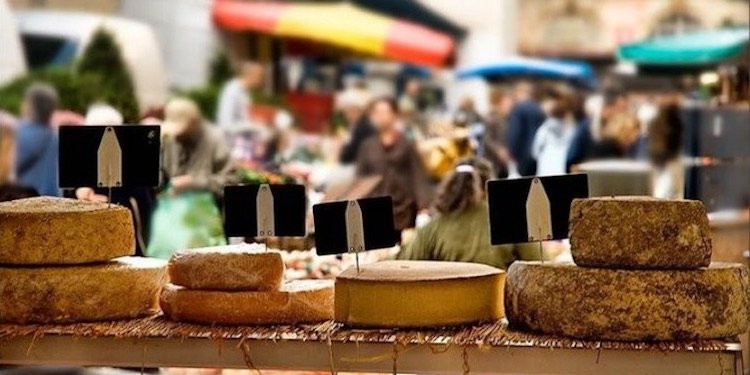 This delightful small-group food tour through the Marais is garnering high praise. You start the tour at the oldest food market in the city, and then follow your food-expert guide through the historic Marais neighborhood to visit the top food & wine shops, tasting the best of French food like cheese, charcuterie, baguettes, chocolate, and wine.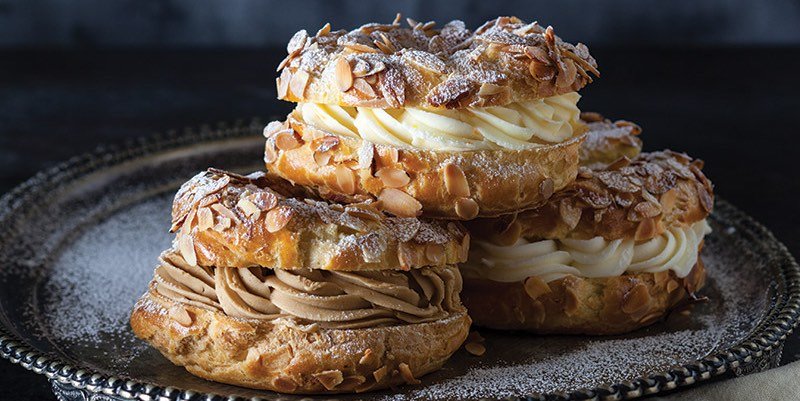 Paris + Chocolate + Pastries. Could any three things be more perfect together? Is it a wonder that we (and our readers) love this guided walking tour? It gives you a chance to get behind-the-scenes of Paris dessert specialities and chocolate shops, along with plenty of sampling of course, including regional specialities.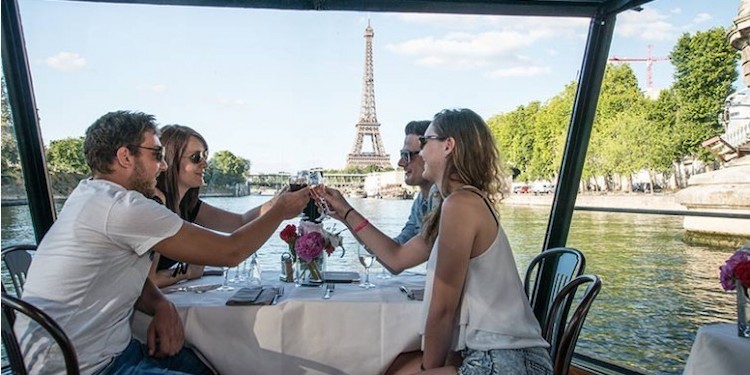 Spend the early afternoon on a riverboat on the Seine — even better, this cruise includes a classic 3-course lunch. This is a fun, casual, and affordable cruise along the river while supping & sipping with friends. A cruise on a bateau is something you must do in Paris, so why not have lunch at the same time? Take a break from sightseeing to combine great dining with a tour of Paris… riverside. This lunch cruise is very popular, so book early.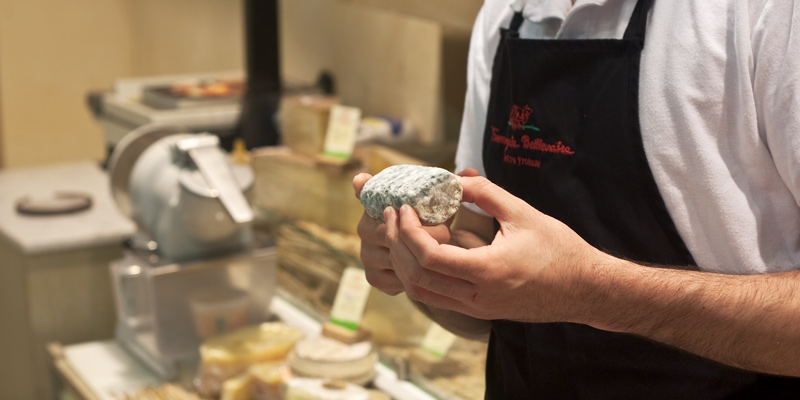 In Paris the top cheese sellers (fromagères) also age their cheeses in special cheese caves beneath their stores. This unique & unusual tour is led by a Master Affineur, who ages and sells cheese. You not only get to taste some of the most famous cheese of France, but you learn about their history, production techniques, and which wines to drink with them. Also see, Five Top Cheese Tastings In Paris…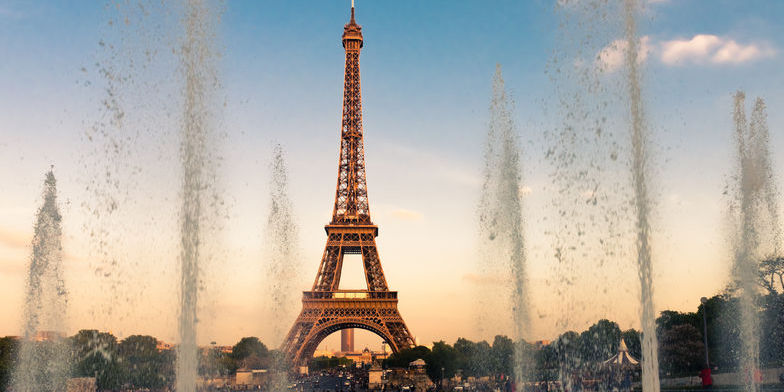 Isn't it amazing that you can dine on the Eiffel Tower, the most popular monument in the world? With priority access you ascend the tower to restaurant La Brasserie de la Tour Eiffel, under the whisk of Chef Thierry Marx, where a table has been reserved for you. Enjoy a 4-course classic French meal with wine — taking in a birds-eye view of the city and the river Seine below you. The evening also includes a river cruise and transportation to and from your hotel.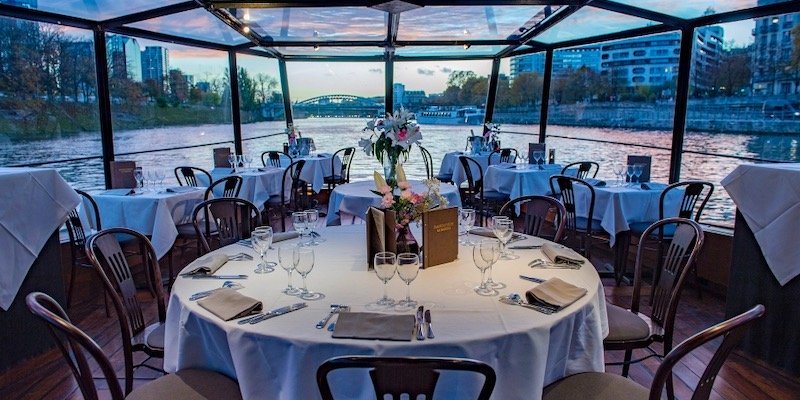 Marina de Paris is well known for its dinner cruises, and has a fleet of glass-walled boats to give diners the best nighttime views. Comfortably seated at a private table, you admire the beauty of the City of Light as you glide over the water. Along the banks of the Seine you'll see the Louvre, the Eiffel Tower, Notre Dame, Musée d'Orsay, and much more. Hotel pick-up is available for this affordable evening activity.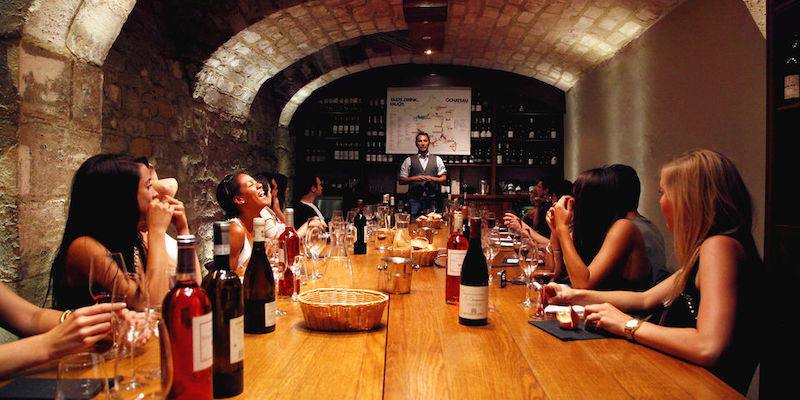 You really can't be in Paris without tasting French wine. The professional sommeliers on these fun and informal wine tastings cover a lot of wine territory and deliver an extensive tasting of wines in a charming wine bar smack in the center of Paris. We prefer the 2-hour grand cru wine tasting, but we also like the wine tasting + lunch option. Also see, Five Places to Taste Wine in Paris…
At an historic outdoor food market in the Latin Quarter you meet your expert chef and shop for the ingredients you will need to make lunch. Then your small group (limited to 8) returns to the Paris cooking studio to create a three-course meal. You will prepare a delicious lunch — including entrée, plat, and dessert — and enjoy the fruits of your labor with a glass of wine.
New Exhibits at the Museums
Things to Do in Paris July 2020
Body and Soul — Sculpture in Italy from Donatello to Michelangelo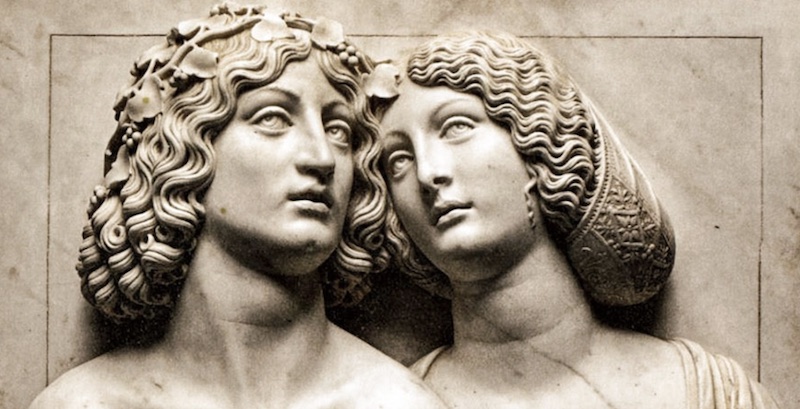 This exhibition highlights the events that led to Renaissance sculpture, displaying works by the best artists from the period and featuring the greatest sculptor of all time, Michelangelo.
• Hall Napoleon, under the Pyramid
• Ends August 17, 2020
• Information…

Albrecht Altdorfer
A major German artist of the Renaissance, Altdorfer's talents ranged from architecture, engraving to landscape painting.
Louvre
Ends August 3, 2020

James Tissot
James Tissot (1836-1902) started as a Paris society painter before embarking on a successful career in London. See his masterpieces as well as his bold experiments.
Musée d'Orsay
Ends July 19, 2020
Aubrey Beardsley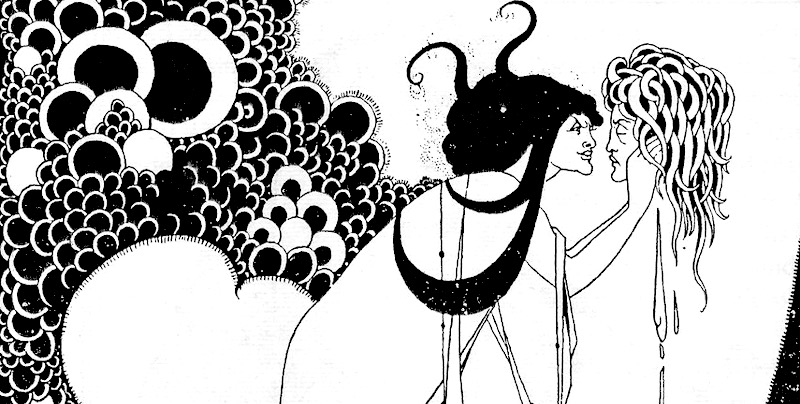 Although the British illustrator and engraver Aubrey Beardsley (1872-1898) died at the age of only twenty-five from tuberculosis, he left a legacy of work that has endured the test of time. A must for fans of Oscar Wilde, James Whistler, and 1890s London.
• Museée d'Orsay
• June 15 to September 13, 2020


Léon Spilliaert – Light and Solitude
Concentrates on the most intense period in Léon Spilliaert's (1881-1946) artistic career.
Museée d'Orsay
June 15 to September 13, 2020

Giorgio de Chirico – Metaphysical Painting
The exhibition explores the connection between avant garde artist Giorgio de Chirico and the famous art dealer Paul Guillaume.
Musée de l'Orangerie
April 1 to July 13, 2020
Matisse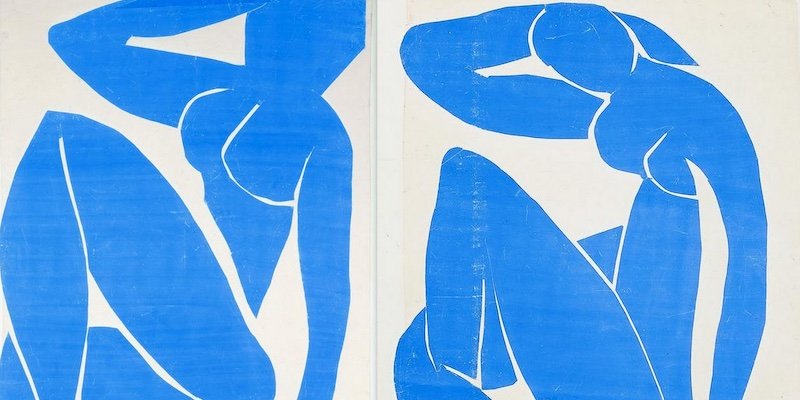 It's the 150th anniversary of the birth of Henri Matisse (1869-1954), and the Pompidou is staging a tribute to his artistic legacy with beaucoup de pieces!
• Centre Pompidou
• May 13 to August 31, 2020
• Information…

Alice Neel (1900-1984)
View seventy paintings and drawings that illustrate the work of modern artist Alice Neel (1900-1984).
June 10 to August 24, 2020
Centre Pompidou

The Olmecs and the Cultures of the Gulf of Mexico
Learn about the fascinating Olmec civilization and the little-known world of other pre-Columbian cultures of the Gulf of Mexico.
Quai Branly
Ends November 15, 2020
Cézanne and the Master Painters – A Dream of Italy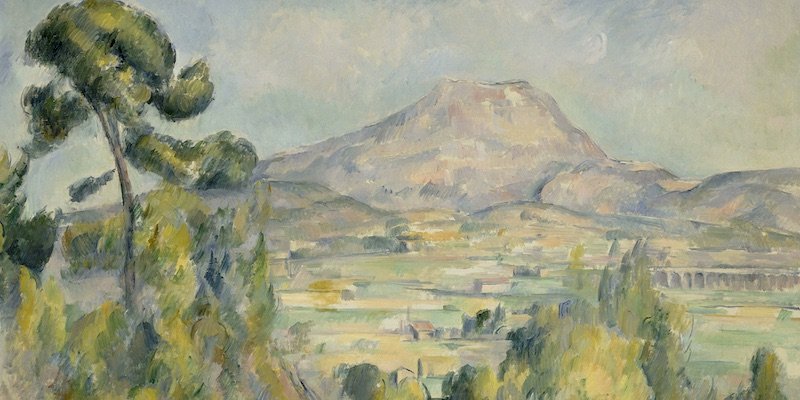 See sixty masterpieces from around the world showcasing the influences on Paul Cézanne's career. View works by Tintoretto, El Greco, Ribera, Giordano, Poussin, Carra, Sironi, Soffici, Pirandello, Boccioni and Morandi.
• Musée Marmottan Monet
• Ends July 5, 2020


The Golden Age of Danish Painting (1800-1864)
For the first time in thirty-five years, the Petit Palais is celebrating the golden age of Danish painting.
Petit Palais
Ends August 16, 2020

Picasso. Comics
Learn about Pablo Picasso's love of comics and how they influenced his art.
Musée Picasso
Ends July 21, 2020

Picasso. Poet
Did you know that Picasso adored the written word? Witness how it influenced his art.
Musée Picasso
Ends July 21, 2020

In the Drawing Room – Masterpieces from the Prat Collection
See the best works from the world's most important private collections of French drawings.
Petit Palais
Ends July 12, 2020
The Top Events in Paris
Things to Do in Paris July 2020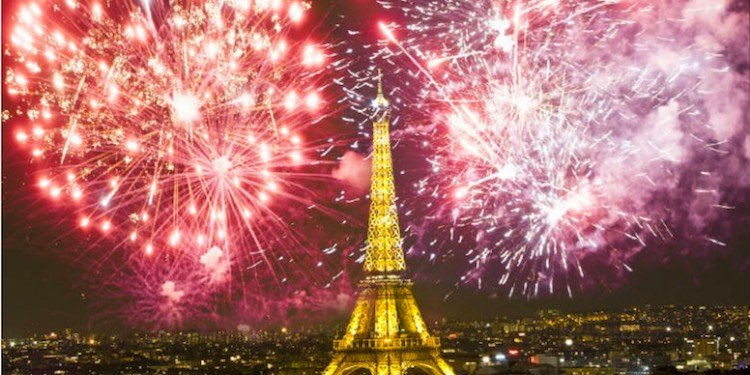 Vive la liberté ! Bastille Day commemorates the start of the French Revolution and is the biggest celebration in Paris, and in all of France. In Paris, the military parade starts at 10 AM on the Champs-Elysées. The Eiffel Tower fireworks start at 11 PM, and the best vantage point is from the banks of the river.
• July 14
• Bastille Day Information…

Paris Japan Expo
This annual event celebrates Japanese manga, martial arts, animation & J-music. Paris Nord Villepinte Exhibition Centre. July 2 to 5, 2020.
→ Information…
Paris Quartier d'Été Festival
The annual Neighborhood Festival includes dance, music and theatre performances in neighborhoods across Paris. The event runs from Mid July to early August 2020.
→ Information…
Paris Plages
Sand, sun, beach umbrellas, free concerts & fun activities on the banks of the Seine River. River. Mid July to late August, 2020.
→ Information…
Tour de France
See the dramatic final day of this popular event as the cyclists circle the Champs-Elysées. June 27 to July 19, 2020.
→ Information…
The Peacock Society Festival
Music fans gather to celebrate electronic music and arts at Parc Floral de Paris in Bois de Vincennes. Early July.
→ Information…
Lollapalooza Paris
The live music festival comes to Paris will a two-day event at Hippodrome de Longchamp. Saturday, July 18 & 19, 2020.
→ Information…