45 Glorious Things To Do In Paris – July 2017
July in Paris is sizzling hot days and glorious warm evenings with plenty of parties and fireworks! The city is also filled with cultural events; museum exhibits, opera, ballet and classical music concerts found in historical settings across the city. Don't forget, July 14th is Bastille Day, the biggest celebration of the year, with a parade down Champs-Elysées and fireworks near the Eiffel Tower at about 11 PM.
It's a good month to catch a performance at Opera Bastille, Palais Garnier, or Notre Dame Cathedral. And if that's not enough activity, July is the perfect month to take a dreamy day trip to see Monet's Gardens, the chateau and gardens of Versailles, or the beaches of Normandy.

Most Popular Activities
Things to Do in Paris July 2017
Eiffel Tower Skip-the-Line Tour – Why Stand in Line?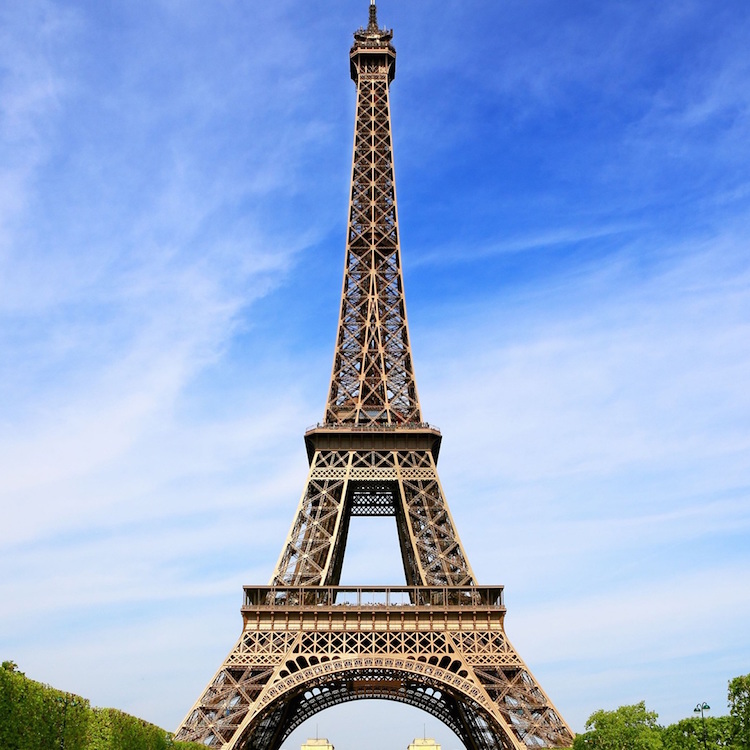 We don't like to waste Paris time standing in line. That's why we like skip-the-line tours. You breeze past the crowds and follow your guide up the tower while she relates tales about the the most famous monument in the world. Then use your tickets to go up to the tippy-top where you'll have time to explore on your own and take in the city spread out beneath you.

Eiffel Tower Skip-the-Line Options
These popular Eiffel Tower tours usually sell out, and that's especially true in summer. And why not? They're the best way to get to the top and avoid the long line. If you can't find your dates, here are two other skip-the-line tours that also take you right to the 3rd-floor summit.
A Magical Evening in Paris
Eiffel Tower, Seine River Cruise & Moulin Rouge
Combine the best of all Paris worlds, all in one night! Dine at the Eiffel Tower, take a Seine River illuminations cruise and finish the evening with a cabaret show at Moulin Rouge. Everything is included — hotel pick-up and delivery, dinner with wine, tickets to Moulin Rouge and champagne.
Skip the Line – Evening Louvre Tour and Wine Tasting
Fine Wine + Fine Art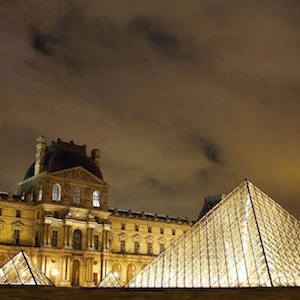 This new fave combines some of our best-loved activities — fine wine and fine art. If you think it can't get better than that, listen up — you also get to skip the lines at the Louvre, an important extra when you discover that over 9 million people visit the Louvre every year!
SKIP THE LINE & SKIP THE WINE!
If you're not interested in the wine tasting, then get aboard this small-group tour that takes you past the line-ups and right to the Mona Lisa and other great artworks.
→ Check Availability…
Bateaux Parisiens Dinner Cruise on the Seine
A Paris Insiders Readers' Favourite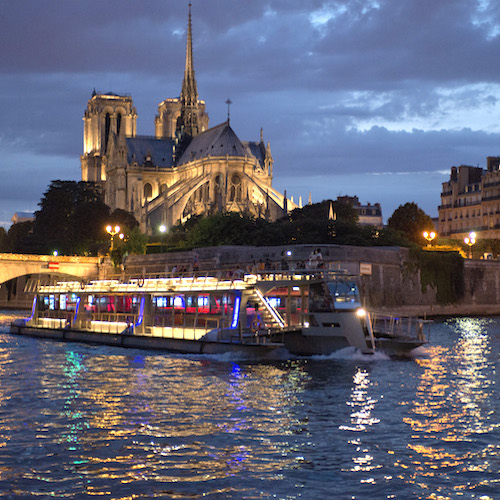 It's no surprise that people love this nighttime dinner cruise. It's easy, it's fun, and it's romantic. Your driver meets you at your hotel and whisks you to the banks of the Seine where you board your bateau for a relaxing cruise and 3-course French meal. Watch the lights of Paris pass by while sipping wine. When the cruise ends, your driver will be waiting.
Versailles Bike Tour with Chateau Visit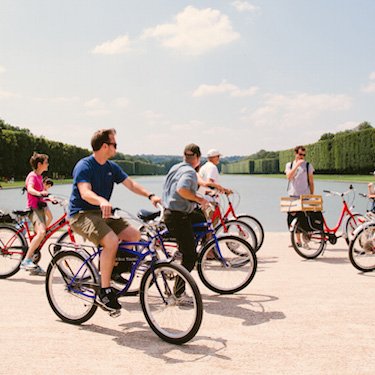 Kickstart summer with this 2-in-1 tour. You'll cruise the country around Versailles as your guide takes you through forests and pastures, to the local market and then into the gardens of Versailles to ride past the historic buildings, including Marie-Antoinette's Hamlet. Then use your passes to explore the chateau as long as you like. A great tour, but be sure to book right now!
More Fun on Two Wheels!
Seine Cruise + Illuminations Tour + Dinner on Champs Elysées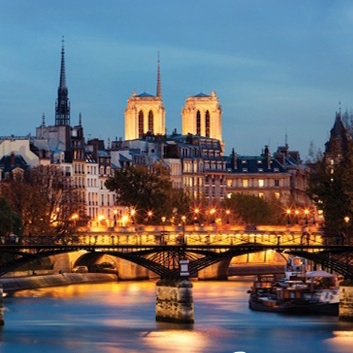 That's a lot to fit into one evening, but in a good way! Cruise the famous river while the lights of Paris drift by, then take a nighttime tour of the rest of the city. After you have these two good doses of sightseeing, it's over the the famous Champs Elysées where a table has been reserved for you..
Ghosts, Mysteries and Legends Night Walking Tour
You might think of Paris as the City of Light, but it can also be…well, spooky. 2000 years of history has resulted in a city that can be mysterious, even eerie, especially at night. Follow your guide along ancient, narrow streets and learn about the ghosts of Paris, the unexplained, the wars, and the spooky.
Perfume Workshop
In the country that practically invented the art of scent, join an everything-perfume workshop led by an industry expert who also teaches at the Ecole Superieure du Parfum (School of Perfumery) in Versailles. First on the agenda is learning the basics of perfume including the characteristics of distinct families of scents. Then you dive in to make your own unique perfume to take home.
Airport Transfers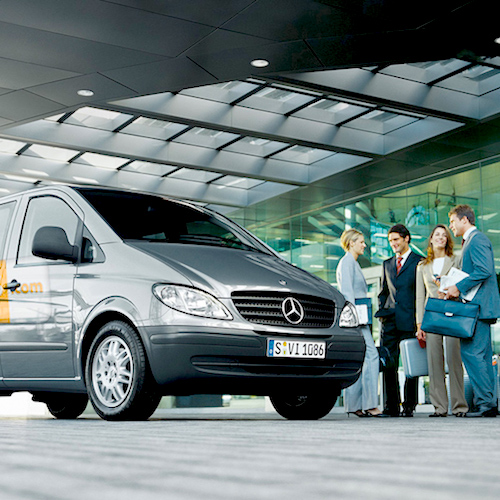 Know what's going to happen when you arrive at the Paris airport. Read our Paris airport guide, but more importantly, we recommend that you arrange an airport transfer in advance. An easy and affordable way to do that is to book a shuttle van service right to your hotel. Here's the service our readers like, it's convenient and cheaper than a taxi.
Manu Prestige VIP Private Service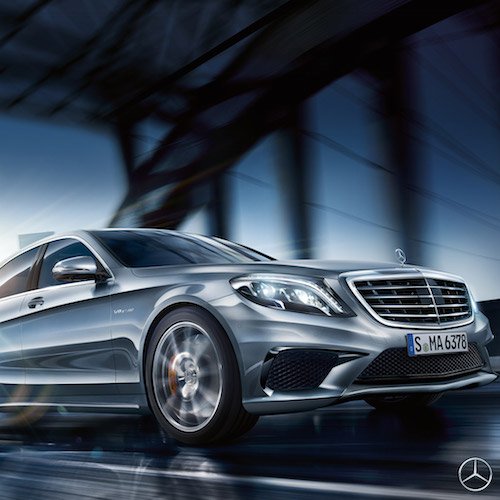 We also want to share our best tip — transfer in a private car from the airport. Traveling is tough, and after a long flight we appreciate some comfort. We aways have our Paris pal and professional driver, Manu, meet us at the arrivals gate and whisk us into the city in his Mercedes S-Class. Honestly, it's the only way to go!
Paris Pass Discounts – Exclusive to You !
The Paris Pass saves money & time — get into the museums for free and ride the Metro for free. But the big advantage is bypassing the ticket lines. If you've ever stood in line for hours at the Louvre, you'll appreciate how nice that is.
We also have a special discount for you — 5% off on all 4-day and 6-day passes. What used to be just a good deal is now a great deal. And, since the clock doesn't start ticking on the Paris Pass until you first use it, you can buy it up to a year in advance. Use the discount code: INGUIDE10.

Fave Day Trips From Paris
Things to Do in Paris July 2017
VIP Palace of Versailles Guided Tour
Get Behind the Scenes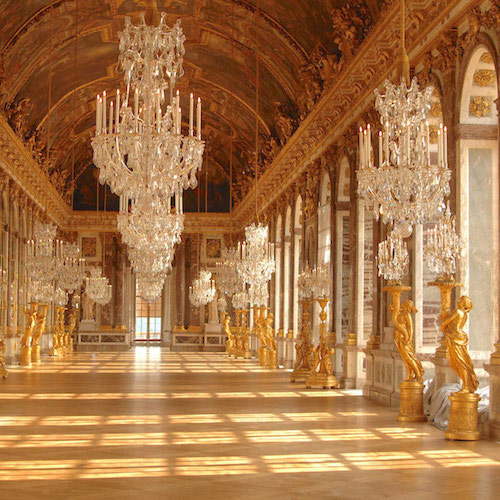 If you're like us, you appreciate special treatment. Glide past the velvet ropes to see the Versailles most tourists will never see — Louis XVI's apartments, his personal library and the Royal Chapel built for the wedding of Louis XVI and Marie Antoinette. Tour the Hall of Mirrors just as the doors of the palace open and before the crowds arrive.

Best of Versailles with Skip-the-Line Access
The day starts with your driver/guide whisking you from your Paris address to the royal estate. Included in your dossier are priority, skip-the-line tickets. Go directly inside to experience the grandeur of the chateau on a guided tour that includes the best of Versailles. Then stroll through the gardens until lunch on the Grand Canal. Aprés lunch finds you at the Grand Trianon and Marie Antoinette's farm before you're driven back to Paris.
→ Book Your Ticket…

Summer-Only Fountain Show at Versailles
Experience the summer-only fountain show at Versailles on Tuesdays, Saturdays and Sundays. Choreographed to music from the court of Louis XIV. Not to be missed. This is a full-day affair with a tour of the chateau and gardens and lunch included at the Petite Venise restaurant.
→ Check Availability…
D-Day Tour – Remembering WWII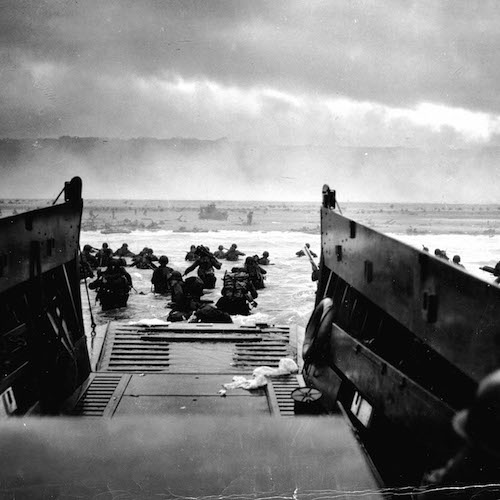 It was the largest seaborne invasion of World War II, and in history. Codenamed Operation Neptune, the Normandy landings marked the beginning of the road to liberation. On this compelling day trip from Paris you will visit the memorials, landing beaches and cemeteries that dot the haunting landscape. Your personal driver will pick you up at your Paris hotel or apartment. Lunch is included.
Loire Valley – Castles + Wines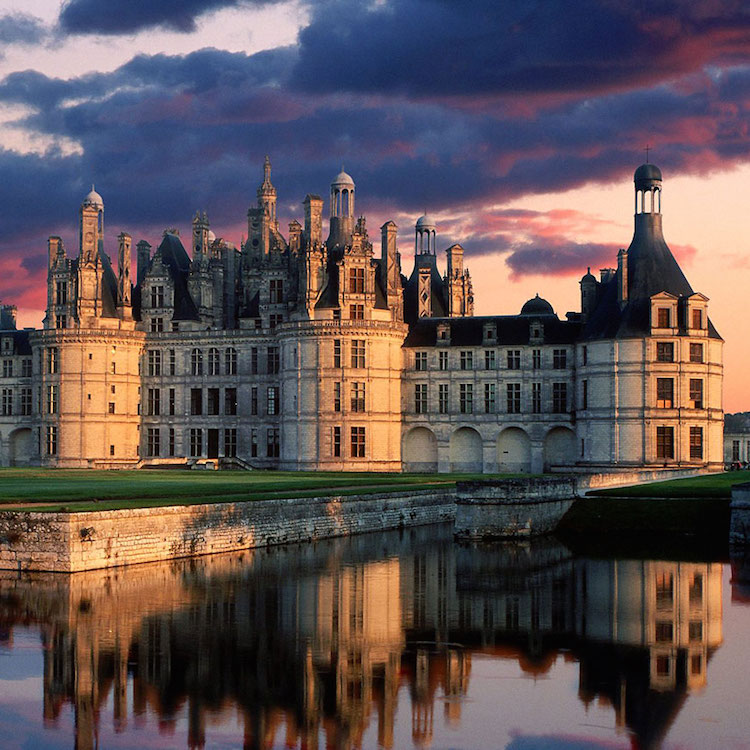 Discover the Renaissance castles of the Loire Valley and the wines produced in this fertile valley. The day begins with a drive to the largest castle, Château de Chambord. Lunch is served at Château de Nitray vineyards with a selection of fresh, local ingredients and wines. The final stop is Château de Chenonceau, considered the loveliest of the Loire Châteaux.

Three Magnificent Loire Valley Chateaux
On this day trip you visit Chenonceau, Cheverny & Chambord, the three most spectacular castles in the valley
→ Daily, except Fridays…
Monet's Magical Gardens at Giverny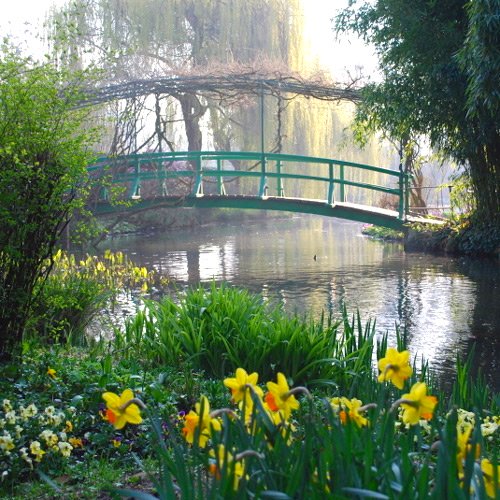 The Impressionist gardens will be at the peak of perfection in July. Ride through the rolling Normandy countryside to the charming village of Giverny and Monet's gardens. Wander through the rows of flowers and see the water-lily pond that inspired Monet. Go inside the big pink house to admire the yellow dining room and dazzling blue kitchen.

Monet's Gardens + Magnificent Versailles
Combine Giverny & Versailes in a single day.
→ Book Now…
Spend a Day in the Champagne Region
A Paris Insiders Guide Favourite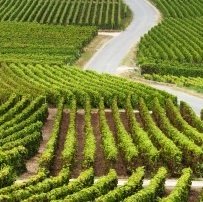 Visit the Land of Bubbly. On this tour your driver/guide picks you up at your Paris hotel and whisks you away to the Champagne Region, only an hour away. You start in Reims to visit the historic Cathedral. But the day is mostly about visiting producers and sampling, sampling, sampling. Lunch at a regional restaurant is included. Daily except Sunday.
Mont Saint-Michel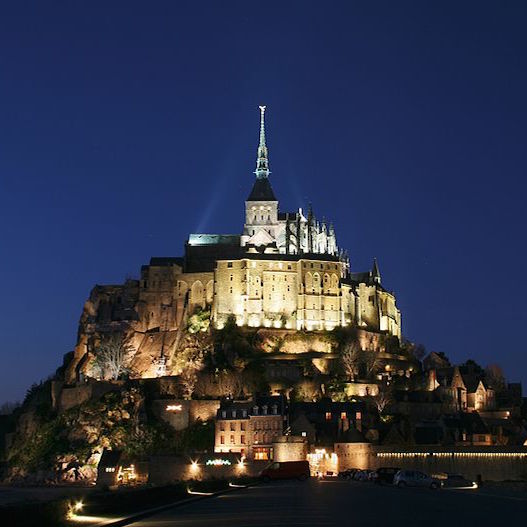 We like this day trip from Paris that takes you to the fairytale island just off the Normandy coast. Explore the Benedictine abbey that becomes separated from the mainland during high tide and wander along the narrow streets, the shops, and the abbey's ramparts. On your way you drive through the picturesque Normandy countryside. Everything in included, so no need to worry about anything.
Essential Day Trips from Paris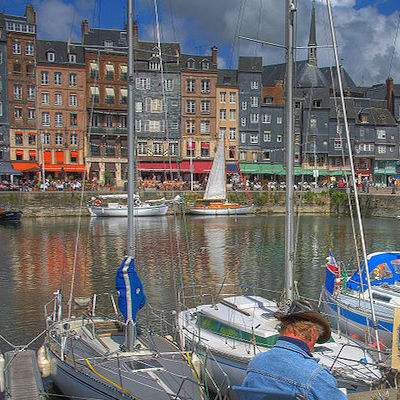 There's a lot to see in France just beyond the gates of Paris, and we've included only a few of the glorious day trips you can choose. Visit the charming city of Bruges. You can even see London in a day! We've collected our ideas in a couple of articles. Have fun!
• Essential Day Trips – Our Reviews…
• Go Deeper into France – Private Day Tours from Paris…

Classical Music, Opera & Ballet
Things to Do in Paris July 2017
Concerts at La Sainte Chapelle
A Paris Insiders Guide Favourite
Located in the heart of Paris on the Île de la Cité, La Sainte Chapelle's roots stretch back to 1289 when Louis IX declared it his Holy Chapel. Today its magnificence shines with walls of stained glass and soaring ceilings. It's a perfect venue to hear classical music in Paris. The acoustically-perfect Saint Chapelle is travelers' favourite classical music venue in the city as well. Don't miss it!

La Sainte Chapelle Featured Concerts in July
Bizet's Carmen at Opera Bastille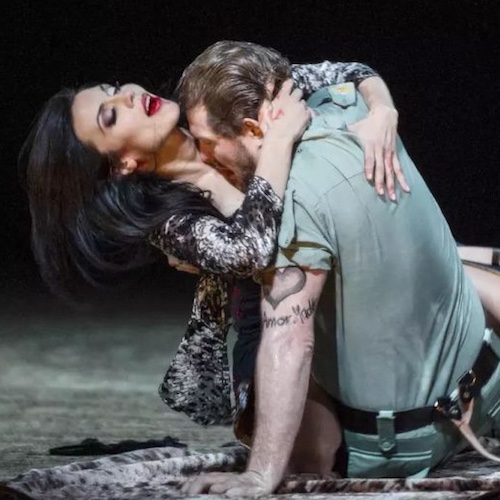 If you only attend one opera in your life, it should be here, at Opera Bastille in Paris. This month you have the chance to watch the the uber-classic opera, Carmen. It was first performed in Paris in 1875 to poor reviews. George Bizet died suddenly during its first run and never knew about its future success in Vienna later that year. Performed in French, with English surtitles. Last performance July 13, so get your tickets now!

Drumming Live – Paris Ballet at Bastille
Drumming Live, by Belgian choreographer Anne Teresa de Keersmaeker, creates a work that is frenetic, rhythmic, and pulsating. Various dates in July 2017

Ballet at The Glittering, Majestic Palais Garnier
It's the oldest opera house in Paris and was the center of cultural life during the Belle Epoque. Today it's still an essential icon and the place to experience a ballet performed by the Paris Ballet Company. In fact, attending any performance at Palais Garnier is worth it just to get the chance to see the fantastic interior.

Palais Garnier Featured Performances
LA CENERENTOLA – CINDERELLA
Experience Guillaume Gallienne's classic interpretation of Rossini's Cinderella.
Last performance July 14, 2017. (Bastille Day, so that's going to sell out!)
→ Very Likely To Sell Out…
LA SYLPHIDE
La Sylphide premiered at the Paris Opera in 1832, and heralded the advent of Romanticism.
Various dates in July 2017
→ Reserve Tickets…
Performances at Notre Dame Cathedral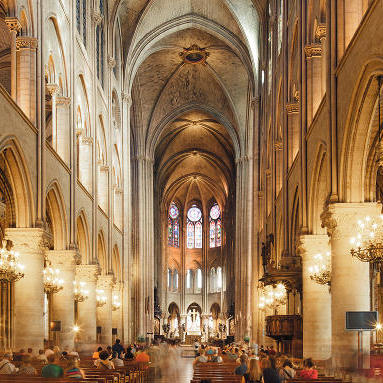 Notre Dame Cathedral in Paris isn't just the city's most famous church, it's also one of the most spectacular venue for classical music, often featuring Notre Dame's iconic organ.

Featured Concerts at Notre Dame Cathedral
Performances at Eglise de la Madeleine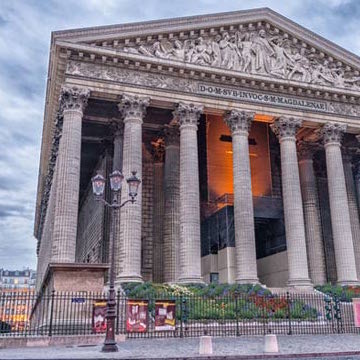 More like a Greek temple than a typical church, La Madeleine The classically-inspired Eglise de la Madeleine owes its existence to France's last kings and to its first emperor. It sits proudly in the center of Paris as a monument to the history of the city. Today, it's also a popular venue for classical music concerts.

La Madeleine Featured Concerts in July
Performances at Saint-Ephrem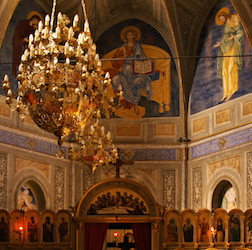 Located in the historic Latin Quarter, Eglise Saint-Ephrem is close to the Sorbonne and other historic sites. It's one of the most popular venues for classical music concerts in Paris, including candlelight performances. In July hear works by Bach, Chopin, Satie, Liszt, and Beethoven.

Saint-Ephrem Featured Concerts in July

Our Top Food & Wine Activities
Things to Do in Paris July 2017
Bateaux Parisiens Dinner Cruise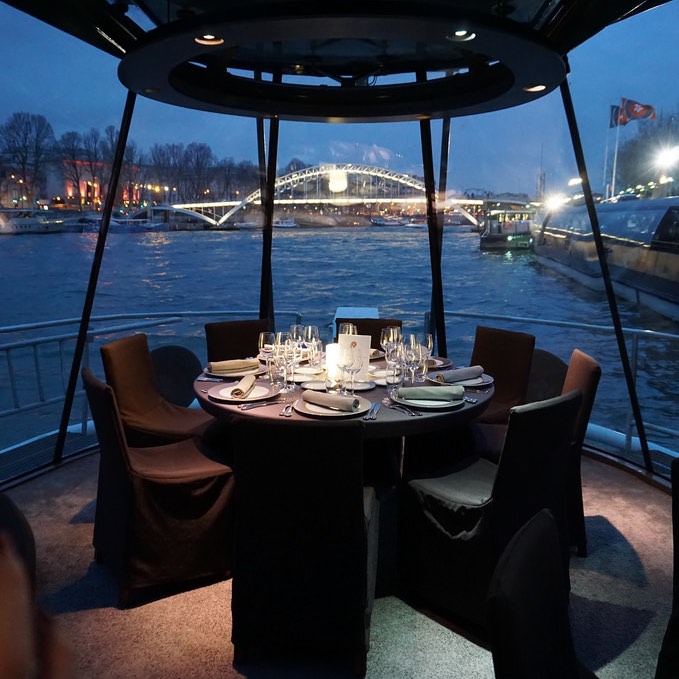 Step aboard the most popular — and most romantic — dinner cruise boat in Paris and enjoy a classic French 3-course dinner while taking in the sights of Paris, lit up perfectly for your evening cruise. We love this activity because it also includes pickup right from your Paris hotel. This is so popular that you need to book as soon as you can.
Wine Tasting in the Heart of Paris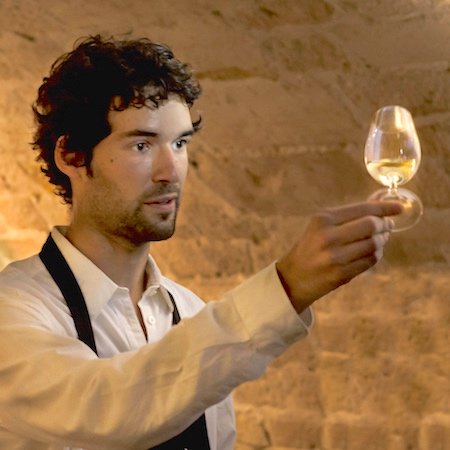 This fun and informal wine tasting covers a lot of wine territory in an hour or two. The professional French sommeliers (who speak English) deliver an extensive tasting of wines — from Alsace, Champagne, Bordeaux, Burgundy and the Rhone — in a charming wine cellar steps from the Louvre.

More Wine Tastings in Paris
WINE TASTING WITH CHEESE & CHARCUTERIE LUNCH
→ Book Now…
EVENING TOUR OF THE LOUVRE + WINE TASTING
→ Reserve Now…
Gourmet French Food Walking Tour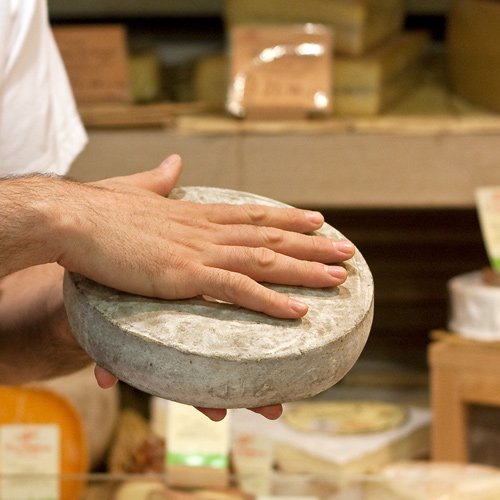 We defy you to think of any other place where there is so much good food crammed into a small space. That's Paris — and because it's small, this gourmet walking tour gets you to a lot of different shops in just a morning or an afternoon. The morning tours explore the Latin Quarter markets and food shops, the afternoon tours concentrate on Montmartre.
Chocolate & Pastry Walking Tour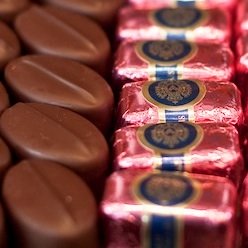 Paris + Chocolate + Pastries. Could any three things be more perfect together? Is it a wonder that we (and our readers) like this guided walking tour? It gives you a chance to get behind-the-scenes of Paris dessert specialities, along with plenty of sampling of course, including regional specialities.

The Hottest Events in Paris
Things to Do in Paris July 2017
Bastille Day Celebrations – July 14, 2017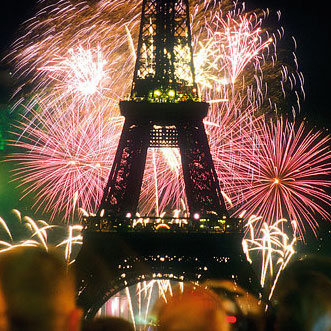 Vive la liberte ! Bastille Day commemorates the start of the French Revolution and is the biggest celebration in paris, and in all of France. In Paris, the military parade starts at 10 AM on the Champs-Elysees. The Eiffel Tower fireworks starts at 11 PM.
• Friday, July 14
• Bastille Day Information…

Paris Japan Expo
This annual event celebrates Japanese manga, martial arts, animation & J-music. Paris Nord Villepinte Exhibition Center. July 6 to 9, 2017.
→ Information…
Paris Quartier d'Ete Festival
The annual Neighborhood Festival includes dance, music and theatre performances in neighborhoods across Paris. The event runs from July to August, 2017.
→ Information…
Paris Plages
Sand, sun, beach umbrellas, free concerts & fun activities on the banks of the Seine River. River. Mid-July to late-August, 2017.
→ Information…
Tour de France
See the dramatic final day of this popular event as the cyclists circle the Champs-Elysees. July 1 to Sunday, July 23, 2017.
→ Information…
Cinema au Clair de la Lune
Outdoor cinema at fun locations throughout Paris from Montmartre to Montsouris. July 12 to August 20, 2017.
→ Information…
New Exhibits at the Museums
Things to Do in Paris July 2017
So Many Museums in Paris!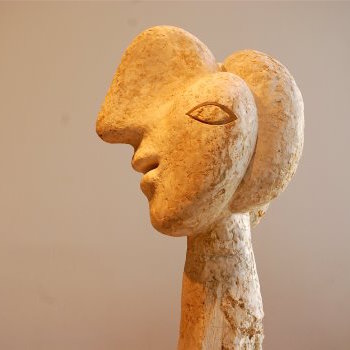 So many fantastic Paris museums, so little time. So, we've put together the highlights of popular exhibits during the month of July. These are the last days to see the Primitive Picasso exhibit at Quai Branly, right on the Seine and close to the Eiffel Tower.

Primitive Picasso
Baroque During the Enlightenment
Ed van der Elsken, Photographer
A retrospective of 20th-century Dutch documentary filmmaker and street photographer.
Jeu de Paume. Ends September 24, 2017.
→ Information…
A Japanese Season + Bernard Pierre Wolff
MEP – Maison Européene de la Photographie. June 28 to August 27, 2017 .
→ Information…