Insiders Guide To The Paris Airports – Transfers by Taxi
You've been on the airplane for hours, you've landed, you've retrieved your luggage and you're ready to see Paris! Now, let's talk about how to get from the airport to central Paris with minimum hassle. The most common form of transport from CDG the center is a taxi. It's an easy way to get from the airport if you haven't arranged a for a comfortable private car service. After you land at Charles de Gaulle Airport, you go through customs & immigration, then follow the signs to baggage claim, where you can grab a luggage cart.

Discover What's On When You're Here...
Discover What's On When You're Here
Paris taxis are regulated and are generally clean and convenient. The downside is that the wait for a taxi at the airport can sometimes be long – either the lines are long or taxis are slow in arriving. When you're coming off 8 or 12 or 20 hours of travel, this can be trying. That's one reason we always prearrange a private car service for our trips into Paris from the airport. It makes our arrival in Paris so much the better.

Where to Find the Taxi Queues at CDG
To catch a taxi, get into the taxi lineup at your terminal. There's only one line-up at each terminal and you simply follow the helpful signs in the terminal find the taxi lineup. Most of the taxi lineups now have attendants helping to move the line along. It can be a bit hectic, but also kind of fun! Although, as we said, be prepared to wait a while, especially if a number of flights have just landed.
Here are where you find the taxi lines at the terminals of CDG. They are all relatively close to the baggage areas.
1: exit 24 on the arrivals level
2A: exit 6
2C: exit 14
2D: exit 7
2E: gate 10 on the arrivals level
2F: gate 11 on the arrivals level
2G: blue gate
3: just outside the exit door
If you have a small child or are disabled, you don't need to wait in the taxi line-up (or, for that matter, almost any line-up in France). Make yourself known to the queue attendant and he will whisk you into the next available cab. One tip is to have your infant in the stroller so you are easily noticed.

Paris Airport Taxi Advice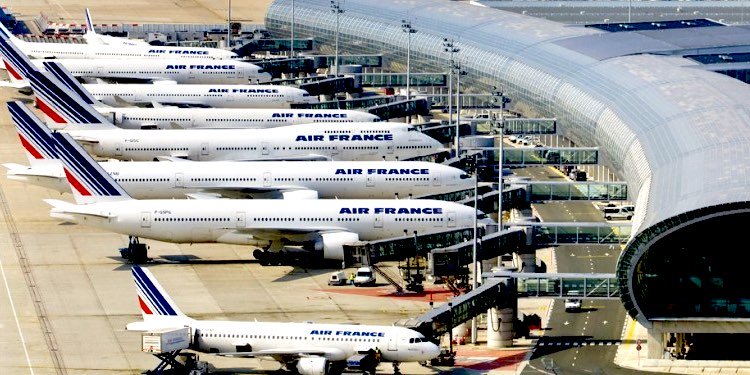 Only get into taxis that are in the line-ups at the exit doors we listed above. Available taxis can be identified by the light on the roof of the vehicle — if the light is on, it's available. And, as we said, most taxi lines these days have an attendant who helps to move things along.
Airport Taxi Costs
A welcome innovation has been flat ratesfor getting from Charles de Gaulle to central Paris. From the airport to a Right Bank address the rate is about €55; to the Left Bank about €62. You might want to clear this up with your driver before you leave the airport by saying "fifty-five euros?" or something like that.
Taxis cannot charge extra for up to four passengers, but a fifth passenger will entail an extra charge. Also, there are no longer any additional charges for luggage. There is no charge for wheelchairs. Remember, you don't need to tip your taxi driver in Paris, it's already included in the price, but it's polite to round the fare up to the next Euro.
Most Paris taxis still don't accept credit cards, so be sure to have about some euro cash with you. (Get it before you leave home.)

Parlez-vous "Taxi" ?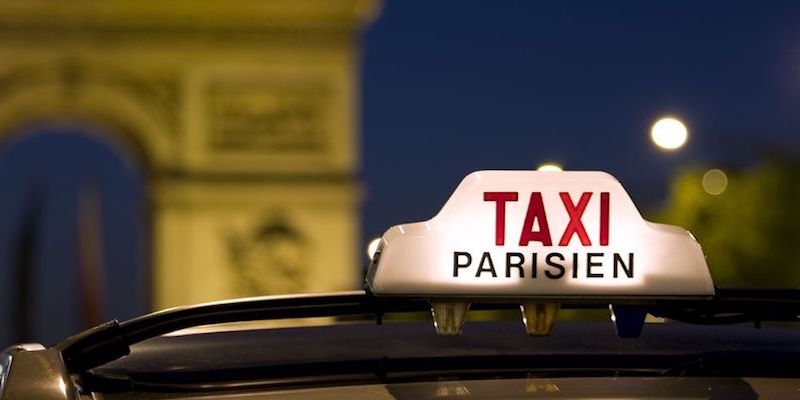 Many Paris taxi drivers do not speak English, but we have seen this change over the past few years. French courtesy means that you should greet your driver with "Bonjour, Monsieur" of "Bonjour, Madame". Even if you don't think your pronunciation is very good, it will get you off on the right foot.
If you don't speak French (or if your accent is as bad as ours!), we recommend that you show the driver a piece of paper with the name of your hotel and the address. (Prepare this before you leave home). Be sure to say "Merci, Monsieur, au revoir" after your ride.