Paris Design Hotels – A Guide To Stylish Luxury In The City Of Style
If you're like us and love a sense of style — with a touch of art & decoration — then staying at one of these design hotels in Paris will make your visit even more memorable. Prepare to be pampered. Who knows?… you may not want to go outside once you've settled in!
We were impressed by each of these hotels, and every design hotel we review here tells a story — the story that was in the eye of a visionary designer or hotelier. These hotels are more than just pretty faces; they are also known for genuine hospitality, great locations, historic buildings, and groundbreaking architecture. Each hotel here is an original, featuring a unique design. Often, each room sports its own individual style.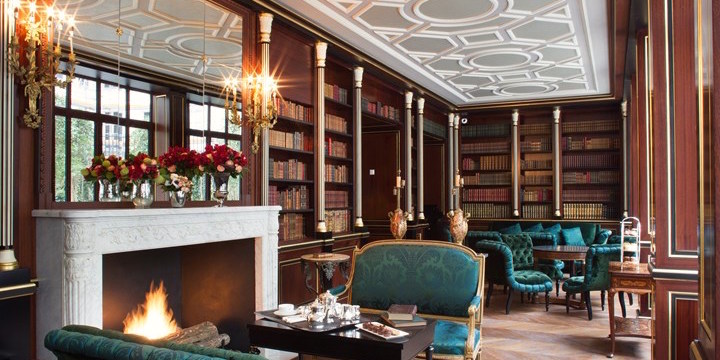 When we had a chance to visit the Presidential Suite we knew that La Réserve deserved a place in any list of Paris design hotels. This high-concept luxury hotel is sublimely modernist, but built with classical elements.
Filled with soft lighting, monochromatic schemes, and plenty of natural wood, every room effuses elegance and simplicity. Every detail is attended to, and we felt good simply stepping into the suite's bathroom! In addition to the usual services, if you happen to opt for the Presidential Suite you can ask for your own butler. (We would… if we were staying in the Presidential Suite, although that's a big if!)
The location is hard to beat, in the parkland just off Champs Elysées — on a street so quiet you hardly realize that you're in the dead-center of Paris! So sit in the guests-only library and enjoy a glass of champagne from the hotel's own vineyards.
Our Rating — Superb-Plus!
• 42 avenue Gabriel, 8th Arrondissement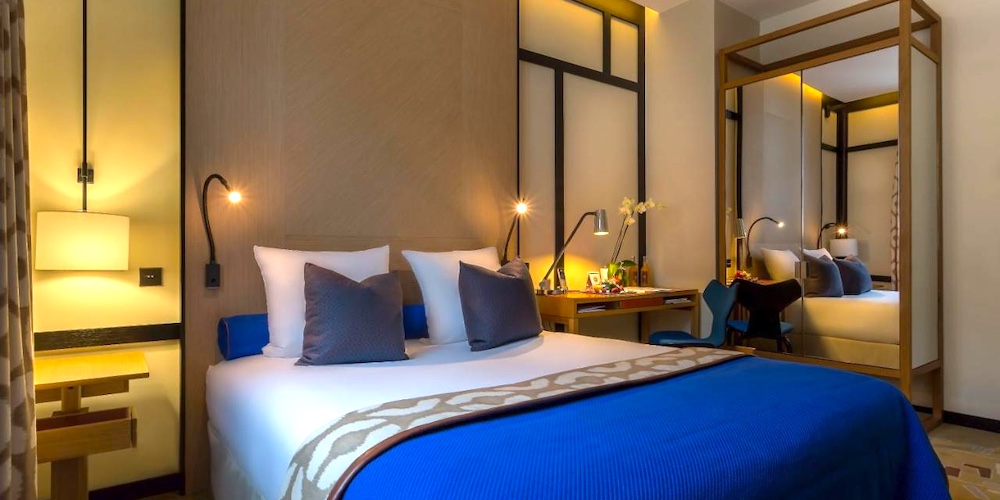 Part lounge, part spa, part art exhibition space and all hotel, L'Hotel Bel-Ami is right in the heart of the life of the Left Bank, the perfect place for a design hotel.
An 18-century abbey has been transformed into a modern hotel masterpiece by a team of leading French designers and architects. The design theme seems to be ice cream and you'll find colors like chocolate, pistachio and vanilla throughout the hotel. There are also rooms inspired by Kubrick's A Clockwork Orange using orange, olive green and azure blue with simple white marble bathrooms.
The location couldn't be better for a visit to Paris — in the heart of Saint-Germain-des-Prés and equidistant from the Seine, Île Saint Louis, Jardin du Luxembourg, and Le Bon Marché department store.
How Our Ratings Work
Superb Plus = 93%+ Travelers Rating
Superb = 88%+ Travelers Rating
Highly Rated Plus = 85%+ Travelers Rating
Highly Rated = 80%+ Travelers Rating

Our Rating — Highly-Rated-Plus!
• 11 Rue Saint Benoit, 6th Arrondissement

Art Deco and minimalism come together in this gorgeous design hotel. Clean, relaxing lines and colors throughout make staying at one of Hotel Gabriel's forty-one rooms a pleasure.
The hotel is located just at the outskirts of the Marais, near Boulevard Jules Ferry. This is a good location for calm and quiet, and it's an easy walk to the Marais and its trendy shops and restaurants. It's easy to get to other areas of Paris as well, using the nearby Metro.
Our Rating — Highly-Rated-Plus!
• 25 Rue du Grand Prieuréé, 11th Arrondissement

Hotel du Petit Moulin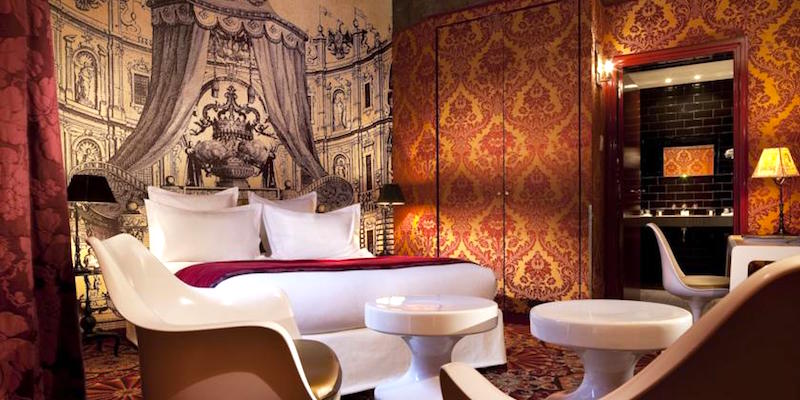 In our favorite scene from Absolutely Fabulous, Patsy arrives and finds Eddie wearing a gaudy tank top:
Patsy (in a disgusted tone): "Darling, WHAT are you wearing?!"
Eddie: "It's Lacroix, darling. Lacroix!"
Patsy: "It's FABULOUS!"
The Christian Lacroix designed Hotel du Petit Moulin is also rated Fabulous (or the star equivalent) by travelers, calling it "the quintessential Parisian experience". And they're not just raving about the design and comfort of the hotel, for the location is equally fabulous — in the heart of the vibrant and trendy Marais with its museums, shops and restaurants. You're only five minutes from the Metro and ten minutes from Centre Pompidou.
Our Rating — Superb
• 31 rue de Poitou, 3rd Arrondissement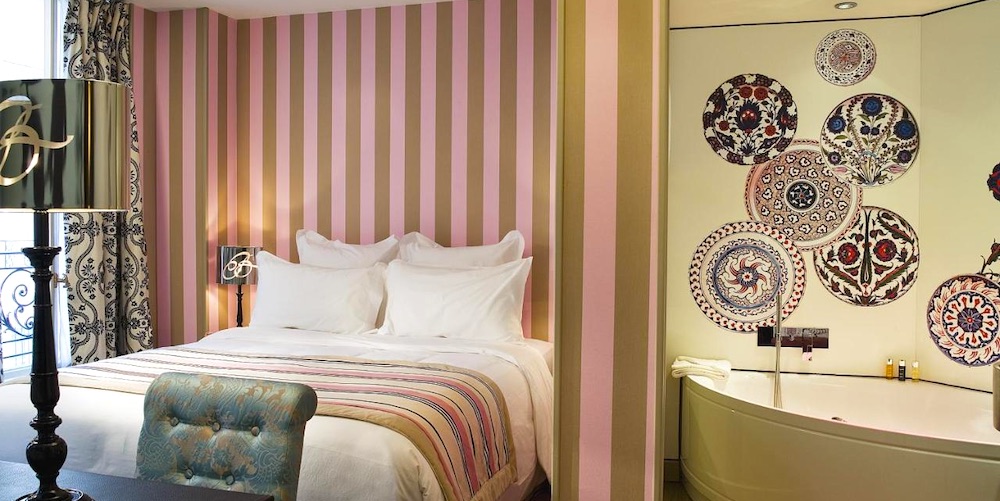 You're in the 7th Arrondissement, which connects Saint-Germain to the Eiffel Tower. Stay here and your next door neighbor is the Musée d'Orsay. You're within easy walking distance to Boulevard Saint-Germain, Jardin des Tuileries, and, through the jardin, the Louvre.
Bellechasse is another beautifully-designed hotel by Christian Lacroix, so expect a feast of color and contemporary design.
Our Rating — Highly-Rated-Plus
• 8 Rue De Bellechasse, 7th Arrondissement

This ultra-sleek hotel was designed by multi-talented Phillippe Starck. He happens to be one of our favorite modernist French designers, and he doesn't disappoint here.
Sensual and elegant, the rooms at Mama Shelter are modern-simple. There's a brasserie on site and you can have a cocktail at the Chic-Chic bar. There's a buffet breakfast every morning.
Our Rating — Highly Rated
• 109, Rue De Bagnolet, 20th Arrondissement