Michelin 3-Star Restaurants In Paris – The Ten At The Top
While 2022 has been an exciting year for restaurants in Paris — open again after those long pandemic closures — it was a relatively calm year over at the Michelin Guide, where only a handful of restaurants dropped or added stars in the 2022 edition. In the upper echelon, in fact, there was only one change from 2021 — the elevation from zero stars to three stars of brand-new restaurant Plénitude.

Month-By-Month Guides To Paris Activities & Events
1. Pierre Gagnaire
The new look at restaurant Pierre Gagnaire
Six or seven small dishes arrive at your table — and that's just the beginning. The wildly creative tapas give you a glimpse into the spirit of Gagnaire's hospitality. Pierre Gagnaire surprises even frequent diners at his modern dining room as his menus and recipes change frequently. If your banker won't let you order the à la carte menu, there is an evening tasting menu, a reasonably-priced lunch tasting menu, and a very pricey black truffle menu.
Pierre Gagnaire started his culinary career at the age of 14. He was awarded 3 Michelin stars in 1993. He has other restaurants in Paris and also around the globe — London, Las Vegas, Hong Kong, Tokyo… the list continues. During the pandemic closure the restaurant was completely renovated. Now open Monday through Friday for lunch and dinner.

2. Le Pré Catelan
The dining room at Chef Frédéric Anton's Le Pré Catelan
You know you've made it in life when you find yourself dining beneath the chestnut trees, on the terrace of the Napoleon III Pavilion, overlooking the manicured lawns of the Bois de Boulogne at Le Pré Catelan.
Chef Frederic Anton brought some serious culinary magic to the restaurant, earning 3 stars in a few short years. Le Pré Catelan, the flagship restaurant of the Lenôtre group (of the French pastry and cookery/pastry school empire), brought Frédéric Anton on board in 1997, when it had a mere one star. Anton arrived to Le Pré after working directly with Joël Robuchon at his 3-star restaurant, Jamin in Paris.
Even if you can't afford to go à la carte, the lunch tasting menu offers up all the goodness Chef Anton is famous for — foie gras with Port and turnip; crab salad with lightly peppered grapefruit and Thai flavors; cod wrapped in seaweed and chestnut ice cream. By the way, Chef Anton is also the man behind the Michelin star on the Eiffel Tower, Le Jules Verne, one of our personal favorites.
3. Arpège
Chef Alain Passard at his all-vegetable restaurant
If you find yourself peckish after a stroll in the Rodin Museum you might consider lunch at nearby Arpège. That is, if you've planned ahead to make a reservation and if money is no object. Chef Alain Passard's vegetable-driven menu focuses on fresh produce harvested right from his own organic garden. The Gardener's Lunch is a good entry level tasting menu, or if you're feeling flush, book the Terre & Mer tasting menu.
Like most French chefs, Alain Passard started cooking when he was a teenager. His serious cooking career started in 1980 at Duc d'Enghien (a kind of a French Las Vegas) where he perfected the famous recipe that he serves to this day — chaud-froid egg with maple and chives. He opened Arpege in 1986 and received three stars a decade later. Now-famous Paris chefs and a maitre d' who trained under Passard include David Toutain, Pascal Barbot, and Christophe Rohat of L'Astrance.
To help plan your Paris restaurants, as well as learning about the top activities and events, use our updated monthly guides to the best things to do in Paris. And don't forget our guides to the best of the holidays in Paris — Christmas, Easter, New Years Eve, Bastille Day.
4. Guy Savoy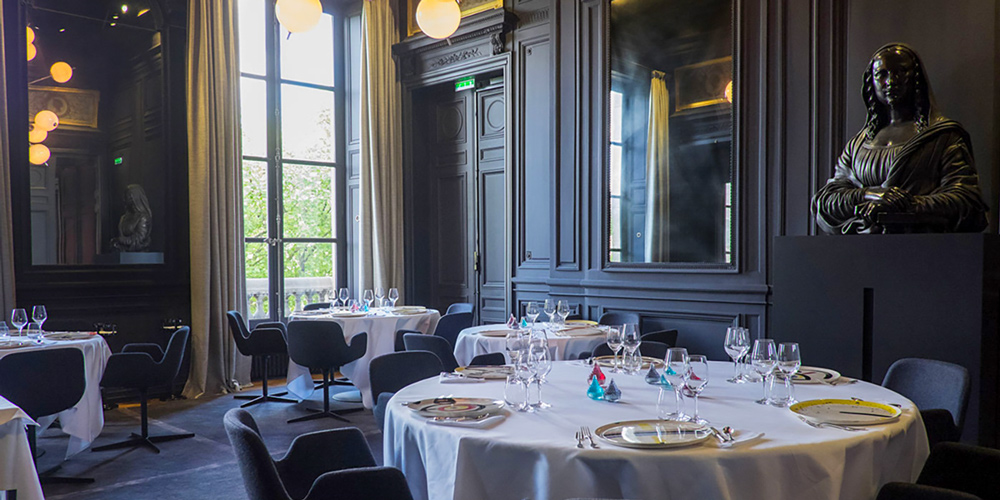 Michelin calls Guy Savoy's cooking "a celebration of French cuisine."
A lover of the arts and fashion, Guy Savoy says that his restaurant — decorated in dark African wood, beige leather, and modern paintings — is his version of a 21st century inn. He describes his style as "casual" and extends the relaxed feeling into his dining room. His food falls between true luxury and ultimate simplicity, with signature dishes like artichoke and black truffle soup.
If you'd like to try dining at a 3-star restaurant but are wee bit intimidated, Guy Savoy used to offer a reasonable daily lunch menu for a mere €130. Malheureusement, unfortunately, that offer is not yet available in 2022, but we're hoping it will be re-instituted.

5. L'Ambroisie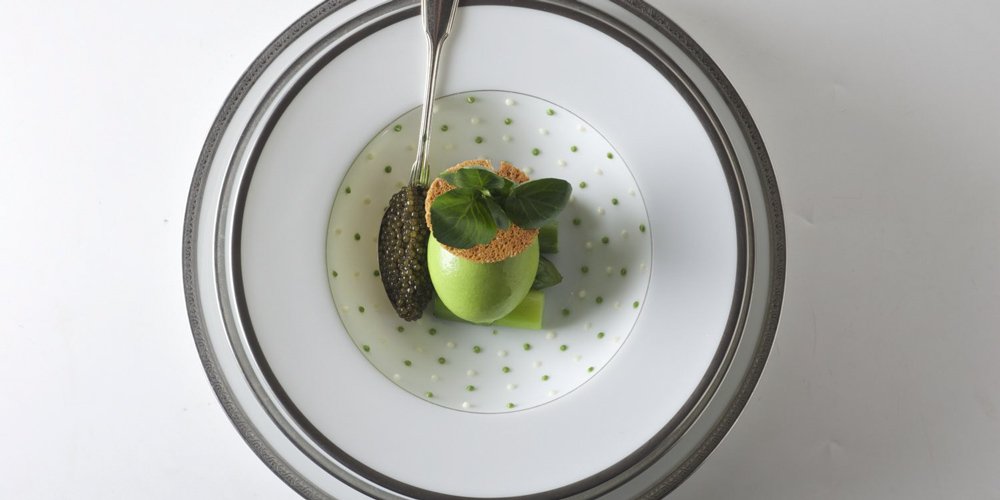 Precise cooking at l'Ambroisie
Chef Bernard Pacaud, one of the most discreet chefs of the Michelin set, runs one of Paris's best restaurants — some argue it's the best restaurant. The moment you arrive under the magnificent arcades of the 17th-century Places des Vosges, you are ushered into the elegance of the Viennese-influenced interior.
There are a couple unique things about l'Ambroisie. Firstly, it is Paris' longest-running three-star restaurant, holding a star since 1988. Secondly, it's an à la carte only restaurant. Therefore, no moderately-priced tasting menus are offered.
Chef & owner Bernard Pacaud is now over 70 years old and runs the restaurant with his wife Danièle. (Their son, Mathieu, operates his own collection of high-end restaurants.) L'Ambroisie opened in 1981 (the year their son was born) on the Left Bank; in 1986 it moved to the current location on Place des Vosges.

6. Le Cinq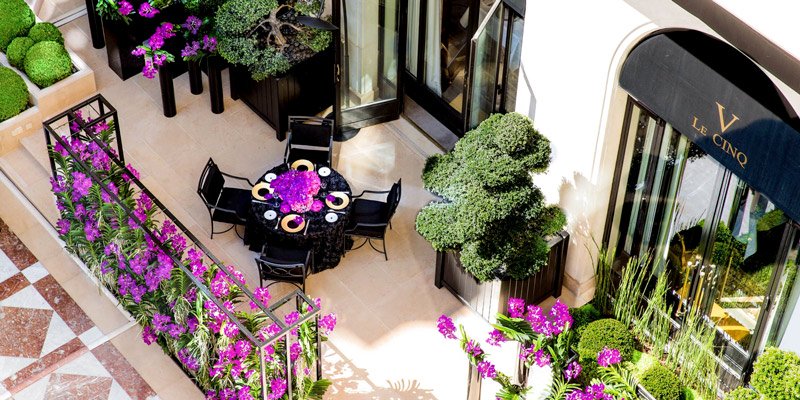 A terrace at Le Cinq
It's interesting to note that the inspectors at Michelin have pretty much ignored the thrashing review given to Le Cinq by The Guardian where food critic Jay Rayner called it the worst meal he's had in his 18 years of reviewing. (While Rayner is often more of an entertainer than a food critic, we have to admit that the photos of the dishes he took looked less than stellar.)
Le Cinq's Art Deco landmark room dates to 1928. It was the official HQ for General Eisenhower during the Liberation of Paris in 1944. Christian Le Squer joined the restaurant in 2014, with the hope of gaining them a third star, as he had done previously at Pavillon Ledoyen. He delivered on his promise, earning the two-starred Le Cinq a third star in the 2016 Michelin guide.
7. Alléno Paris
chef Yannick Alléno at Pavillon Ledoyen
Sometimes after a long period of stability, there is a seismic shift in the Michelin restaurants of Paris. In 2013 chef Yannick Alléno left Le Meurice after a stellar decade-long run. Le Meurice chose Alain Ducasse as his successor. Then another chef swap took place at the iconic Ledoyen. Christian Le Squer left Ledoyen and moved to Le Cinq. Finally, in a move that shocked the Paris food world, Yannick Alléno took the reins at Pavillon Ledoyen. The historic Ledoyen, one of city's oldest restaurants, has been around since 1792.
Chef Alléno trained in the best kitchens of Paris including Hotel Royal Monceau, Hotel Sofitel Sèvres, restaurant Drouant, and at Les Muses in Hotel Scribe where he maintained the restaurant's first star and earned a second star. In 2003, Alléno was appointed Chef de Cuisine at Le Meurice. Alléno has not only held on to the stars at Ledoyen, but has earned stars at another nearby restaurant.

8. Epicure at Le Bristol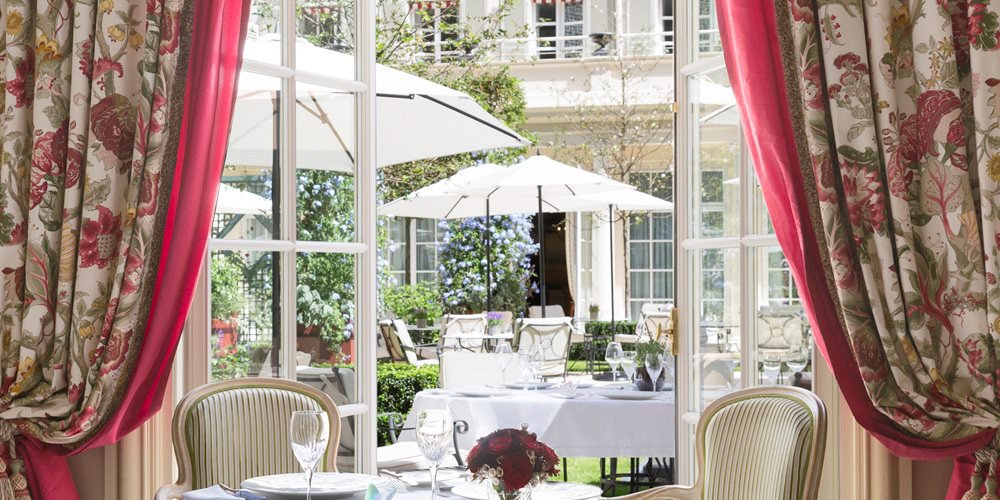 The dining room & gardens of Epicure
You could say that we cut our teeth on Michelin restaurants dining at Chef Eric Frechon's Epicure restaurant at the Hotel Bristol. It was here that we splurged on a tasting menu at one of our first ever 3-star restaurant experiences. Back then the bill came to something like €240 per person, which seemed very indulgent. Pretty lightweight compared to today's Valentine's tasting menu that runs at €680. No matter, dining at a 3-star restaurant is never about counting euros, it's about creating longterm taste memories.
Our early memories were about the dozen or so well-dressed servers silently bustling around the elegant room, offering breads from a special bread cart, refilling water in crystal glasses, and delivering compelling dishes in unison to the table. Today, the hotel boasts a total of four stars when you include its the one star held by its bistro, Faubourg 114.
9. Kei
Chef Kei Kobayashi
It was a revelation when future chef Kei Kobayashi discovered French gastronomy on Japanese television. At 21 years old he traveled to France to train in the best restaurants, including a seven-year stint with Christophe Moret at Alain Ducasse's restaurant at the Plaza Athénée. In 2011, along with his wife, he opened his namesake restaurant and quickly won his first star, followed by a second star. In 2020 he became the first Japanese chef to win three stars in France.

10. Plénitude
Chef Arnaud Donckele (R) and Pastry Chef Maxime Frédéric at Plénitude
Chef Arnaud Donckele garnered three stars from the get-go. It's unusual for a new restaurants to pick up three stars in its first year. But, the Michelin inspectors found it "impossible not to be impressed by [the chef's] work here" as they elevated Chef Donckele to the Olympic heights of chefs who hold three stars at more than one restaurant. Plénitude also received Michelin's Passion Dessert award for the work of Maxime Frédéric, the restaurant's pastry chef.
Michelin Red Guide to Restaurants in France