5 Paris Luxury Fashion Houses – Haute Couture Shopping Destinations
Christian Dior, Chanel, Lanvin, Hermès, Louis Vuitton — these globally-renowned institutions are uniquely French luxury fashion houses that all had their beginnings in Paris, and they were all founded by the person whose name they still bear today.
Take a stroll along Champs-Elysées, Avenue Montaigne, Rue Cambon, or Faubourg Saint-Honoré and you skip from haute couture maison to haute couture boutique without breaking a sweat. Let's take a look at the the Big Five French luxury fashion houses, founded in Paris and known around the globe.

1. Christian Dior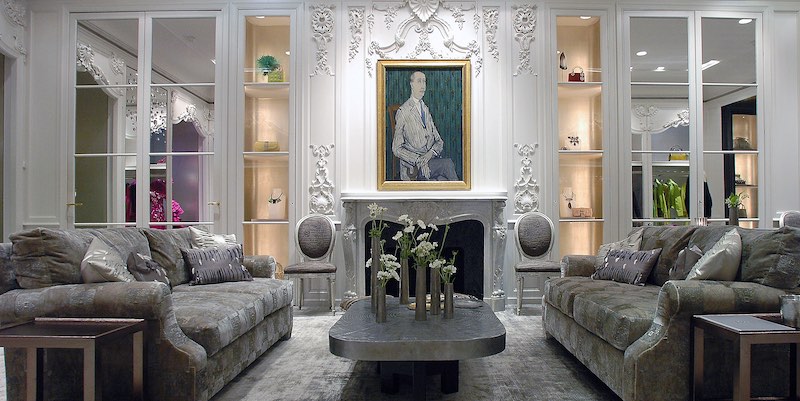 Since just after World War II, Dior has been a major symbol of French haute couture. And it's no wonder, given that Christian Dior's goal in life was to help women look beautiful and feel happy.
It all started in 1947, when Dior launched his famous New Look with swirling full skirts, tiny waists, and fitted jackets. After the austerity of the war years, his fashion silhouette resonated with a generation of women hungry for glamour. When John Galliano took the reins in 1996 his romantic, feminine, theatrical designs harkened back to the original Dior style. Today Dior produces a pret a porter line as well as an exclusive couture collection.
Decorated in the pristine white and Dior grey, and with its famous Louis XVI furnishings, the Paris Dior showroom showcases the design house's offerings in a sophisticated and classic way. The historic location on Avenue Montaigne has been there since 1947; there are other Paris locations devoted to Dior perfume, beauty, and jewelry as well as a large, new (2019) store on Champs-Elysées near the Arc de Triomphe.
30 Avenue Montaigne
8th Arrondissement
2. Lanvin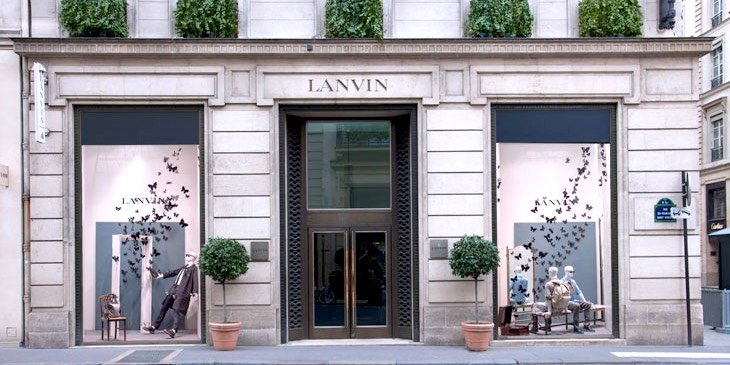 Lanvin, one of the oldest French fashion houses, is enjoying somewhat of a renaissance. The luxury label has recently been making headlines for dressing celebrities like Beyoncé, Emma Stone, Natalie Portman, and Meryl Streep. Under the direction of artistic director Alber Elbaz (2001-2015) the company made a profit for the first time in decades. Palais Galliera (the City of Paris Fashion Museum) has staged an exhibition dedicated to the founder, Jeanne Lanvin, with over one hundred items from the early 20th century on display.
Like Coco Chanel, Jeanne Lanvin began her career as a milliner and became famous as a dressmaker. Also like Chanel, she was a trailblazer. Lanvin was one of the first designers to use gold lamé to accessorize her evening gowns and the first to dress celebrities and actresses such as Mary Pickford, Marlene Dietrich, and Rita Hayworth.
In 1889 she opened her shop, Lanvin Modes, on 22 Rue du Faubourg Saint-Honoré, and this is still the company's flagship location. She was certainly ahead of her time and by 1920 she had a team of 1,200 employees. Embroiderers, seamstresses and tailors worked at her side to create two hundred new looks each season. In fact, Lanvin was the first designer to introduce a new collection for each season.
When her daughter was born Lanvin started designing children's clothing and branched out further, winning success after success in haute couture, perfume, menswear, and bridal. Madame Lanvin worked until her death in 1946, when her daughter Marguerite took over the label.
Today, Lanvin offers haute couture and pret a porter with refined evening dresses, furs, and accessories. Lanvin has again developed jewelry, shoe, and handbag collections. But the maison's biggest success is ultra-feminine cocktail and evening dresses. More than a century after it began Lanvin is once again one of the world's most desirable labels.
15 & 22 Rue du Faubourg Saint-Honoré
8th Arrondissement
3. Louis Vuitton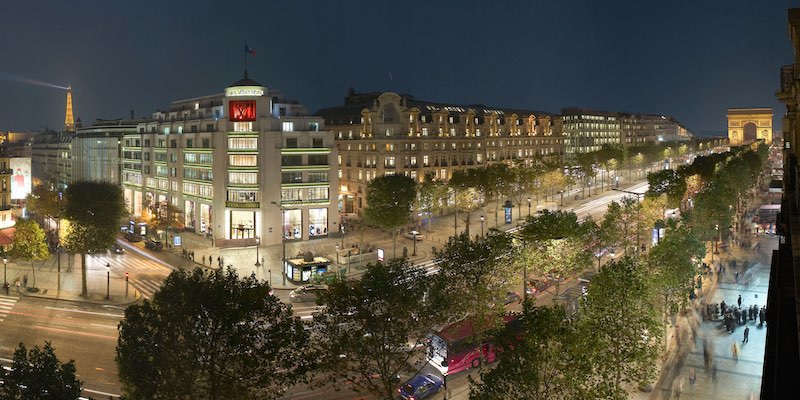 In the world of luxury bags Louis Vuitton is the holy grail. There may be dozens of other luxury labels, but Louis Vuitton is in a league of its own. Founded in 1854, young Louis Vuitton started as the maker of high quality, durable suitcases and chests. His first important client was the wife of Napoleon III. In 1896 Louis Vuitton's son Georges introduced the famous interlocking LV monogram. The ornamental four-leaf design is now instantly recognizable and is found on their chocolate-brown leather bags with the caramel-coloured monogram.
In 1997, Marc Jacobs — then the new designer on the scene — was appointed creative director at Louis Vuitton. He gave new life to the brand, making the house's old fashioned hatboxes and the new Monogram collection popular among his model friends like Naomi Campbell and Kate Moss. Today the famous LV logo is found on clothes, shoes, perfumes, watches, jewelry, accessories, sunglasses, and books and Louis Vuitton is the world's most recognized and valuable luxury brand.
Over the decades the top names in fashion, art, and music have collaborated with Louis Vuitton, from Jeff Koon, Helmut Lang, and Azzedine Alaïa to Manolo Blahnik, Vivienne Westwood, Isaac Mizrahi, and Pharrell Willliams. (We are still waiting for LV's phone call.)
When in Paris, no matter your budget, make sure to visit LV's flagship store on Champs-Elysées at the corner of Avenue George V. Unlike smaller haute couture boutiques where you might feel out of place, this grand Art Deco department store is inviting to browsers, no matter what your liquid assets might be. Listed as an historical monument it still sports the original dome top. This very first department store dedicated to luxury sprawls over five levels connected by a stunning spiral staircase.
101 Avenue Champs-Elysées
8th Arrondissement

4. Hermès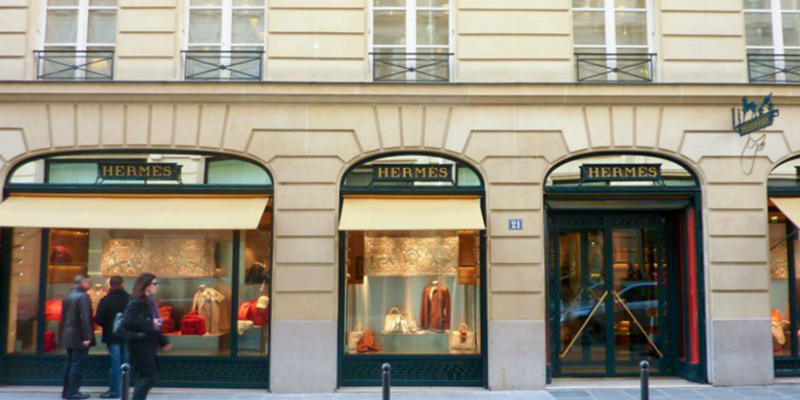 Hermès of Paris, the famous temple of silk scarves, Kelly bags, the Birkin bag, Hermessence perfumes, and jewelry has had a spectacular journey from its humble beginnings. Its founder, Thierry Hermès started making harnesses in 1837 with the goal of producing fine saddles, bridles, and leather riding gear for European noblemen. It was his son Charles-Émile Hermès who moved the Hermès shop to 24 Rue du Faubourg Saint-Honoré, where it remains to this very day.
Gradually, Hermès expanded its offerings selling saddlery and the Haut à Courroies; a bag exclusively made to carry saddles. In 1918 Hermès introduced the first leather golf jacket made for the Prince of Wales. Over five generations they expanded with accessories, clothing and leather handbags.
By the 1930s Hermès had introduced the leather sac à dépêches, renamed the Kelly bag after Grace Kelly, AKA Princess of Monaco, was seen sporting it to cover her pregnant belly. Following on Grace's heels were the Hermès scarves (popular with Jacqueline Kennedy), silk ties and the first perfume Eau d' Hermès. Hermès' iconic duc-carriage-and-horse logo with signature orange boxes was launched in the 1950s, solidifying their position as a French luxury brand.
The spectacular 6th Arrondissement concept store on Rue de Sèvres is housed in a former swimming pool (the water has been drained) where windows display the wonders of the Petit h collection. This concept, launched by Pascale Mussard, artistic director and a direct descendant of Monsieur Hermès, was to create unique and quirky homewares; toy sailboats, lamps, teapots, dressers, jewelry, screens and stationary using cast-offs from Hermès workshops.
Hermès Flagship Store
24 Rue du Faubourg Saint-Honoré
8th Arrondissement
Hermès Paris Sèvres
17 Rue de Sèvres
6th Arrondissement
5. Chanel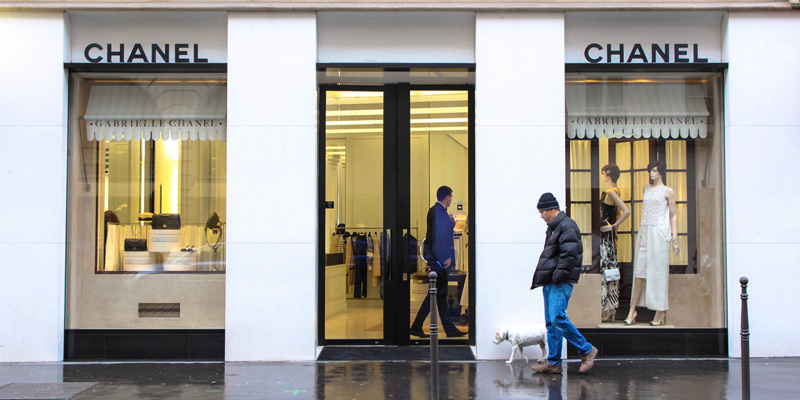 From 1983 until his death in 2019, Karl Lagerfeld and his distinctive panache kept Chanel a leading French luxury brand by retaining all of Coco's essentials: — classic suits, contemporary pret a porter, cashmere twin sets, make-up and perfumes, including the legendary Numero 5 perfume.
You might be familiar with Coco Chanel's rags to riches tale. She was raised in an orphanage, where she was taught to sew. Her first shop on Rue Cambon sold hats and her first clothing shop opened in Paris in 1910. By the 1920s she had launched her first perfume, the Chanel suit, and the little black dress made from jersey, a humble fabric. Her emphasis was making clothes that were comfortable for women.
In the world of fashion she was a pioneer and a hitmaker. In the 1920s she launched her first perfume, Chanel No. 5, followed by the legendary Chanel suit with its collarless jacket and fitted skirt. Her designs were revolutionary in borrowing elements from men's wear and emphasizing comfort over the constraints of corsets and other confining garments. Her simple yet sophisticated outfits were paired with over the top accessories, such as her abundance of famous strands of pearls.
Another of her revolutionary designs was the little black dress. At the time, black was only associated with mourning. With her trademark suits and little black dresses (LBD), fashion designer Coco Chanel created timeless designs that are still popular today.
At the age of 70 Chanel made a triumphant return to the fashion world where her feminine and easy-fitting designs won over fans from around the world. If you love Chanel you must visit her flagship location on 31 Rue du Cambon in Paris, where she kept an upstairs apartment for work. (She slept at the Ritz, just across the narrow street.) A highlight is seeing the iconic curved staircase where her designs were modeled.
31 Rue du Cambon
1st Arrondissement