What We Learned On A Walking Tour Of Père Lachaise Cemetery
1804 was a banner year for French playwright Molière and his contemporary, the poet Jean de La Fontaine — they moved out to the 20th Arrondissement of Paris. That was quite an accomplishment since they died in 1673 and 1695, respectively. Not to mention that the 20th wasn't created until 1859. Here's what happened —
The Overflowing Graveyards of Paris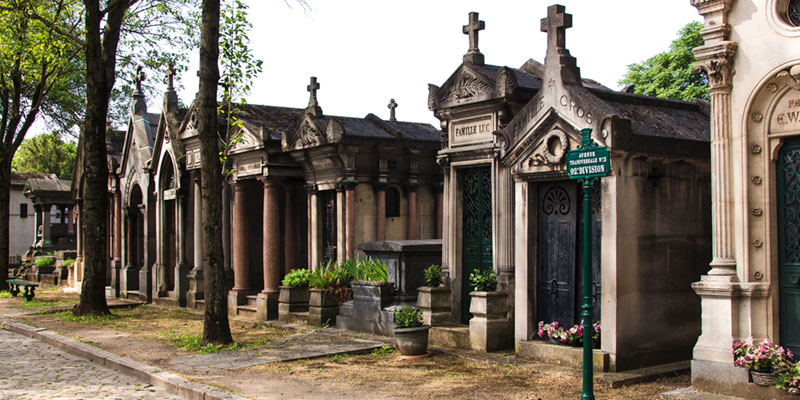 After seventeen or eighteen centuries, the graveyards of Paris were filling up, sometimes with gruesome results when skeletons of former Parisians tumbled in the cellars of adjoining houses. Someone had to do something. And, in France, "someone" usually meant Napoleon Bonaparte.
It was Napoleon's idea to move the cemeteries away from the center of the city to areas that were then outside the perimeter of Paris. Four new cemeteries were created — to the north, south, west, and in the east, Pere Lachaise, the most famous of them all. When it first opened in 1804, many considered it too far away from the city. In an early marketing move, the remains of Molière and de la Fontaine were transferred to Pere Lachaise. Suddenly, the cemetery become a coveted final resting place.
Visiting Père Lachaise Cemetery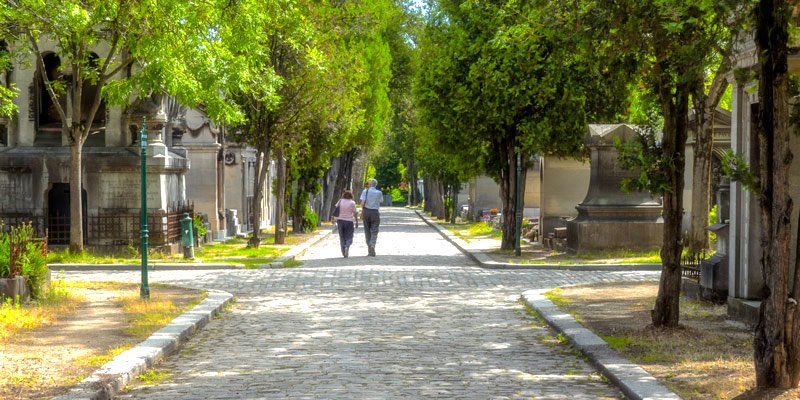 Pere Lachaise is vast, stretching over 110 acres.Although you can certainly wander it on your own, taking a small-group walking tour with an informed guide was one of the best activities we've every signed up for in Paris — and we've done a lot! The stories behind the gravestones came alive and we learned more in few hours on an afternoon than we could have in days wandering Pere Lachaise on our own. The tour is now one of our top recommendations.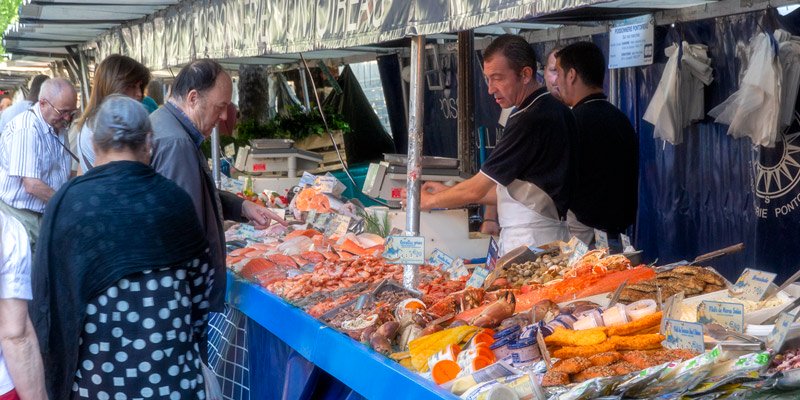 We met up with our guide at Metro Alexandre Dumas (Line 2). It was market day and the area around the station was filled with vendors selling everything from food to dresses, and shoppers were darting about, filling their bags. Metro Alexandre Dumas is not located at the main entrance of the cemetery, but our guide wanted to take us in by a little-used back entrance.
On the walk to the cemetery gates, we learn that Pere Lachaise has become a premier burial spot for Parisians. The waiting list is long, but things do change. If a family burial site is not kept clean and tidy, cemetery officials will declare it "ready to go on the market". In this way, the cemetery is slowly but constantly changing.
The name comes from Louis XIV's confessor, a certain Pere de la Chaise, who lived in a chapel on the site. More famous than the confessor are the many well-known and fascinating people who are buried here. Let's take a look at just a few of the graves we visited…
Antoine-Augustin Parmentier 1737 – 1813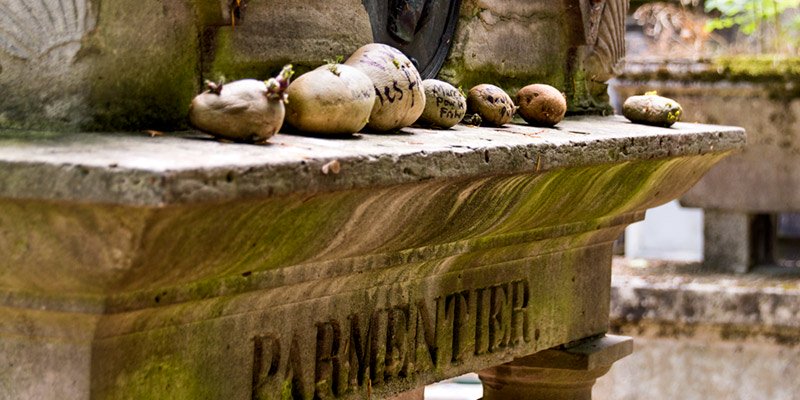 It's hard to imagine that potatoes were once considered poisonous. While a prisoner of war in Prussia, Antoine-Augustin Parmentier, who was a pharmacist, survived on a diet of potatoes. Upon his release, he become a proud potato advocate, knowing that the humble spud could help to solve hunger. At the time, potatoes were used exclusively as hog feed in France. Thanks to his efforts, potatoes were declared edible in 1772.
Parmentier hosted lavish potato-centric dinners for Benjamin Franklin and other famous folk of the time. You will delight at his gravesite where tiny rows of potatoes are planted and visitors have placed potatoes on his monument. You will also think kindly of him when you dig into your next plate of crispy frites.
Victor Noir 1848 – 1870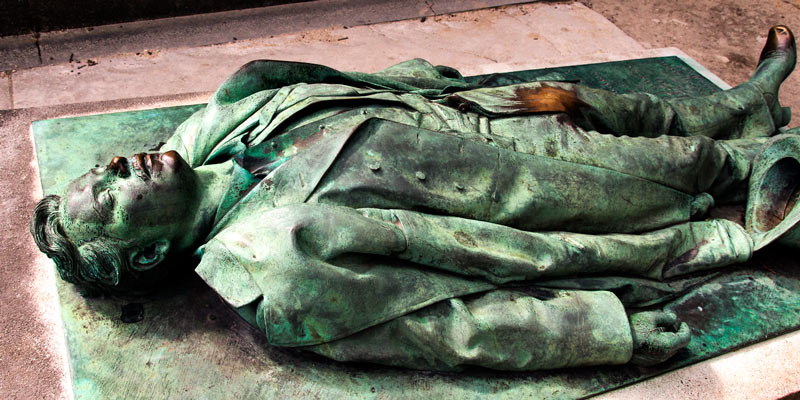 Slain in a foolish duel, the life-sized bronze statue of Victor Noir is so realistic it's as if he's just fallen dead onto the slab. For some reason, sculptor Jules Dalou decided to add an anatomically-correct representation of his manhood to his statue.
Over the years Noir's trousers have become one of the most popular fertility symbols in France. They say that kissing the statue's lips, then rubbing his genital area will guarantee a baby within the year. As a result, Noir's manhood zone is shiny and well-worn from use. A fence was once built around the statue, but it was torn down by fertility seekers. (You know who we're talking about.)

Oscar Wilde 1854 – 1900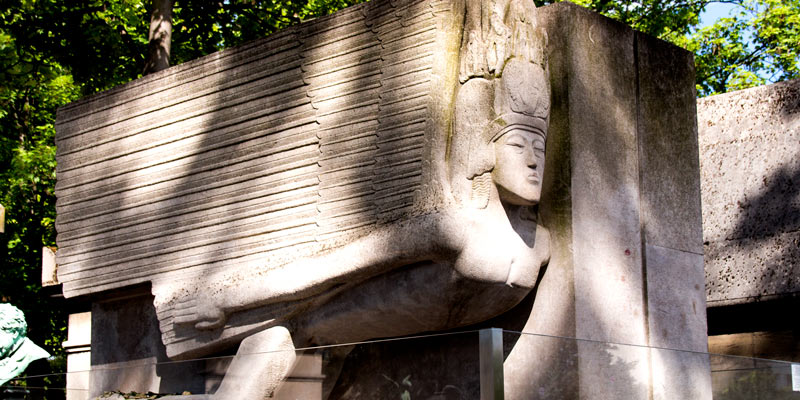 "To love oneself is the beginning of a life-long romance." – O.W.
One of Britain's wittiest and most prolific writers, Oscar Wilde died penniless in Paris in 1900 at the age of 46. Although he was initially buried outside Paris, his remains were transferred to Pere Lachaise Cemetery in 1909. His somewhat over-the-top tomb, commissioned by Wilde's lover, Robert Ross, was designed by Sir Jacob Epstein. The modernist angel has a small compartment where Ross's ashes were added in 1950.
The angel sculpture (or whatever it is) has been vandalized, including removing the male genitalia. (Our guide suggested that cemetery officials may have done it.) Even crazier, visitors began kissing and leaving lipstick prints on the marble of the tomb, until they actually began to damage the stone. In 2011 the tomb was cleaned (at the family's expense) of the damaging lipstick kisses left by these "admirers" and a glass barrier was installed to up above lip-line. Now, of course, people are kissing the barrier. "Kiss my glass," Oscar might have said.
Gertrude Stein 1874 – 1946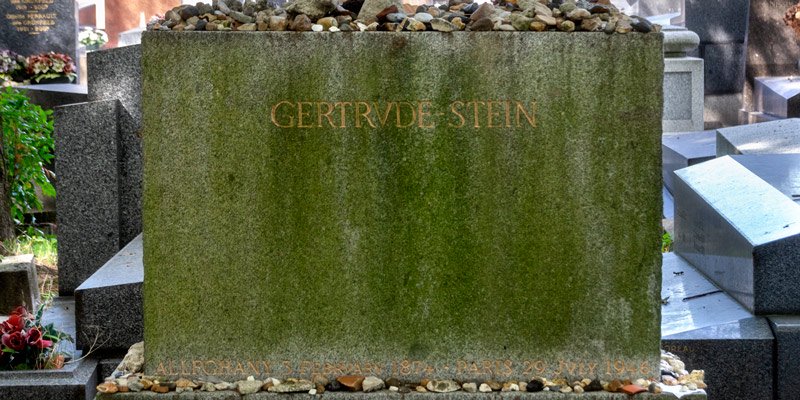 American patron of the arts Gertrude Stein moved to Paris in 1903 and remained there for the rest of her life. She is famous for her Paris salon on Rue de Fleurus (near Jardin du Luxembourg), where leading artists and writers would meet — Pablo Picasso, Ernest Hemingway, F. Scott Fitzgerald, Ezra Pound, and Henri Matisse to name a few. Her lifetime partner, Alice B. Toklas, is buried next to Stein. We were hoping that on her grave there would be a rose… is a rose, is a rose…

Edith Piaf 1915 – 1963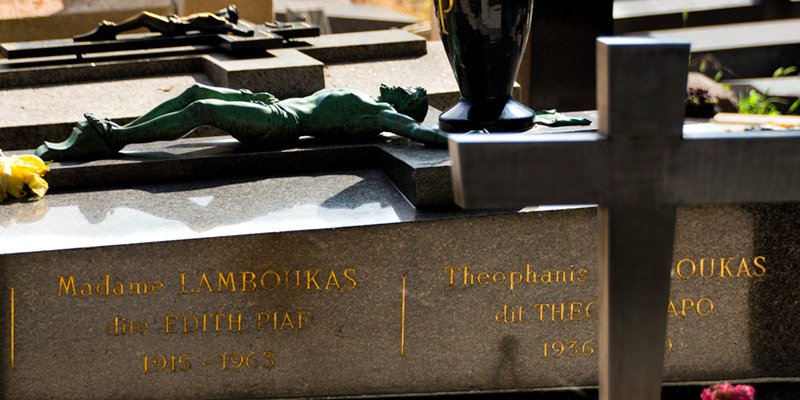 Edith Piaf's is the most visited gravesite in the cemetery, despite her being buried under her married title, Madame Lamboukas. France's most prominent chanteuse, her story is filled with poverty, calamity, heartbreak and ultimate success. Buried next to her is her daughter Marcelle (who died at age two), her father, and her last husband, Theo Lamboukas. Piaf died of liver cancer at the age of 47 and they say her final words were, "Every damn thing you do in this life, you have to pay for." Her funeral procession was followed by 100,000 fans and brought traffic to a complete standstill.
Theophanis Lamboukas (AKA Mr Piaf) was a handsome singer-actor twenty years junior to Edith Piaf. He was a hairdresser before he met Piaf and scored a few hit singles with her. He was just 34 when he died in a car accident in 1970.
Jim Morrison 1943 – 1971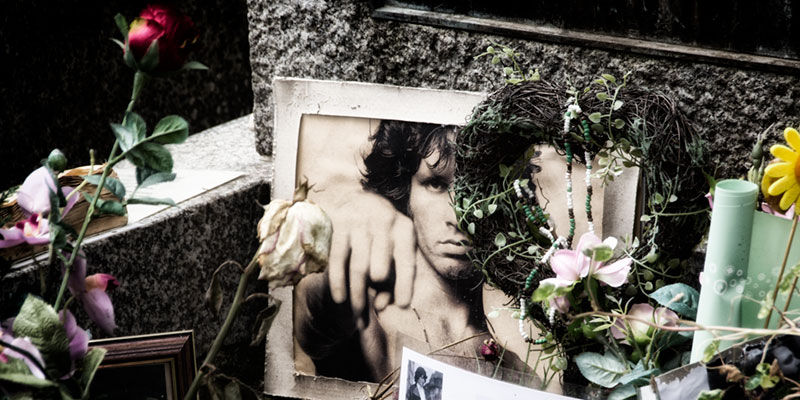 He did more to boost the popularity of Pere Lachaise Cemetery than any other American. Morrison, the lead singer of The Doors, died of unknown causes in Paris at 27 years old. No autopsy was performed, so we'll never know the real reason for his death, but we probably aren't too far off to suspect that drugs were involved. That's one way to break on through to the other side, Jim.
Morrison's grave originally didn't have a marker. In 1981, sculptor Mladen Mikulin placed a bust on the grave to commemorate the tenth anniversary of his death. The bust was defaced and eventually stolen. In the 1990s Morrison's father, who was estranged from Jim when he was alive, added a bronze plaque with the Greek inscription: "Κατα Τον Δαιμονα Εαυτου", meaning literally "Against The Demon Within Thyself", but others think it's trying to say "True to His Own Nature". Does it mean that his father reconciled himself to the person Jim was? We're not sure.
Morrison's grave has been a sort of pilgrimage site since he died. (See the last scene in Oliver Stone's controversial film, The Doors, for example.) To prevent the graffiti and damage to the site a fence was eventually erected around the tomb. However, our guide related an incident where a female fan in her thirties jumped the fence (a big cemetery faux pas), pulled out a bottle of whisky, and started to guzzle. The police were called and she was arrested and hauled to jail — unfortunately her 10-year-old son was with her.

Auschwitz Memorial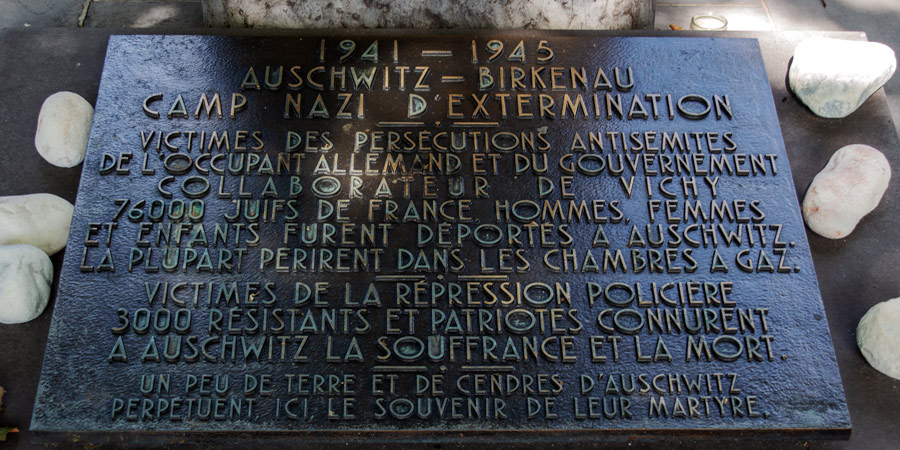 In addition to gravesites of famous people, there is a row of memorials to the victims of the Nazi extermination camps. One reads, "To the victims of the antisemitic persecution during the German occupation and with the collaboration of the Vichy Government. 76,000 Jews in Frances — men, women and children — were deported to Auschwitz. Most perished in gas chambers. Earth and ashes from Auschwitz are here to keep the memory of these martyrs."
Suzon Garrigues 1994 – 2015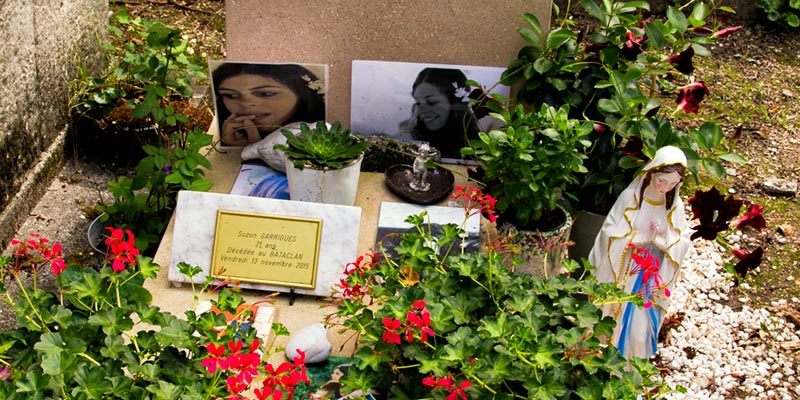 For us the most poignant gravesite was that of Suzon Garrigues,one of the 130 victims of the November 13, 2015 attacks on young people by murderous thugs. Just 21 years old, Suzon was killed at the Bataclan Theatre. Her gravesite is covered in photos of her and a large shell is filled with Metro tickets as a token from her many visitors and friends.
Pere Lachaise Cemetery Walking Tour Details
Small group tour of limited size
English-speaking expert guide
We're not the only ones who liked this tour. It has received a 5-star rating from nearly 100% of reviewers.