Jardin des Plantes Paris – Garden, Park, Zoo & Natural History Museum
Jardin des Plantes Paris – Garden, Park, Zoo & Museum
The year was 1626 and Louis XIII had his mind set to create a royal medicinal herb garden. Today, almost four hundred years later, the Jardin des Plantes' 75-acre botanical garden hosts a floral swirl of peonies, irises, roses, geraniums, and dahlias. It's a highlight of the 5th Arrondissement and should be on your things to do list when you visit the Latin Quarter.

Discover What's On When You're Here...
Discover What's On When You're Here
More Than Just a Garden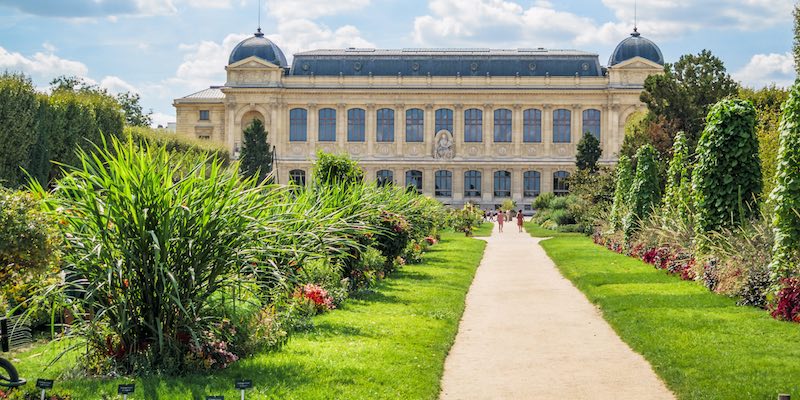 Pathway to the Museum of Natural History
The Jardin des Plantes is not only a garden. It's also where you'll find Paris' oldest zoo, an historic botanical school, and the Natural History Museum (Musée National d'Histoire Naturelle). It's also a magnet for Parisians seeking open green space to jog, walk, or simply relax. If you're visiting with children plan to spend at least half a day exploring.

The Botanical School
Botanical garden at Jardin des Plantes, photo Wikimedia by Dinkum
The botanical school located in the Jardin des Plantes (l'Ecole de Botanique) has educated young botanists since 1683. That's going back quite a ways! Students plant demonstration gardens and exchange seeds to maintain the garden's diversity. The school also organizes a whopping 4,500 plants into family groups on individual one-hectare plots.
For instance, the Alpine garden features 3,000 species with plants from around the globe. There's also a large Art Deco winter garden while the Mexican and Australian hothouses display plants not native to France. The Rose Garden, created in 1990, features hundreds of rose bushes and and rose trees.
It's hard to miss the four massive glass-and-metal Grandes Serres, greenhouses that have been in use since 1714. Henri Rousseau (1844-1910), the post-impressionist painter, visited the Jardin des Plantes frequently and the rambling gardens within the greenhouses inspired his jungle paintings. You can see the influences in The Flamingos (1907) and The Waterfall (1910). Although his jungle paintings are his most famous, Rousseau never left France or even saw a jungle first-hand.
French Naturalists & Botanists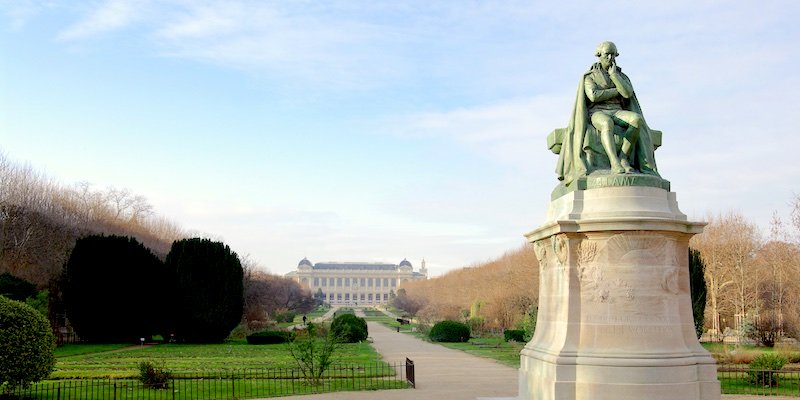 Statue of French scientist Jean-Baptiste Lamarck
The Jardin des Plantes is surrounded by streets named after great French naturalists and botanists. Antoine Laurent de Jussieu (1737-1836), was the first to publish a natural classification of flowering plants. Much of his work is still used today. His uncle, Bernard de Jussieu, was also a botanist and much of Antoine's work was based on his. For most of his career, Antoine de Jussieu was a professor of botany at the Jardin des Plantes botanical school. You can also see his influence on the nearby Metro station and the street named after his family in the 5th Arrondissement.
French botanist Etienne Geoffroy St-Hilaire (1722-1844) established new theories in zoology, including the principle of unity of composition. In 1798, St-Hilaire traveled to Egypt as a member of Napoleon's scientific expedition. His name has been used to name several species — Geoffroy's spider monkey, Geoffroy's bat, and Geoffroy's tamarin. He also has his own street, Rue Geoffroy Saint-Hilaire, in the 5th arrondissement close to the Jardin des Plantes.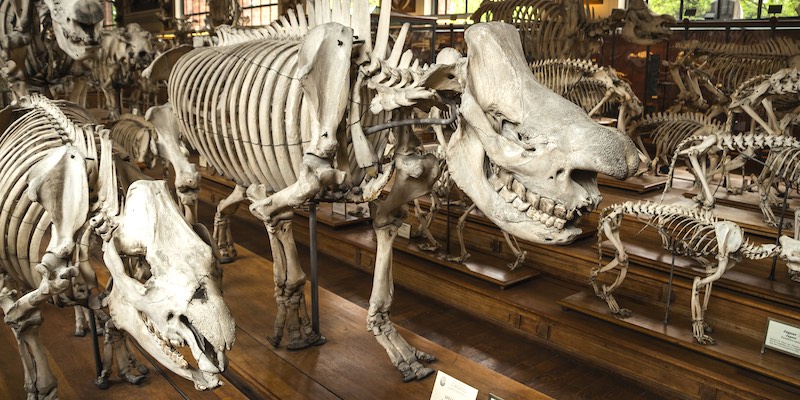 Do some more sleuthing in the Jardin des Plantes by looking for a statue inscribed to the French pioneer-scientist Jean-Baptiste Lamarck (1744-1829). He is the author of the Flore Fraçcoise, a three-volume work (that took a decade to complete) on the plant life of France. Lamarck also made big scientific revelations when he separated arachnids from insects and moved crustaceans into a separate class of their own.
Another fascinating find is a monument honoring Michel Eugène Chevreul (1786-1889), the director of the Gobelins factory. He lived to the ripe old age of 102, discovered fatty acids and margarine, and his research on the color spectrum influenced the Impressionist painters. Chevreul's name is inscribed on the Eiffel Tower, one of only 72 scientists and engineers.

The Cedar of Lebanon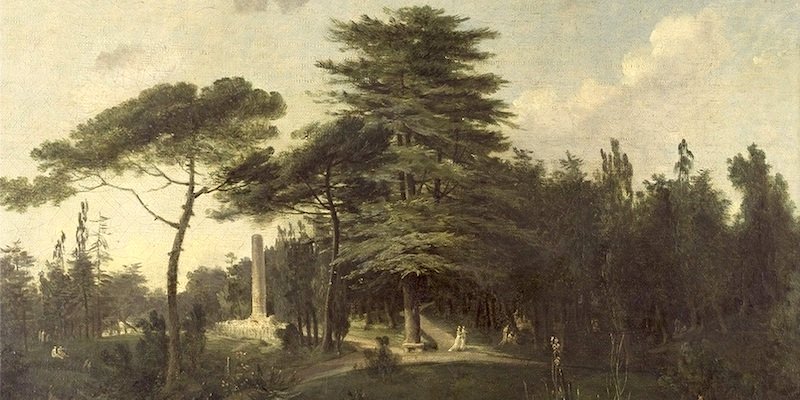 Legend has it that the park's famous Cedar of Lebanon, 40 feet in circumference, traveled in 1734 as a seedling in the hat of naturalist Bernard de Jussieu. It's not the oldest tree in Paris; that award goes to an acacia planted in 1635 at the corner of Allée Becquerel and Allée Buffon.
Natural History Museum
Grande Galerie de l'Évolution
The park's Museum of Natural History has four galleries — Grande Galerie de l'Évolution, Paleontology, Mineralogy, and Entomology. It houses one of the world's richest mineral collections and some of the oldest fossilized insects on earth.
The magnificent Grande Galerie stood closed for thirty years until a 1994 renovation. It houses a superb display on the evolution of life. Highlights include a giant whale skeleton, stuffed African Savannah animals, and an extinct and endangered species exhibit.

La Ménagerie – The Zoo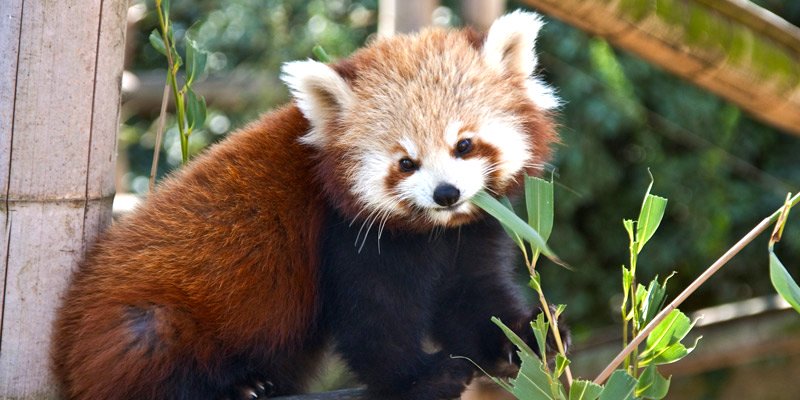 Red panda at La Ménagerie, photo by Mark Craft
Within the Jardin des Plantes is France's oldest public zoo, La Ménagerie. It was established shortly after the Revolution to display survivors from the Royal Menagerie at Versailles. It was originally called the People's Democratic Zoo. Really.
In 1795 the first elephants arrived, followed by the bear pit of 1805, and in 1827 a generous Egyptian prince donated a giraffe. The zoo grew in size and popularity until the Siege of Paris in 1870 when the animals were used to feed starving Parisiennes.
Many of the exhibition cases are from the 19th century, giving the zoo a very old-fashioned feeling; almost like stepping into Paris of the Belle Epoque. Adults love it as much as children.

Jardin des Plantes Resources
The Jardin des Plantes, botanical school, rose garden, rock garden, peony garden, and iris and perennial plant gardens are free. There is a small fee to enter the Alpine Garden. It is open on weekends from April 1 to October 31. The zoo costs around €15.
There are a few food and drinks kiosks in the park, open April to October. La Baleine restaurant is open daily, with lunch served from noon to 3:30 PM and dinner served from 7:00 PM to 10:00 PM. It's open from April to September.
57 Rue Cuvier
5th Arrondissement
Enter at Rue Buffon, Rue Cuvier or Place Valhubert
Metro — Gare d'Austerlitz, Jussieu, Place Monge