The Charming Boutique Hotels Of Paris – Stylish, Historic, Romantic
Intimate and alluring boutique hotels are part of the fabric of Paris. It's the personal service and attention to detail that sets boutique hotels apart. If you're like us, when you think of Paris you think of settling into a charming hotel — filled with French details that will make you happy simply to be there.
Even better, our recommended boutique hotels don't come with a five-star price tag. You'll find stylish & romantic hotels in the city's best areas — from the Latin Quarter to the Left Bank to Champs-Elysées — at a price that won't break your travel budget.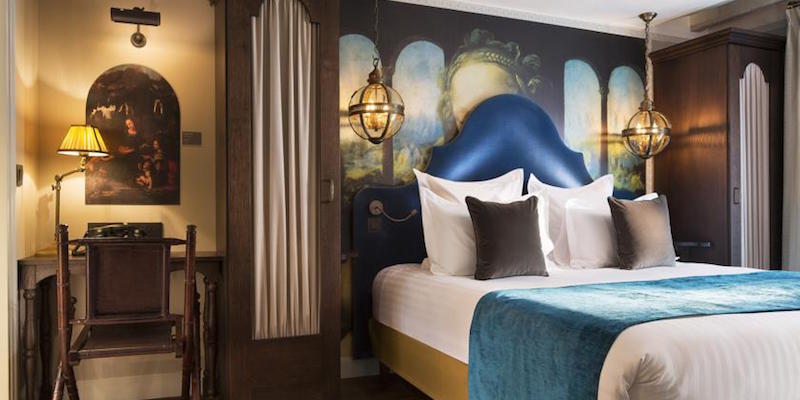 For more than a century famous writers have congregated in Saint-Germain-des-Prés quartier of Paris. You, too, can find your temporary home at one of these perfectly-located Left Bank hotels we've discovered and reviewed. Feel like you're part of the life of the city.
The shopping in the district is fun & exciting and it's where you find everyone's favorite department store, Le Bon Marché. You're also close to the Eiffel Tower, Musée d'Orsay and, of course, the famous Boulevard Saint Germain.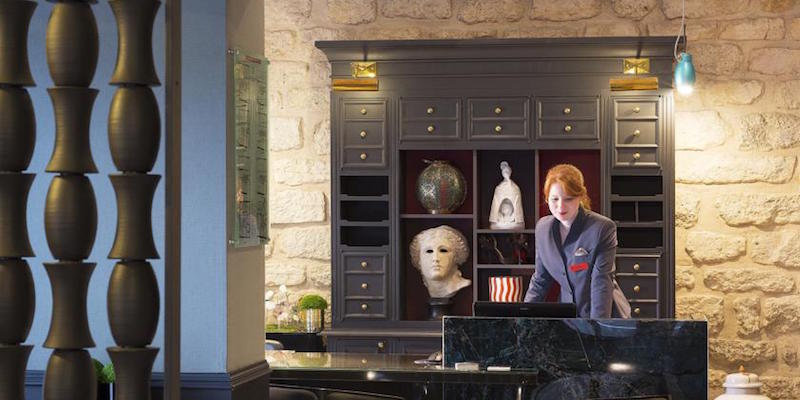 Trendy, upbeat and centrally located, some of the most pleasing hotel in Paris are found in the picturesque Latin Quarter.
The Latin Quarter — the 5th Arrondissement — is named for the Latin-speaking scholars who once inhabited the quartier. (It's still the home of students and universities.) All in all, it's another one of our favorite places to be in the city, and you're close to so many attractions — like the Pantheon, Jardin du Luxembourg and even Notre Dame Cathedral, just across the river.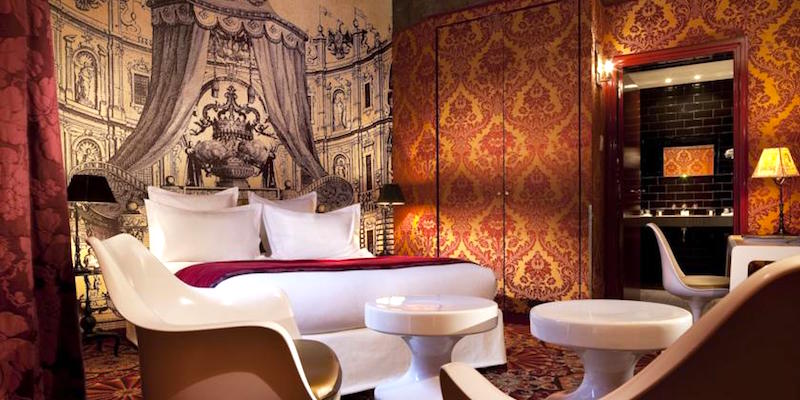 The Marais seems to be everybody's favorite neighborhood — it's also where some of our favorite charming, boutique hotels are to be found. From a hotel inspired by the works and time of Marcel Proust, to an homage to Josephine Bonaparte, here are our picks of the five best hotels in the Marais.
Montmartre still manages to retain its hilltop village ambiance from over a century ago. The quartier is distinctly different from the rest of Paris, if just for the magnificent views. It's a lively neighborhood full of boulangeries and restaurants, and it's a good place to settle in for your visit to Paris. Let's make a virtual visit to the ten best hotels in Montmartre and discover why we've singled them out.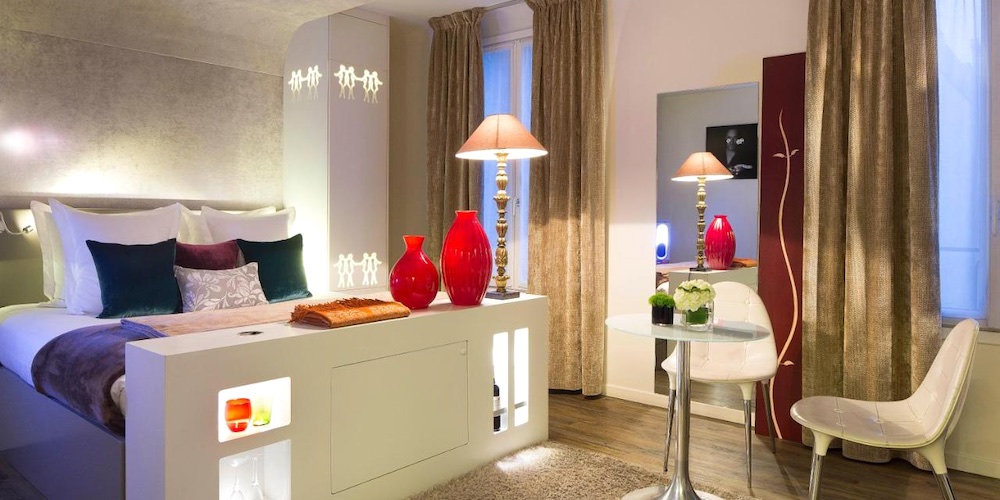 We adore a sense of design in Paris hotels. It makes us feel we're doing somethings extra-special. We've spent some time scouting out the best Paris design hotels, chosen for quality, decor and value. There's also an absolutely fabulous hotel designed by Christian Lacroix.
Most of our selected hotels are located in the Paris-central action zone, but we also like the über-hip Mama Shelter, even though it's a ways out in the 20th Arrondissement.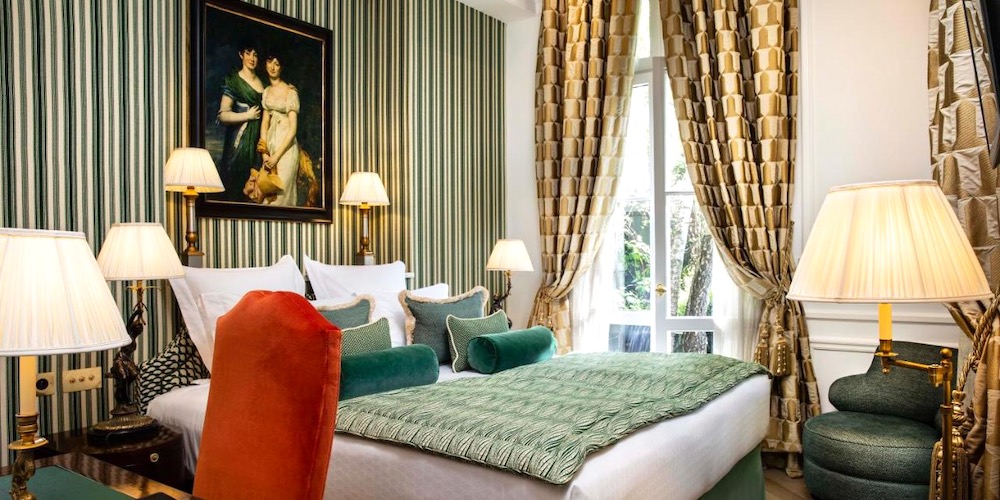 Champagne, roses, cozy nooks — romantic hotels are the way you want to experience Paris. You are in the City of Romance after all. So, whether you're in Paris to find romance, to rekindle romance, or simply to enjoy the feeling of the romance of the city, these appealing hotels are waiting for you. It's just what you imagined Paris would feel like.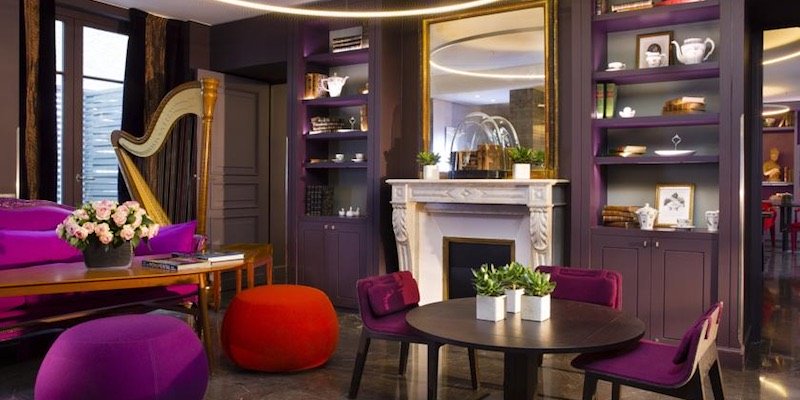 Here's that word again, "charming"! But that seems to be the most appropriate way to describe these lovely hotels. This group of… charming hotels are filled with French décor, inviting color, tasteful furnishings, and romantic touches. These hotels will make your visit memorable.
For us, Paris is all about style & charm, so check our reviews to discover some of the city's delightful hotel secrets.
What to Expect in a Boutique Hotel in Paris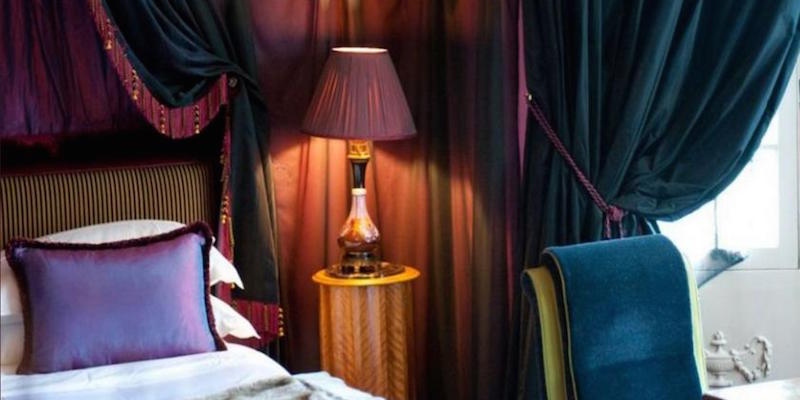 In Paris, hotel rooms are small, even in many luxury hotels. Boutique hotels are "intimate" (another way of saying small) — but what they lack in space, they make up in charm. Don't be surprised if your hotel elevator is the size of a closet with barely enough room for one person and a suitcase. Remember, Paris is an old city with old buildings, and elevators were an afterthought, fit into whatever space could be found.
Many times the breakfast room will be found in the cellar of the hotel, but hotels breakfasts can be expensive. Save money and get a better Parisian experience by heading to a local boulangerie or café for a more satisfying petit déjeuner (breakfast) of coffee and croissant or other freshly baked pastries.
Service in boutique hotels in Paris is usually very good. The front desk will be able to help you make dinner reservations and recommend the best things to see and do in the neighborhood.

Selected Boutique Hotels in Paris
Hotel Thérèse
Perfectly located in the center of things, the Hotel Thérèse's neighbors include the Palais Royal, the Louvre, Palais Garnier and the Tuileries Garden — all between a 4- and 10-minute walk away. The Thérèse is one of the lovelier boutique hotels of Paris, with touches from the past mixed with modern amenities.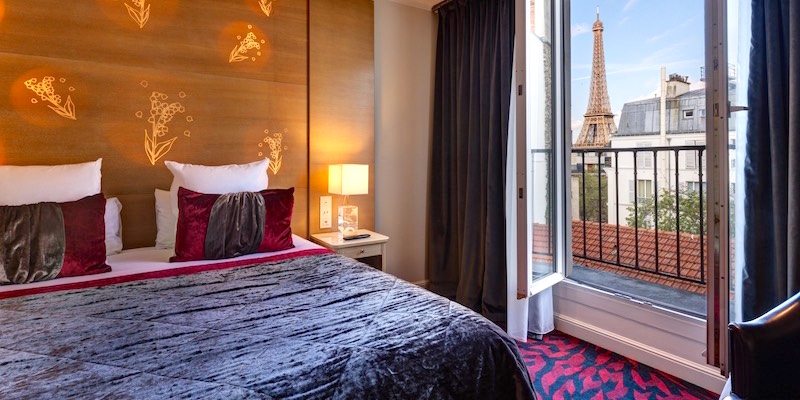 Loved by travelers and reviewers, Hotel Muguet is in a great location next to Les Invalides in the 7th and is particularly famed for its superb service. Behind the pink-painted brick exterior of this recently renovated hotel are forty-five calm and comfortable rooms.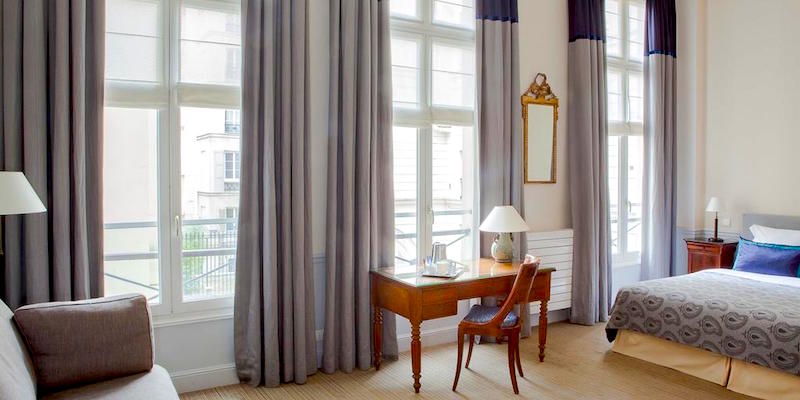 Hotel Brighton is also in the heart of the city, directly across the street from the gorgeous Jardin des Tuileries, close to the Louvre and all the central Paris sights. As you might expect with a location like that, the views from the rooms facing the garden are simply stunning. The Brighton was one of the very first hotels in Paris and, since its renovation a few years ago, it's charming, modern, and convenient.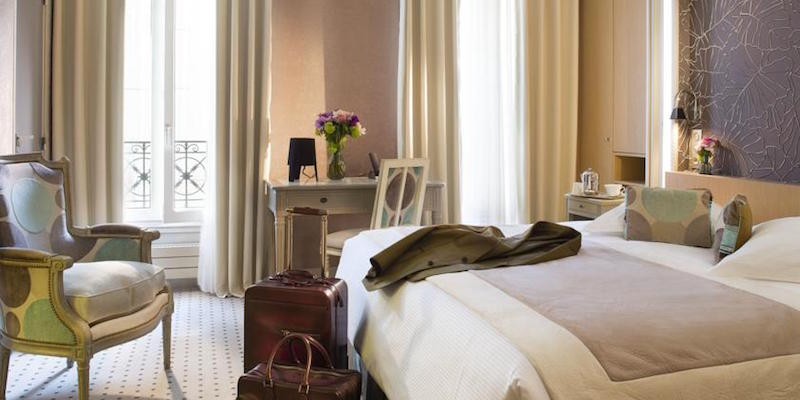 This boutique hotel is also situated in the highly desirable neighborhood of Saint-Germain-des-Prés, within site of the church of the same name, the oldest church in Paris. After a renovation a few years ago the Madison was upgraded to a 4-star rating. The 52 traditional, elegant rooms each have their own individual ambiance and décor.