6 Things To Know About The Palais Galliera Fashion Museum Of Paris
Officially named Palais Galliera – Musee de la Mode de la Ville de Paris, the fashion museum owes its existence to the Duchesse de Galliera, once the wealthiest woman in France. In 1878 she began a mammoth undertaking by building a Renaissance-style mansion to house her treasured art collection — a place to showcase her paintings, sculpture and objets.
What happened next would change everything for her. Like much of the history of Paris, the tale of the fashion museum could be made into a blockbuster film. It was a long road from 1894 (when it was completed) to when the building was dedicated as the City of Paris fashion museum in 1977. Here's the rest of the story, and reasons to visit this Renaissance-inspired palace found smack dab in the middle of Paris.

Galliera Fashion Museum Paris – 6 Fascinating Facts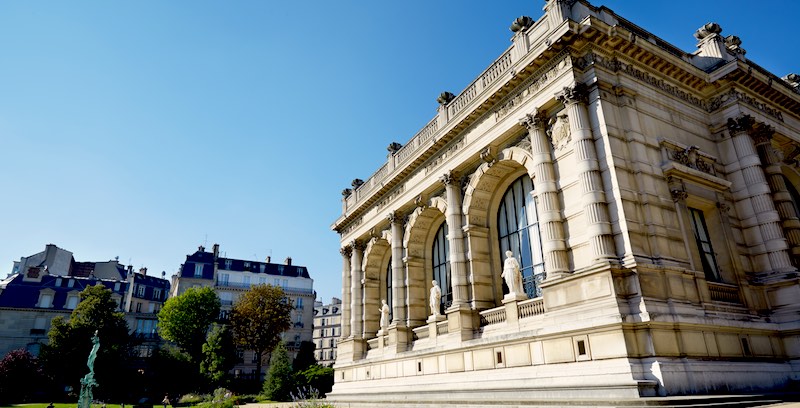 1. Palais Galliera Is in Good Company
There's a lot of culture to be seen in this northeastern corner of the 16th Arrondissement. Just across the street (Avenue du Président Wilson) from Palais Galliera are found the city of Paris modern art museum (Musée d'Art Moderne de la Ville de Paris) and its neighbor, the avant-garde art space Palais de Tokyo. Then, a few steps down the avenue and around the corner, you'll find Musée Yves Saint Laurent Paris, housed in the fashion icon's former home and workshop.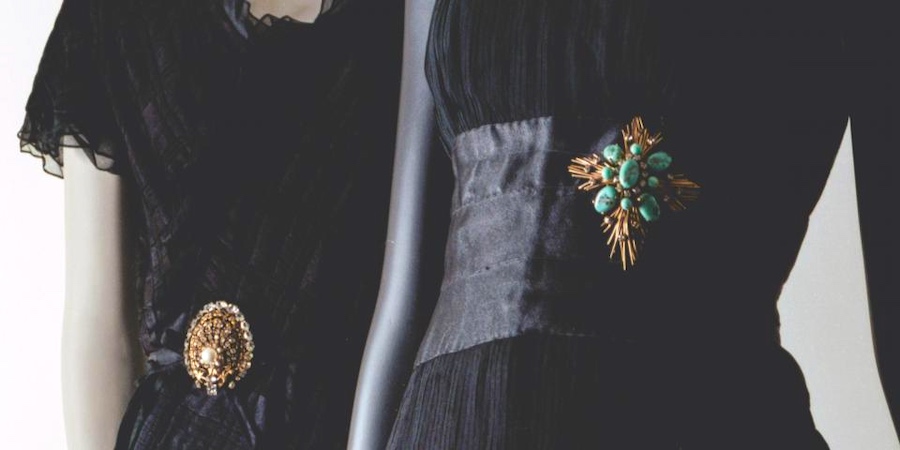 Chanel dresses on exhibition

2. A Renovation in 2020 Doubled the Exhibition Space
Up until 2020, Palais Galliera was a sort of fashion vault. The collections of historical costumes and contemporary clothing of the City of Paris were stored here, but were inaccessible to the public except during special themed exhibitions held once or twice a year.
Responding to fashion-lovers' interest, the museum completed a massive renovation that doubled the exhibition space and allowed for regular exhibitions to be staged. In the weird twist of fate that was 2020, the renovation was completed and the museum reopened just in time for it to be (temporarily) shut down again during the Covid pandemic! Not to worry, a great special exhibition about Coco Chanel was set to open as soon as possible.

Chanel exhibition in the newly-upgrade cave

3. Le Cave
A vast system of underground stonework arches supports the Palais Galliera, but this shadowy area had been given over to mechanical and building service, otherwise unused. In a clever use of available space, these cellars — le cave, in French — were extensively reworked during the renovation to create some of the brand-new exhibition halls. Fashionistas can now look forward to more and regular exhibitions at the Galliera that draw on the museum's huge collection



4. The Building is Magnificent
Perhaps it's too obvious to bother stating, but the mansion would be worth seeing even if it wasn't a fabulous fashion repository. Designed by architect Paul-René-Léon Ginain in 1878 (this was back when architects had the great names, no "Franks" or "Rogers"), it was inspired by certain ancient and Renaissance architecture, but with a Beaux-Arts spin, then the dominant style.
On the Avenue du Président Wilson side there is an attractive small park with a circular path and benches, affording views of the two palais — Galliera on this side of the street, Tokyo on the other.

The Eiffel Tower viewed from Palais de Tokyo, photo bye Adrienne Pitts

5. Step Across the Avenue for a Grand View of the Tower
After you've rested on one of the park benches, cross Avenue du Président Wilson and enter the colonnade of Palais de Tokyo. For such a small effort you'll be rewarded with a splendid view of the Eiffel Tower across the river. There's a connection here, as well. Given the era it's not too much of a surprise to discover that Palais Galliera was built by Gustave Eiffel's company.


6. The Collections
The Palais Galliera's storerooms, restoration, and collections spaces are the largest of their kind in Europe with 63,000 square feet. The collections include —

The Story of the Duchesse de Galliera & the Palais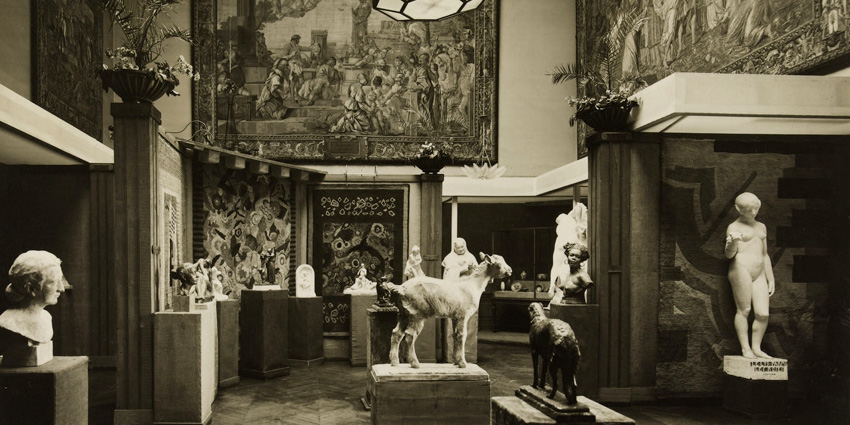 Palais Galliera in 1928, when it was used for miscellaneous exhibitions
She was born Marie Brignole-Sale in Genoa, to a wealthy family whose titles included doges, senators, ambassadors, and poets.
Her father, Marquis Antoine de Brignole-Sale, was prefect of the Ligurian Republic, appointed by Napoleon Bonaparte himself. Antoine went on to become the Sardinian ambassador to France, where he developed a friendship with Louis-Philippe, the last king of France from 1830 to 1848). Marie's childhood was spent frolicking at the Tuileries palace with the king's children. She considered them cousins.
In 1828, Marie married Marquis Raphaël de Ferrari. He was a railway magnate who developed the important Paris-Lyon-Méditerranean line. He also was a key player in the construction of the Suez Canal. Baron Haussmann gave him plenty of opportunities to make, shall we say, numerous profitable real-estate transactions. By 1850 Marie and Raphaël were the wealthiest couple in France.
With money problems out of the way, the family was able to devote themselves to charity, the arts, and the good life. Their Paris mansion on Rue de Varenne (Hôtel Matignon, now the official residence of the French Prime Minister) had 200 domestic staff. Faithful to their Italian roots, the couple purchased an estate in Piedmont and were named the Prince and Princess of Luciedo. But all good things, it seems, must come to an end. In 1876 Raphaël died unexpectedly. In a twist too strange to be found in fiction, their only son Philippe refused the family inheritance — he just walked away from it.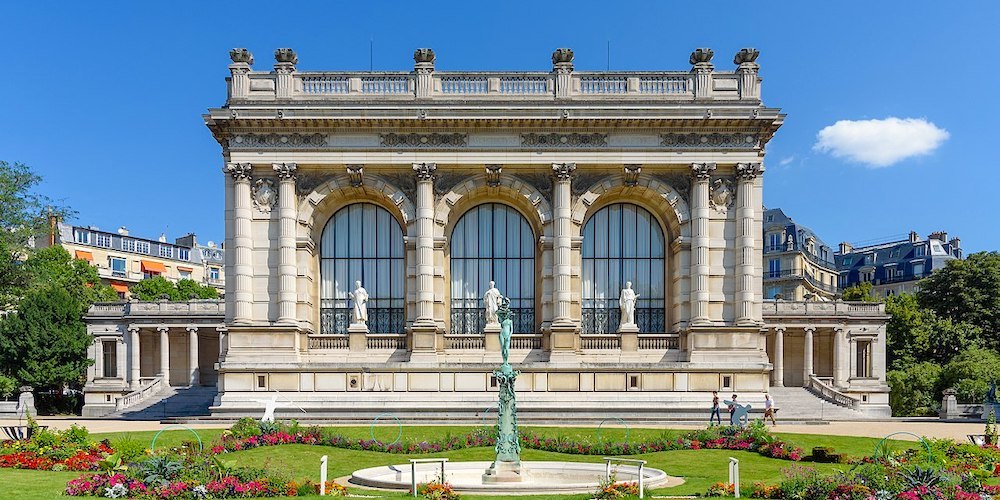 Palais Galliera, Wikimedia, by Joe deSousa

A widow spurned by her son, the Duchesse de Galliera was sitting on an immense fortune. She devoted herself to charity, founding a hospice for seniors, an orphanage, and also gave one million gold francs to establish the École Libre des Sciences Politiques. The duchess decided to build a museum for her art collection on land in Paris she and her husband had purchased. Her collection, started by her family way back in 1623, contained portraits by Van Dyck and included Flemish, Spanish, and Italian masterpieces. Maria had intended to leave these works, and her mansion, to Paris.
The project ran into trouble with a French law of 1884 that sought to drive out the previously ruling royals and imperial families, like her own. In a handwritten will dated October 7, 1884, the duchess withdrew her collection in favor of the Palazzo Rosso in Genoa. She disinherited Paris. The Palais Galliera was built as planned, however. When it was finished, she donated it to of the City of Paris.
Marie died in Paris December 9, 1888, but it wasn't until 1977 that the Musée de la Mode et du Costume moved into the Palais Galliera.

Galliera Fashion Museum Paris – Resources
10 avenue Pierre 1er de Serbie
16th Arrondissement
Metro: Alma-Marceau, Iéna, or Boissière
Tuesday to Sunday – 10:00 AM to 6:00 PM
Thursday & Friday until 9:00 PM
Closed on Mondays and public holidays