6 Reasons to Visit the Palais Galliera Fashion Museum of Paris
Officially named Palais Galliera – Musee de la Mode de la Ville de Paris, the fashion museum owes its existence to the Duchesse de Galliera, once the wealthiest woman in France. In 1878 she began a mammoth undertaking by building a Renaissance-style castle to house her treasured art collection, a place to to showcase her paintings, sculpture and objets.
What happened next would change everything for her. Like much of the history of Paris, the tale of the Fashion Museum could be a blockbuster film. It was a long road from 1894 (when it was completed) to when the fashion museum was declared in 1977. Here's the rest of the story, and reasons to visit this Renaissance-inspired palace found smack dab in the middle of Paris.

Galliera Fashion Museum Paris – 6 Fascinating Facts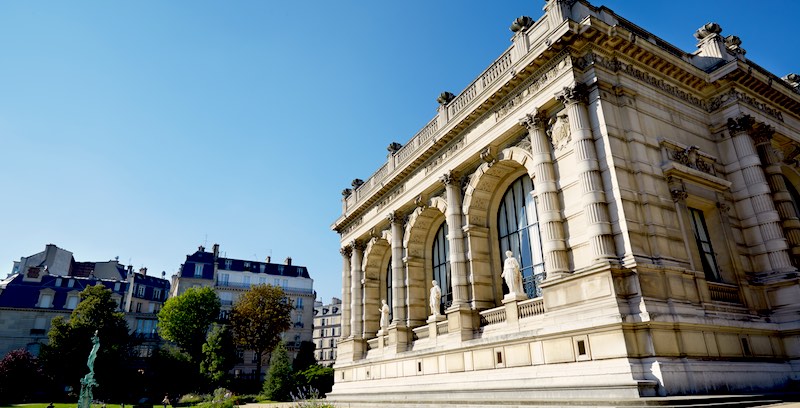 1. No Permanent Exhibits
Although there are no permanent exhibits or galleries, special workshops are open to the public year round. The bad news is they are only in French. The good news it's fashion, a very visual field. Go for the show and you may pick up some French vocabulary.
2. Go on a Guided Tour
There are guided tours that run every third Thursday of the month, plus a few weekend tours offered occasionally. English tours are not guaranteed but who knows, you might get lucky.
3. Temporary Exhibitions
The Galliera Fashion Museum is most well known for it special exhibitions. Some of the exciting temporary shows in the past have featured Spanish costumes, the fashion of singer Dalida, an homage to Balenciaga, and a tribute to Lanvin. Check the events calendar before you leave home to see if there's an exhibit happening when you're in Paris.
4. The Building is Magnificent
Even if there isn't an exhibit or workshop while you're in Paris, it's still worth a visit to Palais Galliera to check out the magnificent historic building. More on that below in the history of the Palais Galliera.
5. The Garden
Surrounded by a garden, the Palais Galliera is a good example of the Beaux-Arts style, popular in the 19th century. Arrive to Avenue Pierre 1er Serbie entrance and follow the path to the courtyard. Given the era it's not too much of a surprise to find that the palais was built by Gustave Eiffel's company.
6. The Collections
The Palais Galliera's storerooms, restoration, and collections spaces are the largest of their kind in Europe with 63,000 square feet. The collections include 18th-century dresses, 19th-century costumes, haute couture, undergarments, prints and drawings, accessories, and photography.

The Story of the Duchesse de Galliera & the Palais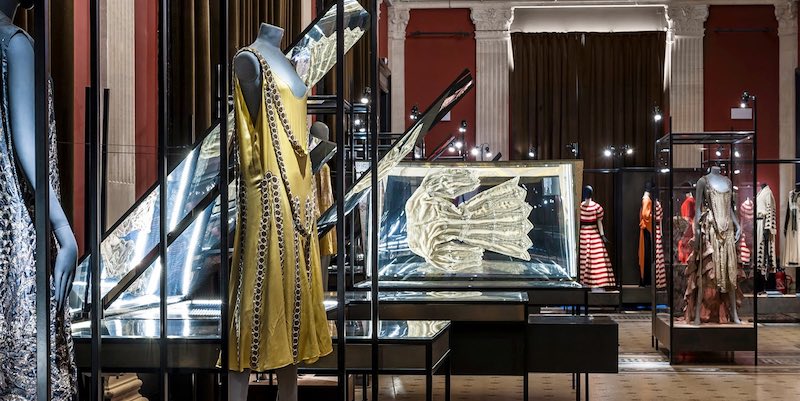 She was born Marie Brignole-Sale in Genoa, to a wealthy family whose titles included doges, senators, ambassadors, and poets.
Her father, Marquis Antoine de Brignole-Sale, was prefect of the Ligurian Republic, appointed by Napoleon Bonaparte himself. Antoine went on to become the Sardinian ambassador to France, where he developed a friendship with Louis-Philippe. Marie's childhood was spent frolicking at the Tuileries palace with the king's children. She considered them cousins.
In 1828, Marie married Marquis Raphaël de Ferrari. He was a railway magnate who developed the important Paris-Lyon-Méditerranean line. He also was a key player in the construction of the Suez Canal. Baron Haussmann gave him plenty of opportunities to make, shall we say, numerous profitable real-estate transactions. By 1850 they were the wealthiest couple in France.
With money problems out of the way, the family was able to devote themselves to charity, the arts, and the good life. Their mansion on Rue de Varenne had 200 domestic staff. Faithful to their Italian roots, the couple purchased an estate in Piedmont and were named the Prince and Princess of Luciedo. But all good things, it seems, must come to an end. In 1876 Raphaël died unexpectedly. In a twist only found in fiction, their only son Philippe refused the family inheritance — he just walked away from it.
A widow spurned by her son, the Duchesse de Galliera was sitting on an immense fortune. She devoted herself to charity, founding a hospice for seniors, an orphanage, and also gave one million gold francs to establish the Ecole Libre des Sciences Politiques. The duchess decided to build a museum for her art collection on land in Paris she and her husband had purchased. Her collection, started by her family way back in 1623, contained portraits by Van Dyck and included Flemish, Spanish, and Italian masterpieces. Maria had intended to leave these works, and her mansion, to Paris.
The project ran into trouble with a French law of 1884 that sought to drive out the previously ruling royals and imperial families, like her own. In a handwritten will dated October 7, 1884, the duchess withdrew her collection in favour of the Palazzo Rosso in Genoa. She disinherited Paris. The Palais Galliera was built as planned, however. When it was finished, she donated it to of the City of Paris.
She died in Paris December 9, 1888, but it wasn't until 1977 that the Musée de la Mode et du Costume at the Palais Galliera was officially opened.

Galliera Fashion Museum Paris – Resources
10 avenue Pierre Ier de Serbie
16th Arrondissement
Metro: Alma-Marceau (line 9), Iéna (line 9), or Boissière (line 6)
Opening Hours During Exhibitions
Tuesday to Sunday – 10:00 AM to 6:00 PM
Thursdays until 9:00 PM
Closed on Mondays and public holidays