Summer Dining In The City – 10 Of The Hottest Paris Terraces
One of our favorite things about Paris is how much Parisians love their outdoor terrasses. As soon as the skies are blue and a few rays of sunshine appear you will see tout le monde sitting outside on the Paris terraces to enjoy an apero, lunch, or tea break in sun-drenched outdoor spaces.
The Paris terraces we like the best are drenched in greenery, surrounded by cobblestones, and sometimes with an umbrella or two. Les terrasses bring a (subtle) smile to Parisians, who are used to be stuck in an office or under the grey skies of winter. The ideas for this list of the hottest Paris terraces are courtesy of Parisian newspaper, Le Figaro but we pared their selection down to our top ten.

1. Bambou
A bit of Bangkok brought to Paris. The terrace courtyard has jungle touches like patio lanterns, bamboo, and colony-inspired outdoor lounging sofas, chairs and tables. The Thai kitchen turns out a variety of spicy coconut-based curries, spring rolls, and pad Thai noodle dishes. On rainy days, take refuge in the lower level bar and speakeasy.
2. Marcello
Slightly below street level is Marcello, an Italian restaurant that serves tasty tapas such as Sicilian arancini, small tramezzini, (triangles of bread filled with tuna and slivers of artichoke), homemade pasta, and antipasta platters. The terrace is bigger than average for Paris with enough room for seventy sun lovers. As you might expect in an Italian village, the terrace is made of cobblestones and its creamy white stone building matches the famous church nearby — St-Germain-des-Prés. (Photo by restaurant reviewer Giles Pudlowski.)
3. Flora Danica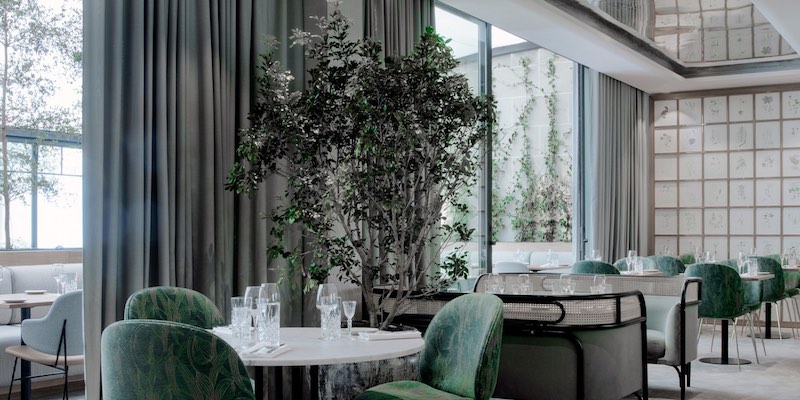 Here's is a little Paris Insiders secret, not listed in many travel guides. Just a stone's throw from the Arc de Triomphe, this modern brasserie is housed in the Maison du Danemark and celebrates Scandinavian culture and cuisine. During summer its exceptional outdoor terrace is the perfect place for a quiet lunch or Scandinavian dinner. Although we love the patio, there are a total of three dining area options — the terrace, the winter garden, and the large dining room furnished with cozy sofas.

4. Grand Marché Stalingrad
This is BIG Paris and one you're not going to bump into on the tourist trail. But it is worth a journey to the 19th Arrondissement to visit this very expansive, playful outdoor terrace. At the foot of the Bassin de la Villette and next to the raised track of Metro Line 2, Italian chefs are behind the stoves in an indoor kitchen turning out authentic thin-crust pizzas, lasagnes and grilled vegetables. Meanwhile, outside on the terrace is a modern kiosk where you can try upscale Mediterranean food like plump-stuffed pitas and kebabs.
5. Scotta
This is a quaint neighborhood place in the Aligre neighborhood (12th Arrondissement) where locals gather to dine on freshly turned out pizzas and other casual eating options. The interior is pleasant enough, but its real charm is the patio; its flowers and garden furniture turn it into a real oasis. In addition to speciality items like burrata from Puglia (aged for 18 months), the menu offers classic pizzas. For dessert try the Nutella crême brulée.
6. GreenHouse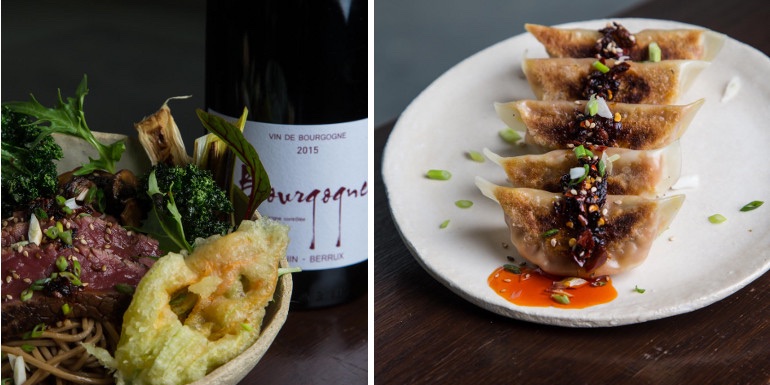 It's the latest feather in American transplant Kristin Frederick's cap. (She was the founder of the first food truck in Paris, Le Camion qui Fume) At GreenHouse she brings a peaceful California zen attitude to the menu with fresh herbs, salads, radish sprouts, and edible flowers. The menu is eclectic with vegetarian gyozas, tempura, grilled avocado and quinoa garnished with smoked hummus. The patio is the real star of the show, so when you're tired of life and good French food, come here for a plate of sprouts. Or something.

7. Maison Plisson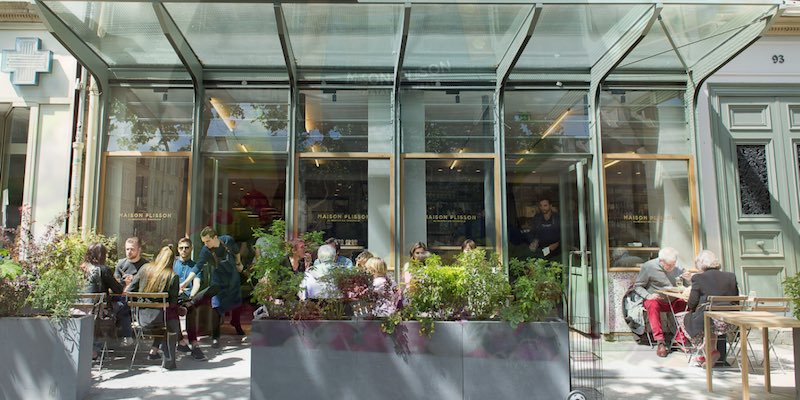 A little bit Whole Foods, a little Dean and Deluca, Maison Plisson is the newest darling of the Paris food scene. Paris bistro chef Yves Camdeborde consulted on the space, and chef Bruno Doucet helped to design the menu. The trendy market/cafe is a sprawling place (for Paris) and serves casual French food like cold tomato soup with Basque country peppers and meatballs on a bed of bulgur with rice pudding for dessert. Grab some grub and sit in the sunshine on the outdoor front terrace. On the edge of the Marais.
8. Restaurant du Palais Royal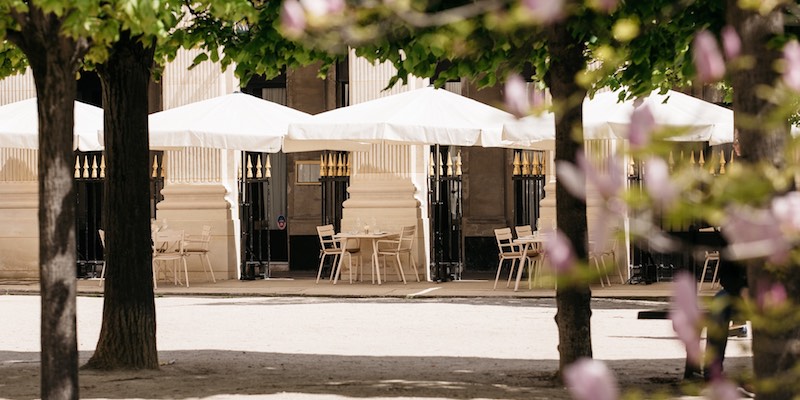 Another hidden Paris treasure, this upscale restaurant located beneath the arcade in the leafy gardens of the Palais Royal, has recently earned a Michelin star with young chef Philip Chronopoulos at the helm. Not yet 30 years old, Chef Philip worked for Joel Robuchon at L'Atelier de Joel Robuchon Etoile before going on his own. Yes, the terrace is seasonal and yes, it is small, but the setting is magical. From your terrace table, you overlook the former royal residence and the beautiful gardens. And the food? Expect classically-prepared, elegant dishes worthy of a Michelin star.
9. Cafe Suedois
This is a real pärla — that's "gem" to you and me, "perle" to Parisians! Set in the Swedish Cultural Institute in the Marais at Hôtel de Marle, you can spend easily a sunny afternoon in the quiet paved courtyard dining on delicious Swedish delicacies. If it's not terrace weather, there is a nice interior room. Quick update — the Swedes are renovating the cafe but it will reopen in September 2017.

10. Moncoeur Belleville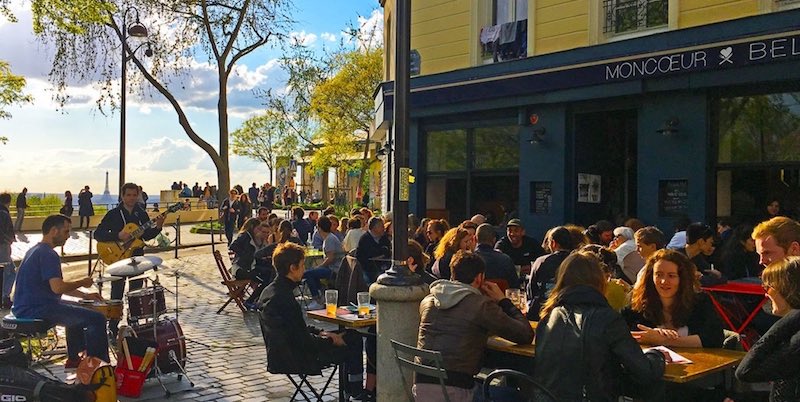 Now for something completely different. Let's head to the far reaches of Paris to Belleville in the 20th Arrondissement, to what maybe the finest patio in the city. You may not take our word for it, but the terrace here has an exceptional view of the Eiffel Tower, even at this distance. The sprawling terrace spills over a cobblestone square and is completely car free. After your lunch or apero take a stroll across the street to Parc de Belleville.