They're Back! New Paris Museum Exhibitions For The 2021-22 Season
A lot has happened in the Paris museum scene since the outbreak of Covid-19 in early 2020 and the resulting lockdowns and closures and openings and closures and openings. Now that Paris museums are again welcoming visitors, you might notice that many of the postponed exhibitions have been rescheduled for this year and next.
So, let's take a look at the refreshed calendar of the top Paris museum exhibitions for 2021 and into 2022. After more than a year of start and stop, there's real comfort to be found in the exhibition lineup at museums like the Louvre, Musée d'Orsay, Centre Pompidou, Quai Branly, Petit Palais, and the newly-renovated Musée Carnavalet.
Museum Exhibitions at the Louvre 2021-22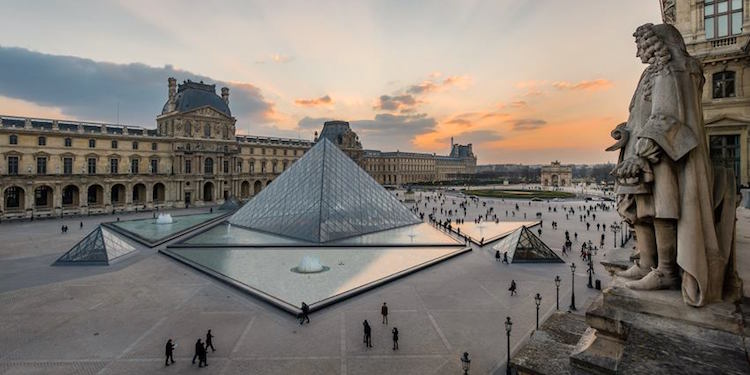 When the most popular museum in the world announces its new exhibitions art lovers sit up and pay attention. Even with lockdown and other difficulties, curators have been busy planning interesting new exhibitions.

Paris to Athens – Birth of Modern Greece
To celebrate the bicentenary of the Greek Revolution, the Louvre presents an exciting exhibition that traces the artistic link between Greek and European culture; specifically focussing on Paris and Athens. The show concludes with works by the Greek group TECHNE, which exhibited in Paris in 1919.
Louvre, Hall Napoleon
Ends February 7, 2022

Pharaoh of the Two Lands
Discover the ancient history of Sudan and the Nile Delta. This exhibition also commemorates the bicentenary anniversary of the godfather of Egyptology, Jean-Francois Champollion. A professor at only nineteen years old, Champollion later translated hieroglyphics while working at the Louvre.
Louvre, Hall Napoleon
April 7, 2022 to July 25, 2022

From Afar: Precious Objects from Elsewhere
Since ancient times, carnelian, lapis lazuli, ebony, and other precious materials have circulated along trade routes. This exhibition highlights these precious materials as well as exotic animals who have traveled between the continents since the Middle Ages.
Louvre, Petite Galerie
September 22, 2021 to July 4, 2022

The History of Still Life at the Louvre
Believe it or not, the last time a still life exhibition was shown at the Louvre was back in 1952! This new show will pay homage to Charles Sterling's love of still life. Sterling was an art historian, who was the curator of paintings at the Louvre for 32 years, from 1929 to 1961.
Louvre, Hall Napoleon
October 12, 2022 to January 23, 2023
Museum Exhibitions at Musée d'Orsay 2021-22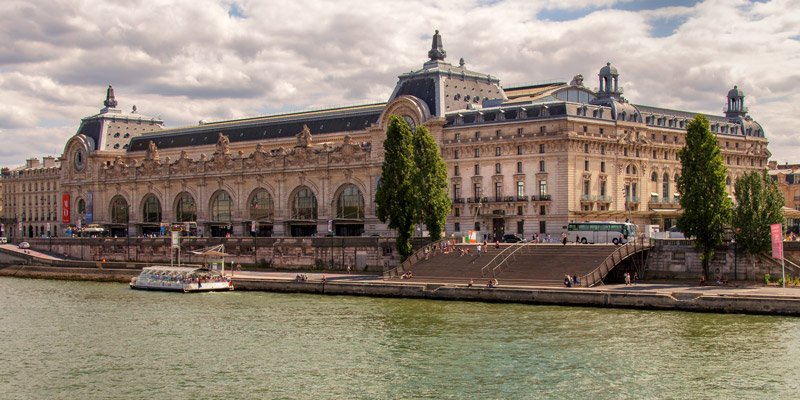 Once a Belle Epoque train station, in 1986 Musée d'Orsay was transformed into the world's greatest museum dedicated to Impressionism and 19th century art. A few years ago the museum was given a facelift with a nifty reshuffling of the paintings and a new paint job (white walls are so 20th century) to better highlight the artwork.

Cinema! French Entertainment 1833 to 1907
Discover 300 films and related paraphernalia including works by some well-known artists like Pierre Bonnard and the Lumière brothers, the inventors of cinema.
Musée d'Orsay
Ends to January 16, 2022

Marlene Dumas
To celebrate the bicentenary of the birth of Charles Baudelaire (1821-1867), South African artist Marlene Dumas has produced a series of paintings inspired by his work.
Musée d'Orsay
October 8, 2021 to January 30, 2022

Signac, the Collector
Paul Signac (1863-1935), who with Georges Seurat invented the painting style called pointillism, was also a keen art collector. See his fabulous collection of works by Bonnard, Matisse, Fauves.
Musée d'Orsay
October 12, 2021 to February 13, 2022

Gaudí
Antoni Gaudí (1852-1926), architect and designer, left his mark on Spain at the turn of the 20th century and continues to fascinate today. For the first time in fifty years in France, a large-scale exhibition is dedicated to this master of Art Nouveau.
Musée d'Orsay
April 12, 2022 to July 17, 2022

Aristide Maillol
Maillol, born in a small fishing village in the Pyrénées, moved to Paris in 1881 to study painting at the École des Beaux-Arts. But a chance encounter with Paul Gauguin changed the direction of his art. By age 40, he was a dedicated sculptor.
Musée d'Orsay
April 12, 2022 to August 21, 2022
Museum Exhibitions at Centre Pompidou 2021-22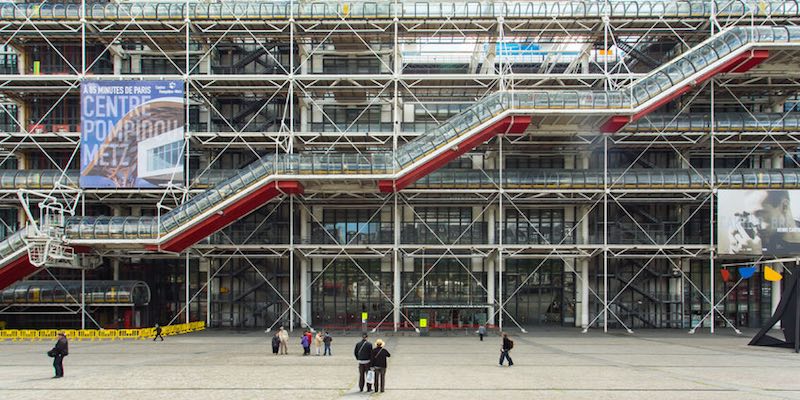 It's been well over forty decades since the opening of the Pompidou and, while not as magnificent as the 40th anniversary celebrations a couple of years ago, there are going to be fascinating exhibits for modern art fans in 2021 and 2022… until the museum closes for yet another renovation for three to seven years!

Petits Papiers du 20e Siècle
Paul Destribats (1926-2017) was an avant-garde collector and scholar. This exhibition showcases 12,000 of the "little papers" — leaflets, posters, and documents from his collection — that have been donated to the Kandinsky Library.
Centre Pompidou
Ends January 31, 2022

The People of Tomorrow, Jean-Charles de Castelbajac
This exhibition-workshop by French artist Jean-Charles de Castelbajac stimulates children's artistic sensibility and draws their attention to the signs of our times.
Centre Pompidou
Ends May 9, 2022
Exhibitions at Musée du Quai Branly 2021-22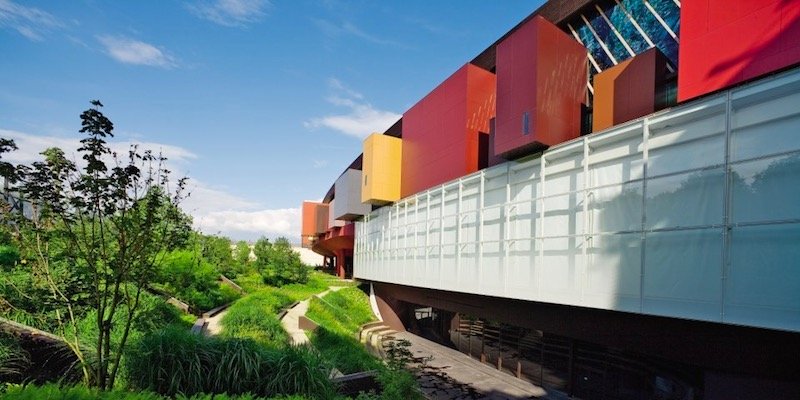 Dedicated to the study of mankind and the world, Musée du Quai Branly showcases world cultures — African, Asian, Oceania, and the Americas. The museum is relatively new to the landscape of Paris museums, opening in 2006. It's very close to the Eiffel Tower.
Architect Jean Nouvel gets around. After he designed the controversial Institute du Monde Arabe in Paris, he went onto to create Musée du Quai Branly. The museum is a jumble of forms that also features tranquil gardens with a natural aesthetic — no formal French gardens, no lawns, no lavish entrance staircase. Instead, the garden is a series of small landscapes with native French plants.

Maro Ura – A Polynesian Treasure
The exhibition traces the history and cultural importance of the feather belt, one of the most prestigious objects of the great chiefdoms of the Society Islands. Related to worship of the god 'Oro, these sacred belts were used during commemorative ceremonies.
Musée du Quai Branly
October 19, 2021 to January 9, 2022

Out Of The Shadows, Sculptures From Southwest Congo
Shining a spotlight on Bandundu, a former province of the Democratic Republic of the Congo, this exhibition features 150 works from this little-known, yet artistic region.
Musée du Quai Branly
December 14, 2021 to April 10, 2022

On The Road To Chiefdoms Of Cameroon
Discover the art of the communities settled on the high-altitude plateaus of Grassfields, in west Cameroon.
Musée du Quai Branly
April 5, 2022 to July 17, 2022

Future Lullaby: The Cradle of Yesterday, Today and Tomorrow
This exhibition is all about lullabies heard through the ages and across continents. This one may be a sleeper hit.
Musée du Quai Branly
May 20, 2022 to September 25, 2022
Petit Palais Exhibitions 2021-22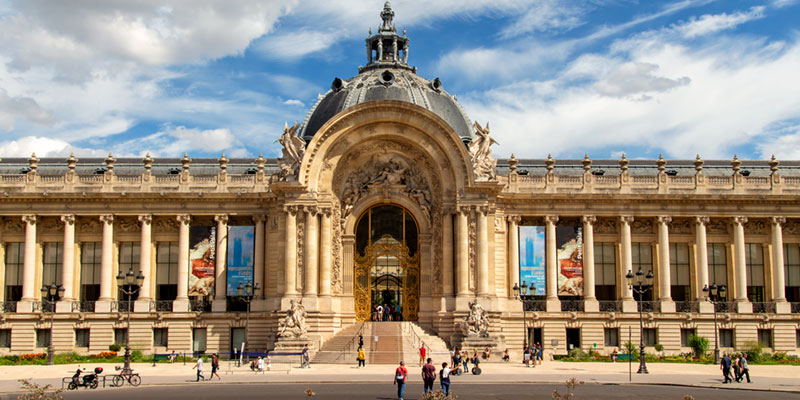 If you're in the mood for a small museum, make your way to the impossibly adorable Petit Palais, found directly across the street from big brother, the Grand Palais on Avenue Winston Churchill in the 8th Arrondissement (easy walking distance from Place de la Concorde). Built for the 1900 Universal Expo, the Petit Palais is now the home to the Musée des Beaux-Arts de Paris, the city's fine arts museum. There's a pretty interior courtyard and a cafe to relax in before or after viewing the museum. We always stop in when we're in the area, especially since it's free!

The Narcissus Theorem – Jean-Michel Othoniel
Contemporary French artist Jean-Michel Othoniel is taking over Petit Palais spaces and garden with his art installation. It's his biggest solo show since his retrospective at the Pompidou.
Petit Palais
September 28, 2021 to January 2, 2022
Musée Picasso Exhibitions in 2021-22

The Musée Picasso is a jewel set in the Marais, set in the historic and grand Hotel Salé. There are over 5,000 works that cover Picasso's paintings, sculptures, engravings, drawings, studies, drafts, notebooks, etchings and letters. If you are a Picasso fan, this is a must-see destination in Paris.

Picasso – Rodin
This much-anticipated exhibition exhibition, featuring two masters and mounted in two Paris museums, continues in September. Running concurrently at the Musée Picasso in the Marais and the Musée Rodin in the 7th Arrondissement, Picasso – Rodin graphically demonstrates how these two artists, together and individually, heralded a turning point in modern art.
Musée Picasso & Musée Rodin
Ends January 2, 2022

Picasso à l'Image
It's simply about Picasso in front of the camera. See art films, archives, and documentaries shot during his lifetime, presenting facets of Picasso's personal and artistic life.
Musée Picasso
November 9, 2021 to February 5, 2023
Musée de l'Orangerie 2021-22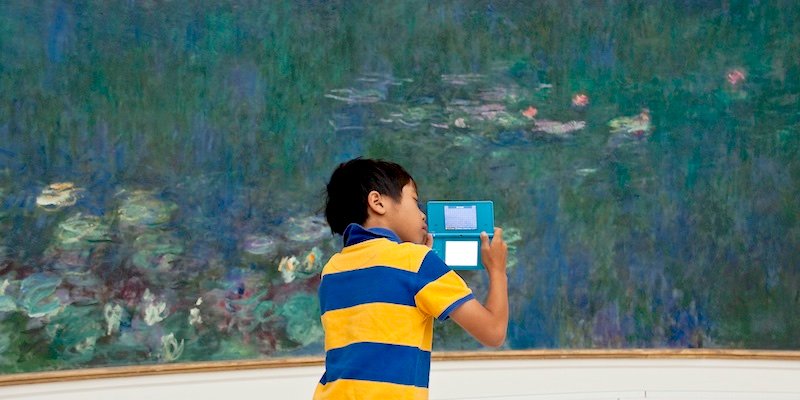 Tucked into the Jardin des Tuileries right at the Place de la Concorde, the 1852 stone structure facing the Seine was once the greenhouse that helped to nurture orange trees for the garden. (There's also an orangerie in the Jardin du Luxembourg, and it's still used to store plants during the winter.) Now, it's home to Monet's stellar waterlily murals. But, the Orangerie Museum has more artistic surprises in store, including this year's exhibitions. Upcoming exhibits at l'Orangerie…

Soutine/De Kooning
In this exhibition you can see works by Russian painter Chaïm Soutine (1893-1943), alongside those of Willem de Kooning (1904-1997), the American Abstract Expressionist. The exhibition explores the impact of Soutine's painting on the American painter. At the end of 2021.
Musée de l'Orangerie
Ends January 10, 2022

David Hockney: A Year in Normandy
Celebrated British painter David Hockney has initiated a new chapter in his artistic journey depicting his house, his garden and the surrounding countryside of Normandy. In the form of a narrative cycle depicting the arrival of spring, this work was created during the Covid lockdown.
Musée de l'Orangerie
October 13, 2021 to February 14, 2022
Musée Marmottan-Monet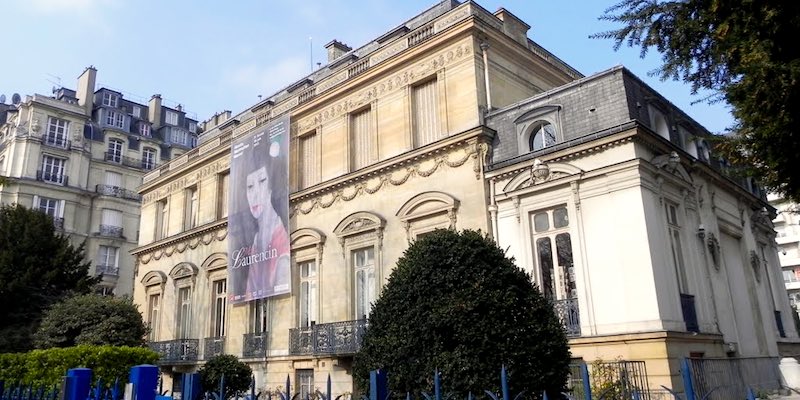 If you love Claude Monet and the Impressionists you won't want to miss the Musée Marmottan-Monet in the 16th Arrondissement. (Its name is a clue!) Set at the foot of charming Parc Ranlegh in the posh neighborhood of Passy, this museum contains the largest collection of Monet paintings in the world. Claude's son Michel left his father's art to the state of France at the time of his death in 1966, including the iconic Impression: Sunrise, the painting that gave the movement its name.

The Manet Girl
This is the first exhibition dedicated to Julie Manet (1878-1966), the only daughter of the Impressionist artist Berthe Morisot, and the niece of Impressionist mentor Édouard Manet. One hundred works feature paintings, sculptures, pastels, and watercolors that retrace her life.
Musée Marmottan-Monet
October 19, 2021 To March 20, 2022
Musée Carnavalet 2021-22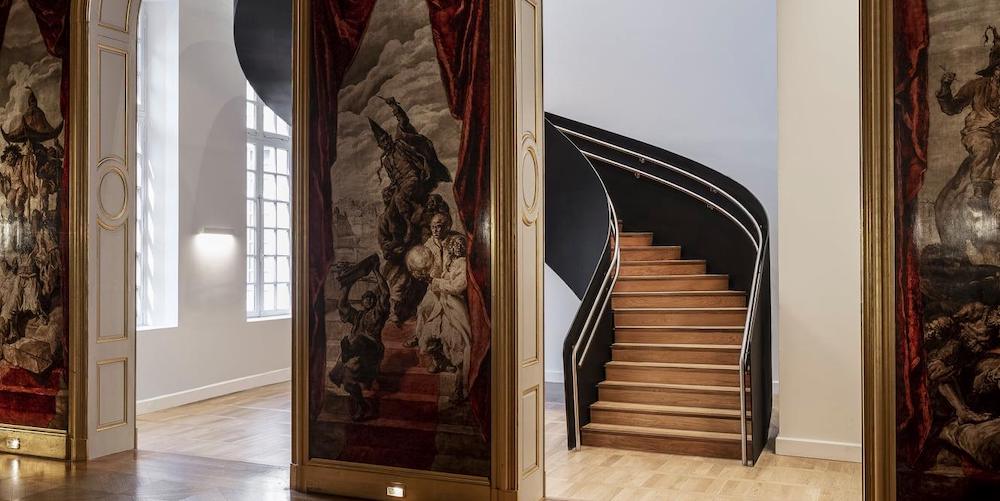 After a renovation five years in the making, with a €58 million total budget, Musée Carnavalet reopened just as the 2021 lockdown eased in Paris. The once-rambling museum of the history of the city of Paris has been modernized under the guiding hand of François Châtillon, chief architect for France's historical monuments.
The whole place has been updated with ramps and lifts and a couple of swooping spiral staircases. Some of the paintings, sculptures, and posters have been lowered so kids can see them as well. New digital displays have also been created. As a City of Paris museum, entrance to the permanent collection is free with a small admission charged for certain temporary exhibitions.
Musée de la Vie Romantique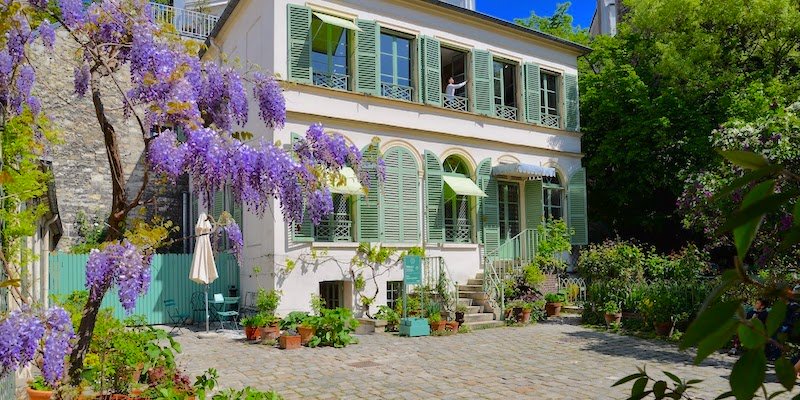 Once you've spent time at the big museums of Paris, you may want to get off the tourist track to take in one of the most relaxing, charming, and romantic museums in Paris. Visit the website for exhibition updates…
Maison de Victor Hugo

In a 17th-century townhouse on classic Place des Vosges is the Paris home of novelist Victor Hugo, now a museum of his life and work. La Maison has recently been renovated and now sports added space, restored treasures, and new acquisitions. The upgrades also include a tea room and a small garden to relax in. Definitely a treasure among the small museums of Paris. Visit the website for exhibition updates…

Victor Hugo – Dessins/Drawings
Who knew that Victor Hugo, in addition to being a writer of fame, could also draw? This exhibition presents a unique collection of drawings by the creator of Quasimodo, the maker of Les Misérables, the man himself, Victor Hugo.
Maison de Victor Hugo
Ends November 21, 2021
Jeu de Paume 2021-22

It's another one of our favorite spots in Paris. Formerly a tennis court for royalty during the reign of Napoleon III, set right on the edge of Jardin des Tuileries, it's now a museum dedicated to photography and modern media art. Like most things in Paris, it has a long history. In between its time from tennis court to photography museum, Jeu de Paume is where the Nazis stored the art they plundered from France. After the war and until the Musée d'Orsay opened in 1986 it was where the overstock of important Impressionist paintings was kept. In 1991, after a serious renovation, the Jeu de Paume opened as France's first national gallery of contemporary photography.
The Jeu de Paume is closed for renovations, probably until some time in 2022. (You can always add at least a year to a Paris museum's projected re-opening date following a renovation — and 50% to the cost!)
Atelier des Lumières

Opened in 2018, Atelier des Lumières is the first all-digital art museum in Paris. The modern-age cultural center has been created inside a former iron foundry dating back to the early 19th century. Past shows have featured painters like Klimt, van Gogh, Renoir, and Chagall.

Dalí – The Endless Enigma
Be immersed in the surrealistic and metaphysical landscapes of the world of Salvador Dalí. Paintings scattered around around the world are featured in this dazzling digital exhibition, including works from the Gala-Salvador Dalí Foundation at Figueres, the Dalí Museum in Florida, the Reina Sofía Museum in Madrid, and MoMA in New York.
Atelier des Lumières
38 Rue Saint Maur, 11e
Ends January 2, 2022