Information About Paris Taxis – Costs, Tipping, Communicating
In short, taxis are a good way to get around Paris. In the past getting a Paris taxi could be a bit of a challenge — you couldn't hail a cab on the street, but had to find a designated taxi stand and wait there until one of the 15,500 Paris taxis arrived. But we've noticed a loosening of the rules and we often see people hailing a taxi on the street. In fact, these days it seems that drivers can now pick up riders who hail them down, as long as they are more than 50 metres away from a taxi stand. The bottom line — it's fairly easy to hail a cab.
At official taxi stands you can sometimes find a cab already waiting, or you can wait there for the next one. Any good map of Paris should indicate where taxi stands are. To spot an available taxi look for a cab with a bright light on top. That indicates the taxi is ready for customers. At the airports and the train stations there are always taxi valets that wave the line forward and point you to your taxi. It's very civilized, there's no crowding or shoving.

How Much Does a Paris Taxi Cost?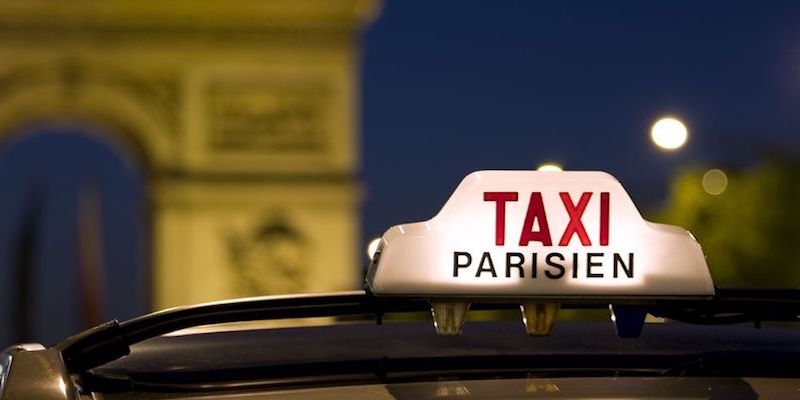 If you have to get to the airport in the morning, be sure to order your taxi the day before.
The meter starts at about 2.20€ and the minimum fare is about 6.00€. There's also something called an approach price. This applies when you arrange for a taxi to come to your hotel or apartment. You will be charged for the journey to get to you.
Taxis in Paris generally do not take credit cards, so be prepared to pay in cash. If you do want to try to pay with a credit card from the airport, always ask the cab driver if they accept cartes bancaires before you jump in. But, to avoid problems, try to make sure you bring about 100€ with you to Paris.
One exception to the rule is Taxi G7, where all cars take credit cards. There is an English-language website and even and English-language phone number where you can order a cab.
Taxi Cost from Charles de Gaulle Airport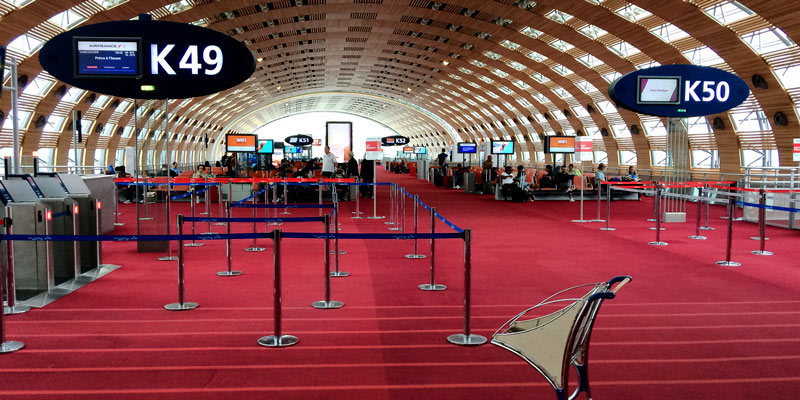 Today there are flat rates for getting from Charles de Gaulle to centoral Paris. From the airport to a Right Bank address the rate is €50. To the Left Bank the rate is €55. You might want to clear this up with your driver before you leave the airport by saying "fifty euros?" or something like that.
The introduction of flat rates from the airport are a definite improvement. Previously, rates could climb pretty high when traffic was slow, because the rate is based on both time and distance. Remember, if you reserve a taxi in advance (such as at G7), you'll have to pay an extra reservation and pickup fee in addition to the fare. However, it isn't necessary to book a taxi in advance — at the airport you'll find plenty of them at the clearly-designated taxi stands.
Taxi Caveat
Don't do what a friend of ours did. (We won't mention any names, but you know who we're talking about, Tom.) He accepted a taxi ride from a scam artist who approached him inside the airport, not at the official taxi stand. Our friend got to his hotel all right, but he managed to pay about three times the going rate! Always check to make sure the taxi has a meter and a visible taxi sign on the roof. And always find the official line up at the T taxi sign with the valet working the line. (This scam is only pulled at the airports and train stations.)

How Do I Communicate With the Driver?
Many taxi drivers in Paris speak a little English, but it's always a good idea to have a pen and paper to write down the address. There are many similar sounding streets and you could wind up across town. (Especially if you have dubious French accents, like we do.)
A good tip is to print out small slips of paper with the name of your hotel and the address (or your apartment address) before you leave home. That way if you are not confident in speaking French, you can politely hand the driver one of the slips, with a "Nous allons ici, s'il vous plait". (We are going here, please).
And, please, don't forget Parisian politeness. Say "bonjour, monsieur" or "bonjour, madame" when you get in and "merci, avoir" when you leave.
Sundry Taxi Information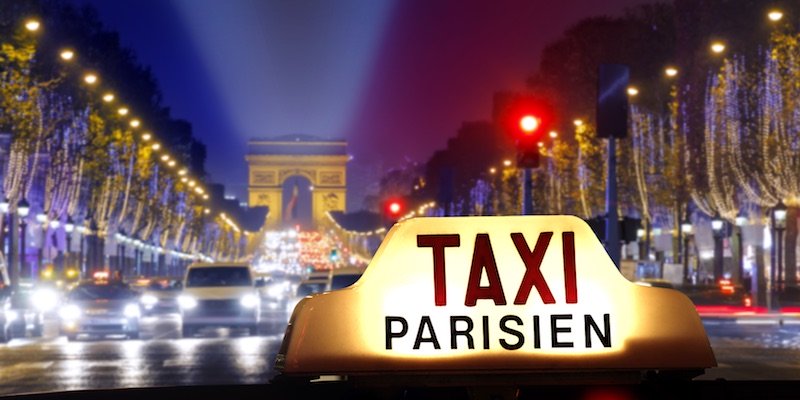 There are no amateur taxi drivers in Paris, it's a serious profession. All the drivers are professionals who have successfully passed exams controlled by the Paris police department. In general, we've found Paris taxis to be cleaner and the drivers more professional than in many other cities.
Taxis cannot charge extra for up to four passengers, a fifth passenger will entail an extra charge. There is no longer additional charge for luggage. There is no charge for wheelchairs. Remember, you don't need to tip your taxi driver in Paris, it's already included in the price, but it's polite to round the fare up to the next Euro.