10 Enduring Paris Bistros On The Left Bank – Culture & Cuisine
Just hearing the evocative names from the Left Bank — the Latin Quarter, Saint-Germain-des-Prés, Montparnasse — fills the visitor with wonder. Let's face it, these Paris quartiers are made up of the things we dream about when we dream about Paris — narrow cobblestone streets, historic bridges crisscrossing the Seine, literary history, and small, intimate bistros. We've scoured our petit livre noir to create this list of ten enduring bistros and restaurants found on the Left Bank of Paris.

Discover What's On When You're Here...
Discover What's On When You're Here
1. Chez Marcel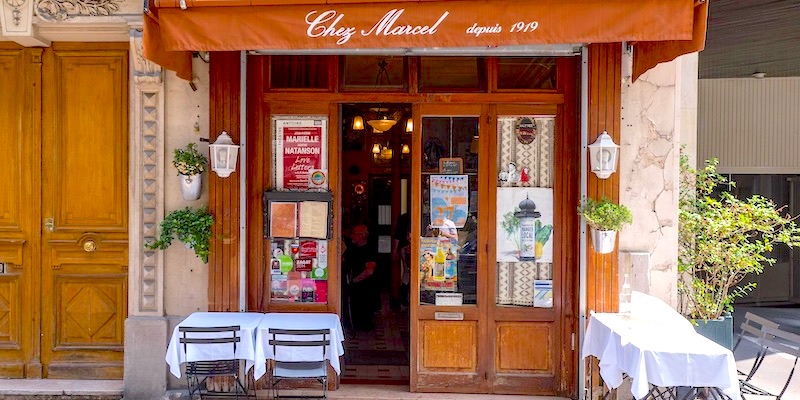 Tucked away on a small street off Boulevard Raspail near Montparnasse, Chez Marcel is one of the most quintessential Paris bistros on this list. The narrow dining room is simply decorated with a smattering of old photos and gleaming copper pots; the kitchen has been been turning out Lyon's signature fare since 1919 — andouillette (country sausage), saucisson de Lyon, escargots, coq au vin, and oeuf mayonnaise. Sure the room is minuscule and the tables are set so close together you might rub shoulders with your neighbor, but the old-fashioned bistro could be just the Paris experience you've been yearning for. Reservations are essential.
2. Le Petit Saint Benoît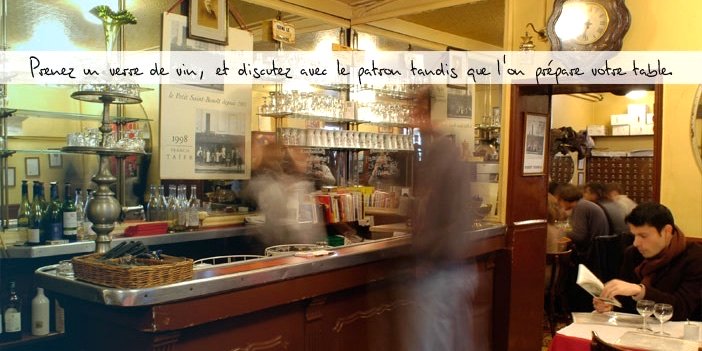 Confit de canard, check. Boeuf bourguignon, check. Cuisses de grenouilles persillade, check. (That's frog's leg with parsley). This very old-fashioned bistro, between Boulevard Saint-Germain and the Seine, serves up hearty French fare in a dining room that goes back to 1901. The walls are festooned with Paris history and the heavy wooden revolving door is a reminder of the past. Well-seasoned servers write orders on the paper tablecloth and move at the speed of lightning to fetch and carry plates from the tiny kitchen. No, this is not fine cuisine or anything close to it, but if you're in the mood to travel back in Paris time, this is the place to go. Warning — credit cards were not accepted last time we checked.

3. Le Reminet
This petit, candlelit bistro with velvet banquettes, gilt mirrors, and crystal chandeliers is Pure Paris. Now, if go you online to read reviews about Le Reminet, you may come upon one from more than a decade ago that trashes the place. But these are the sort of shenanigans that can happen in a Paris bistro — the restaurant can have a bad night, a server can be in a foul mood, mistakes can be made, but we move on. C'est la vie.
Such is the case for Le Reminet. Even though it's located in a touristed area of the Latin Quarter, the small bistro also attracts a local clientele. On the menu are the usual round-up of foie gras, fresh oysters, alongside the restaurant's signature dish of slow simmered beef cheeks served over, rich, creamy mashed potatoes the color of butter. Reservations are recommended.
4. Le Select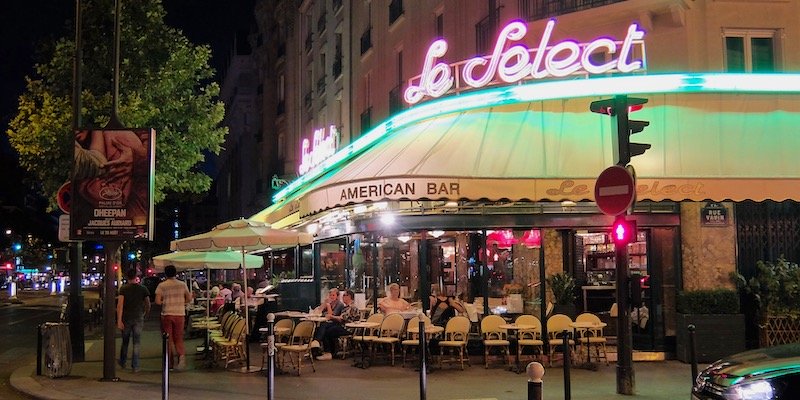 Of all the literary cafes of the Jazz Age, only Le Select still looks pretty much the same as when Hemingway and Fitzgerald were regulars. You'll love the ochre-colored walls, the original 1920s moldings, the Lalique lighting fixtures, and the wrought-iron details. Expect basic bistro fare like steak tartare, grilled onglet de boeuf (hangar steak), bone marrow, escargots, and an extra tasty version of croque monsieur made with Poilane bread. Le Select is just around the corner from Chez Marcel, on bustling Boulevard du Montparnasse.

5. Bouillon Racine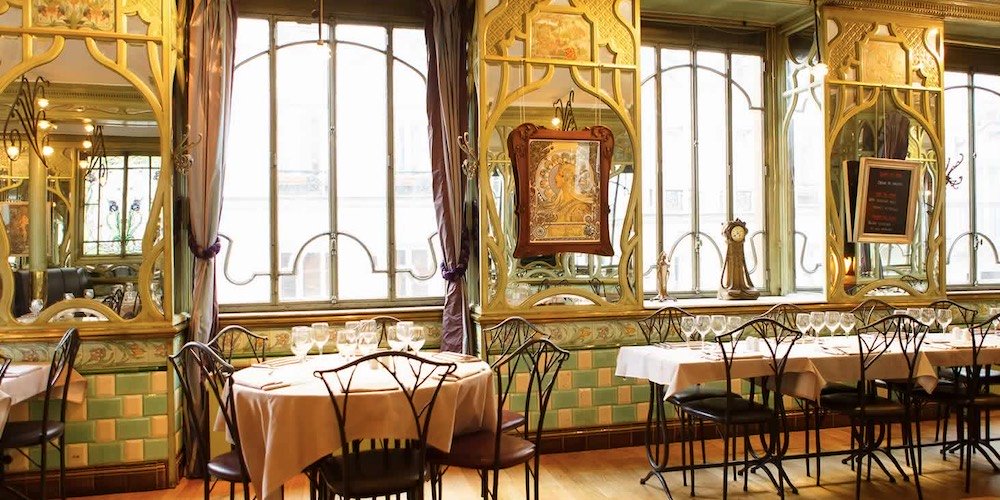 Bouillon Racine is an Art Nouveau dream bistro complete with curves, swirls, period mirrors, and wrought iron furniture. In short, perfectly preserved Paris. In 1906 the Chartier family, owners of Bouillon Chartier in the 9th, opened their second location on Rue Racine near Musée Cluny. It stayed in the family until 1926, and then floundered under various subsequent owners until the University of Paris bought it in 1962 and turned it into a staff cafeteria, of all things. Now, three decades later, and after an extensive renovation to restore it to its former glory, Bouillon Racine has opened its doors to the public once again.
This is the place to go for old Paris favorites like frisée salad with chunks of smoked bacon, poulet fermier rôti frites (roast chicken with fries), pavé de rumsteack (thick cut steaks topped with herb butter), baba au rhum chantilly, and pruneaux au vin glace vanille (prunes soaked in wine, served with ice cream). Both the exterior of the building and the Art Nouveau interior have been classified as historical monuments. FYI — bouillon literally translates as "soup" but here it refers to the 19th-century restaurants that served traditional French cuisine at bargain prices.
6. Brasserie Lipp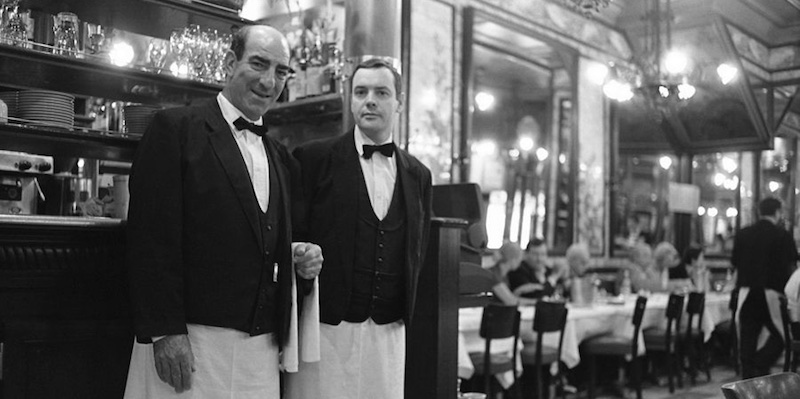 We avoided this place for the longest time, fearing it would be an overpriced tourist trap, located as it is in the middle of busy Saint-Germain-des-Prés. We were wrong. Fine food, nope. Elegant surroundings, not really. But the historic brasserie has its own charm, partly due to its longevity, reaching back to 1880. There's also a fun factor that makes it work. Diners are packed like sardines, and you'll hear a blend of English, French, and a dozen other languages you usually only encounter on Google Translate, spoken by a mix of locals and visitors.
The veteran servers stay in their groove like a phonograph needle. They tease the diners, weave between tables, and plunk dishes on the table like they're hitting a bass drum. And the food? Expect all the classics like caviar, herring, choucroute Lipp (traditional Alsatian dish of sauerkraut with sausages, pork and ham), pied de porc farci grillé (stuffed and grilled pig's trotters) all served with crisp white wine, ruby reds, and, of course, ice-cold beer. (It is a brasserie, after all.) It's said (by the Man Himself) that Brasserie Lipp was a a favorite haunt of Hemingway, who wrote of it, "The beer was very cold and wonderful to drink." À votre santé, Ernest. Make a reservation before you go.

7. La Rôtisserie d'Argent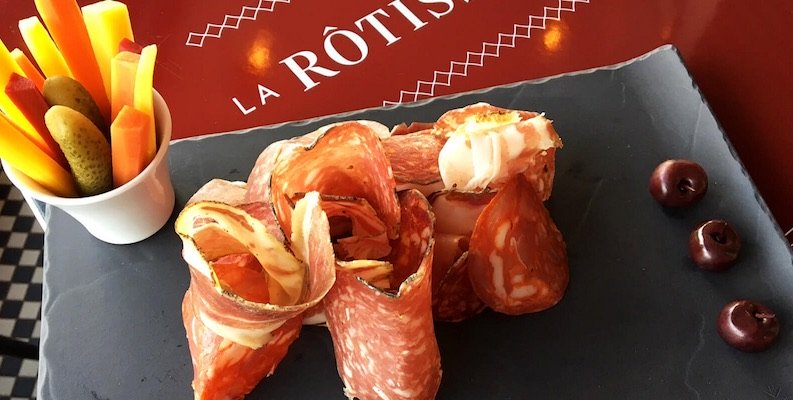 A dining secret in the 5th Arrondissement is to skip the Michelin-starred (and Michelin expensive) Tour d'Argent and instead cross the street to its little sister, La Rôtisserie d'Argent. Managed by the Claude Terrail family, the same folks who own the Tour d'Argent, La Rôtisserie comes across with relaxed swagger, a laid-back attitude, and a menu aimed to save you euros.
This is the Paris you've been dreaming about
— small tables covered with red and white check tablecloths and huge windows that look out onto the Seine at Pont de la Tournelle, which leads across to Île Saint-Louis. As the name indicates, the star of the show is the rotisserie — you can see it from all corners of the room — slowly turning and perfecting grilled meats and poultry. The crowd is a lively mix of locals and travelers in the mood for simple, well-cooked, hearty, classic French food. You can't go wrong with the roast duck, confit de canard, and, of course,
escargots de Bourgogne en persillade
. We have a hard time making up our minds, so we have to go back frequently.
8. Le Buisson Ardent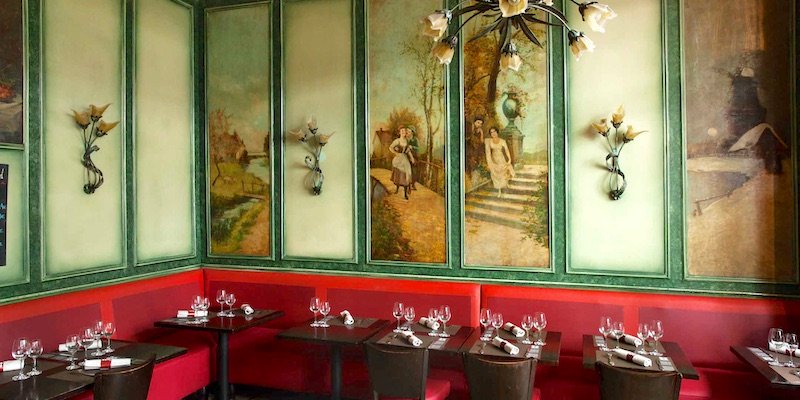 What started out as a coach house was later converted into a bistro. The delightful woodwork and murals were added when the bistro opened in 1925. Tuck yourself into the red banquette and order from a menu that varies from week to week. You might find marinated sea bass, grilled veal chops, seasonal asparagus from the Luberon, or luscious strawberry cheesecake using those juicy, ripe French strawberries.

9. Le Christine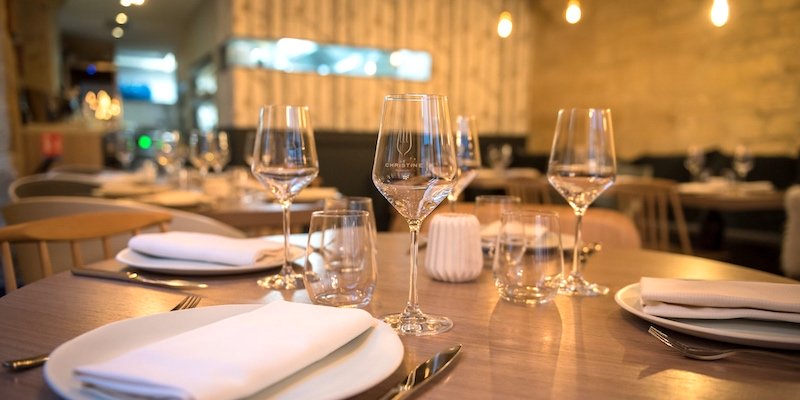 In historic quartier, between Saint-Michel and Saint-Germain-des-Prés, where buildings date back to the Middle Ages, where Picasso had his studio during World War II, on Rue Christine is a place where culinary magic happens. In a handsome room with stone walls, wooden beams, tables nicely lined up, and a banquette with comfy cushions is restaurant Le Christine.
You can order à la carte but you're smarter if you order the service en quatre plats — a four-course tasting menu specially designed by the chef, priced only a few euros more. You might start with asperges, ail des ours, parmesan (a perfectly poached egg with asparagus, wild garlic and parmesan), and move onto house-made tagliatelle, with local morel mushrooms, white asparagus and hazelnuts. Desserts are sublime with offerings like tarte framboises pistaches (a raspberry and pistachio tart), poire rôtie, crème de marron, sorbet poire et romarin (roasted pear, chestnut cream with pear and rosemary sorbet). An added bonus is that the restaurant looks onto a 17th-century courtyard.

10. La Closerie des Lilas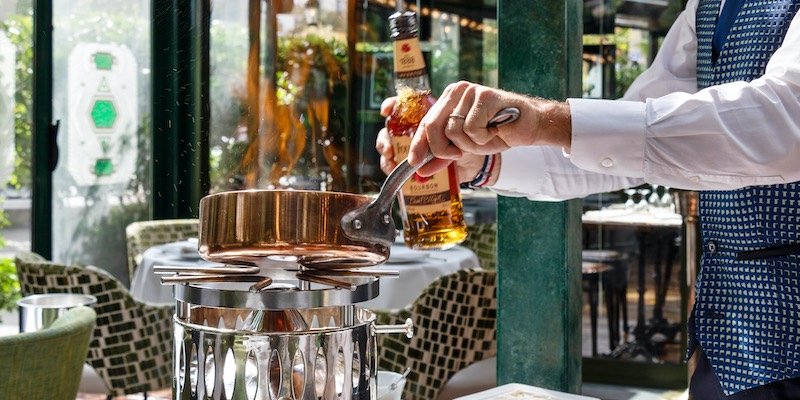 It's pretty difficult to talk about historic Montparnasse without Hemingway's name coming up. La Closerie des Lilas is no exception, it became one of Papa's haunts after he moved to Rue Notre-Dame des Champs in 1924. Try to visit La Closerie in the warmer months when you can linger on their marvelous terrasse, with an army of bamboo and trees to protect you from the noisy boulevard. Inside you have two choices — head to the restaurant side for fine dining or choose the brasserie side for a more relaxed experience.
Whatever you choose at La Closerie des Lilas, you'll think about the legions of legendary artists and writers who came to this space before you — Hemingway, Fitzgerald, Miller, Modigliani, Breton, Picasso, Sartre, , Beckett, Man Ray, Ezra Pound, even Oscar Wilde (it is claimed). But the past doesn't fill your belly. Today guests rave about the fresh oysters, bubbly hot escargots, the crepes Suzette made table side, the Hemingway-style steak and crispy frites. There's also a piano bar where you can listen to a little Edith Piaf.