The Ten Best Montmartre Hotels – Paris On The Top Of The Hill
Retaining the feeling of a hilltop village, Montmartre wears its heritage proudly. This former farming village was still surrounded by fields and vineyards only 160 years ago. In the early 20th century it became well-known as the haunt of artists and writers like Picasso, Renoir, Van Gogh.
Today, it's a vibrant quartier somehow apart from the rest of Paris. Because of its unique nature, it's a fascinating place to set down roots for a week or so. Even better, hotel rates are a bit lower than the rest of Paris. Let's take a look at our collection of the top hotels in Montmartre, including a stunning, newly-renovated bonus hotel!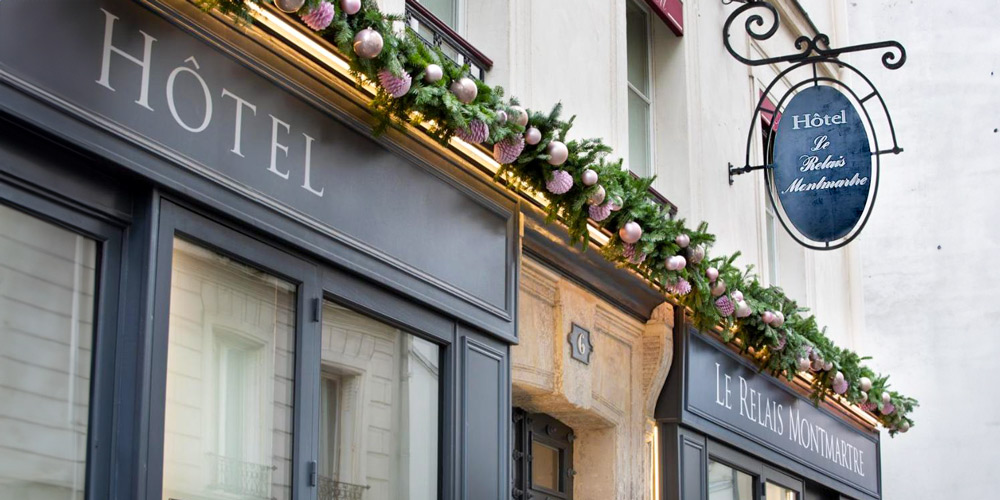 This luxury boutique hotel only has 26 rooms. Each is decorated in pleasing floral prints. Although located on a quite side street, the best of Montmartre is a short walk from the hotel's door — like Moulin Rouge, Sacre Coeur, Moulin de la Galette, and the Lapin Agile nightclub. Guests rave about Le Relais Montmartre's balance between classic design and practical details, noting the recently refurbished rooms, hearty breakfast, the close proximity to great restaurants, wine bars, and metro stations.
How Our Ratings Work
Superb Plus = 93%+ Travelers Rating
Superb = 88%+ Travelers Rating
Highly Rated Plus = 85%+ Travelers Rating
Highly Rated = 80%+ Travelers Rating

Our Rating — Superb
• 6 Rue Constance
• 18th Arrondissement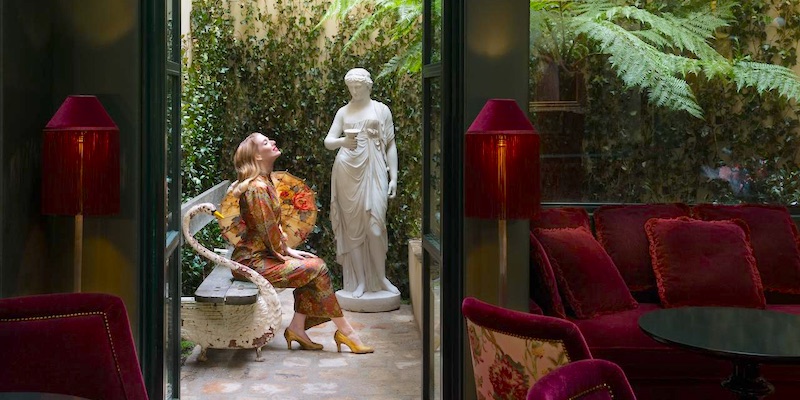 Located just off Place Blanche at the foot of Montmartre, Maison Souquet is set in a 19th-century hotel particulier with Belle Époque period decoration. Not only is there a lovely winter garden, there's even an indoor swimming pool and a nourishing spa. The whole place speaks of lush, enveloping comfort with warm colors and luxuriant fabrics. Choose from a deluxe room, a junior suite, or a two-bedroom family suite.
Our Rating — Superb-Plus!
• 10 rue de Bruxelles
• 9th Arrondissement
On one of the cobblestone streets of Montmartre, near Sacre Coeur but away form the crowds, is where you'll find Mom'Art Hotel. This curiously-named hotel provides you with a true haven in Paris, with its well-appointed, individually-decorated rooms and an in-house spa. We love the bathrobes and slippers the family-run hotel provides, plus, of course, the Nespresso coffee machine in each room. Recommendation — book a room from their Hermès Collection, with an extra-large bed.
Our Rating — Superb
• 42 Rue d'Orsel
• 18th Arrondissement
Set in another 19th-century hôtel particulier in the heart of Montmartre, this 4-star hotel has been popular with artists since 1911. It's only a short walk from Sacré-Coeur. Because Terrass Hotel Montmartre is high on the hill, you can actually see the Eiffel Tower, and the rest of Paris spread out below you, from the rooftop terrace or the seventh-floor restaurant.
The rooms are elegantly decorated in bold red, black and white, and with the added benefit of air conditioning it's very comfortable. In fact, you might never leave — the hotel has its own library/reading room, an activity center with a billiards table, arcade games, and two fitness areas.
Our Rating — Superb
• 14 Rue Joseph De Maistre
• 18th Arrondissement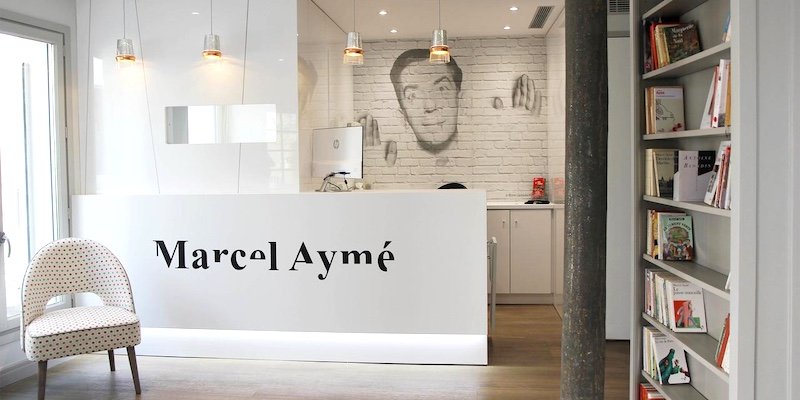 Let's get this out of the way — Best Western is not a chain. It's an affiliation, and the Best Western Plus hotels are the crême de la crême of the group. That certainly describes Hotel Littéraire Marcel Aymé, found on a steep Montmartre street that ends at one of the quartiers historic windmills.
"Newly rebuilt hotel in the most charming part of Paris," reads another 5-star review of this Montmartre gem. "I just loved the place because the bath linen was superbly clean and soft," reads another. Each unique room at Hotel Littéraire features a decor inspired by Marcel Aymé, a popular French novelist who died in 1967.
"Everything was perfect! The small details make a huge difference! We got a small welcome dessert as a gift, there are luxury toiletries in the shower. Nespresso coffee. Bed is so comfortable." The accolades just keep on coming.
Our Rating — Superb
• 68 Boulevard de Clichy
• 18th Arrondissement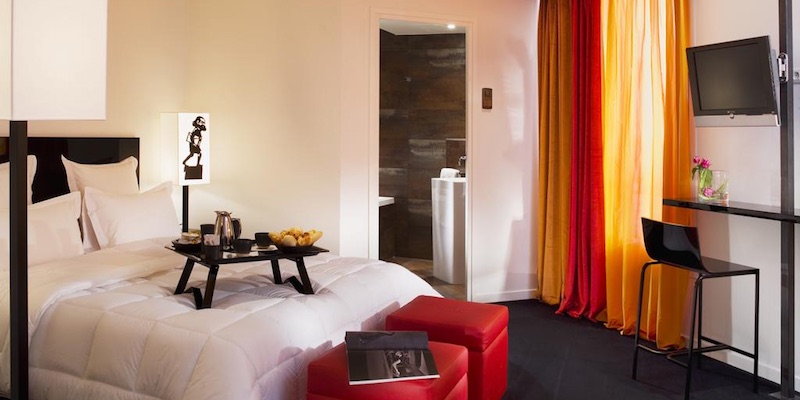 Cat lovers rejoice — this Paris hotel uses a feline theme throughout with fun rooms and suites. (Chat Noir, after all, means Black Cat.) Rooms include Feline (single), Top Feline (standard double or twin), Super Feline (deluxe double), Ultra Feline (triple), and Mega Feline (700 square foot apartment). We'd opt for the Mega Feline because it comes equipped with a kitchen, dining table for eight, and a private balcony.
Le Chat Noir has a fascinating history. It was the first Parisian cabaret, opening its doors in 1881 then becoming so popular that it had to move to a larger location in 1885 and then again just a few years later, to the current site, that later became the hotel. One of the things Picasso was looking forward to when he first visited Paris was a visit to the notorious Le Chat Noir. Alas, Pablo didn't get to Paris until 1900. Cabaret Le Chat Noir closed in 1897. The brightest stars, we hear, burn out the quickest.
Our Rating — Highly Rated
• 68 Boulevard de Clichy
• 18th Arrondissement
This petit gem of a hotel is right next door to Moulin Rouge with secret passages that once allowed direct access to the backstage of the theatre. Today, this boutique hotel's nineteen rooms (and one suite) have been renovated to take advantage of the stone walls, garrets, and the amazing view of Paris from the fifth-floor rooms. Guests love the charming rooms, the well-equipped bathrooms, helpful staff and the neighboring bars & restaurants. Don't be put off by Hotel du Beaumont's unassuming entrance.
Our Rating — Highly Rated
• 3 Rue Lepic
• 18th Arrondissement
Guests of 29 Lepic cite the clean rooms, the friendly staff, easy access to local attractions, and rave about the spacious rooms (rare for Paris). If you're traveling with family, we recommend the fifth floor apartment/suite. Also rare for Paris, Hotel Lepic has been a family-owned and operated hotel since 1972.
Our Rating — Highly Rated
• 29 Rue Lepic
• 18th Arrondissement
9. Mercure Paris Montmartre Sacre Coeur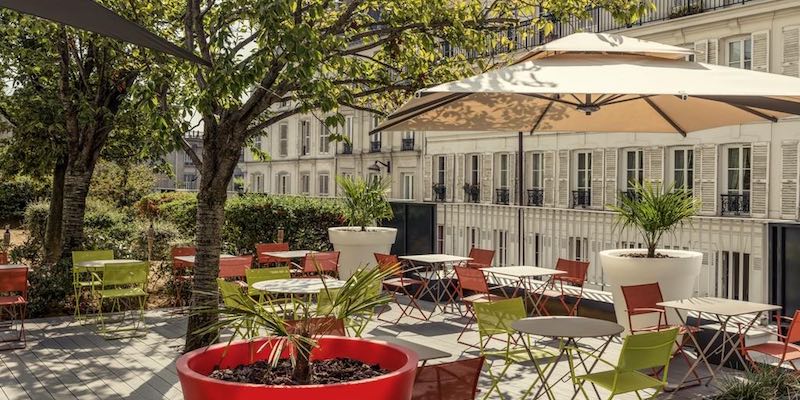 In the cheap-and-cheerful category of Paris hotels is the Mercure chain's offering in Montmartre. (We don't understand this fixation of hotels with incorporating every nearby attraction in their names!) Guests have liked the simple, clean, rooms and are surprised at how close everything is to the hotel. They also love the French hotel breakfast with excellent espresso, baguettes, cheese, butter and fresh fruit. We love the terrasse.
Our Rating — Highly Rated
• 3 Rue Caulaincourt
• 18th Arrondissement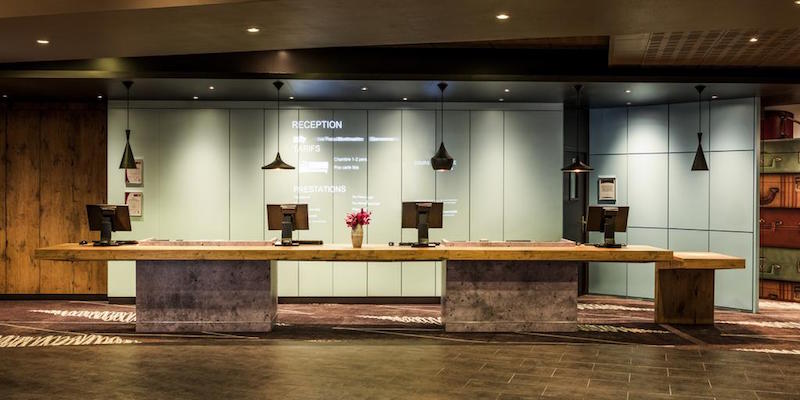 We're not promising romance, rose petals, or champagne, but where Ibis Hotels shine is in delivering basic, clean accommodations at a good price. Ibis Paris Montmartre is a big, standard, modern hotel with over 300 rooms located in a new building next to historic Montmartre Cemetery. Here's what guests have had to say — "amazing value for money", "well located for all the iconic sites", "we love the location near Place de Clichy, Sacre Coeur".
Our Rating — Very Good
• 5 rue Caulaincourt
• 18th Arrondissement
B Montmartre Hotel – Bonus !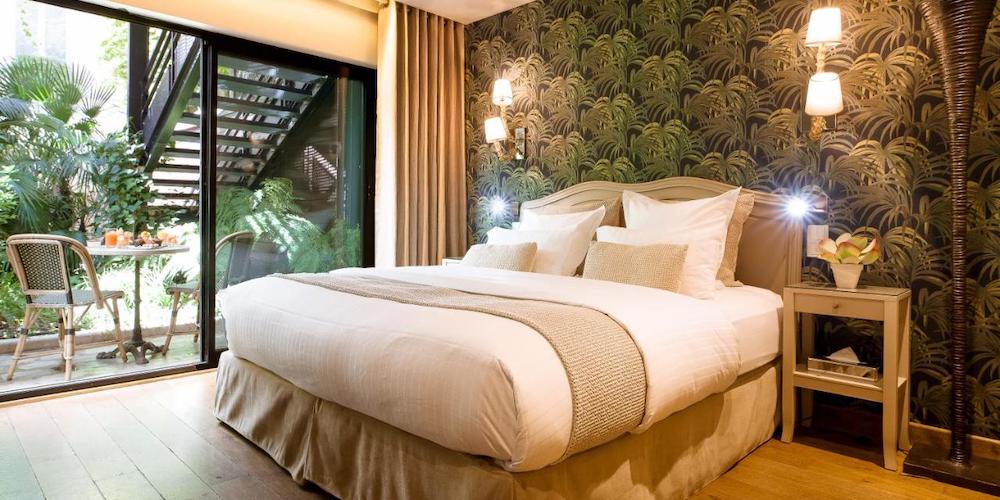 After an complete makeover, hotel Bonséjour Montmartre was reborn as the B Montmartre. The change has been stunning and this is now one of our preferred sleepovers in Montmartre. Occupying a hillside corner, the B is located on one of the smaller backstreets of this bohemian district. Being in Montmartre, the hotel is surrounded by lovely neighborhood boulangeries, shops, and cafes. Added bonus — many of the rooms have balconies or terrasses.
Our Rating — Superb
• 11 Rue Burq
• 18th Arrondissement