Lisez-vous Anglais? Seven Six English Bookstores In Paris.
As much as we adore the French language, sometimes in Paris we want to browse through a bookstore and read books in English. (Usually books with "Paris" in the title.) When that urge strikes, we head to one of these English bookstores in Paris to catch up on all the latest English-language titles in art, fashion, history, and fiction. Oh, and food, too!

Month-By-Month Guides To Paris Activities & Events
1. The Red Wheelbarrow Bookshop
A Paris Insiders Guide Favourite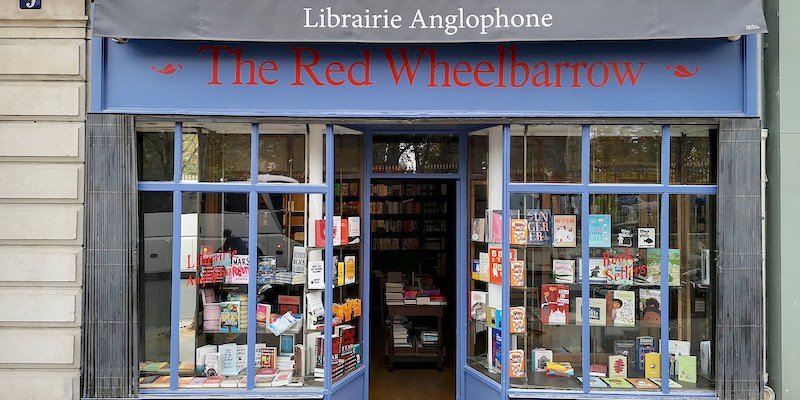 The Red Wheelbarrow, a Paris literary institution, was located in the Marais for over a decade, just off of Rue de Rivoli. It closed for a few years but is now reborn in the 6th Arrondissement, just across the street from the Jardin du Luxembourg.
Canadian Penelope Fletcher, the founder of the English bookstore, has found new partners and is again dedicated to providing one of the best English literary experiences in Paris. The location is pure Paris postcard with large, bright blue picture windows overlooking the park. Afterwards, head to the park to spend the afternoon reading.
11 Rue de Médici
6th Arrondissement
Metro – Saint Sulpice
2. Librairie Galignani
Despite its Italian-sounding name, Librairie Galignani claims to be the oldest English-language bookstore in France. Founded in 1801, its floor-to-ceiling wooden shelves heave with their large collection of books about art, literature, fashion, and history. The upper levels can only be reached by an alluring wooden staircase.
While Red Wheelbarrow is across from Luxembourg, Librairie Galignani is right across from Jardin des Tuileries, between the Louvre and Place de la Concorde. One oddity, the website is entirely in French. But don't be deterred — we promise you, there is an extensive English book selection.
224 Rue de Rivoli
1st Arrondissement
Metro – Tuileries

3. WHSmith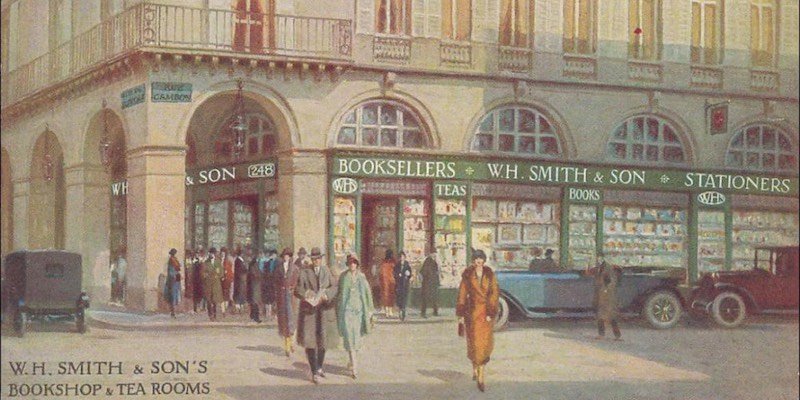 Just down the street from Galignani on Rue de Rivoli, a bit closer to Concorde, is WHSmith, which claims the title of the largest English-language bookstore in Paris. Founded in 1903, the bookstore has seen many changes in the past decade, the biggest is the addition of a tearoom as well as the stocking of hard-to-find British and American foods on the upper level. (Why you'd want to seek that out when you're in Paris is a mystery to us.)
WH Smith has an extensive magazine selection as well as books about the City We Love. There are many popular paperback novels, handy for travel, and an extensive children's book section with cozy corners to sit and enjoy a book with your young one.
248 Rue de Rivoli
1st Arrondissement
Metro – Concorde
4. Shakespeare & Co.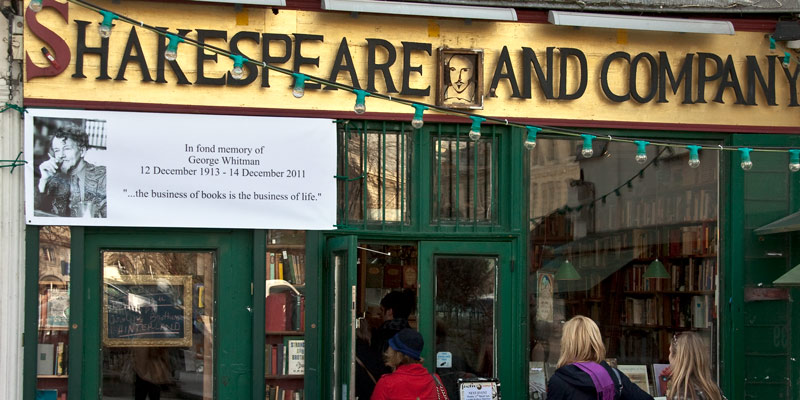 The legendary Shakespeare & Co is going strong since its reincarnation by George Whitman in 1951. (The first Paris bookstore with this name was run by Sylvia Beach from 1919 to 1941.) There's now a café next door as well as many readings, signings, and literary events. Although the historic bookstore has a lot to offer in recent years it has become a mega-hot tourist destination with crowds galore.
George Whitman's daughter, Sylvia Beach Whitman, took the reins in 2003 at the tender age of twenty-one. Since then she's done a lot to put the bookstore on the map, including launching a popular literary festival in the neighboring square. We recommend you experience the historic bookstore while you're visiting Notre Dame Cathedral (directly across the river) and the islands, but if you're really in the mood for a bookstore where you can browse without the crowds, we'd steer you to the other choices on our list.
37 Rue de la Bûcherie
5th Arrondissement
Metro – St-Michel

5. Taschen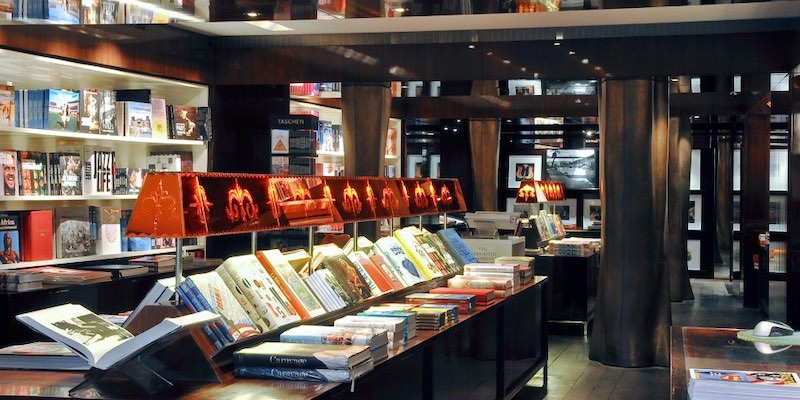 The famous art book publisher's bookstore in Saint-Germain features a huge range of attractive books in a variety of topics — photography, pop culture, style, travel, architecture, fashion, design, cinema, and music. Although we love to browse, the books are a tad heavy for adding to your luggage. Our advice: browse, then take a picture of the books you love and order them when you get home. FYI, Taschen books are multilingual in French, German, and English.
2 Rue de Buci
6th Arrondissement
Metro – Mabillon or Odeon
6. Librairie du Marais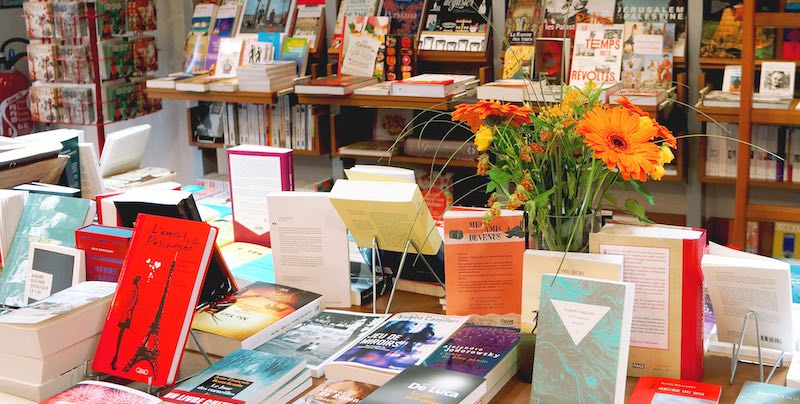 As the name suggests, this popular bookstore is located in the Marais. The bookstore offers a large range of books in photography, interior design, cooking, architecture, and art. Books are mainly in French, but there are some English titles available.
89 Rue Saint-Antoine
4th Arrondissement
Metro – Saint Paul

7. Berkeley Books of Paris – CLOSED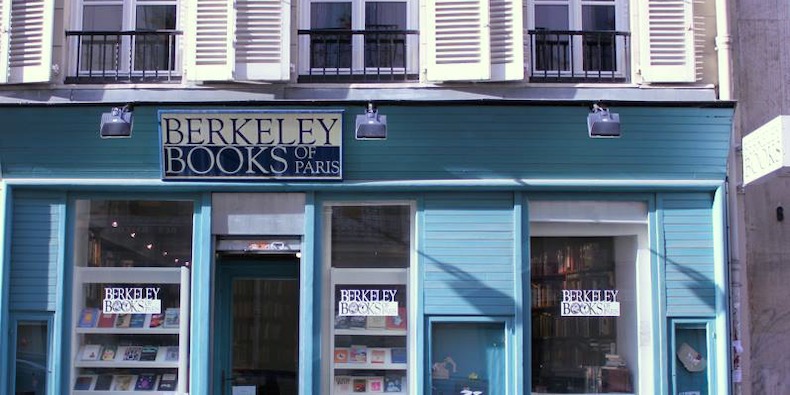 Berkeley Books opened in 2006 when three Californians decided to team up and open an American bookshop in Paris. What makes it unique? It's a second-hand bookstore offering up a good selection of English titles. They had a loyal expat customer base who love their special events, book signings, and the occasional concert. It was a fun place to explore with the bonus of admiring their collection of old fashioned typewriters.
Alas, the beginning of 2020 saw the closing of this bookshop. "After many happy years in Paris," the Facebook page said, "the last of the bookshop's three founders retired to the French countryside in January 2020."
8 Rue Casimir Delavigne
6th Arrondissement