Restaurant L'Assaggio – A Delicious Piece Of Piedmont In Paris
The Best Restaurants in France 2020
When we're choosing a restaurant in Paris, Italian food isn't usually the first thing that comes to mind. But our thinking has been changed by a recent lunch at L'Assaggio in the 1st Arrondissement. "Assaggio" means "tasting" in Italian and, boy, did we taste. Located inside the upscale Hotel Castille on Rue Cambon among the Coco Chanel emporia, the restaurant was as inviting as a visit to the Italian countryside.
Hotel Castille is the Paris branch of Starhotels Collezione,a family-run group with locations in Italy, London, New York, and Paris. This is clearly a smart family since they recruited Chef Ugo Alciati from Piedmont (which some think is the culinary capital of Italy) to showcase his Italian cooking here in the French capital. The result was, for us, one of the best dining experiences of the year.

Inside L'Assaggio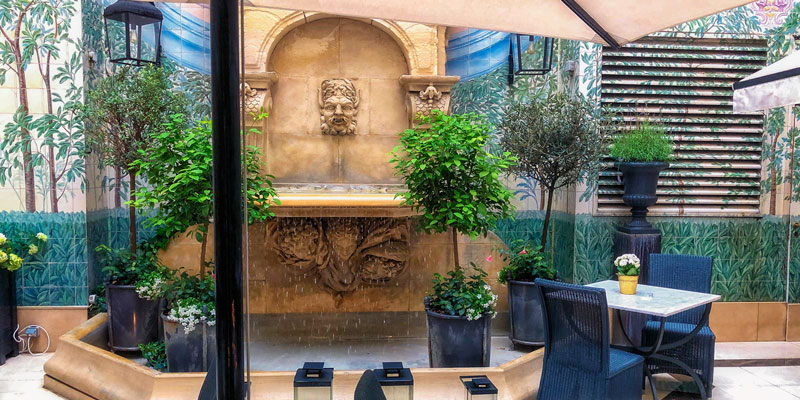 The L'Assaggio dining rooms are situated around an Italianate courtyard with views on a handsome fountain. Even though it was a cool day in November it was as if we could feel the northern Italian sun on our table.
Chef Alciati has pedigree. He has a Michelin-starred restaurant in Piedmont, he is an Ambassador of the Italian Truffle Society (Accademia Italiana del Tartufo), and he grew up in the kitchen of his family's acclaimed restaurant, Guido, located in Serralunga d'Alba. (Since he can't be in two places at once, in Paris Chef Alciati has installed Sasha Arandjelovic as executive chef in the kitchen at L'Assaggio.)
Combining French techniques with classic Italian flavors and dishes, a meal at L'Assaggio fuses the best of the two culinary traditions. As veterans of many tasting menus, we know they can be tricky to get right. But when they are, it's the chef's opportunity to share a vision of their food sensibilities and culinary culture. At L'Assaggio, the Discovery Menu took us on a journey to northern Italy where our tastebuds were coaxed, teased, and soothed.
Primo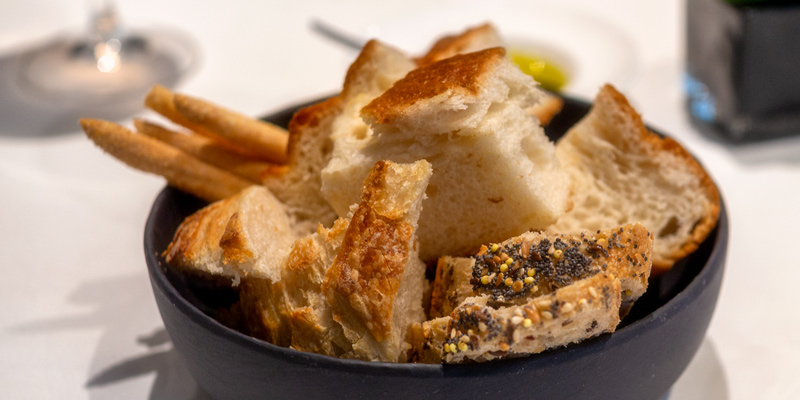 The meal started with a trio of crispy starters accompanied by a glass of champagne. We could see and taste the craftsmanship, the attention to detail, and the quality of the ingredients, like white truffles from Alba, olive oil from southern Italy, and possibly the best focaccia ever. The fun continued with an amuse bouche — a jumble of mushrooms in a deep, dark broth.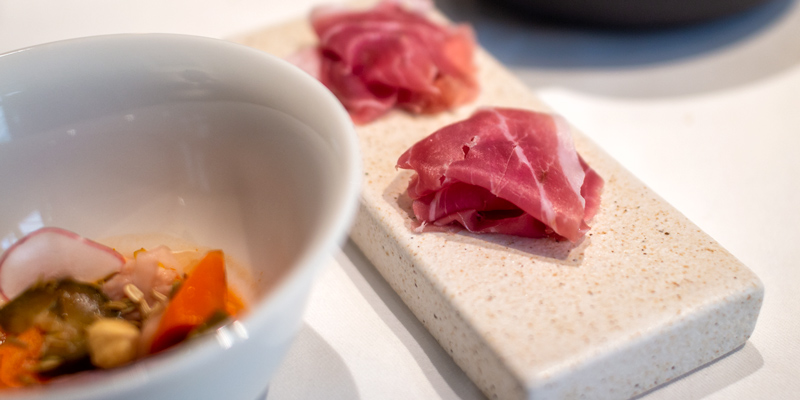 The first official course of the tasting menu was a bowl of vegetables, lightly steamed and pickled with a single, daring, crisp chick pea balanced on top, served next to two perfect pieces of prosciutto. Next, Chef Alciati moved us further along the journey to his homeland with his interpretation of the famous traditional Piedmontese Vitello Tonnato — veal gently cooked sous vide for ten hours, then wrapped around a rich mixture of tuna, capers, and anchovies.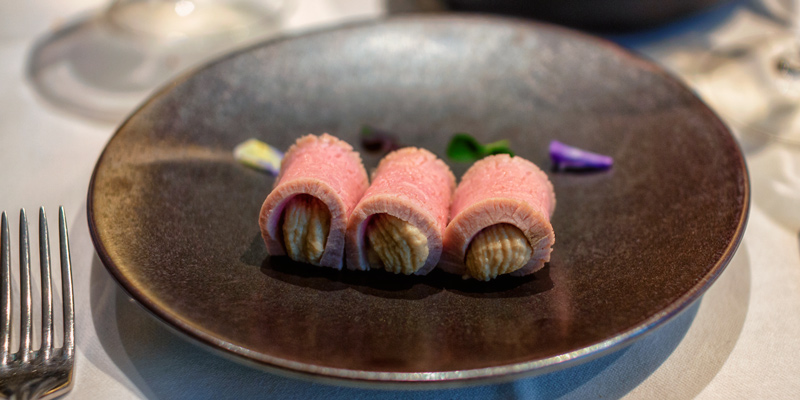 Zing! A red tuna tartare with burrata and confit tomatoes gave us breathing space, a chance to take pleasure in a simple dish while we meditated on the meal that was unfolding. The burrata — clouds of white, fresh buffalo mozzarella — was a clever counterpoint to the tiny chunks of rich, fresh tuna.

Pasta di Piedmont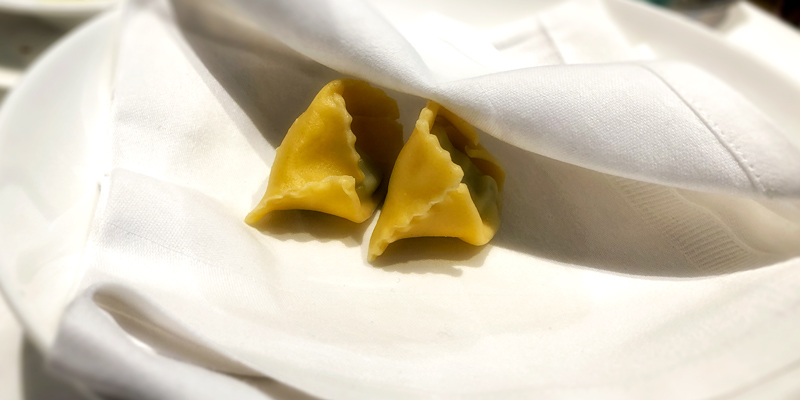 Our favorite plate (if it's even possible to pick a favorite from this remarkable line-up) was the pasta course. A house-made agnolotti stuffed with a surprising mixture of rabbit, beef, and pork, was presented in two ways. First, in a light sauce served in an oversized bowl, and second, plain, wrapped in a cloth napkin, to be eaten with the fingers, a Sunday tradition in Piedmont (so we were informed by Chef Sasha). Here Alciati is teaching a lesson, as if he were standing next to you in nana's kitchen, about how delicious a naked dumpling can be. It's a dish we could have eaten all day long.
Carne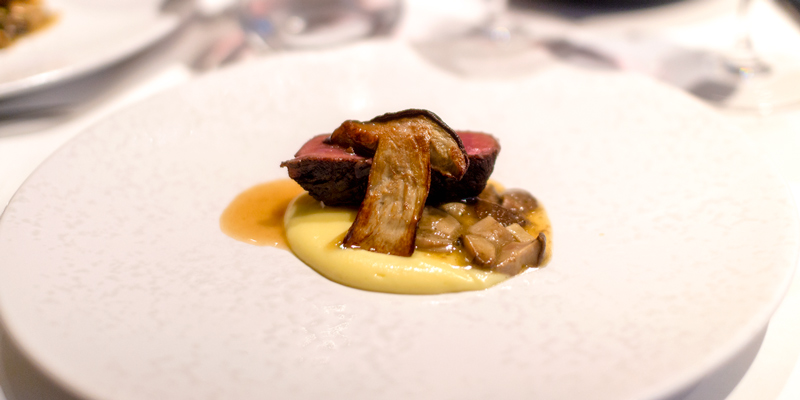 The finale of the savory courses was seared Charolais beef filet, with sautéed cepes, silky puréed potatoes, and a heavenly jus to bring it all together. Just before the dish was served, Chef Sasha added a touch of smoke under a dome. It's hard to believe that a beef dish could work so well at the end of this many courses, but the serving was petit, fork tender, and delicious.
Dolce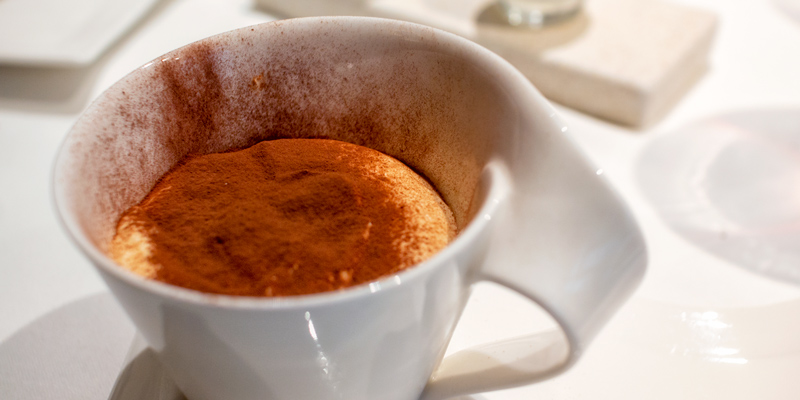 What's the only way to end a meal this good? With the best tiramisu in Paris, which is exactly what it's called on the menu, in three languages —
Probabilmente il miglior tiramisù a Parigi
Probablement le meilleur tiramisu de Paris
Probably the best tiramisu in Paris
This wasn't mere hyperbole, for what we ate probably is the best tiramisu in Paris, maybe the best anywhere outside of Italy. Creamy, fresh, not too sweet, made without any gelatins or thickeners. We also sampled L'Assaggio's gelato, made daily with milk from happy cows in the Alps. How can just milk, eggs, and sugar be so good?
Why this restaurant isn't mentioned more often as a top place to dine in Paris is a mystery. The cooking here is certainly star-worthy. Whatever Michelin decides for the next edition of its guide, at Paris Insiders Guide we're naming L'Assaggio as one of the Paris Insiders Guide Best Restaurants in France for 2020. Go now, before reservations become impossible to get.
L'Assaggio Resources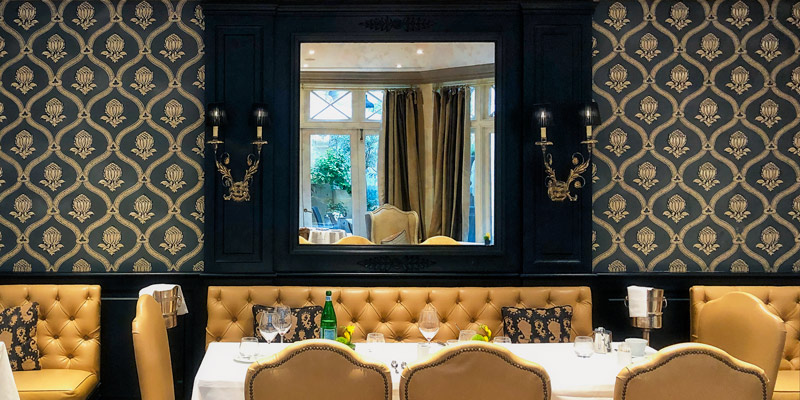 37 Rue Cambon
1st Arrondissement
Metro – Concorde, Madeleine, Opera, Tuileries