10 Enduring Paris Bistros In The Marais – History & Hearty Cookery
The narrow streets of the historic Marais are vestiges of the Paris before Haussmann and his grand vision of the city with broad boulevards, uniform buildings, and expansive parks. One of the oldest neighborhoods of the city, the Marais is a remainder from Victor Hugo's Paris, and is now chockablock with independent boutiques, art galleries, and postage-stamp bistros. It's not surprising that a handful of enduring bistros would be situated in this popular historic area that encompasses the 3rd and 4th Arrondissements.

1. Au Bascou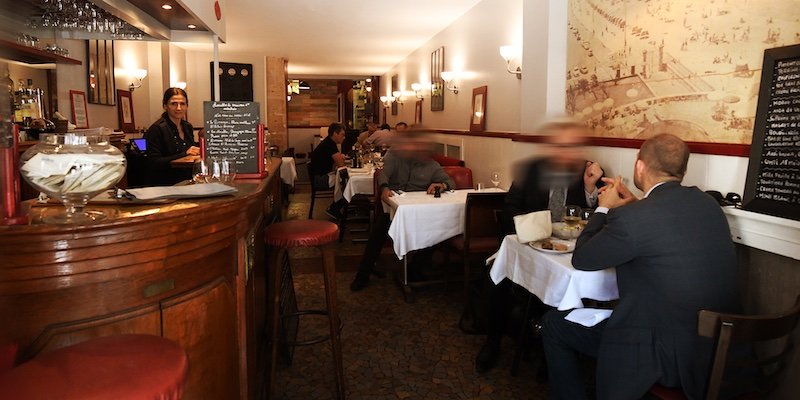 For over 30 years this tiny bistro, found on the northern edge of the Marais close to the Arts et Métiers museum, has been churning out delectable southwestern French classics. ("Bascou" refers to the Basque country.) After three decades there's now a new generation behind the stove. The young Ferrandi-trained chef Renaud Marcille spent time honing his skills at Le Meurice, with Alain Senderens, and as the head chef at Racines. Don't miss the house speciality — lièvre à la royale, a complicated rabbit dish where the meat is spiced, mixed with foie gras, wrapped in its own skin, marinated in red wine for a day, and then simmered for two days. Easy as pie!
38 Rue Réaumur
3rd Arrondissement
Metro: Arts et Métiers
Closed weekends
2. Camille
Nothing fancy, just what you'd expect from a typical Parisian bistro— pot au feu, blanquette de veau, slow simmered pork with lentils, chocolate mousse, creme brûlée or Berthillon ice cream and sorbet. The decor is a welcoming blend of wood, zinc, and stone. Lunch time at this popular cafe can be crowded, but they will usually find you a small table wedged in between the bar and the wall. On sunny days sit outside for views onto the busy Marais street running between Place des Vosges and Musée des Archives Nationales.
24 Rue des Francs Bourgeois
3rd Arrondissement
Metro: Saint-Paul or Hôtel de Ville
Open daily

3. Le Grizzli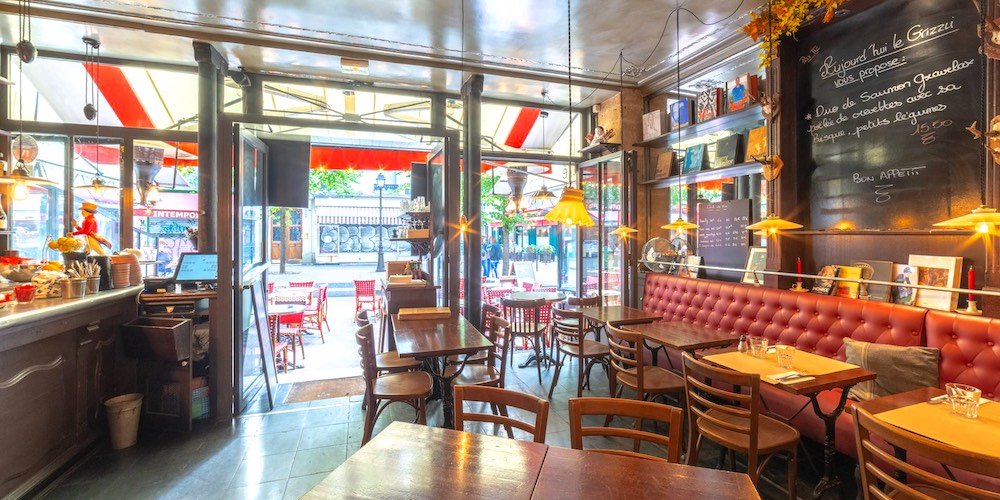 This old fashioned bistro has ample outdoor seating plus a generous canopy to shade against sun or rain. Come here for the simple pleasures like oeufs mimosa, terrine de campagne, filet de hareng, pommes à l'huile (a classic bistro dish of herring with waxy, yellow potatoes in a warm puddle of olive oil and vinegar), escargots, and French onion soup. If you sit inside, grab a seat on the red banquette with a view onto the vintage spiral staircase.
7 Rue Saint-Martin
4th Arrondissement
Metro: Hotel de Ville
Open daily
4. Le Hangar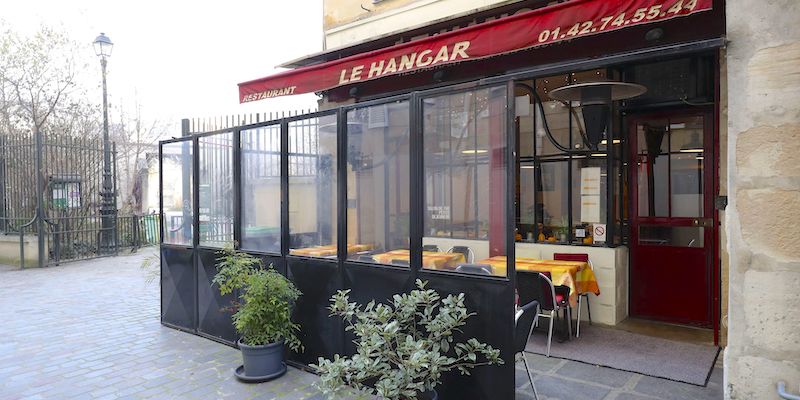 Bistro clue — in French "impasse" means "dead end". Le Hangar, on Impasse Berthaud, is tucked away in an alley close to the Musée Pompidou and Rue Rambuteau. It sits next to the Jardin Anne-Frank, one of the most appealing hidden gardens of Paris.
Le Hangar is one of those gems you love to discover when you're in Paris. The bistro is a maman et papa affair — expect the food to be simple, well presented, and comforting. Not worth a trip across town, but if you're beat after a day of museum hopping or Marais shopping, stop in for lunch or dinner. Warning — no credit cards accepted, cash only.
12 Impasse Berthaud
4th Arrondissement
Metro: Rambuteau
Closed Sunday & Monday

5. Cafe Louis Philippe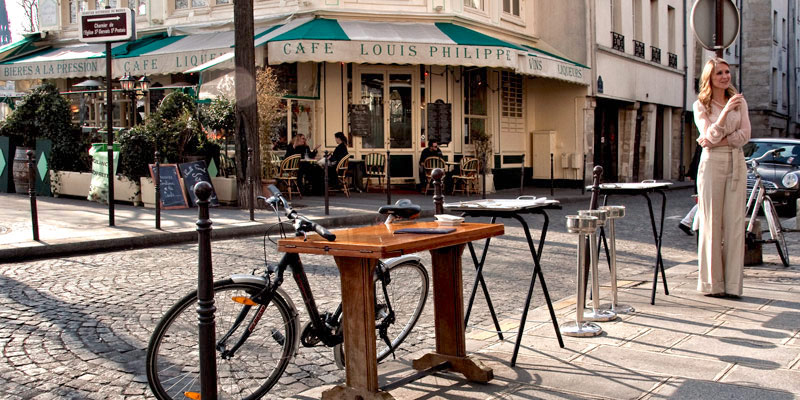 This is one of those places where time has stood still — since 1810. Situated across from Île Saint-Louis along the Seine River is Café Louis-Philippe, a classic Paris eatery with striped awnings, a spacious terrace, and window boxes bursting with flowers. Expect all the traditional fare like beef bourguignon, frog's legs, tomatoes stuffed with bubbly hot goat cheese. Fun fact: this was used as a location for the movie, The 9th Gate starring Johnny Depp. (No, we haven't seen it either.) If you sit inside, climb the antique wrought iron staircase to sit upstairs for great views towards Notre Dame.
66 Quai de l'Hôtel de Ville
4th Arrondissement
Metro: Hotel de Ville
Open daily
6. Les Philosophes
This place checks all the boxes of a classic Paris bistro with an old-fashioned spiral staircase, exposed stone walls, Art Deco light fixtures, and servers wearing the familiar uniform of white shirts, black vests, and aprons racing around serving old favorites.
Owner Xavier Denamur is passionate about fresh ingredients and his culinary manifesto reflects his values. "All our dishes are prepared in-house from fresh ingredients. We use raw, organic, whole fresh milk from Les Flots Blancs farm. All of our pie crusts are made with organic eggs. Each week we receive two pallets of organic fruits and vegetables. All of our suppliers can be found on the back of the menu or on our website. To further limit our ecological footprint, we only offer organic beer in barrels brewed in France — no bottled beer."
28 Rue Vieille du Temple
4th Arrondissement
Metro: Hotel de Ville, Saint-Paul
Open daily

7. Le Temps des Cerises
When the original house was built during the Middle Ages it was in the countryside surrounded by a cherry orchard, which explains the name of the street — Rue de la Cerisaie. In 1830 the house became a bistro; its current decoration with a mosaic exterior and zinc counter dates back to the 1930s. The name, Le Temps des Cerises, comes from a popular song during the time of Paris Commune, written by Jean-Baptiste Clément in 1868.
You'll find the small bistro in the two-level house decorated with geraniums in window boxes and and a menu brimming with all the French classics — escargots; roasted camembert with fresh truffles; steak entrecote garnished with a vinaigrette of garlic, shallots, fresh herbs; crispy house-made frites; and to finish, crême brulée, moelleux au chocolat, or brioche perdue. The old-fashioned dining room features a zinc bar, walls decorated with vintage photos, wooden tables with bent-wood chairs, and an Art Nouveau chalkboard displaying the daily specials. (FYI there are two Le Temps des Cerises in Paris — one is in the 13th Arrondissement, while the one we're talking about here is in the Marais.)
31 Rue de la Cerisaie
4th Arrondissement
Metro: Saint-Paul
Open daily
8. La Tartine
This place has history. Trotsky hung out here before World War I as did James Joyce after it. But, by the 1990s that history was long past, though food writers like Patrica Wells somehow seemed enamored of the place. The walls and ceilings were stained a dark ochre from the thousands of cigarettes smoked here daily — walls that hadn't seen a paint brush (or a scrub brush) since the last time Joyce had a drink here. In that period of the late 20th century you could sit against the smoke-stained mirrors at the back of La Tartine (there was a notice on the mirrors — Non Fumeur — that you couldn't read because of the smokey haze) and watch the ancient, wizened owner slowly shuffle across the bar from the entry to a hidden stairway in the corner that led to living quarters above. La Tartine was infamous for having the most insalubrious bathroom in Paris.
Good news for La Tartine in the 21st century — the dark, somewhat ominous interior was completely done over in the last decade, ridding it of the aged and stained molding and renovating walls, floors, and ceilings. Luckily the black marble-topped bar with gold Second Empire details was saved and restored. More wine-bar than bistro, La Tartine now receives solid reviews as a place where you can enjoy a good glass with a decent meal, including house speciality charcuteries, hefty salads, and daily specials.
24 Rue de Rivoli
4th Arrondissement
Metro: Saint-Paul
Open daily

9. Le Trumilou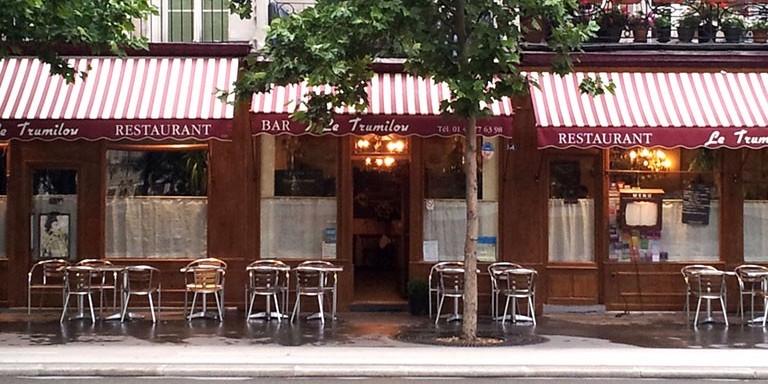 This old-fashioned mecca has quite a following. Given that its house specialties are canard aux pruneaux (wine-braised duck with prunes) and ris de veau grand mére (veal sweetbreads long-simmered in a cream sauce) we can see why. Although it's on the banks of the Seine, in the middle of Paris (just a few doors down from Cafe Louis Philippe), when you're inside you feel like you might be in a small provincial town. The decor is decidedly countryside with a hodgepodge of farming objets like a handmade pitchfork, burnished copper pots, and a small model of an oxcart. In contrast, two lavish crystal chandeliers light a room filled wooden tables set with white linen.
84 Quai de l'Hôtel de Ville
4th Arrondissement
Metro: Hotel de Ville
Open daily
10. Aux Vins des Pyrènèes
In the heart of the Marais, between the Place des Vosges and Quai des Célestins, Aux Vins des Pyrènèes has been a Parisian institution since 1905. It all started with a clever engineer from the Catalan area in Southern France who made his fortune in the wine trade with an invention that prevented wine from oxidizing. With cash in hand, he opened a warehouse, a wine cellar, and a bistro — stocking it with favorite wines from his region in the Pyrènèes. The bistro stayed in the family, who lived upstairs for three generations.
As the family now lives elsewhere, today you can follow the vintage iron staircase upstairs to the cocktail bar and a heated roof terrace. Order a Zelda — a concoction made with vodka, chambord, cranberry, hibiscus syrup, ginger beer, and frothy egg white — and think about the days when historic guests Charles Baudelaire, Paul Cézanne, Jim Morrison, and the British painter Francis Bacon frequented this enduring Paris bistro — though not all at the same time!
25 Rue Beautreillis
4th Arrondissement
Metro: Bastille, Saint-Paul
Open daily

Enduring Paris Bistros in the Marais – Honorable Mentions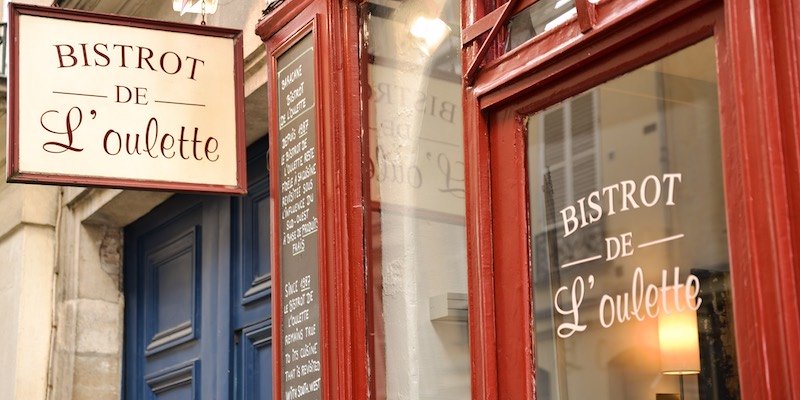 Bistrot de l'Oulette
38 Rue des Tournelles
4th Arrondissement
Metro: Chemin-Vert
Bofinger
5-7 Rue de la Bastille
4th Arrondissement
Metro: Bastille
Brasserie de l'Île Saint Louis
55 Quai de Bourbon
4th Arrondissement
Metro: Pont Marie, Cité