Food Lover's Guide To The Top 40 Food Markets of Paris
Let's unravel the mystery & wonder of food in Paris. We love exploring the open-air food markets of the City of Food; and this is easy to do since markets are found throughout the city — even in the quiet suburbs. There is a strong connection between food and where it comes from, and you see this in the gourmet food markets throughout Paris. All the products are labelled with quality, the origin, and the AOC listing.

Our Top-Rated Paris Experiences
The Puteaux Market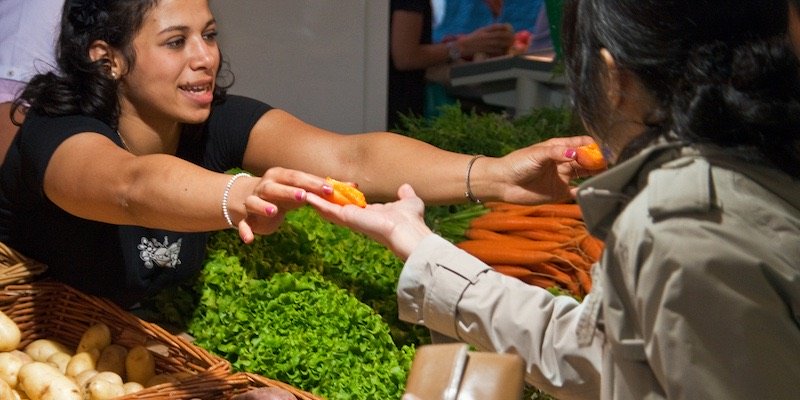 At the Puteaux covered market, photo by Mark Craft
We had a chance to delve deep into one of the best gourmet food markets, the covered market at Puteaux (just outside Paris) on a tour with a Paris foodie pal. We were thrilled to find out that the signs at the fish stalls even indicate where the fish is from (what ocean or sea and what part of the ocean or sea) and how it was caught — line-caught being the preferred method. Here's a short excerpt from a book we wrote about our time in France… and its markets.

Discover What's On When You're Here...
Discover What's On When You're Here
At a Food Market in France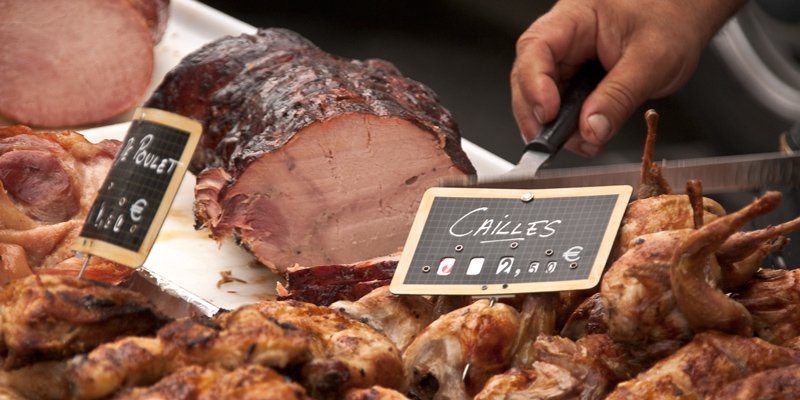 At the Puteaux covered market, photo by Mark Craft
The scent of roasting chicken wafts towards us as we near the market. Among the scattering of outdoor stalls are the roasters found at every market in France, filled with a variety of large and small birds, pressed pork, and roasted potatoes.
"What are the four types of cheese?" she asks us. We guess more or less correctly – hard, soft, goat, and blue cheeses. She points out examples of each and explains their origins and launches into a detailed description of the Appellation d'Origine Contrôlée system (controlled designation of origin, or AOC).
"The system dates back to the 15th century," she tells us. "Champagne and Roquefort are two AOCs you probably recognize." The system… was created to ensure the source and the method of production of various foods, including cheese, meat and wine. Even lentils have an AOC,the best coming from Le Puy.
"Look at the signs…in France vendors identify where the produce is grown, not only the country but the region, and will rate the quality. Extra means best quality: no bruising, no spots, perfect. Catégorie 1 means good quality with little bruising. Catégorie 2 is everything else, still good product, but perhaps suitable for cooking or preserving. The fruit here is all Extra and Catégorie 1."
Aha! The signs that we've usually ignored actually contain vital information about the source and quality: the apricots are from the Drome, haricots verts from Kenya, the tomatoes from Bergerac. It's all about the terroir…

Selected Paris Food Markets
Arrondissements 1 to 10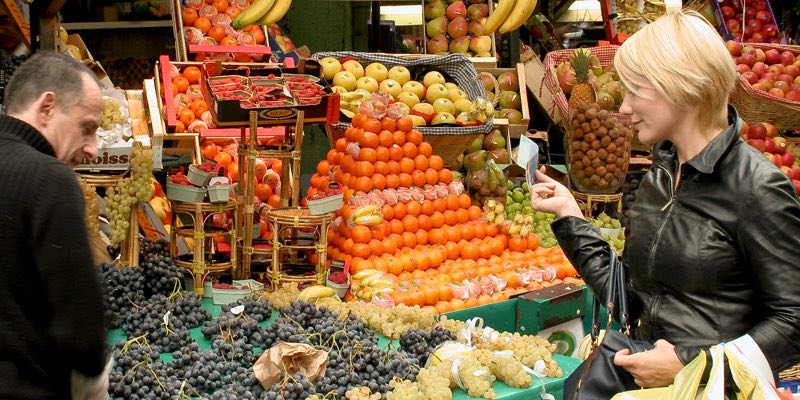 The market on Rue Poncelet, 17th, photo by Mark Craft
1st Arrondissement
SAINT-EUSTACHE-LES HALLES
Rue Montmartre, between Rue Rambuteau and Rue du Jour
Thursday, 12:30 – 8:00 PM; Sunday, 7:00 AM – 3:00 PM
SAINT-HONORÉ
Place du Marché-Saint-Honoré
Wednesday, 12:30 – 8:30 PM; Saturday, 7:00 AM – 3:00 PM

2nd Arrondissement
BOURSE
Place de la Bourse
Tuesday & Friday, 12:30 – 8:30 PM

3rd Arrondissement
LES ENFANTS ROUGES
The oldest covered market in Paris (established in 1615).
39, Rue de Bretagne
Tuesday – Saturday, 8:30 AM – 1:00 PM (and) 4:00 – 7:30 PM (until 8:00 PM Friday & Saturday); Sunday, 8:30 AM – 2:00 PM

4th Arrondissement
BAUDOYER
Place Baudoyer
Wednesday, 12:30 – 8:30 PM; Saturday, 7:00 AM – 3:00 PM

5th Arrondissement
MAUBERT
Place Maubert
Tuesday & Thursday, 7:00 AM – 2:30 PM; Saturday, 7:00 AM – 3:00 PM
MONGE
Place Monge
Wednesday & Friday, 7:00 AM – 2:30 PM; Sunday, 7:00 AM – 3:00 PM
PORT-ROYAL
Boulevard Port Royal by the Val de Grâce Hospital
Tuesday & Thursday, 7:00 AM – 2:30 PM; Saturday, 7:00 AM – 3:00 PM


Mushrooms at the market

6th Arrondissement
RASPAIL
Boulevard Raspail, between Rue du Cherche-Midi and Rue de Rennes
Tuesday & Friday, 7:00 AM – 2:30 PM; organic market Sunday only, 9:00 AM – 2:00 PM
SAINT-GERMAIN
4-6, Rue Lobineau (corner of Rue Félibien)
Tuesday – Friday, 8:00 AM – 1:00 PM (and) 4:00 – 8:00 PM; Saturday, 8:00 AM – 1:30 PM (and) 3:30 – 8:00 PM; Sunday, 8:00 AM – 1:30 PM

7th Arrondissement
SAXE-BRETEUIL
Avenue de Saxe
Thursday, 7:00 AM – 2:30 PM; Saturday, 7:00 AM – 3:00 PM

8th Arrondissement
AGUESSEAU
The smallest market in Paris
Place de la Madeleine
Tuesday & Friday, 7:00 AM – 2:30 PM
BATIGNOLLES
Raised platform on boulevard des Batignolles
Saturday, 9:00 AM – 3:00 PM
EUROPE
1, Rue Corvetto
Tuesday – Sunday, 8:30 AM – 8:30 PM

9th Arrondissement
ANVERS
Place d'Anvers
Friday, 3:00 – 8:30 PM

10th Arrondissement
ALIBERT
Rue Alibert, in front of Saint-Louis Hospital v
Sunday, 7:00 AM – 3:00 PM
SAINT-MARTIN
31–33, Rue du Château-d'Eau
Tuesday – Friday, 9:00 AM – 1:00 PM (and) 4:00 – 7:30 PM;
Saturday, 9:00 AM – 7:30 PM; Sunday, 9:00 AM – 1:30 PM
SAINT-QUENTIN
The largest covered market in Paris
85 bis, Boulevard Magenta
Tuesday – Friday, 9:00 AM – 1:00 PM (and) 4:00 – 7:30 PM; Saturday, 9:00 AM – 1:00 PM (and) 3:30 – 7:30 PM; Sunday, 8:30 AM – 1:30 PM

More Paris Food Markets
Arrondissements 11 to 20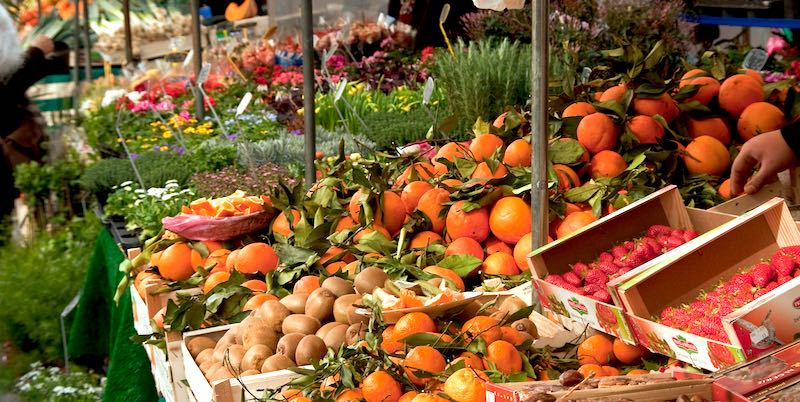 The Aligre market, photo by Mark Craft
11th Arrondissement
BASTILLE
Boulevard Richard-Lenoir, between Rue Amelot and Rue Saint-Sabin
Thursday, 7:00 AM – 2:30 PM; Sunday, 7:00 AM – 3:00 PM
BELLEVILLE
Boulevard de Belleville, between rue Jean-Pierre Timbaud & Rue du Faubourg du Temple
Tuesday & Thursday, 7:00 AM – 2:30 PM
PÈRE-LACHAISE
Boulevard de Ménilmontant, between rue des Panoyaux and rue des Cendriers
Tuesday & Friday, 7:00 AM – 2:30 PM

12th Arrondissement
ALIGRE
Street market, market street, plus a covered market
Rue d'Aligre
Tuesday to Saturday, 8:00 AM to 1:00 PM; Sunday, 8:00 AM to 1:00 PM
BERCY
Place Lachambeaudie to 11 rue Baron-le-Roy
Wednesday, 3:00 PM – 8:00 PM; Sunday, 7:00 AM – 3:00 PM
DAUMESNIL
The longest street market in Paris at 1.4 km !
Boulevard de Reuilly, between rue de Charenton and place Félix-Eboue
Tuesday & Friday, 7:00 AM – 2:30 PM

13th Arrondissement
AUGUSTE-BLANQUI
Boulevard Blanqui, between place d'Italie and rue Barrault
Tuesday & Friday, 7:00 AM – 2:30 PM; Sunday, 7:00 AM – 3:00 PM
MAISON-BLANCHE
Avenue d'Italie
Thursday, 7:00 AM – 2:30 PM; Sunday, 7:00 AM – 3:00 PM

14th Arrondissement
BRUNE
Boulevard Brune, from #71 to Impasse Vandal
Thursday, 12:30 – 8:00 PM; Sunday, 7:00 AM – 3:00 PM
EDGAR-QUINET
Boulevard Edgar-Quinet, from rue du Départ to boulevard Raspail
Wednesday & Saturday, 7:00 AM – 2:30 PM

15th Arrondissement
GRENELLE
Boulevard de Grenelle, between rue de Lourmel and rue du Commerce
Wednesday, 7:00 AM – 2:30 PM; Sunday, 7:00 AM – 3:00 PM
SAINT-CHARLES
Rue Saint-Charles, between rue de Javel and rue des Cévennes
Tuesday & Friday, 7:00 AM – 2:30 PM


The market at Metro Alexandre Dumas, photo by Mark Craft

16th Arrondissement
AUTEUIL
Place Jean Lorrain
Wednesday, 7:00 AM – 2:30 PM; Sunday, 7:00 AM – 3:00 PM
PASSY COVERED MARKET
Place de Passy
Tuesday to Friday, 8:00 AM to 1:00 PM, then 4:00 PM until 7:00 PM
Saturday, 8:00 AM to 1:00 PM, then 3:30 PM until 7:00 PM
Sunday, 8:00 AM to 1:00 PM

17th Arrondissement
BATIGNOLLES COVERED MARKET
96 bis, rue Lemercier
Tuesday to Friday, 8:30 AM to 1:00 PM, then 3:30 PM until 8:00 PM
Saturday, 8:30 AM to 8:00 PM
Sunday, 8:30 AM to 2:00 PM
NAVIER
Rue Navier
Tuesday & Friday, 7:00 AM – 2:30 PM

18th Arrondissement
BARBÈS
Boulevard de la Chapelle, at Lariboisiere Hospital
Tuesday, 7:00 AM – 2:30 PM; Saturday, 7:00 AM – 3:00 PM
MARCHÉ LA CHAPELLE COVERED MARKET
10, rue l'Olive
Tuesday to Friday, 8:00 AM to 7:30 PM
Saturday, 9:00 AM to 1:00 PM
Sunday, 8:00 AM to 1:30 PM

19th Arrondissement
JEAN-JAURES
Avenue Jean-Jaures, from rue de l'Ourcq to rue des Ardennes,
Tuesday & Thursday, 7:00 AM – 2:30 PM; Sunday, 7:00 AM – 3:00 PM
VILLETTE
Boulevard de la Villette
Wednesday, 7:00 AM – 2:30 PM; Sunday, 7:00 AM – 3:00 PM

20th Arrondissement
BELGRAND
Rue de la Chine, rue Belgrand and place Edith Piaf
Wednesday, 7:00 AM – 2:30 PM; Saturday, 7:00 AM – 3:00 PM
TELEGRAPHE
Rue du Telegraphe at Belleville cemetery
Wednesday, 7:00 AM – 2:30 PM; Saturday, 7:00 AM – 3:00 PM