Moulin Rouge Paris – The Best Ways To See The Hottest Show in Town
The Moulin Rouge, with its signature bright red windmill, is the number-one rated cabaret in the City of Night and has been since its opening in 1889. Today, one hundred performers — resplendent in feathers, sequins and rhinestone costumes — take to the stage for an evening of dazzling entertainment. Exactly as old as the Eiffel Tower, the Moulin Rouge cabaret should be high on your list of things to do in Paris. We recommend booking a package that includes a classic French 3-course meal and plenty of champagne. The popular cabaret sells out weeks in advance, so be sure to book early!

Our Top-Rated Paris Night Life Experiences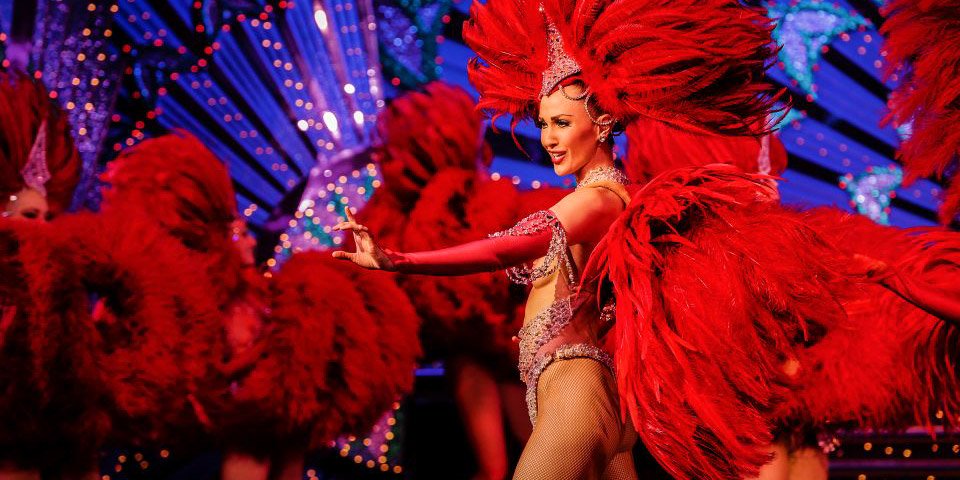 This is a classic evening in Paris. Start your experience at the foot of Montmartre, in front of the famous red windmill. Take your seat to dine on the classic Belle Epoque Menu (our recommendation), complete with champagne. Afterwards, marvel at the cabaret that features 100 performers and flamboyant costumes of feathers, rhinestones, and sequins. Truly a night to remember. Dress code at the Moulin Rouge is elegant attire — dress your best, you're in Paris!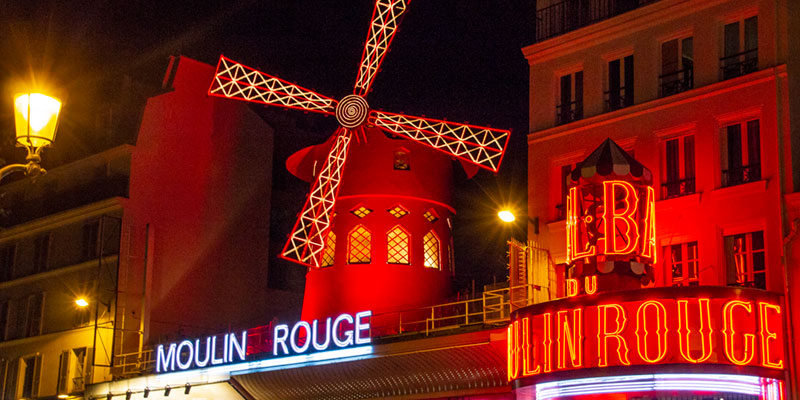 Here's a way to pack in the best of Paris in one night. This tour combines three don't-miss activities in the City of Night. The evening begins at the Eiffel Tower where you skip the lines to drink in the views below. Then, aboard a bateau mouche, you take a leisurely river cruise while enjoying a French multi-course dinner. Your final destination is the Moulin Rouge for a classic cancan cabaret plus champagne!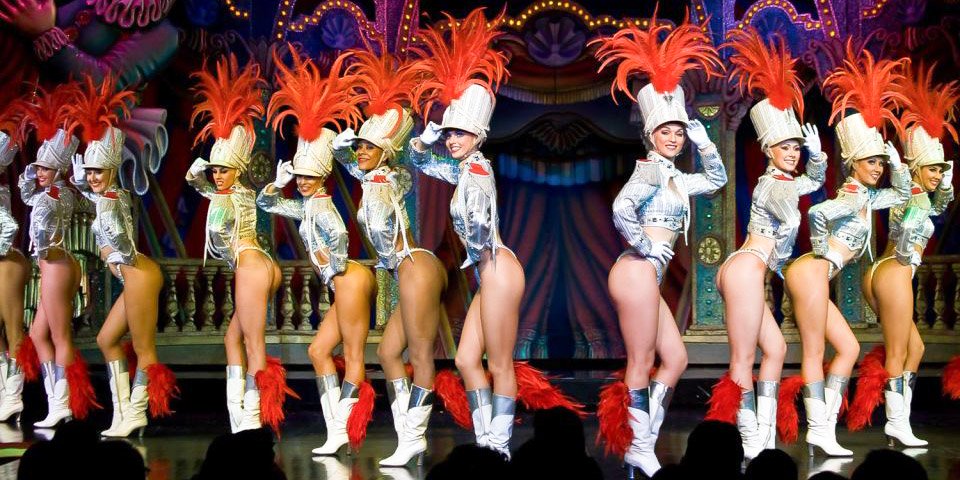 With thousands of 5-star reviews, this spectacular evening at Moulin Rouge is sure to be memorable. Feast your eyes on the extravagant Féerie cabaret show while sipping champagne. Watch a troupe of 100 artists, in a parade of 1,000 costumes of feathers, rhinestones, and sequins designed by Corrado Collabucci. The set designs are magnificent and the music is superb, produced by 80 musicians and 60 choral singers.

On a fabulous evening in Montmartre you're treated as a VIP with the best seats at the Moulin Rouge. In fact, there are only twenty-four of these exclusive seats on the balcony, with clear views to the stage, sets, and dancing. The night also includes skip-the-line entry plus the cabaret show, a four-course French dinner, and fine wines and champagne selected by the sommelier. Availability is very limited, so book as early as possible.

Dining at the Moulin Rouge – What to Expect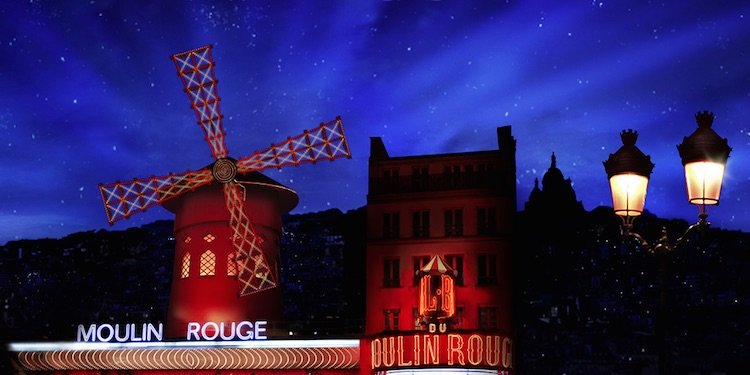 Sure, it's a cabaret, but you may not know that the Moulin Rouge is also known for its dining. The menu continually changes but here's a look at some typical menus at the world's most famous cabaret.
There are several menus to choose from, each is named after a pivotal actress, artist, or époque. Of course, it being France, a half bottle of champagne per person is always included! Dress code at the Moulin Rouge is elegant attire. Look your best — you're in Paris!

Mistinguett Menu
Mistinguett was a star of the Moulin Rouge in the early 1900s and one of the highest-paid female entertainers in the world. Mistinguett (Jeanne Florentine Bourgeois) started her career as a flower seller and became so popular that she toured the US and appeared in Time magazine.
ENTRÉE
• Terrine of foie gras with fruit chutney, or
• King prawns with smoked spices & herb vinaigrette
PLAT
• Sautéed chicken breast with morel cream sauce & fresh pasta, or
• Baked salmon filet with French white butter sauce & roasted grape tomatoes
DESSERT
• Compote of red berries, meringue & raspberry sauce, or
• A trio of chocolate creations garnished with chocolate pearls

Toulouse-Lautrec Menu
Dedicated to the artist who popularized the gaiety of Moulin Rouge. Henri Toulouse-Lautrec accomplished a lot in his brief 36 years. You'll probably recognize his popular Moulin Rouge posters — Reine de Joie, Aristide Bruant and La Goulue.
ENTRÉE
• Norwegian smoked salmon & caviar with toast points, or
• Stuffed dover sole on a bed of baby greens
PLAT
• Steamed sea bream with champagne sauce & dauphinoise potatoes, or
• Sautéed veal with suprême sauce & rice pilaf
DESSERT
• Moulin Rouge Opera cake with chocolate hazelnut sauce , or
• Compote of red berries, meringue & raspberry sauce.

Belle Épôque Menu
Belle Épôque is French for the "Beautiful Era". This menu is dedicated to the period between the Prussian War (1870) and World War I (1914) when France's economy flourished and the arts, restaurants, culture and entertainment gained recognition.
MISE EN BOUCHE
A little appetizer specially prepared by the chef to tease the palate
ENTRÉE
• Foie gras with mango vinaigrette & roquette salad , or
• Lobster à la Parisienne with baby greens
PLAT
• Sea bass filet with porcini mushroom sauce & risotto , or
• Sirloin steak with French beans, fresh butter & pan-fried baby potatoes
DESSERT
• Saint Honoré cake with raspberries, whipped cream & caramel, or
• Moulin Rouge Opera cake with chocolate hazelnut sauce, or
• A trio of chocolate creations garnished with chocolate pearls

History of the Moulin Rouge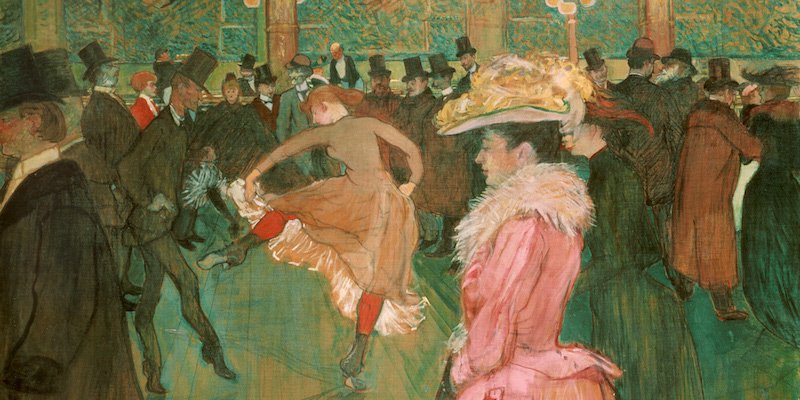 1889 was a big year for Paris. The Eiffel Tower was built, an International Exhibition was staged, and Moulin Rouge opened its doors. Founders Joseph Oller and Charles Zidler had a vision of creating a place where rich and famous Parisians could let their hair down in the shabby/chic part of town, Montmartre. Their extravagant design included a gigantic elephant sculpture in the garden — in fact, the early shows were inspired by circus acts.
Instantly, Moulin Rouge became a magnet to tout le monde — women, workers, artists, the bourgeoisie, businessmen and tourists. Enter Parisian artist Toulouse-Lautrec — It was his posters and paintings that boosted the Moulin Rouge to international fame.
The Moulin Rouge has been the spot for entertainment in Paris since it was built at the height of the Belle Epoque, the re-flourishing of Paris after France's defeat in the Franco-Prussian War. The French Cancan with its furious rhythms and scintillating costumes, along with a champagne-fueled audience, made the nightclub a sought-after destination.
Controversy has also been a part of the Moulin's history. Colette's 1906 performance Egyptian Dream caused a sensation. The Chief of Police threatened to close down the cabaret if the two-minute act was ever performed again. What was all the fuss about? A long kiss between Colette and her fellow performer, Missy, AKA Yssim, AKA the Marquise de Morny.

Moulin Rouge Timeline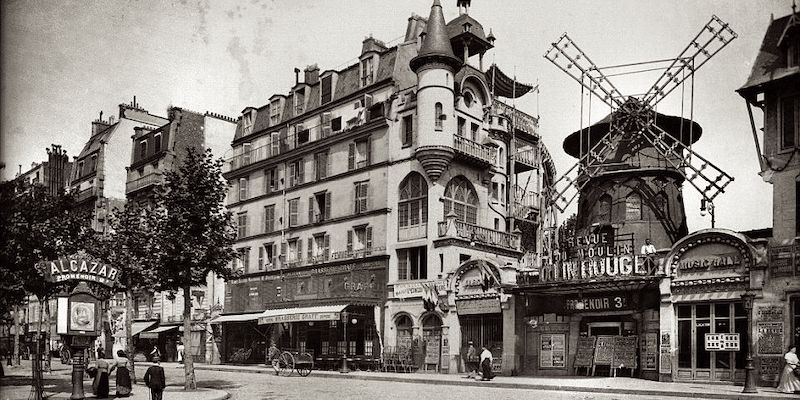 The Moulin Rouge, the birthplace of the can-can, has entertained Parisians and pleasure seekers from around the globe with its risqué and elaborate shows for 130 years. Those years haven't all been easy — over the decades the cabaret has faced many trials, from scandals and a major fire, to world wars and near bankruptcy.
Established during the Belle Époque, the Moulin Rouge made its debut the same year as another Paris icon, the Eiffel Tower. Both were launched in 1889, a time when the bourgeoisie was creating the art of travel, leisure, dining, and entertainment.
Decades passed and Moulin Rouge continued its famous revue, but it was not drawing the same size crowds. Bankruptcy loomed in the 1990s. Then something unexpected happened, a deus ex machina in the form of Baz Luhrmann's 2001 film Moulin Rouge starring Nicole Kidman and Ewan McGregor. The film brought new audiences to the night spot and new energy to the team. Since then Moulin Rouge has continued to be a top destination in the City of Light.

130 Years of Highlights
October 6, 1889 – The world's most famous cabaret, the Moulin Rouge opens at the foot of the hill in Montmartre in the Pigalle district.
October 26, 1890 – When the Prince of Wales takes his front row seat, La Goulue catches sight of the the future king George V of England, and calls out, "Hey, Wales, the champagne's on you!"
1891 – Toulouse-Lautrec's first poster for the Moulin Rouge is printed, featuring La Goulue. She is the first star of Moulin Rouge — born Louise Weber (1866-1929) and nicknamed The Glutton because she had an insatiable thirst for customers' drinks. She also becomes known as the Queen of Montmartre.
1893 – The Bal des Quat'z'Arts, a famous annual arts ball, causes a sensation when a nude Cleopatra dances, surrounded by a troupe of naked women.
November 12, 1897 – For the first time in its history, the Moulin Rouge closes, for the funeral of Charles Zidler, the cabaret's cofounder.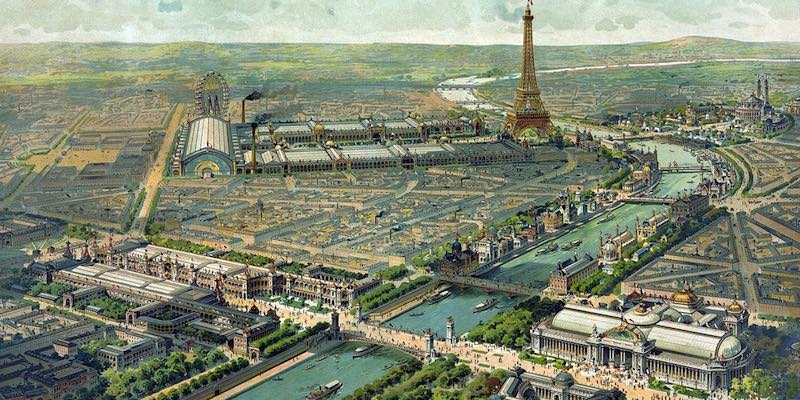 1900 – Visitors flock from around the globe to the Universal Exhibition in Paris (above) to see the latest advancements in technology. And they adore the Moulin Rouge, giving the city its reputation as a place of decadent pleasure.
January, 1903 – Moulin Rouge re-opens after a lengthy renovation under the direction of the famous Belle Époque architect Édouard Niermans. His other projects include Brasserie Mollard, Folies Bergère, and Hotel Negresco in Nice. Now, the elite of Paris can meet for dinner and a show in elegant surroundings.
January 3, 1907 – French writer Colette kisses the Duchess of Morny on stage during the show Le Rêve d'Egypte. Declared scandalous, the show is banned. You can see Keira Knightley reenact this scene in the 2018 film, Colette.
July 29, 1907 – A dancer known as Mistinguett makes her first appearance in La Revue de la Femme. Born into poverty as Jeanne Florentine Bourgeois (1875-1956), she transforms herself to become the star of Moulin Rouge and the highest-paid female entertainer in the world.
February 27, 1915 – The Moulin Rouge burns down, making the news worldwide. The International Herald Tribune reports the popular cabaret has been reduced to ashes due to a short-circuit-caused fire.
1921 – Moulin Rouge reopens after a long restoration process.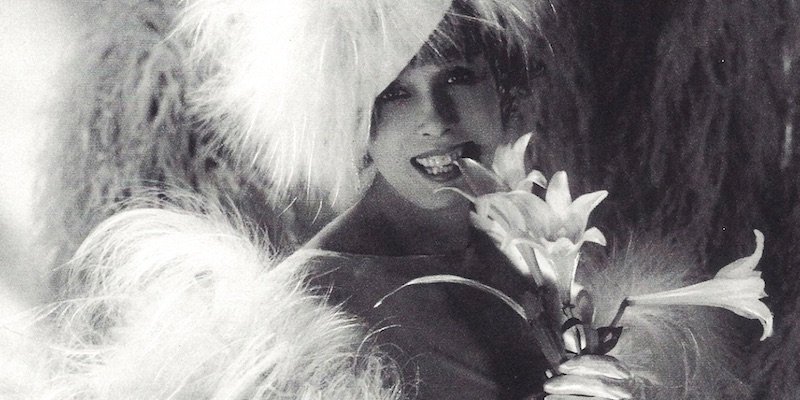 After World War I – A new manager takes charge and hires a top choreographer to reinvigorate the cabaret. The Moulin Rouge regains its audience, thanks to Mistinguett and a very young singer, Maurice Chevalier. (Her photo above.)
1929 – Mistinguett retires from the stage; the Moulin Rouge loses its biggest star.
1929 – A new revue, Lew Leslie's Blackbirds, opens as a huge hit. It stars American jazz singer and Broadway star Adelaide Hall (1901-1993), with a hundred black performers along with the Jazz Plantation Orchestra.
World War II – Nazi occupiers flock to the Moulin Rouge. The cabaret flourishes during the occupation with German officers as the main audience.
August 1944 – Days after the liberation of Paris Edith Piaf performs with newcomer Yves Montand.
June 22, 1951 – Georges France, founder of another Paris cabaret, Balajo on Rue de Lappe, purchases Moulin Rouge and starts another major renovation.
1955 – Moulin Rouge once again has new owners, brothers Joseph and Louis Clérico, who also own Le Lido, the cabaret on Champs-Elysées.
1957 – Doris Haug, a dancer from Germany, creates the Doriss Girls troupe, originally with four dancers. The dance company eventually grows to sixty performers and endures to this day as the centerpiece of the show.
1962 – Jacki, the son of Joseph Clérico, takes control of the Moulin Rouge, ushering in a new era by making the auditorium larger and installing a giant aquarium for the first ever aquatic ballet.
1963 – With the success of the Frou-Frou revue, Jacki Clérico, a superstitious man, will only choose subsequent show titles that start with the letter F. You think we're kidding?

1963 to 1965 – Frou-Frou
1965 to 1967 – Frisson
1967 to 1970 – Fascination
1970 to 1973 – Fantastic
1973 to 1976 – Festival
1976 to 1978 – Follement
1978 to 1983 – Frénésie
1983 to 1988 – Femmes, Femmes, Femmes
1988 to 1999 – Formidable
Since 1999 – Féerie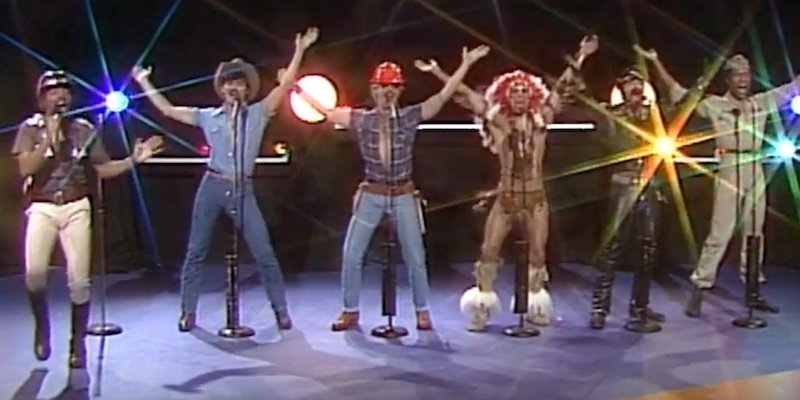 September 7, 1979 – Moulin Rouge celebrates its 90th birthday with a star-studded line up including Ginger Rogers, Dalida, Charles Aznavour, Zizi Jeanmaire, and of course, The Village People.
November 23, 1981 – Moulin Rouge closes for a private performance for Her Majesty Queen Elizabeth II.
September 25, 1984 – Frank Sinatra appears at a special gala.
October 6, 1989 – Moulin Rouge turns 100. Gala stars include Charles Aznavour, Lauren Bacall, Ray Charles, Tony Curtis, Ella Fitzgerald, Dorothy Lamour, Jane Russell, Charles Trénet, and of course, the Gypsy Kings.
November 14, 1999 – It's the final night of the centenary revue and Formidable will have been seen by 4.5 million spectators.
December 23, 1999 – The new revue, Féerie is performed for the first time. It is still performed today (2019).
August 10, 2014 – Doriss Haug, mistress du ballet since 1957 and founder of the Doriss girls, dies.
October 6, 2019 – Moulin Rouge celebrates its 130th anniversary. Its twin icon, the Eiffel Tower, is the same age.