Notre Dame Cathedral Paris – 2017 Concert Performances
Notre Dame Cathedral — flying buttresses, bell towers, menacing gargoyles, soaring spires & the occasional hunchback. You can revisit a thousand years of history in one visit to Notre Dame Cathedral in Paris — reaching back to medieval and Gothic times — even to Roman times if you also pay a visit to the Archaeological Crypt. The stained glass windows are marvelous and there's an airy loftiness the interior.
Walk around to the back of Notre Dame and take the pedestrian bridge to Île Saint Louis. There you'll find one of our favorite winter eateries, Brasserie de l'Île St Louis.
By the year 1160 there had already been a church for centuries on this prime site at Île de la Cité, but in that year the Bishop of Paris decreed that a new cathedral was needed to honor the importance of the Paris church within Europe, and he particularly wanted to create a church in the newly-fashionable Gothic style. Thus, Notre Dame became one of the first structures in the world to sport flying buttresses, allowing for light walls soaring high overhead to create a lofty space.

Concerts at Notre Dame in 2017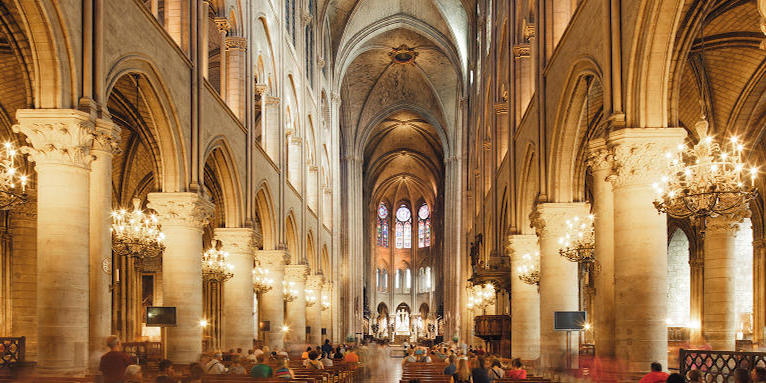 It's spine-tingling to attend a concert at Notre Dame. You're surrounded by centuries of history with light streaming in through majestic Gothic stained-glass windows.
There's really nothing to compare to a concert performed in this famous cathedral, but the only way to guarantee a seat is to order online in advance, otherwise, they're on a first-come first-serve basis.

Christmas Services 2017
The Christmas season will be very busy. Arrive at least an hour before services are to begin.
Saturday, December 24, 2017
The Big Organ is played by Vincent Dubois
Sunday, December 25, 2017
Gregorian Mass at 10 AM, Mass at 11:30 AM, Mass at 6:30 PM
Sunday, New Year's Day, January 1, 2017
Gregorian Mass at 10 AM & Mass at 6:30 PM
Mass at Notre Dame 2017 Schedule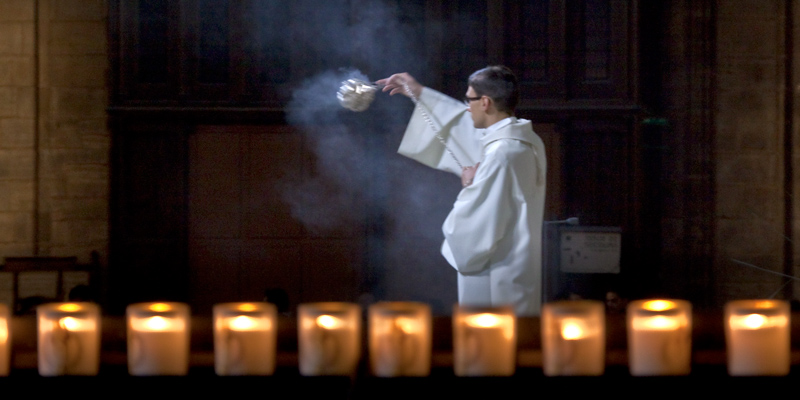 2017 Sunday Mass
8:00 AM Mass
9:30 AM Lauds Service
10:00 AM Gregorian Mass
11:30 AM International Mass
12:45 AM Mass
5:45 PM Vespers
6:30 PM Mass
It's recommended to arrive 15 minutes before to secure a seat.
Monday to Saturday Mass & Services
8:00 AM Mass
9:00 AM Mass (Except July, August and the first two weeks of September)
Noon Mass
5:45 PM Daily Vespers Service
6:15 PM Mass
Special Vespers with Music
May 11, Wednesday, 5:45pm – 6:15pm
May 12, Thursday, 5:45pm – 6:15pm
May 13, Friday, 5:45pm – 6:15pm
May 18, Wednesday, 5:45pm – 6:15pm
May 19,Thursday, 5:45pm – 6:15pm
June 1, Wednesday, 5:45pm – 6:15pm
June 2, Thursday, 5:45pm – 6:15pm
June 17, Friday 5:45pm – 6:15pm

182 Years of Construction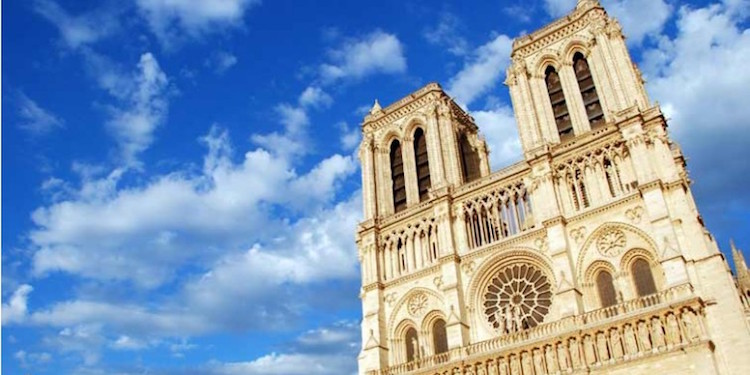 All the sculptures and even the walls of Notre Dame were originally brightly painted.
Like Rome, Notre Dame wasn't built in day. It was an enormously complicated construction process, with new techniques being developed as the building was erected.
Sully, the Bishop of Paris who initiated the construction, devoted the rest of his life, and all of his fortune, to work on the cathedral. Stage-by-stage- bishop-by-bishop, architect-by-architect, the building rose during the course of two centuries.
The design of Notre Dame Cathedral in Paris didn't spring fully-formed from Bishop Sully's brain. The numerous architects, craftsmen and workers created the style step-by-step as the building arose. The use of flying buttresses to hold up the high, thin walls, was instituted well into the construction process.
With a keen eye, today you can spot changes in design and construction methods as you scan the heights of the walls and towers. Various sculptors over the years created the different styles of statues and gargoyles that adorn the building.
Skip-the-Lines Notre Dame + Bell Towers Tour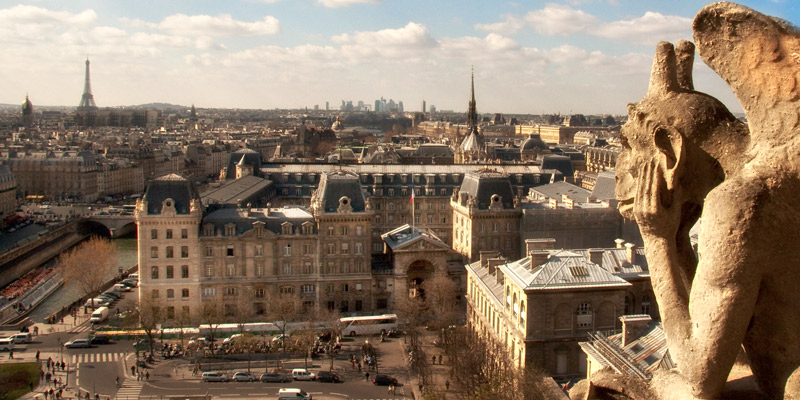 Entrance to the cathedral's bell towers is included as part of the Paris Pass. Mind you, you still have to climb those 387 stairs!
You can't skip the line to get into the church (entry there is free), but you can skip the ticket lines waiting to climb up the bell towers by signing up for a walking tour that gives you an Insider's peek into the historic cathedral – and the island it sits on.
The tour begins in the middle of the Seine River on Île de la Cité, where you'll learn the history of Paris kings and revolutionaries, and you'll discover the real reason Victor Hugo chose the Notre Dame Cathedral as the setting for The Hunchback of Notre Dame. Then explore the interior of the church before skipping the lines to climb the 387 steps up the bell towers for a gargoyle's view of Paris.

Notre Dame Cathedral Paris Resources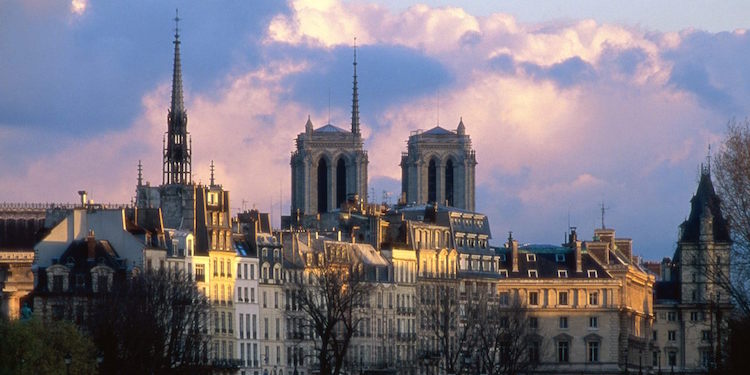 The cathedral has been around for 850 years and still receives over 7 millions visitors a year.
• Construction began in 1163 and was barely completed by 1345.
• The use of flying buttresses (arched exterior supports) was groundbreaking.
• In 1991, the Notre Dame Cathedral began a major restoration and cleaning project – and it's still underway today.
Open every day of the year from 8:00 am to 6:45 pm (7:15 pm on Saturday and Sunday).
Services are open to the public and free of charge, you don't need to make a reservation.
All services are in French, but the Sunday 11:30 am mass has readings and prayers in English.