The Turbulent History Of The Pantheon In Paris
Situated on the highest point on the Left Bank, the the Panthéon has a fascinating history. Its story begins in the mid-1740s, when Louis XV vowed that should he recover from a serious illness, he would build a new church to replace the derelict abbey of Ste-Genevieve. (Louis XV, by the way, was the last French king to rule until his natural death. He's also credited with ruining the monarchy, bankrupting France, and creating the discontent that lead to the French Revolution, 15 years after his death.) But, back to the Pantheon…
The plan called for a vast church, so big that Soufflot, the architect, was ridiculed by all of Paris. That was the beginning of its rocky road to completion. Construction started in 1758, but was suspended due to lack of funds and bad planning. The lack of funds was due to Louis' overspending and the bad planning was a shifting of the foundation. The project lagged and wasn't completed until 1790, just in time for the French Revolution.

The History of the Panthéon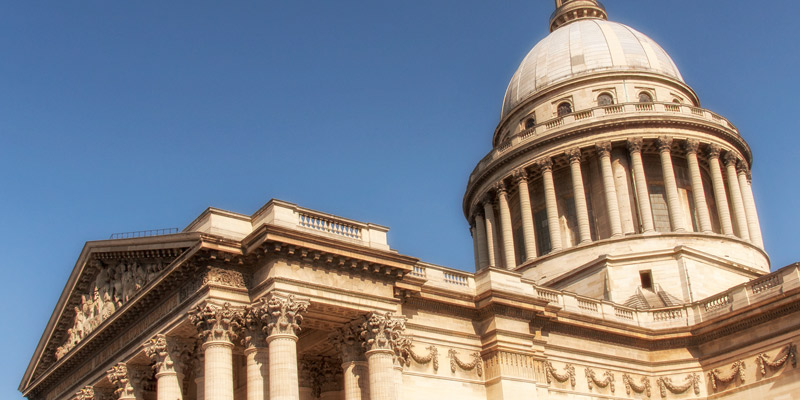 Although built as a church to honor Genevieve, in 1791, as part of the ongoing French Revolution, the Constituent Assembly declared that the building would now become a shrine to the heros of France. It would "receive the bodies of great men who died in the period of French liberty." Thus, it became the Panthéon — the place where the gods live — and a burial place for the great men of France. (It was all men, at first.)
Not too many years later, under Napoleon, the Pantheon again reverted to a church dedicated to Genevieve. Then it reverted to a necropolis under the restored monarchy of Louis-Phillipe, a church under Napoleon III, the headquarters of the Commune in 1871, and finally once again as a lay temple to receive the ashes of Victor Hugo in 1885.
Interred in the crypt of the Panthéon are 76 great men and two women from French history, including authors Emile Zola, Victor Hugo, and Alexandre Dumas; scientists Pierre and Marie Curie; and WWII resistance leader Jean Moulin.

The Architecture of the Panthéon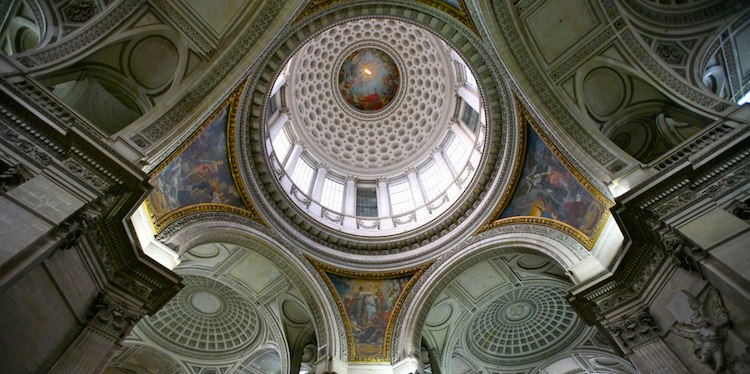 The church was laid out in the form of a massive Greek cross, featuring Corinthian columns, and massive domes held up by hidden flying buttresses.
The nave of the building is divided from the aisles by a row of the columns, which support a frieze and cornice, also inspired by Greek architecture. In the upper section is a fresco depicting Sainte Genevieve, commissioned by Napoleon (yes, that Napoleon) in 1811.
Visiting the Pantheon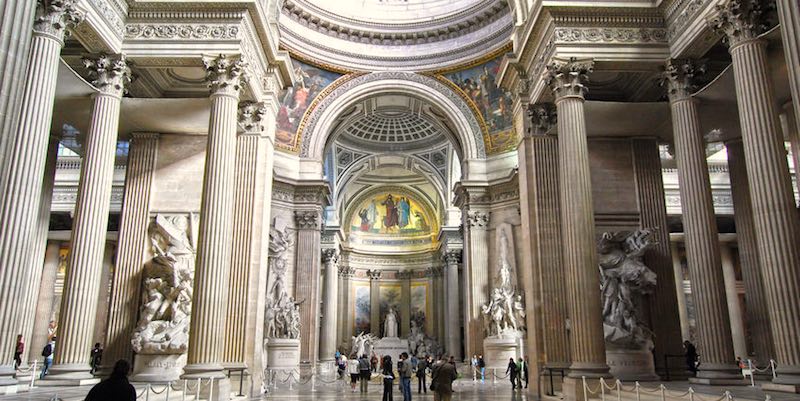 The Pantheon is the hub of the 5th Arrondissement, the Latin Quarter, and is an easy walk from anywhere in that quartier. We like to approach it from the east gate of the Luxembourg Gardens. From there you get a real sense that it is, in fact, on a hill, the highest point of the arrondissement.
The nearest Metro station is Cardinal Lemoine on line 10, which bring you up to the east of the Pantheon. RER B has a station called Luxembourg, which is right at the east gate of the park. By the way, just behind the Pantheon is the church of Saint-Etienne-du-Mort on Rue Montagne Sainte-Geneviève. Here you'll find the stairs where Owen Wilson goes nightly to catch his magic car ride to the past in Woody Allen's Midnight in Paris.
There is a small fee to enter the Pantheon, but it's free if you have the Paris Insiders Pass.
Pantheon Paris Information
Place du Panthéon, 75005
Just up the hill from Jardin de Luxembourg
Closed January 1, May 1 and December 25