The 6 Best Evenings In Paris – A First-Time Visitor's Guide
One of the wonderful things about Paris is that there is a lot to see and do — both in the daytime and in the evenings. At night there are the lights of the City of Light, there are dinners in first-class restaurants and bistros, there are cabarets, there are dinner cruises. It can be difficult to decide which activities to choose. That's why we've created this series of First-Time Visitor's Guides, to answer the most common questions we have heard.
In this article we offer up our selection of the best evenings in Paris — the nights on the town that are not only delightful, but create lasting memories. And that's what a visit to Paris is really all about — creating memories. As you probably know by know, we enjoy getting special treatment, and we want the same for you. So we've selected the nighttime activities that simply make you feel special. Here, then, are the best evenings in Paris, hand-selected by us and loved by readers.

1. Eiffel Tower Dinner + River Seine + Moulin Rouge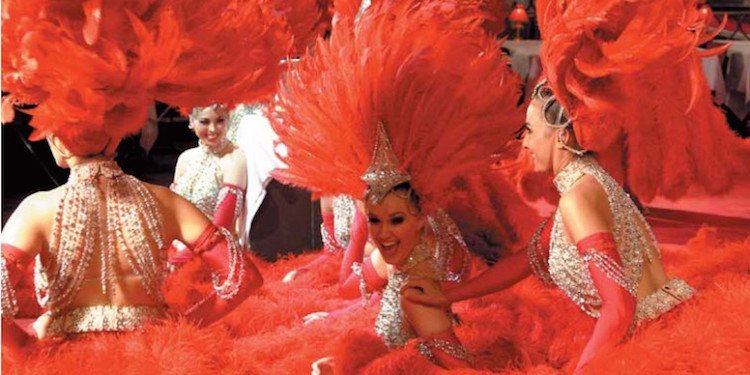 This may be the most action-packed, comprehensive evening in Paris, getting you to three major sights. The night starts out with you dining actually on the Eiffel Tower, at restaurant 58 Tour Eiffel. Feast on a classic 3-course meal, including wine, while gazing at the city spread out 200 feet below you.
After dining and gazing, stroll to the nearby banks of the Seine River to board a bateau for a nighttime cruise. You've already seen the city lights from on high, now you get the chance to experience Paris from its river. (You can use your cruise ticket at a later date, if you prefer.)
But, the night's not over yet. After your boat docks, you are whisked across Paris to Montmartre and the famous Moulin Rouge to take in the #1 cabaret show in Europe. Champagne is included, of course! At the end of a memorable evening in Paris a driver takes you back to your accommodations.
2. Evening Tour of the Louvre + Wine Tasting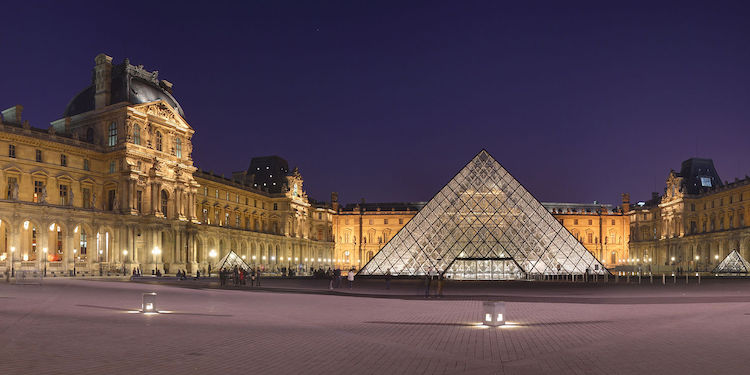 This is a perfect way to avoid the daytime crowds at the most famous museum in the world. Since the Louvre gets 10 million visitors every year, there are always line-ups, but this tour bypasses them with skip-the-line priority access. Your knowledgeable guide leads you past the waiting tourists and takes you straight to the Mona Lisa and the other masterpieces housed here. You spend two hours inside the Louvre on an in-depth guided tour.
We don't know about you, but looking at 4,000 years of art makes us thirsty! So, it's lucky that the next stop is the most popular wine cellar in Paris (close to the Louvre) where an expert sommelier guides you through a tasting of the most famous wines of France, accompanied by a classic cheese and charcuterie platter. Choose the 6:30 PM departure for the evening tour.
3. Privilege Dinner Cruise, Live Music & Hotel Pick-up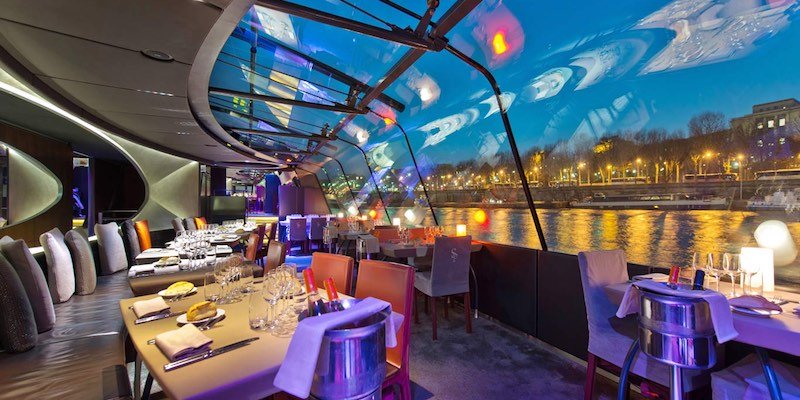 A dinner cruise along the most famous river in the best city in the world. What could be better? Well, how about live music, dancing, wine, champagne, and hotel transportation? Your driver meets you at your Paris address and takes you to the banks of the Seine, where you board the specially-designed dinner bateau. A table has been reserved for you near a window to afford you glorious nighttime views of the City of Light.
The Privilege menu offers a choice of four classic courses, served with champagne and wine, with desserts by Maison Lenôtre, a famous Parisian patisserie. The rest of the dinner is prepared on board by the chef and his team. The table setting is refined and the dress code is casual elegance. After (or during!) dinner you are free to glide across the dance floor to the live trio. At the end of the evening you are returned to your hotel.

4. Ghosts & Legends of Paris – Night Walking Tour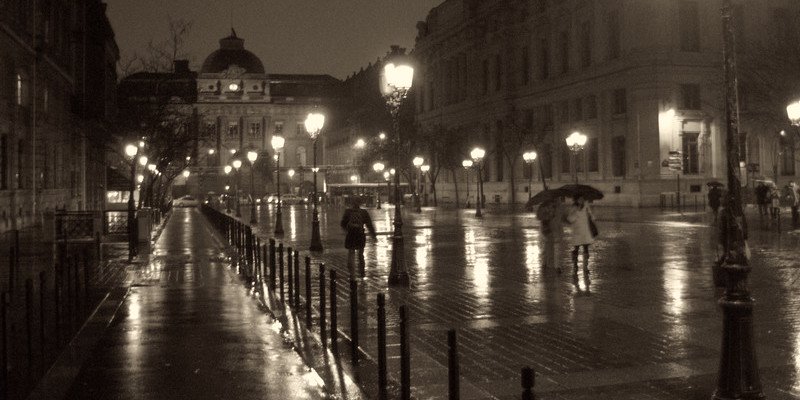 For a different type of evening in Paris join this guided walking tour that takes you to the dark side of the City of Lights. Two thousand years has produced a lot of history, a lot of culture, but also a lot of murder, mystery, mayhem, and maybe even ghosts ! This small-group tour (maximum 10 people) takes you to a more secret Paris, a world of conspiracy, assassinations, mystery, and intrigue. Along the way you walk past some of the most famous places in the city, like Pont Neuf, the Louvre, the Conciergerie, and Notre Dame.
It's creepy fun and very interesting. You're allowed to hold hands!
5. Michelin-Starred Jules Verne Restaurant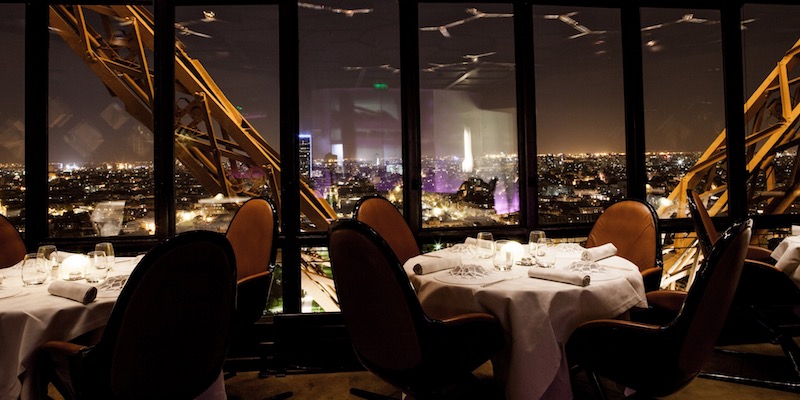 For the ultimate experience dining on the Eiffel Tower you need to go up one more level and 200 feet higher to über-chef Alain Ducasse's Le Jules Verne. With its Michelin-quality dining experience, we call it "a shining star on the Eiffel Tower". Not only is the view magnificent, 400 feet about Paris, but the 6-course menu is amazing.
Reservations are hard to get and window seating is even harder. Luckily, we've found a source that not only guarantees a window seat, but provides a few extra perks like like a complimentary glass of champagne to start, a six-glass wine pairing at dinner, and a plateful of delicious bite-sized desserts (a dessert after the dessert !) But you need to book as early as you can. This is going to sell out. We can assure you, this is an evening in Paris you are never going to forget!
6. Opera & Ballet Performances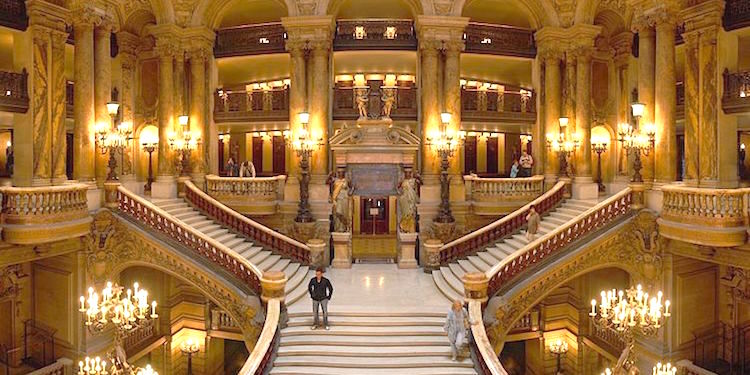 Paris is also the City of Culture and one of the best places to see superb performances of opera and ballet, staged at two superb venues. First up on our list is the stunning 19th-century opera house, Palais Garnier, built in an ornate Belle-Époque style by namesake Charles Garnier. A visit to Paris is incomplete if you miss seeing the interior of this amazing building. Luckily, that's easy to do if you buy tickets to a performance there. Ballet, concerts, and light opera are performed here.

Opera Bastille
For the 200th anniversary of the French Revolution, Paris built a new opera house. Opera de la Bastille, located on the place of the same name, is now the best place to see operas performed in Paris. You're likely to find large-scale production of some of the most famous operas such as The Barber Of Seville, Verdi's Il Trovatore and Falstaff, or La Bohème. — all spectacles not to be missed.