New Year's Eve In Paris 2023 – Stellar Activities To Welcome 2024
New Year's Eve 2023 — or La Réveillon de Saint Sylvestre as it's known in France — is a night filled with celebration. We can't think of a better way to bring in the new year than with a classic French dinner, especially combined with a romantic cruise along the River Seine. Or how about a gourmet dinner plus a guided wine tasting? Everything topped off with champagne, of course. Bonnes Fêtes!
Bookings won't be available for New Year's Eve activities until some time in the fall, so be sure to check back here for the latest dinner cruises, cabaret shows, and other celebratory experiences.
The Best New Years Eve 2023 Experiences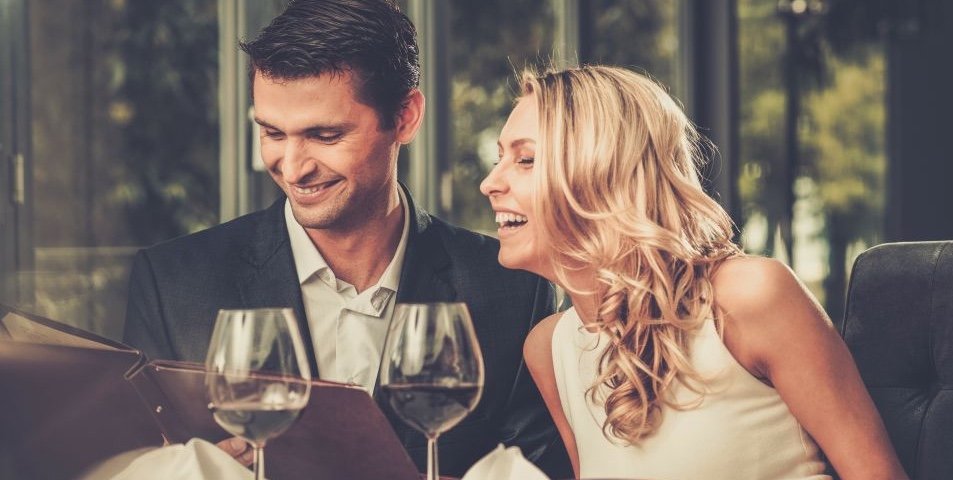 Celebrate the last day of the year in style with a VIP, 6-course dinner at Madame Brasserie, high up on the Eiffel Tower. Dine with Paris beneath you, as the calendar turns a page. The feast will be served with exceptional French wines. The evening starts with an easy elevator ride up to the restaurant, with no waiting in long lines. You'll be treated to live music and champagne. Choose the Paris View option for the very best experience. Count us in! This will sell out, so book now. (Tables are available on other dates as well.)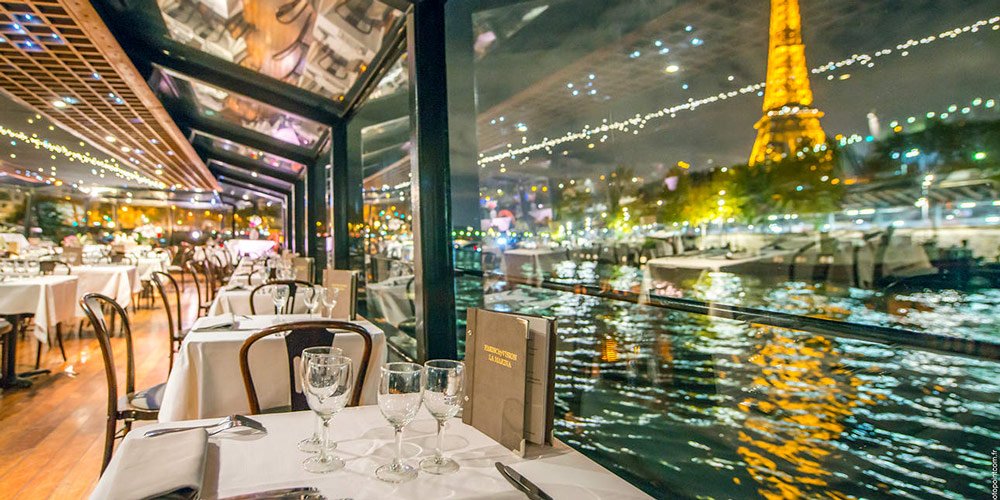 Bid farewell to 2023 while gliding down the most famous river in the world, watching the City of Light all aglow, while dining on a classic multi-course French meal. Starting off with celebratory glass of champagne, you toast the iconic landmarks gliding past your windows. This is an early evening cruise.
There may be no better place to celebrate the last night of the year than at Paradis Latin, a classic cabaret located in… the Latin Quarter. The costumes, choreography and music are sophisticated and downright dazzling. The VIP/Platinum option gives you the best champagne, a four-course French dinner with wine, with the best seats to view the show. Hands down, this is one of our favorite evening experiences in Paris.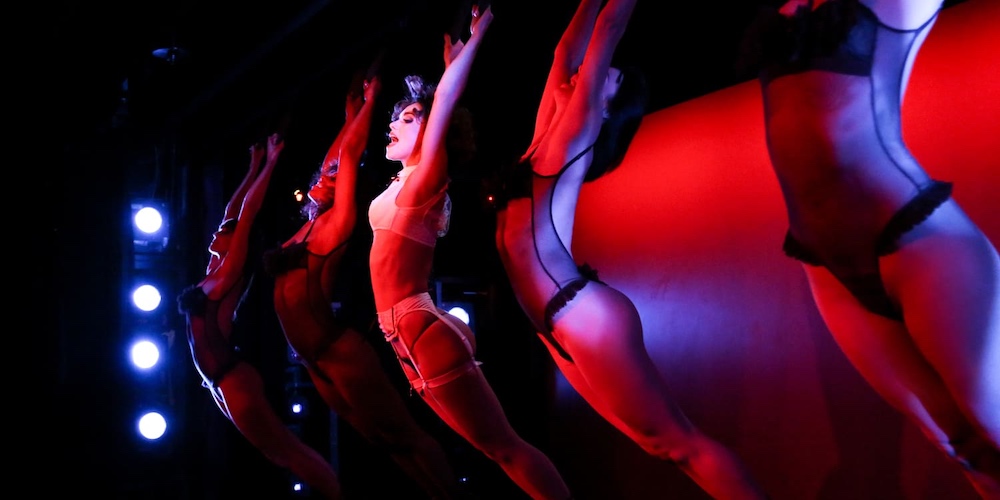 Ring in the New Year at the legendary Crazy Horse, the most avant-garde cabaret in Paris. Their latest production, Totally Crazy, blends seductive choreography with a spectacular sound and light show that dazzles the senses. All the while you'll sip Veuve Clicquot champagne and nibble on Petrossian caviar with an array of amuse bouche. The 7:30 pm show is still available on New Years Eve.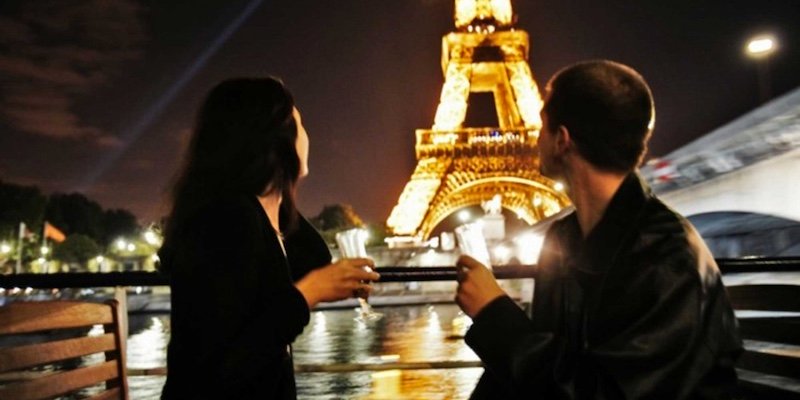 If you know us you'll know why this is one of our favorite things to do. It goes like this — tasting three different champagnes under the tutelage of an expert sommelier, drifting along the river Seine on a bateau, seeing the famous buildings and monuments of Paris lit up, and all of it on New Years Eve! This is an early-evening activity, departing at 6 PM, so the champagne cruise can act as an aperitif to your New Years Eve dinner celebration.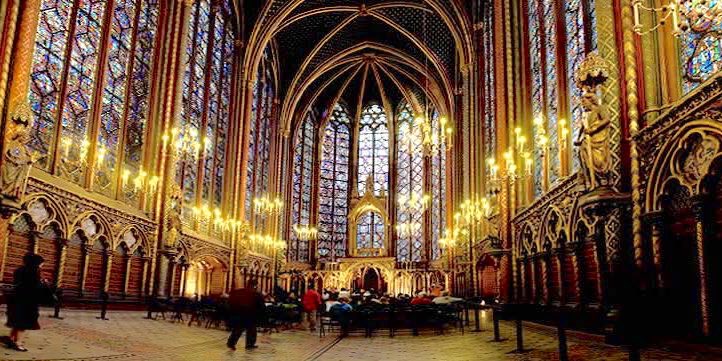 December 31, 2023 will be a night to remember. Especially if you attend a classical music concert at a historic church, opera house, or even on the Eiffel Tower. This has got to be one of the best ways to spend New Years Eve; but, be warned — these special concerts will sell out quickly!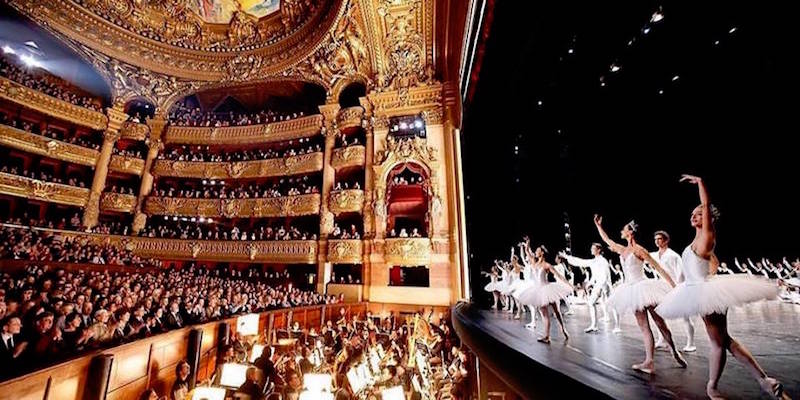 The magnificent interior of Palais Garnier is best seen during a performance of classic ballet or opera. If you book one opera in your lifetime, it should be whatever is being staged at Palais Garnier this December. Check back here for updates !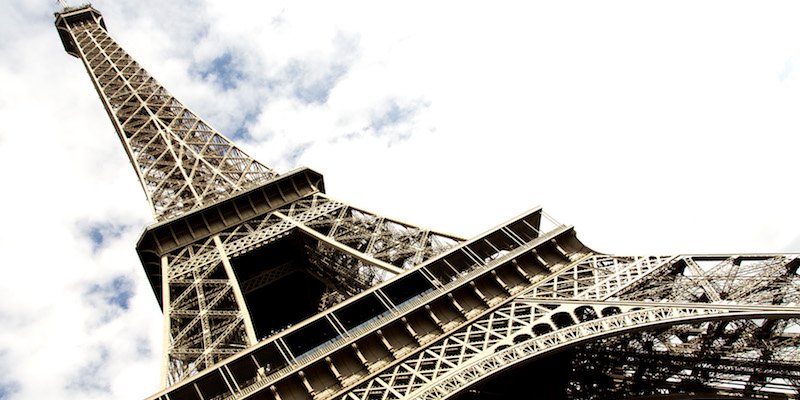 Of course the best place to be on New Years Eve is in Paris. And the best place in Paris might be up on the Eiffel Tower at Chef Thierry Marx's exciting new restaurant, Madame Brasserie. From your table on Level Two you marvel at the vistas of Paris below while a special multi-course menu is served to mark the last day of the year. Book now as seating is limited.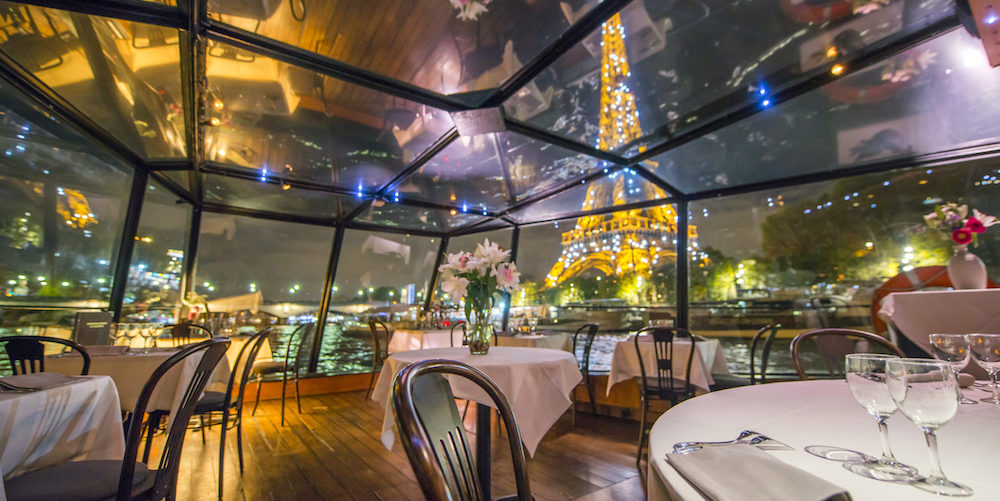 Bid farewell to 2023 while gliding down the most famous river in the world, watching the City of Light all aglow, while dining at a private table. On this early-evening dinner cruise a classic 3-course French meal is served with wine, starting off with celebratory glass of champagne.
More Special Holiday Season Events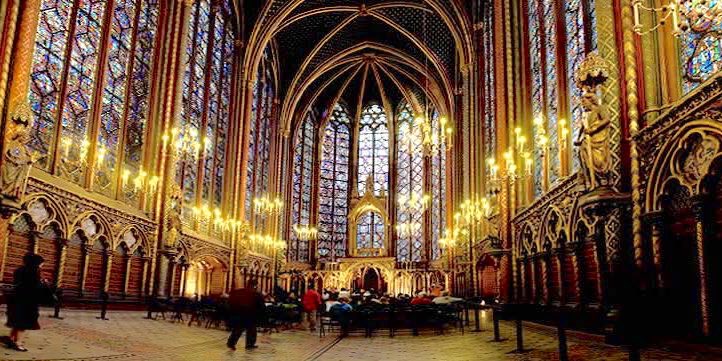 It may be difficult to imagine that you can celebrate New Year's Eve in one of the most famous Gothic churches in the world. But, it's possible to book tickets for a classical concert at La Sainte Chapelle, the stunning stained-glass church on Île de la Cité. Experience the royal chapel with works by Bach, Henry Purcell, and Corelli.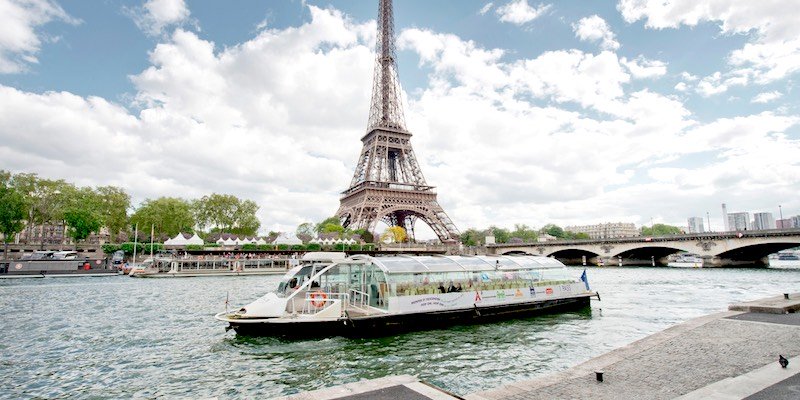 End the year with a bang with lunch on the Eiffel Tower, a river cruise, and a tour of the Louvre. This smart tour gets you to the best of Paris. It starts at the Eiffel Tower with a guided tour before dining at Madame Brasserie high above the city. You then head to the banks of the Seine for a river cruise to admire the monuments and seasonal decorations. Then, skip past the lines at the Louvre for a guided tour of the highlights. This will sell out!
Save your feet for dancing the night away and take a break for lunch on New Years Eve (day). Float along the Seine while dining on a four-course French meal. You'll discover that the sights of Paris look even better from the river!
The fun starts at Porte de la Bourdonnais, in the shadow of the Eiffel Tower. Once the cruise begins you'll catch sight of the Petit Palais, Notre Dame, and the majestic Louvre as you experience a classic French festive lunch to bring in the new year. As always, for the best experience choose the Premier Service option. Joyeux fêtes !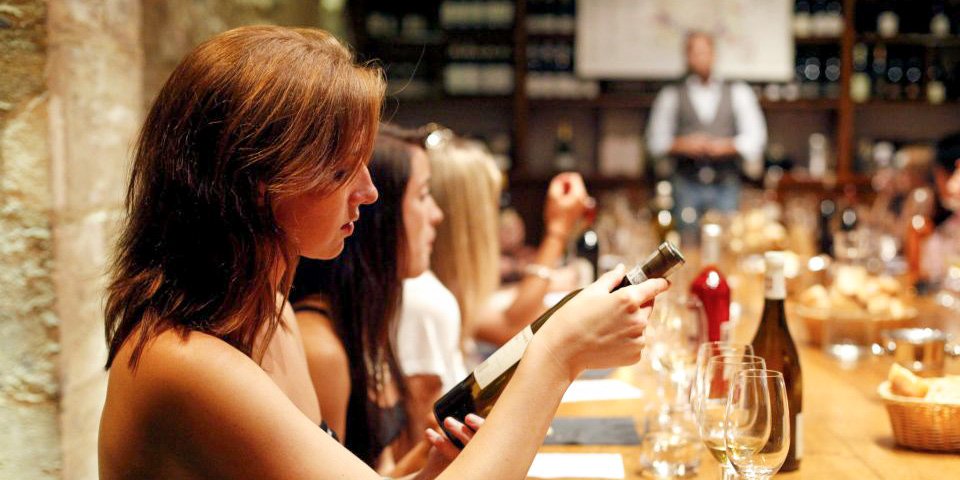 So French, so perfect for New Years Eve. Meet fellow wine-loving guests in an elegant, vaulted tasting room in the very center of Paris, where your sommelier will introduce top French wines to match a classic, multi-course dinner prepared by a Cordon Bleu French chef. It starts with champagne and ends with a celebratory glass of Cognac. Sold out on New Years Eve, but available Christmas Eve.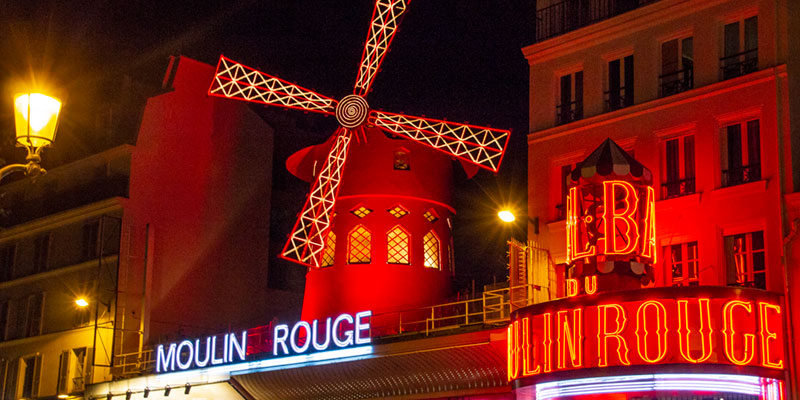 Paris? Christmas week? The iconic Moulin Rouge? Perfect!
Create a spectacular holiday-in-Paris memory with a holiday-week dinner and cabaret show at the historic Moulin Rouge. Sip champagne and dine on a traditional five-course Christmas meal while the dazzling show takes place on the stage in front of you. The special Moulin Rouge Christmas edition is selling out quickly, so book now.
New Year's Eve 2023 Activities
In Paris, The Winter Heats Up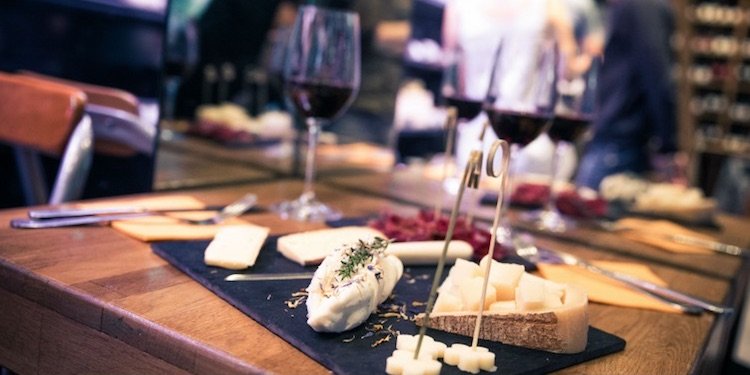 Paris activities don't shut down on New Years Eve. In fact, it may be the perfect time to have the most fun possible in Paris. So, we've put together this list of perennial favorite activities — recommended by us and liked by our readers and all available on December 31 — to give you ideas of what to do in Paris on and around New Years Eve.

This full-day guided activity includes transportation from Paris by luxurious eurovan and gets you skip-the-line Priority Access at Versailles, and feeds you a nice lunch! Travelers' most popular way to visit Versailles.
→ Check Availability…

This is the #1 food activity in Paris. Visit the Marais to meet up with an expert in aging cheeses. Learn about the proper way to age seven classic French cheeses and how to match them with wines. Sold out for December 31, but available on a few other dates.
→ Likely To Sell Out…

Paris. Plus chocolate. Plus pastry. What could be better? And, don't worry, any calories you consume will be burnt off by all that walking. Honest.
→ Likely To Sell Out…


In a wine cellar in central Paris, near the Louvre, an expert sommelier guides you through the wines of the best regions of France.
→ Check Availability…
Dining Out on New Year's Eve in Paris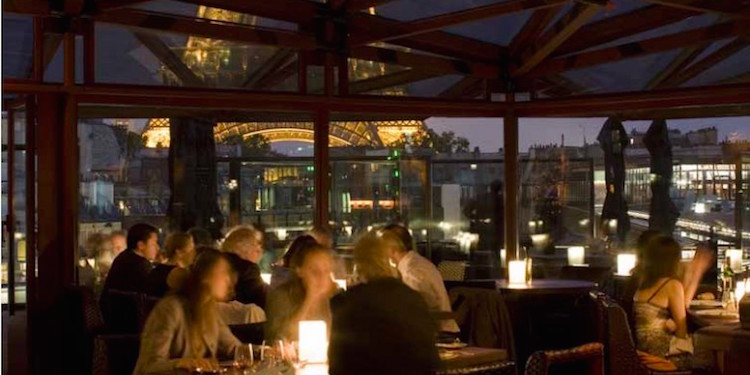 Restaurant Les Ombres, on the roof of Musée de Quai Branly
New Year's Eve is one of the most popular nights of the year for restaurants in Paris — even though a number of them are closed! But those that stay open feature a special multi-course menu with all the seasonal specialties… and fueled with plenty of champagne. Here's the catch — you must book well in advance. Paris restaurants start posting their New Year's Eve menu around mid-October. Here are some popular restaurants, arranged by price —

Very Luxurious But Very, Very Expensive (500€+ per person)
LE BRISTOL
3-Michelin stars for the gourmet restaurant Epicure and 1-Michelin star for their luxury brasserie, 114 Faubourg. With both kitchens led by Chef Eric Frechon.
→ Website…
PIERRE GAGNAIRE
Go for his exquisite fusion cooking and the luxe surroundings in the 8th Arrondissement.
→ Website…
LE CINQ
Unbridled luxury in Four Season's Hotel George V in the 8th Arrondissement
→ Website…

Merely Very Expensive (200€+ per person)
More Restaurant Reviews & Recommendations
Restaurant Fontaine de Mars, in the 7th Arrondissement
We review a lot of restaurants Paris. You may want to check these reviews and then find out if a restaurant that captures your interest is open on New Years Eve.
New Year's Eve Events
The New Year in the City of Lights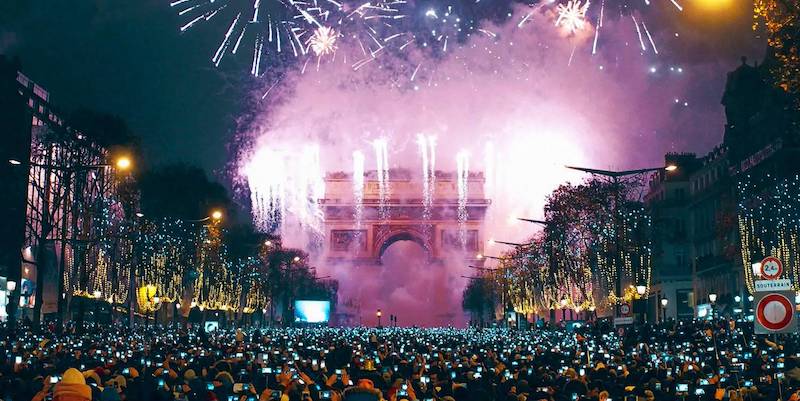 As every year, the Champs Elysées will be shut down to traffic as thousands (and we mean thousands) gather to celebrate. Expect the Christmas Markets that line the boulevard to be open and there is usually a laser light show at the Arc de Triomphe, sometimes with fireworks!
Christmas Markets will be open on New Years Eve at these locations —
Saint-Sulpice (and Père Noël Village) – 6th Arrondissement
Saint-Germain-des-Prés (and Père Noël Village) – 6th Arrondissement
Place de la Nation – 11th Arrondissement
Place des Abbesses in Montmartre – 18th Arrondissement
Gare de l'Est – 10th Arrondissement
Trocadero – 16th Arrondissement