Six Historic Brasseries In Paris You Won't Want To Miss
Brasseries can be said to define the City of Light. These beer-based bistros emerged in the 1870s after France lost the Franco-Prussian War and the French province of Alsace was annexed by the newly unified Germany. Thousands of Alsatians fled to Paris, bringing with them their traditions of beer and choucroute. Quite a number of these provincial immigrants set up places to eat choucroute and sausages and drink beer. The Paris brasserie was born.

Our Top-Rated Paris Experiences
Hearty Food at Any Hour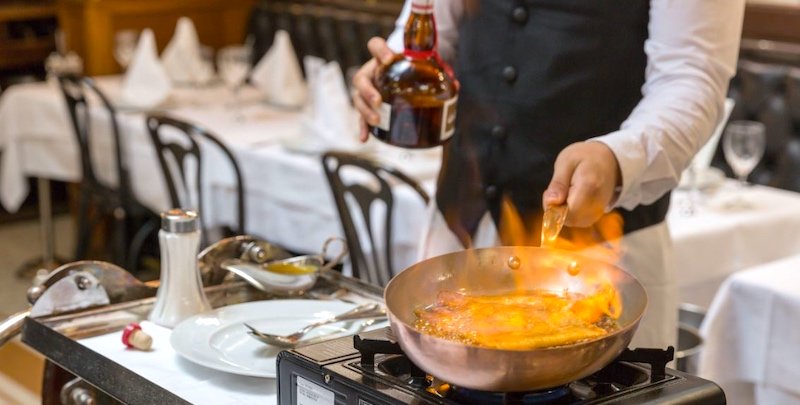 Open from noon until past midnight, brasseries in Paris are big, brightly lit, and packed with a high-energy crowd. Unlike bistros and restaurants where there are limited lunch and dinner times, brasseries serve non-stop, you can order a meal any time of the day. Even in today's trendy Paris food scene, these historic Paris brasseries still draw the crowds. And for good reason. When you're craving classic French cuisine, these six top choices will deliver the food you want. Whenever you want.

Discover What's On When You're Here...
Discover What's On When You're Here
6 Historic Paris Brasseries
1. Brasserie Bofinger – 1864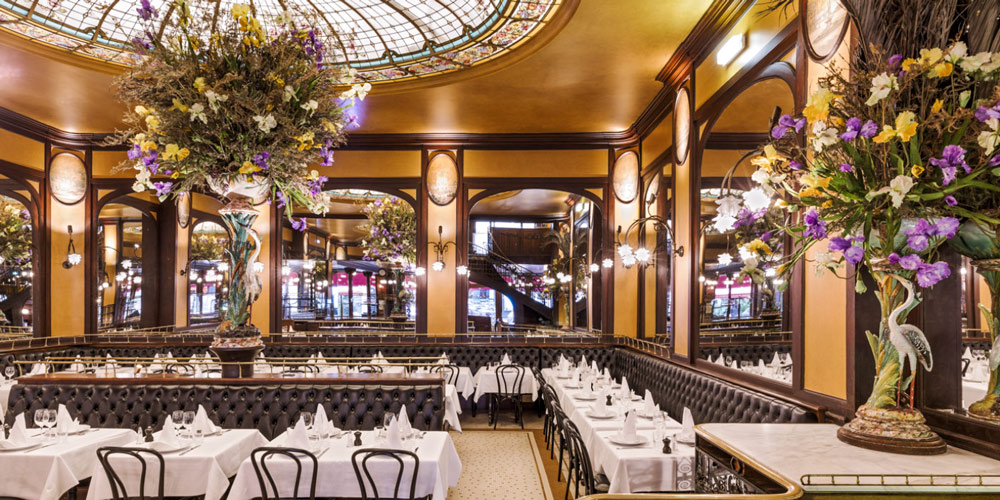 At the leading edge of the Alsatian curve, in 1864 Frédéric Bofinger opened a small restaurant in the Marais on Faubourg Saint-Antoine. It was the first Parisian restaurant to sell draught beer. At the time, beer contained up to 25% alcohol and was served in earthenware jugs that the customers brought themselves. Along with the strong beer were Alsatian favorites of sausages and sauerkraut.
The two floors of magnificent Belle Epoque decor are a maze of of mirrors, brass, stained glass, stunning wood carvings depicting five continents, and huge bouquets of flowers. It's the perfect backdrop for the crowds of fashionable French who flock here nightly. Reservations are essential. When you reserve, make sure to ask for a table sous la dome, under the stained-glass dome, the most beautiful part of the brasserie. Don't expect culinary fireworks, but the food is dependable with generous portions. What to order? Platters of oysters, traditional choucroute, and grilled meats.
5-7 Rue de la Bastille
4th Arrondissement
2. Gallopin – 1876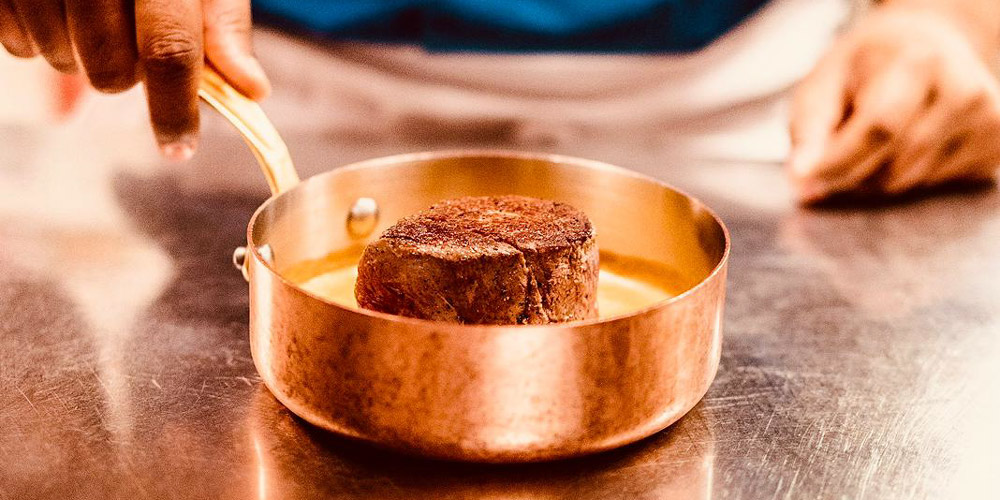 Since opening its doors on September 1, 1876 (the same year the first telephone call was made), Gallopin has consistently been one of the most popular brasseries in the stock market district of Paris called La Bourse.
Founder Gustave Gallopin was an innovator. He came up with the 20 cl measure of beer and served in it a silver mug to keep it fresh and cool. He also designed the restaurant's coat of arms (his two initials inverted), which can still be seen etched in glass in the brasserie's entrance. But one of his grandest achievements was installing the Grand Bar, the first British-style bar in Paris.
The interior of Gallopin showcases magnificent Art Nouveau painted windows, Dutch Delft tiles, massive mirrors, and brass coat racks behind the long banquettes. Waiters are clad in traditional black and white uniforms. Expect well-executed brasserie classics like platters of fresh seafood, especially oysters; bricks of foie gras; hearty terrines; sole meuniere; andouillette; and their signature dessert, omelette norvégienne flambée à l'eau de vie de framboises. (More Baked Alaska than traditional omelette.)
40 Rue Notre Dame des Victoires
2nd Arrondissement

3. Chez Jenny – 1932
The year was 1932 and Robert Jenny, a young Alsatian, had the idea of opening a traditional Weinstub — a wine and beer bar typical of Strasbourg where choucroute is always on the menu. I case you misplaced your Alsace Food Dictionary, choucroute is a steaming platter of smoked slab bacon, bratwurst, plump sausages, and smoked pork loin in long-simmered sauerkraut made with Alsace white wine, duck fat, juniper, coriander, cumin and mustard seed. A stein of golden beer is the perfect accompaniment.
Today, Chez Jenny continues to celebrate the food and wine of Alsace. The historic Paris brasserie is brimming with fabulous regional artwork and the interior is as impressive as the food. On the walls are carved wall plaques and murals depicting life in this region of France along the German border. For the best experience, book a table on the ground floor. When you go, ask them why they took down their website!
39 Boulevard du Temple
3rd Arrondissement
Telephone – 01 44 54 39 00
4. Brasserie Balzar – 1886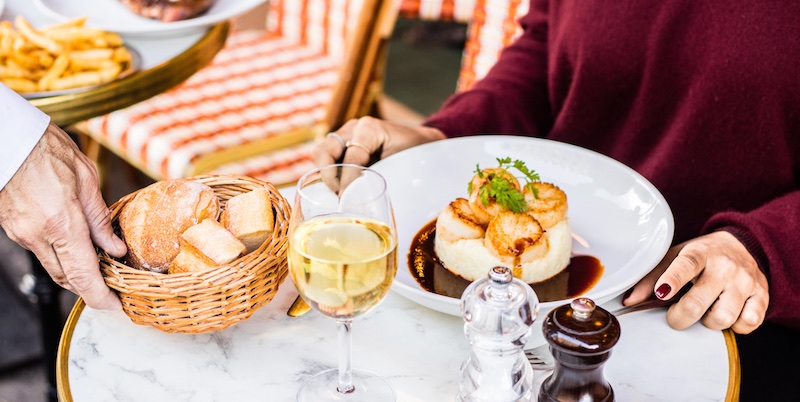 Located close to the campus of the Sorbonne, Sartre and Camus were said to have been customers of Brasserie Balzar, where they loved to spar in intellectual battles. Balzar still remains a favorite hangout for Left Bank intellectuals and modern-day bohemians. Waiters in white shirts and black vests are on standby to serve you in this genuine old Latin Quarter brasserie.
Founded in 1890 by a Monsieur Balzar, it was more recently sold to Marcelin Cazes, the owner of Brasserie Lipp. Cazes hired architect Louis Madeline, an Art Deco enthusiast, to restore Le Balzar to its former glory. He installed globe lights, a stylish tiled floor, wooden tables, dark wood panelling, and moleskin benches. On the walls are posters and paintings from the 1930s, and immense mirrors. When you look up, the mirrors bend at strategic points to allow you to peek at what is on your neighbor's table.
Focus on the succulent roast chicken and a panier of pomme frites, or choose the raie au beurre and gratin dauphinoise. And for dessert? Profiteroles!
49 Rue des Ecoles
5th Arrondissement

5. Brasserie Floderer – 1918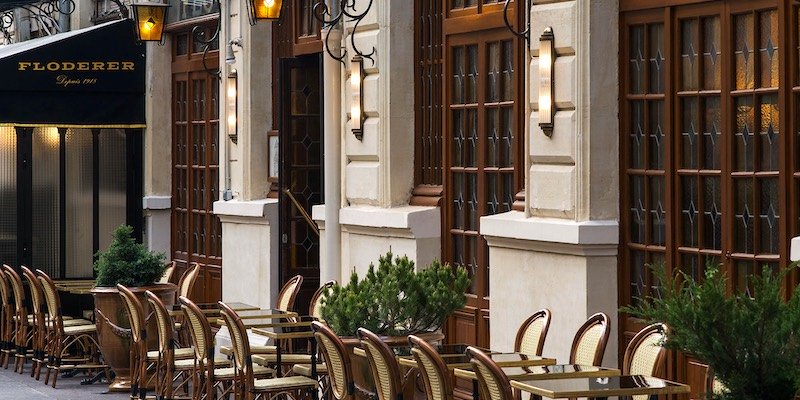 Brasserie Flo was once the jewel in the crown of Jean-Paul Bucher's resurrected Art Nouveau brasseries. If you're unsure of your Paris famous restaurateur history, Jean-Paul Bucher, once a chef at Maxim's, struck out to create one of Paris's largest restaurant empires by buying and then spicing up a half dozen of ornate brasseries.
In 2018, a change in ownership saw Brasserie Flo revert to its original name — Brasserie Floderer — on the 100th anniversary of its opening. You may have to hunt to find it — located on Cour des Petites-Ecuries ("little stables"), a small alley between Rue de Faubourg-St-Denis and Passage des Petite-Ecuries. Once inside, the dark wood walls, zinc bar, and waiters in traditional long aprons will make you feel like you are a true Parisian. This is the place to order platters of fresh oysters, onion soup, foie gras, and Chateaubriand with dauphine potatoes and béarnaise sauce.
7 Cour des Petites Ecuries
10th Arrondissement

6. La Coupole – 1927
La Coupole opened its doors in the Roaring Twenties, when Auvergne natives Rene Lafon and Ernest Fraux created this giant Art Deco brasserie and dance hall in the middle of bohemian Montparnasse. At the time it was the biggest restaurant in Paris. When they opened on December 27, 1927, 3,000 guests arrived and quickly drank 1,200 bottles of champagne. Overnight it became the go-to brasserie in Paris.
La Coupole immediately attracted legions of celebrities or soon-to-be celebrities — Edith Piaf, Josephine Baker, Ernest Hemingway, F. Scott Fitzgerald, Picasso, Chagall, Man Ray…the list goes on. Since then La Coupole has weathered well and remains just as striking as it was way back when. The vast menu has something for everyone, but if you love seafood as much as we do, you must order a giant fresh seafood platter. Or try the choucroute or their famous lamb curry that has been on the menu since they opened. It's all trés chic, trés Parisien and not to be missed.
102 Boulevard du Montparnasse
14th Arrondissement