The 6 Paris Train Stations That Connect To The Rest Of France
There are six Paris train stations, or gares, taking passengers to destinations throughout France and the rest of Europe — Gare du Nord, Gare de l'Est, Gare de Lyon, Gare d'Austerlitz, Gare Montparnasse, Gare Saint-Lazare. France has one of the most developed railway systems in the world and it's easy to see why so many travelers choose to use trains over airplanes or automobile rentals.

Gare de Lyon, newly opened in 1900
The railway system is convenient, safe and economical. The six train stations in Paris were built in the mid-to-late 1800s and early 1900s and retain a pleasing period feeling to them. (The exception is Gare Montparnasse, which was rebuilt in the late 20th century.) They look the way train stations should look. With your French train tickets in hand (or in your phone) you'll be traveling from one of the gares below.

Gare du Nord main hall, photo Wikimedia by Diliff
Gare du Nord, in the 10th Arrondissement, is where you catch the Eurostar to London and other northern destinations in Germany, Belgium, and the Netherlands. It also an important hub in the Paris urban transportation network, including the RER and the Paris Metro. The RER train from Charles de Gaulle Airport (line B) connects at Gare du Nord. It's no wonder it's the busiest train station in the world (most likely).
Gare du Nord train destination highlights —
TGV to Lille – London
TGV to Brussels – Amsterdam
TGV to Brussels – Cologne – Essen
TGV to Brussels – Ostend
Gare de l'Est, photo Wikimedia by Gilbert Bochenek
Gare de l'Est is the near neighbor of Gare du Nord in the 10th Arrondissement, up against the 18th. It's one of the oldest train stations in Paris. This is where you'll leave from if you want to spend the day in Champagne. Trains from Gare de l'Est also head to other eastern points such as Strasbourg, Frankfurt, Berlin, Hamburg, Munich, and even Moscow.
Gare de l'Est destination highlights —
High-speed train to Berlin
High-speed train to Innsbruck
TGV to Reims (Champagne)
TGV to Luxembourg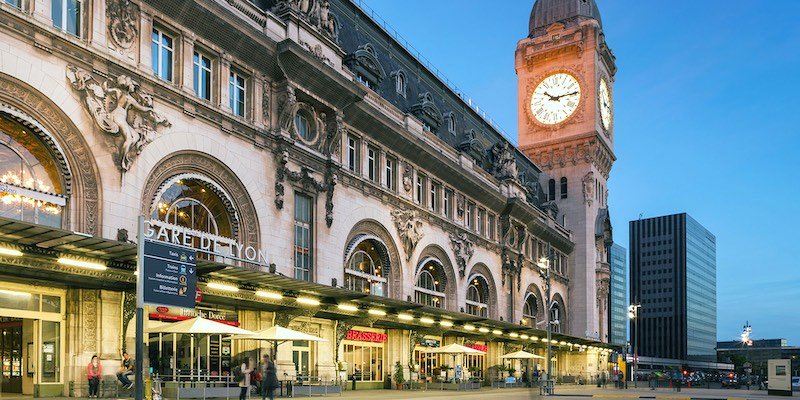 Gare de Lyon and its clock tower
Travel over to the 12th Arrondissement, sort of at the intersection of the Canal St Martin and the Seine, and that's where you'll find Gare de Lyon. Built for travelers coming to Paris to attend Universal Exposition of 1900, this station with a clock tower is the hub for many southern destinations in France as well as cities of Switzerland and Italy. In fact, it's the gateway to the Rhone Valley, Provence, and the French Riviera.
Gare de Lyon is also known for the historic Le Train Bleu restaurant that's been serving customers since 1901 and which was restored in 2004 to its original glory. It's worth a visit just to see the ornate decorations.
Gare de Lyon train destination highlights —
TGV to Lyon
TGV to Avignon – Marseille
TGV to Geneva
TGV to Milan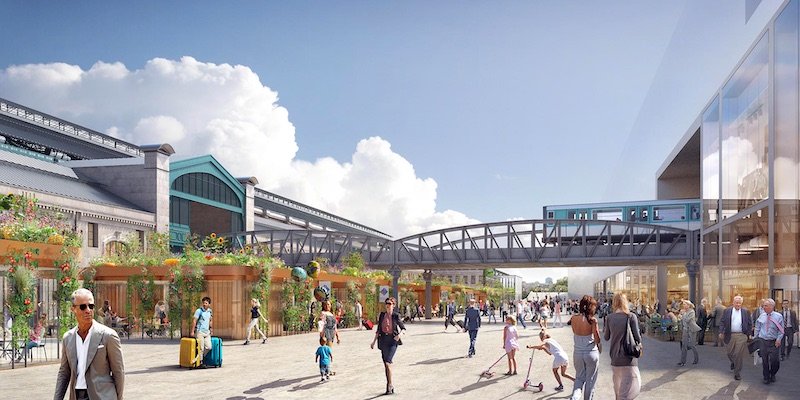 Gare d'Austerlitz is being renovated and will look like this!
Across the river from Gare de Lyon, on the border of the 13th and 5th Arrondissements, is Gare d'Austerlitz, the gateway to the center of France and even the Mediterranean coast. At one time, this was where you'd catch a night train to Spain, but all those legendary (and romantic) sleeper trains have been discontinued.
The station was built in 1838 when it was known as Gare d'Orléans, the terminus for trains traveling to that French city. Currently Austerlitz, one of the oldest Paris train stations, is being completely renovated and revamped to modernize the station and the neighborhood, to make them more green, and to add tracks for high-speed trains serving southwest France. You'll learn all about it in our guide.

Gare Montparnasse
Gare Montparnasse, concept drawing of renovation
Paris train station Gare Montparnasse was also originally built in 1840 (as Gare de l'Ouest). It is the only train station in Paris to be demolished and rebuilt in the modern era — all part of a complex of office buildings and the Tour Montparnasse skyscraper, in an unfortunate wave of modernization that was in vogue among French politicians in the 1960s and 70s. (International tourists voted the tour the 2nd ugliest building in the world.) Hope is on the horizon, though, with a renovation (perhaps something like the illustration above? in the works.
From here you'll access the west and southwest cities including Bordeaux, Tours, Nantes and Rennes. Gare Montparnasse is on Metro lines 4, 6, 12 and 13. It's a major urban terminus.
Gare Montparnasse train destination highlights —
Normandy: Granville
TGV to Brittany: Rennes, St. Malo, Brest
TGV to the Loire Valley: Nantes, Angers
Central France: Chartres, Tours
TGV to Poitou-Charentes
TGV to Aquitaine: Bordeaux, Bayonne, Biarritz
TGV to Midi-Pyrenees: Toulouse, Lourdes
Spain: San Sebastian and Madrid
Portugal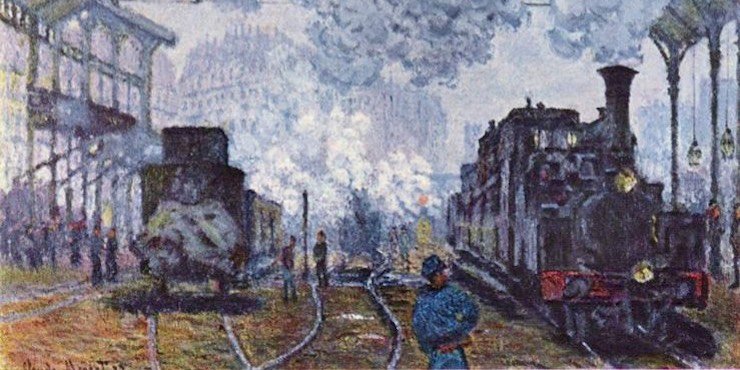 Gare Saint-Lazare, by Claude Monet
Impressionist painters had a soft spot for this train station — both Edouard Manet and Claude Monet chose this railway station as the focus of many of their paintings. There's a famous story of how Monet showed up unannounced, with his painting equipment and his assistant in tow, and demanded to see the station master who was either so impressed or so confused that he "posed" the trains to The Master's instructions, blowing steam on his command.
Gare Saint-Lazare is where you'll depart to get to Mont-St-Michel and Dieppe. It's reached on Metro lines 3, 12, and 13.