Ten Must-See Van Gogh Paintings At Musée d'Orsay
Although his life was short, Vincent van Gogh (1853-1890) gave us so much. Unfortunately he got little joy or recompense during his lifetime. Even with a very brief painting career, he left a vast body of work behind. When you're in Paris at the Musée d'Orsay, be sure to spend some time soaking in van Gogh's twenty-seven stellar paintings, most of which are now found in rooms 71 and 72.
So, let's take a stroll to the banks of the Seine, where this former train station holds the best of 19th-century art. Up on the second level, in the Gallery of Post-Impressionists, is where Vincent van Gogh reigns supreme. Here are his ten must-see paintings at the Musée d'Orsay.

Discover What's On When You're Here...
Discover What's On When You're Here
10 van Gogh Paintings You Don't Want to Miss

1. Portrait of the Artist – 1887
Is van Gogh to blame for the now-ubiquitous selfie? Perhaps. After all, he painted dozens of self-portraits. In fact, he painted more than thirty in the three-year period from 1886 to 1889. In a letter to his sister Vincent explained that he used himself as a model because it cost less than paying a model. Since he used a mirror when he painted them his features have been reversed, and this is how we still picture him. Found in Musée d'Orsay room 71.
2. Self Portrait – 1889
This self-portrait was in the private collection of Paul and Marguerite Gachet (the children of Dr. Gachet, see painting no. 6, below) until 1949. It was completed during Vincent's most turbulent personal period in Saint-Remy and expresses the change he had undergone — more sombre blue tones replace the intense sunny colors of his other Provençal work. D'Orsay room 71.

3. Starry Night Over the Rhone – 1888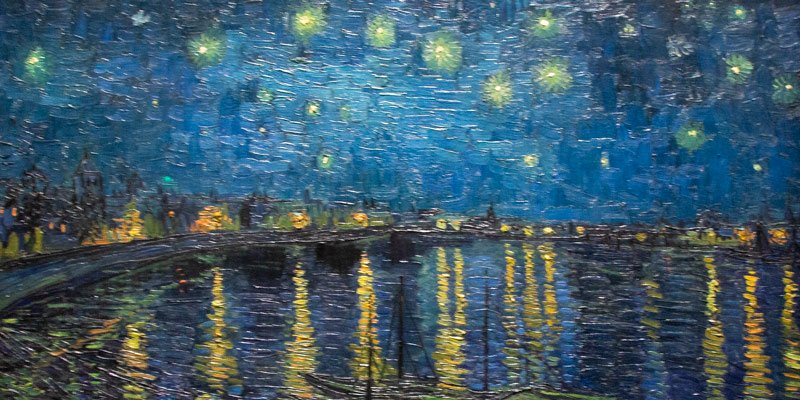 "To express hope by a handful of stars…" 33-year old Vincent wrote to his brother Theo.
The painting was finished while van Gogh was in Arles, just before he committed himself to the asylum in Saint-Remy. In fact, he was in the asylum when he painted his other famous night work, also called Starry Night, depicting the view from his asylum room.
The location for Starry Night Over the Rhone was, as you might guess, the banks of the mighty Rhone River, just a short walk from the Yellow House on Place Lamartine (where van Gogh lived with Paul Gauguin). It's incredible to imagine that this masterpiece was kept behind closed doors, in a private collection in the Netherlands, until 1922. Thankfully for us the painting can now be admired at Musée d'Orsay. Found in room 72.
4. La Méridienne – 1889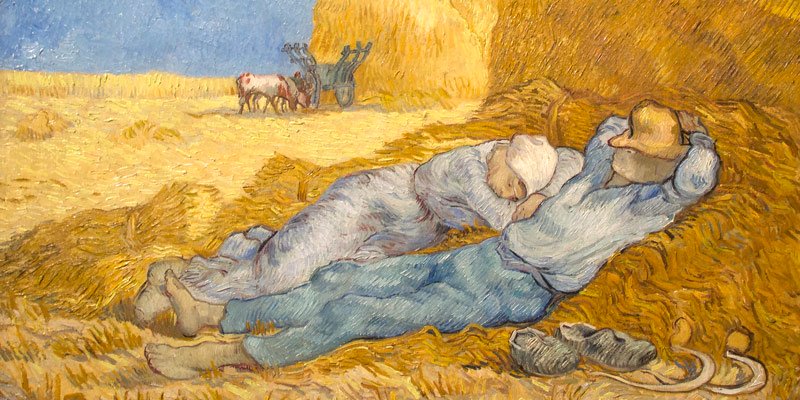 Van Gogh also painted this idyllic scene while he was in the asylum. He had little access to subjects during his internment, so he made do by copying paintings of other artists. He did more than thirty copies of some of his favorite artists — Emile Bernard, Virginie Demont Breton, Eugene Delacroix, Gustave Doré, and Hiroshima, the Japanese print master.
Twenty-one of van Gogh's works were inspired by the French painter Jean-François Millet (1814-1875). Rather than just produce an exact copy, van Gogh brought his own talents to the works by altering the composition through his unique use of perspective, color, and technique. Theo believed these copies were some of Vincent's best work.
In La Méridienne — inspired by Millet's Noonday Rest (the original completed in 1866 and now at the Museum of Fine Arts in Boston) — van Gogh remained true to Millet's composition, but he brought his bold color palate of violet and yellow to add his signature intensity to the work. Room 71.


5. Van Gogh's Room in Arles – 1888
"When I saw my canvases again after my illness, what seemed to me the best was the bedroom." Vincent to Theo in 1989.
Painted in October 1888, when he was living in the Yellow House with Gauguin, van Gogh was very pleased with the composition and the colors. He made three versions — the first was damaged by water, one is on display in Chicago, and the third is here at Musée d'Orsay in Paris. Room 72.
6. Portrait of Dr Gachet – 1890
"I would love to paint portraits, which in a hundred years will seem like ghosts to those who see them."
Gachet's fatigue leaps out of the deep blue background of this portrait of van Gogh's friend, Dr Gachet, painted just a few months before Vincent's death. His first impression of the doctor wasn't favorable. He wrote to Theo, "I think that we must not count on Dr. Gachet at all. First of all, he is sicker than I am, I think, or shall we say just as much, so that's that. Now when one blind man leads another blind man, don't they both fall into the ditch?"
But just two days later he wrote to his sister Wilhelmina, "I have found a true friend in Dr. Gachet, something like another brother, so much do we resemble each other physically and also mentally." Vincent painted two versions — one sold at auction in 1990 for $82.5 million. Room 71.


7. L'Arlésienne – 1888
Vincent van Gogh painted six similar paintings in Arles in November 1888. L'Arlésienne means the woman of Arles. His model, Madame Marie Jullian, ran the Café de la Gare at 30 Place Lamartine where van Gogh was a lodger as the Yellow House was being readied for his short and turbulent stay with Paul Gauguin. D'Orsay room 72.
In a letter to Theo, van Gogh wrote about the portrait, "I have an Arlésienne at last… slashed out in an hour, background pale lemon, the face grey, the clothes black, deep black, with unmixed Prussian blue. She is leaning on a green table and seated in an armchair of orange wood."
8. Fritillaires Couronne Impériale – 1887
Fritillaries are a type of lily that grow from bulbs They're not sunflowers, but with this work we get a hint of what's to come when van Gogh would eventually master his sunflowers a few years later. Note the thick brushstrokes and brilliant use of color, hallmarks he would perfect in Sunflowers.
Fritillaires was done when van Gogh lived in Paris, where he first encountered the Impressionists and became aware of light and color. Of his 900 or so works, van Gogh only signed about 130 — Imperial Fritillaries in a Copper Vase is one of them. D'Orsay Room 71.


9. Eugène Boch – 1888
"I very much like the looks of this young man with his distinctive face, like a razor blade, and his green eyes," Vincent wrote to Theo in 1888, describing the Belgian painter Eugène Boch, who he met in Arles.
As soon as Vincent met him an idea for a portrait took shape, "I should like to paint the portrait of an artist friend, a man who dreams great dreams… I would like to convey in the picture my appreciation, the love that I have for him. So I will paint him just as he is, as faithfully as I can." Instead of showing the ordinary wall of his shabby apartment, Vincent painted infinity — a simple background of a rich, intense blue sky. Van Gogh called it The Poet and it hung on the wall of his bedroom in the Yellow House. Room 72.
10. The Church in Auvers-sur-Oise – 1890
Following his artistically fruitful yet personally disastrous stay in Provence, Vincent moved to Auvers-sur-Oise, a village an hour outside of Paris. Theo was concerned with Vincent's health and put him in touch with Doctor Gachet, a painter and a friend to many artists.
During the last two months of his life van Gogh finished seventy paintings, one per day. The Church in Auvers-sur-Oise is his only painting that depicts the early Gothic church in Auvers, and it's one of our favorites. Room 71.
Vincent van Gogh died from a gunshot wound (there is some debate on whether it was self-inflicted) on July 29, 1890. He was just 37 years old and penniless, but he would come to be considered one of the greatest painters who ever lived. He is buried next to his brother Theo in the cemetery in Auvers.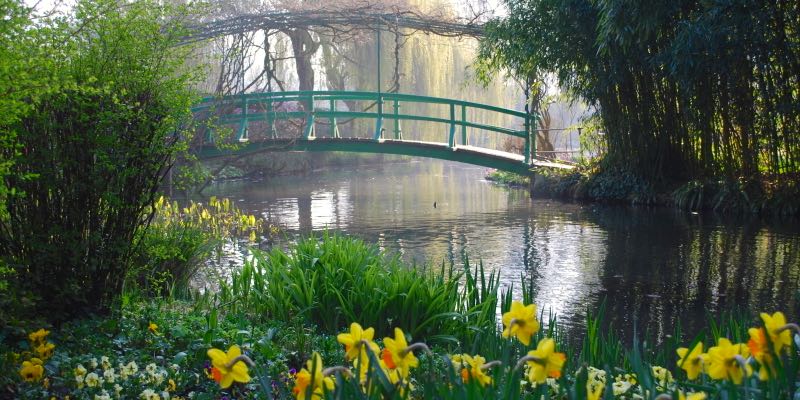 This guided tour from Paris follows the footsteps of two of the most popular artists who ever lived — Claude Monet & Vincent van Gogh. Your expert driver/guide mets you in central Paris to take you on the trail of these two Impressionist painters. First stop is at Giverny, about an hour from Paris, to visit the house and gardens of Claude Monet. You'll recognize the lily pond and Japanese bridge that his painting immortalized.
Next up is a short drive to Auvers sur Oise, the picturesque village where Vincent van Gogh spent the final days of his life in 1890. You'll recognize the landscape and the Gothic church painted by van Gogh. "I would definitely recommend it to anyone who loves the art of Monet and van Gogh," says a typical 5-star review.