You Asked – Affordable Restaurants In The 8th Arrondissement?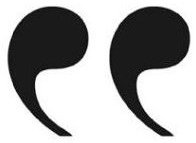 We will be in Paris in early August. I understand that many restaurants will be closed during that month, but can you recommend a few good French restaurants within a 15-minute walk of Metro George V and open in August? Ideally, I'd like to keep the budget under 99€ per person.
– George, UK"

We Answer – Great Restaurant Choices
Dear George,
If you can, stay away from restaurants directly on Champs Elysees. Most are over-busy chains serving bland food to an international crowd. There is one exception, Fouquet's, a century-old Paris landmark at 99 Champs Elysees. Don't go for the food as much as the historic an luxurious Art Deco interior. There is a prix fixe dinner menu for just under 100 Euros. Or, you could stop here for a glass of champagne after dining at one of our preferred restaurants below.
La Maison de la Truffe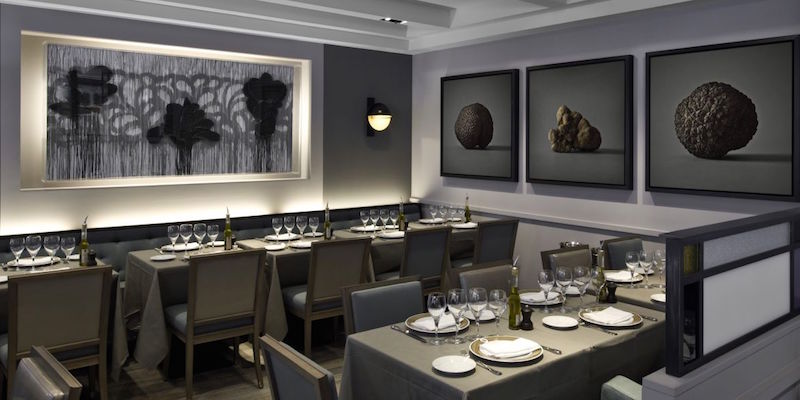 La Maison de la Truffe is a stylish restaurant on a quiet street off Champs Elysees. The restaurant attracts a well-heeled Parisian crowd who come here for the calm decor and the truffle-inspired menu, including signature dishes tagliatelle with foie gras and truffle, housemade pizza with black melanosporum truffle purée, and the burger with black truffle and frites. If you have room for dessert you have to try the warm chocolate fondant with vanilla ice cream & white truffle.
La Fermette Marbeuf – CLOSED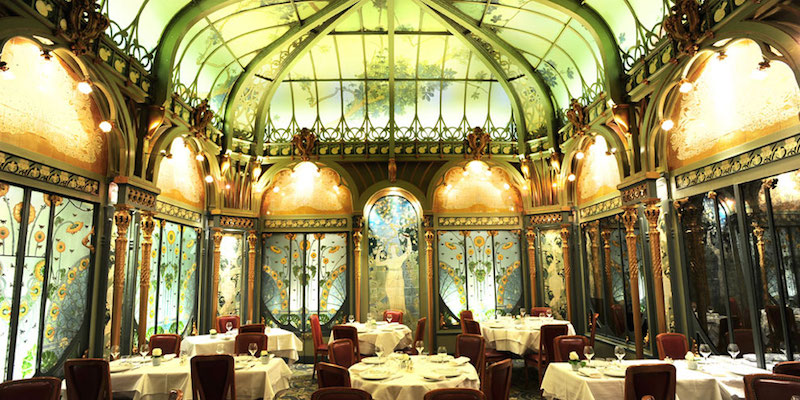 La Fermette Marbeuf is another good one that's very close to Metro George V and just off Champs Elysees — in fact, it's on the same street as La Maison de la Truffe. We've dined several times at La Fermette Marbeuf and it's always been a pleasure. It's open in August, too. When you reserve, make sure you ask for a table sous la dome (under the dome). It's the best part of the restaurant.
Signature dishes like escargot in puff pastry, fricassee of veal kidney and sweetbread, and the house Grand Marnier souffle will be palate pleasers.

L'Atelier de Joël Robuchon Etoile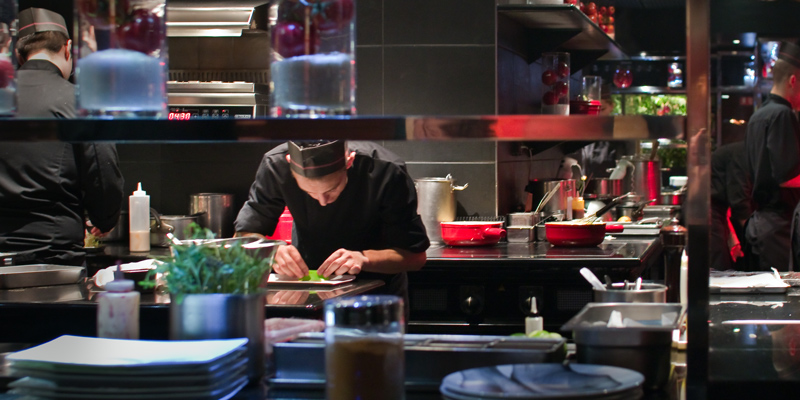 Another one of our favourites is Joel Robuchon's Etoile restaurant. (Etoile refers to the nearby traffic circle at the Arc de Triomphe…). It's pricier than La Fermette, but the food is out of this world!
What to order? You'll be left with delicious lingering memories of the spectacular langoustine en raviolis truffés à l'étuvée de chou vert (truffled raviolis in a rich broth), or the the black cod sur une mousseline de daïkon au yuzu. In fact, I would travel to Paris just to have a taste of Joel Robuchon signature mashed potatoes. As you sit at the bar, you can watch them prepare the potatoes with a deft touch and plenty of butter! The restaurant features a special Tuesday tasting lunch, with wine, for 110 euros. L'Atelier is also a short walk from George V and open in August.
Brasserie Lorraine
Brasserie Lorraine is another one of our favourites. It's big and bright, the service is good and if you're a fan of fresh oysters this is the place to be. If you're not a seafood lover, try the chicken supreme, with a fricassee of chanterelle mushrooms or grilled ribsteak, with Bearnaise sauce and frites.
The brasserie also offers prix fixe menus for lunch and dinner for under 50 Euros. It's a little farther afield than the other choices, but still only a 12-minute walk from Metro George V.