Musée Picasso Paris – See The Greatest Works Of The Master
Love him or loathe him, Pablo Picasso is arguably the most important artist of the 20th century. And although there are museums dedicated to him in various places around the globe, the Musee Picasso in Paris is the pinnacle, being located in the city where he spent most of his artistic life. The museum is housed in a magnificent mansion in the Marais. Here you'll find the world's largest public collection of the work of Picasso.
What makes the museum unique is that it's filled from basement to attic with Picasso's memorabilia — not only paintings but letters, sketches, prints, sculptures, and even his poetry. There's no other museum that gives you such an intimate peek into the mind and soul of an artist. Picasso famously said, "Give me a museum and I'll fill it." This museum fulfills that promise. The collection was practically curated by Picasso himself.
Musée Picasso Paris
The museum's home, the 17th-century Hotel Salé, is in the Marais, with a garden, a courtyard, and a stunning two-story entrance hall. What strikes us about the neighborhood is its calmness and peacefulness. This Marais mansion (called hotel in France) was built in the 1650s for the uber-wealthy Pierre Aubert de Fontenay, a man who made his money from the collection of the salt tax. And that's where the name comes from — Hotel Salé means, more or less, salty mansion.
The Picasso Museum, originally opened at the hotel in 198, but the museum closed after a 2009 robbery in which one of the artist's sketchbooks was stolen, valued at €7 million. The museum directors were so shocked by the theft that they… increased security?… put in a new alarm system?… No, they simply locked the doors.
The museum remained closed for five years to undergo a massive renovation and expansion. In the fall of 2014 Musée Picasso Paris reopened with double the original space and, we assume, better locks. We think Picasso would have approved of the use of the historic hotel with its elegant Baroque staircase, proportioned rooms, and unusual spaces like the basement and attic chambers.
There is now 54,000 square feet of museum space stretching out across two buildings — the 17th-century Hotel Salé and a new structure, the garden room dedicated to temporary exhibitions.
Inside the Musee Picasso Paris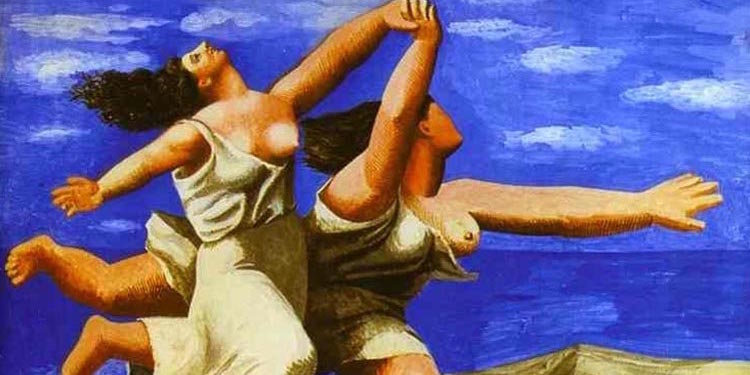 There are four floors of galleries, including a vaulted basement and attic with exposed beams and views of the claypot chimneys and rooftops. On the first and second floors you'll find his early paintings — as a teenager in Spain up to works from his first visit in Paris as a young man.
Alongside his 400 paintings there are also other masterpieces from Picasso's personal collection — works by Edgar Degas, Paul Cézanne, Paul Gauguin, Georges Braque, Joan Miró, Henri Matisse, and Henri Rousseau.
A major improvement in the new museum is more space between paintings, allowing you to spend time alone with the works. You'll experience the adrenaline rush that Picasso's earliest admirers must have experienced.
The largely chronological route through the museum takes you from Picasso's earliest works as a teenager, including the Little Girl in a Red Dress, painted in 1895, to paintings completed just before his death in 1973. The museum's collection will shake up your preconceived notions about Picasso. When you see the 1917 portrait of Olga (shown above) you get a glimpse into his feelings of love and tenderness for his first wife.
This is not a stuffy museum, there are plenty of interactive multimedia displays that cater to children and curious art lovers. The collection is divided into three distinct areas. The first two floors cover his work from 1895 to 1972. The top floor showcases paintings from his personal collections. The basement features Picasso's full range of art arsenal: photographs, engravings, paintings, and sculptures created at his many residences. End your exploration with a petit pause in the rooftop cafe. Allow about two hours for your visit.
Picasso's Legacy
Picasso was a lifelong collector of memorabilia, and that's what we meant when we said he was his own curator. When he died in 1973 he left a large archive to his family. After sifting through the materials, they donated a vast amount of it to the French government in lieu of paying inheritance tax. It's this personal collection, shaped by Picasso himself, that the museum is built on.
The original collection had about 70,000 items and it took almost a decade to sort. First, the rights of his children and grandchildren had to be established — not a simple task given the number of wives, mistresses, and children involved. He also left roughly 1,900 paintings, 1,300 sculptures, 7,000 drawings, 18,000 prints, 2,880 ceramic pieces, and 150 notebooks of drawings. It is the greatest collection of Picasso's art in either private or public hands.
But get this. Picasso did not leave a will. It cost $30 million and took six years to sort it out. His legacy? "Picasso is everywhere."
Pablo Picasso 101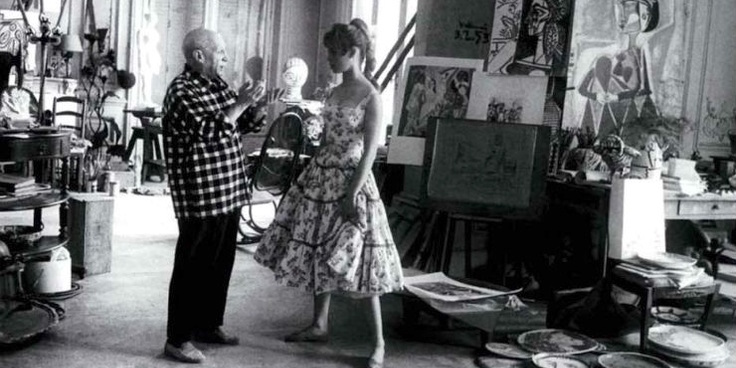 Pablo Ruiz Picasso was born in Malaga, southern Spain on October 25, 1881.
His father was an art teacher and recognized Pablo's talent as a young child. By the time Picasso was a teenager, he was an art prodigy. Pablo briefly attended art school in Barcelona but dropped out.
Picasso arrived in Paris just shy of his nineteenth birthday. He didn't speak aa word of French and had nowhere to stay. Unlike other contemporary artists, his work was recognized by art dealers and galleries by the time he was twenty years old.
In the summer of 1901 Ambrose Vollard, Cezanne and Gauguin's art dealer, put on a Picasso exhibition. It was a success and featured Picasso's paintings of prostitutes, society ladies, landscapes, and street scenes.
He first lived in Montmartre where, with his friend George Braque, they pioneered cubism. in 1913, he moved to Montparnasse.
His career was greatly influenced by Gertrude Stein and her brother, Leo, who encouraged Picasso.
Picasso loved fatherhood, as his many portraits of his children show, but he was inconsistent with his attention.
The Nazis listed Picasso. as a "degenerate artist" He lived in Paris during World War II and the Nazi occupation of France in his studio at Rue des Grands Augustins.
He was a famous womanizer. The only woman known to leave him was Françoise Gilot. She is the mother to Claude and Paloma Picasso. When she wrote a tell-all book in 1964, Picasso was so incensed that he cut off relations with Claude and Paloma and never saw them again.
Pablo Picasso lived in France for most of his life and died on April 8, 1973, on the French Riviera.
"He was born in Spain and died in France, he was not scared of baggy pants," as Guy Clark sang it.
Picasso's Artistic Periods
The Blue Period: 1901 to 1904
The Rose Period: 1904 to 1906
The African-Influenced Period: 1907 to 1909
The Cubism Period: 1909 to 1912
Classicism and Surrealism Period: 1918 to 1945
The Final Years: Post-World II to his death in 1973
Musée Picasso Paris – Practical Information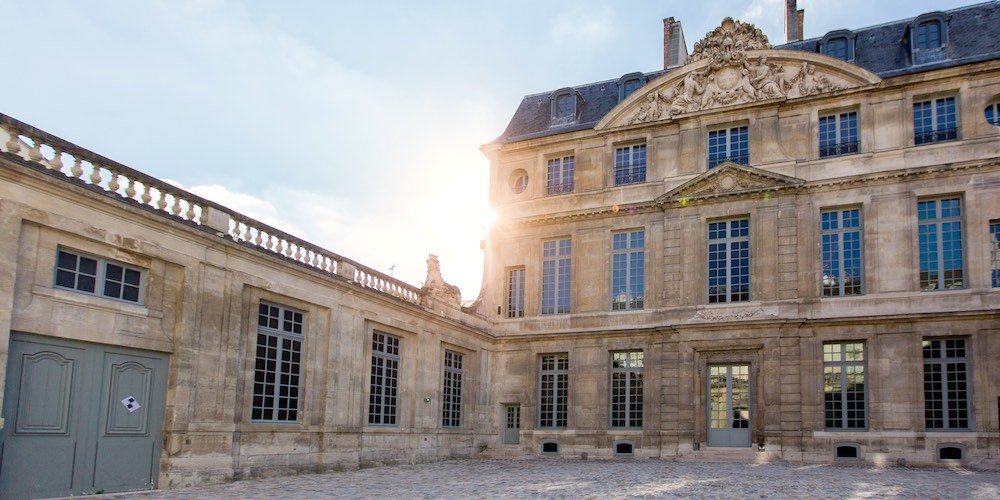 Location
5 rue de Thorigny, 75003
Marais
Metro Access
Line 1 – Saint-Paul
Line 8 – Saint-Sébastien-Froissart or Chemin Vert
The museum is a short walk from the Metro stations
Le Cafe sur Le Toit
If it's a nice day, take a gourmand break at the lovely rooftop cafe. Unlike many drab museum cafes, this one serves patisseries from Maison Angelina. You can also get a glass of sangria, a glass of champagne, salads or le club (a club house sandwich).
Nearby Museums