New & Improved, In & Around Montmartre For Autumn 2018
If you're like us, a trip to the butte (hill) of Montmartre is high on your to-do list. This year, we're happy to report, the artistic arrondissement has seen some important renovations and a reopening that make visiting even more enticing.
We're thrilled to say that Musée de la Vie Romantique is open after a long renovation and it's better than ever, with a revitalized tea room and modern-day accessibility upgrades. And if you've never stayed up in Montmartre maybe now's the time — there are some freshly-renovated hotels high on our list of where to stay in Paris, like Hotel Particular, Mom'Art Hotel & Terrass" Hotel.

Renovation Completed at Musée de la Vie Romantique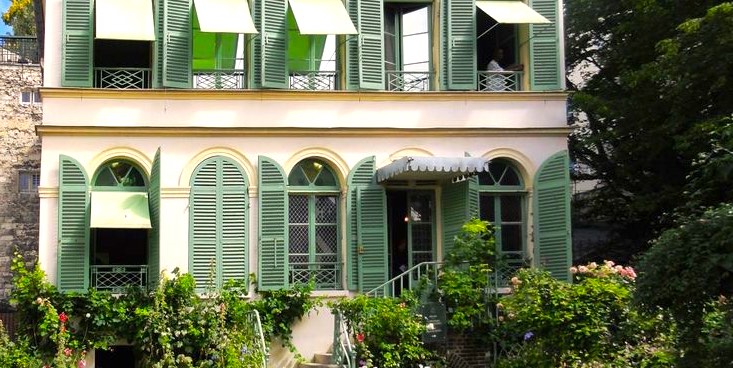 After an extensive eight-month renovation, the Musée de la Vie Romantique has reopened its doors. The 19th-century pavilion, at the foot of the Montmartre hill, showcases the legacy of George Sand, along with revolving exhibitions and a lovely rose garden. One of the most important upgrades was making the entire site accessible, including the courtyard and the garden.
Now you can take a break in the lush, tree-shaded tea room, with a sleek renovation by the same folks who designed restaurant Frenchie's. The tea room is now managed by Paris' favorite Anglo-French Rose Bakery. After taking in the life and times of George Sand, tuck into a healthy salad, quiche, decadent French pastry, or a British bakery classic like carrot cake, scones, or banana bread.
16 Rue Chaptal
9th Arondissement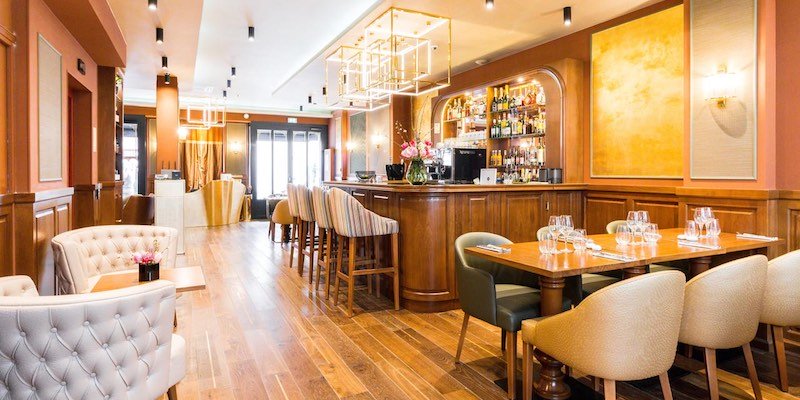 Also at the foot of the Montmartre hill is a family hotel with a new lease on life. Five siblings took over their father's hotel, Mom'Art Hotel, and closed it for a year-long major renovation. Architect Jacques Mechali (also on his impressive list of former clients are Le Bristol, and Hotel Aubusson) has entirely redesigned the twenty-four rooms and divided them into five categories: Cosy, Elegant, Hermès (decorated with Hermès fabrics), Artistes (with Picasso and Miro rooms); and Suite Parisienne with its own terrace.
The magnificent property is divided between two buildings with a paved courtyard. There's also a fitness area, spa and, for the first time in its history, there is a restaurant and bar with French celebrity chef Grégory Cohen in the kitchen.
42 Rue d'Orsel
18th Arondissement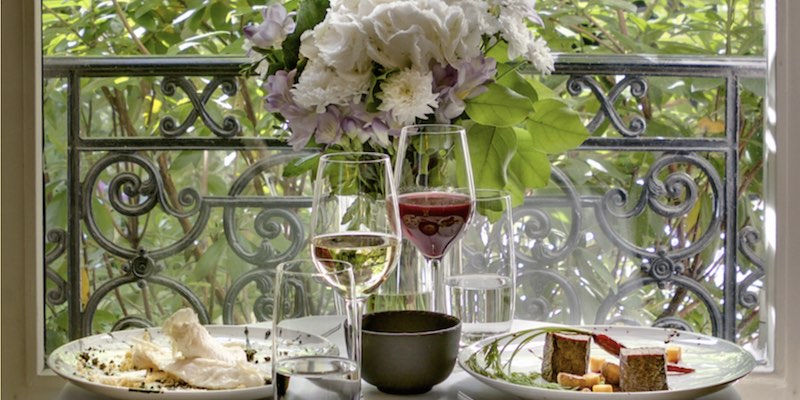 Once the private home of the Hermès family, it's now a secret hotel where A-listers like Brad Pitt choose to stay when in Paris. Built in the 19th century, it was a private residence until 2007 when it was turned into a boutique hotel. There are only five luxury suites.
This true hidden gem in Montmartre, with a private garden, now has a fresh, new face. The ground floor restaurant has been opened up and redone in charming hues of pink. The menu has also been refreshed with an inventive menu featuring seasonal tapas to be enjoyed indoors or al fresco.
Coming here is like stepping into the French countryside. The expansive, secret gardens at Hotel Particulier were designed by Louis Benech, the superstar landscape architect behind Jardin des Tuileries and the rooftop garden at Les Invalides, among others. Since 2016 Oscar Comtet, with a youthful, rockstar attitude, has taken over as general manager and has infused a new energy into the refined and elegant hotel with candlelight garden events, a DJ set on the weekends, and the upgraded restaurant and bar.
23 Avenue Junot
18th Arondissement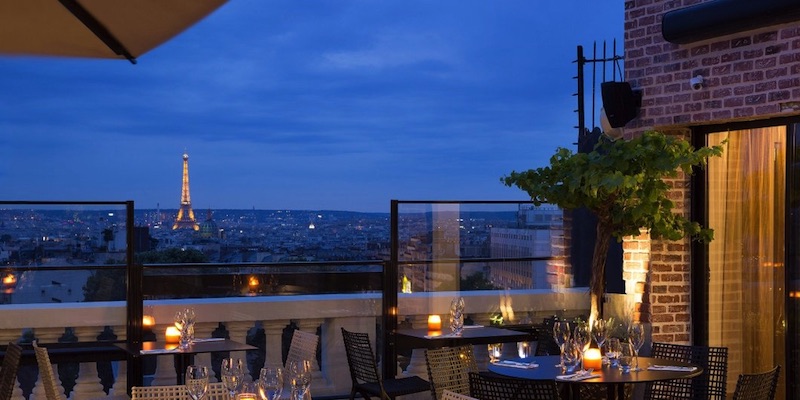 During the summer and early fall months, this iconic Montmartre hotel's rooftop terrace, with its breathtaking views over Paris, hosts the loftiest location for outdoor barbecues. Pull up a deckchair and a cocktail while a juicy steak, salmon filets or marinated pork and vegetable skewers are cooked to perfection on the outdoor grill. This rooftop oasis has 180-degree views overlooking the Paris skyline including Les Invalides, the Grand Palais, and the Eiffel Tower. And, no, we don't know why there's a quotation mark at the end of the hotel name.
14 Rue Joseph de Maistre
18th Arondissement
Une Glace à Paris New Location in Montmartre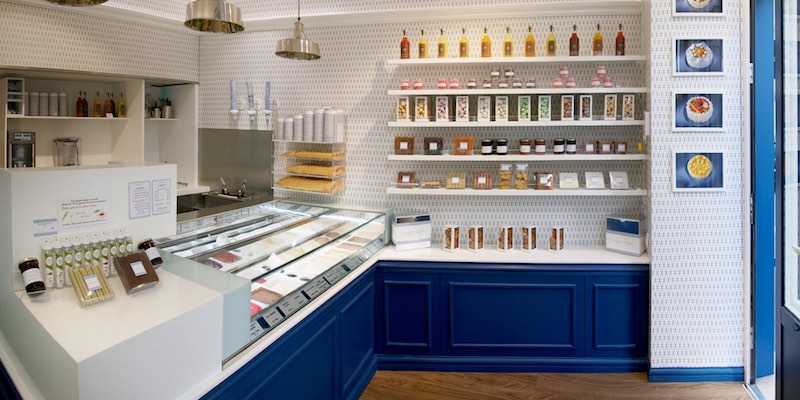 World Champion pastry chef Emmanuel Ryon and Olivier Menard, formerly of Pierre Hermé and Harrods, joined forces to churn out luscious, ice creams in the French capital. Light and original, their dreamy ice cream comes in decadent flavors like cafe-cardamom and pistachio-orange blossom. Their flagship store opened a few years ago in the Marais. We're guessing they like neighborhoods that start with the letter M. Is Montparnasse next?
44 Rue des Abbesses
18th Arondissement
Le Bouillon Pigalle – Something Old is New Again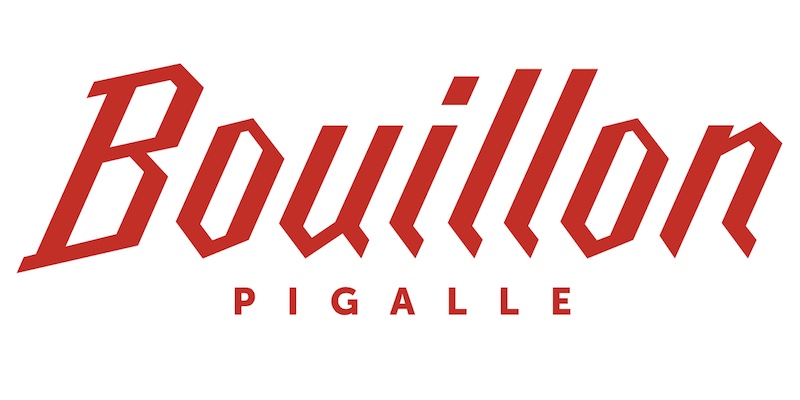 In vogue during the Belle Épôque, bouillon restaurants gave restaurateurs a chance to repurpose cheap pieces of meat by adding them to sauces. They were popular with the people as well as society folks like Colette, Cocteau, and even Proust. In this contemporary version in Montmartre, Bouillon Pigalle continues the tradition of offering the same super-low prices in their hearty dishes. Tout le monde are going gaga over the large, expansive, heated terrace with 100 seats, overlooking Place Pigalle.
The restaurant's leatherette banquettes hearken back to the bouillons where 19th-century Parisians dined on the cheap. Here you'll find all the classics updated with a few modern touches — organic eggs/mayonnaise, Comté gougère (choux dough mixed with cheese), boudin sausage, and calf's head with gribiche sauce. Serves non-stop from noon to midnight.
22 Boulevard de Clichy
18th Arondissement