Our Personal Picks – The 10 Best Five-Star Hotels in Paris
Paris invented the luxury hotel. Think of César Ritz and his groundbreaking hotel that opened in 1898. Or Hotel du Louvre, that received the first ever 5-star rating in 1887. Or step back in time even further, to 1771, when Charles-Augustin Meurice first opened his hotel, later moving Le Meurice to the Rue de Rivoli in 1835, where it is still found today.
It didn't take the French government long to recognize the quality of these and other hotels, and to realize how important they were to visitors. The first top ratings were awarded in the 19th century, and today there are almost fifty five-star hotels in Paris. (That's in addition to the even more deluxe Palace hotels.) To help you choose, we've gone deep into the world of luxury hotels in the City of Lights and present for your consideration a select handful of what we think are the best of the five-stars.

Ritz Hotel Paris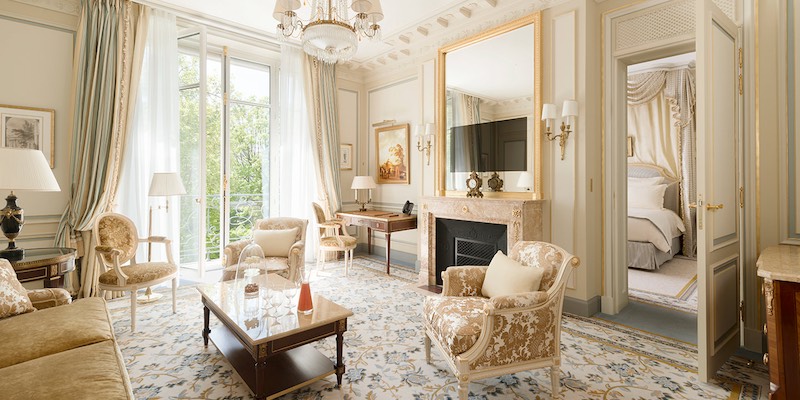 After 114 years even the queen of Paris needed a makeover. It took four years and cost something like $450 million. The new improved Ritz is now open, and it looks a lot like the old Ritz, with its patina of history, but with more sparkle and modern innovations. In our review we tell you to expect to feel the familiar luxurious comfort, but with an added layer. We rate it Superb Plus, our highest possible rating.
Le Cinq Codet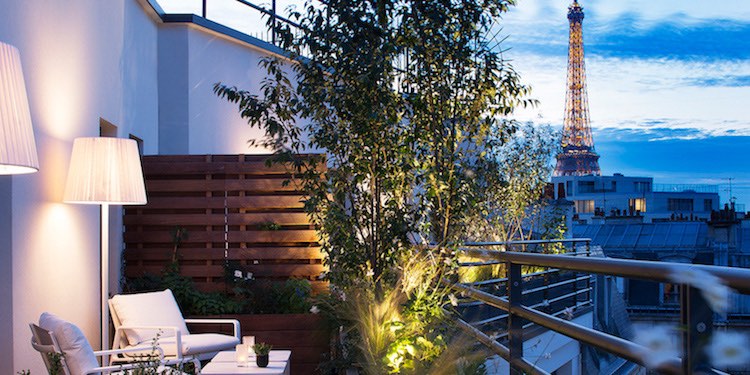 This brand-new hotel stays true to its 1930s Art Moderne building with a stunning design by Jean-Phillipe Nuel.
Its not often that a hotel this new shoots to the top of our Superb-Plus list, but Le Cinq Codet has done just that with large spaces, lots of light, and a 1930s-modern design that is perfection.
Le Burgundy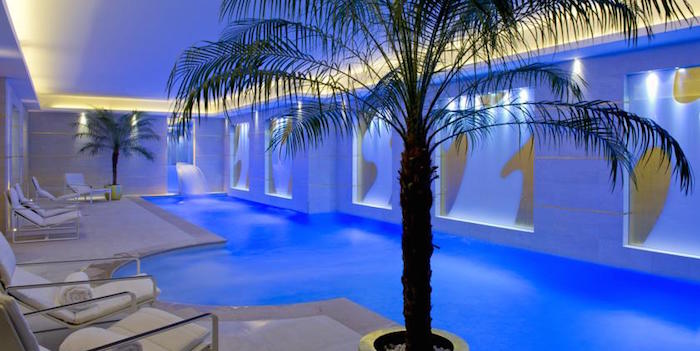 Le Burgundy is located in the center of things in Paris — in the 1st Arrondissement — and if it isn't on everyone's list of the best places to stay in Paris…well, it should be!
It's on a very quiet one-way street, the service is extraordinary, and we love all the silky fabrics and thick carpets. What's amazing is that, even though in the center of the city, the rooms are huge by Parisian standards.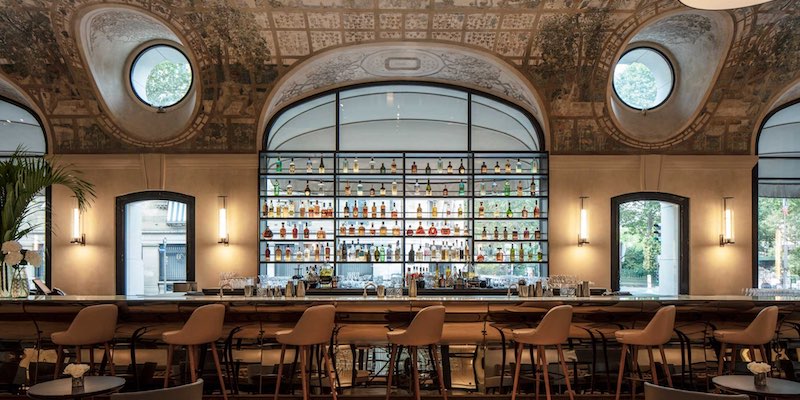 Renovated at a cost of €200 million, you can expect everything at this classic hotel to be fresh and updated to modern standards while still retaining the Art Deco charm of the original historic hotel. The rooms are now larger, the restaurants are better, and the spa is superb. Find out why you might want to stay in this luxurious hotel in Saint-Germain.
Hotel Lancaster
We say in our review that Hotel Lancaster exudes zen-like luxury, combining luxury styling with minimalism for a very relaxing atmosphere.
Rather small for a deluxe hotel, perhaps it's this that allows for the very personal service. For the best experience, consider the Marlene Dietrich Suite, named for the actress who lived there in the 1930s. You'll also find La Table du Lancaster, the hotel's restaurant that has earned a Michelin star.
Hotel du Louvre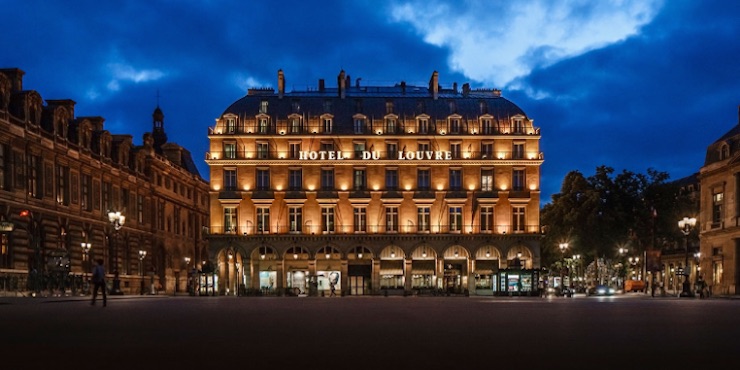 The grande dame of luxurious 5-Star hotels in Paris, the Hotel du Louvre was built in the 1850s, when Paris was expanding and blooming, and was anointed with five stars in 1887, the first hotel to hold that honour.
Even today the Hotel du Louvre retains its elegance and uncommon luxury. And the location? The hotel's name provides a clue to its amazing, central location. As in, The Louvre.
InterContinental Avenue Marceau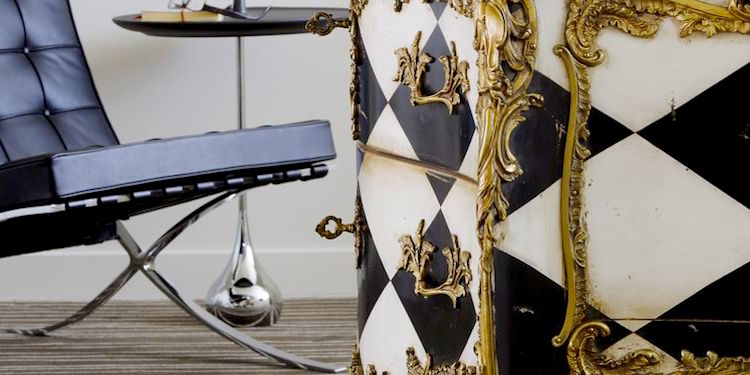 It's not often that we give a Highly-Rated tag to an InterContinental hotel, but the Paris Avenue Marceau breaks the corporate mold with a leading-edge design by a Philippe Starck compatriot.
But don't worry, comfort and downright luxury aren't compromised in the almost eccentric design. A very soothing space has been created, with lots of neutral tones combined with quirky details. The location is a quiet street radiating off the Etoile.

Hotel Napoleon Paris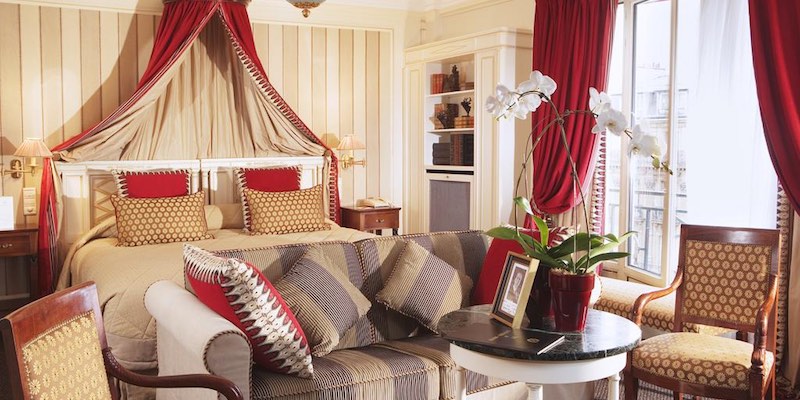 The history of the Hotel Napoleon is another piece of Paris legend. Wealthy Russian aristocrat, young Parisian girl, love in the 1920s. What better wedding present than a mansion in the 8th Arondissement of Paris?
Today that mansion, now the Hotel Napoleon, is owned by the same family and has recently been refreshed and upgraded to modern 5-star standards.
The same family that brought us the restored chateau Vaux-le-Vicomte has now opened a new 5-star luxury hotel in what was formerly their private mansion in Paris. A brand-new hotel of this calibre is rare in Paris and this one is full of luxury touches, tucked away in a private courtyard in the chic 8th Arrondissement.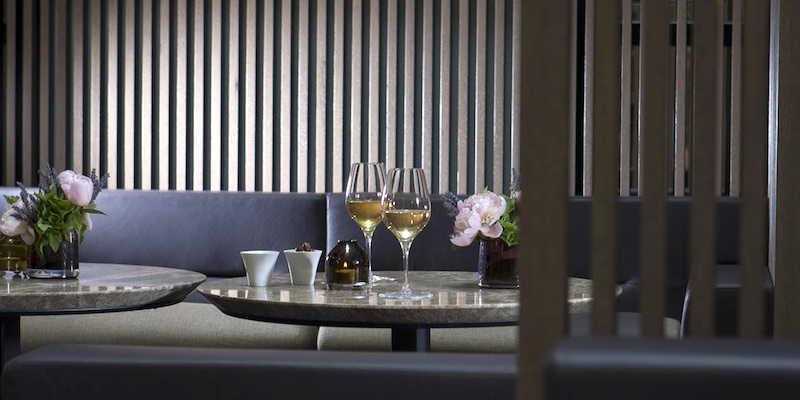 On a quite street in the bustling 9th Arrondissement is the new Hotel de Nell, a sophisticated five-star luxury hotel with an airy, clean design. The 19th-century Haussmannian building has been restored to its former glory while the renovated interior has all the current touches the modern traveler expects. Read our review, where we rate Hotel de Nell as Superb.