Our Top-Rated, Most Romantic Dinner Cruises In Paris
Our Top-Rated, Most Romantic Dinner Cruises In Paris
A dinner cruise is our number-one recommendation for visitors who want to see the city in a different way. How can you beat sipping champagne while being served a classic French meal while cruising the river in the City of Light. Outside the bateau's window are the iconic monuments lit up for your viewing pleasure. You'll look back and remember this Seine dinner cruise as the highlight of your time in Paris. Bienvenue à bord! — welcome aboard!

Our Top-Rated Seine River Cruises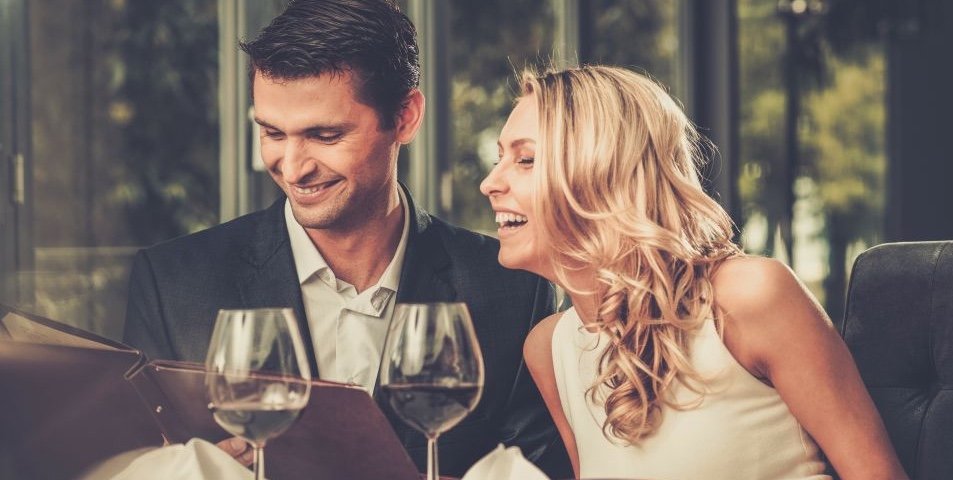 This is our top choice for a romantic dinner cruise over the course of a wonder-filled evening. This two-and-a-half-hour, slow cruise along the world's most beautiful river route is offered by Bateaux Parisiens, the most prestigious dinner cruise company in Paris. Marvel in the light show that is Paris in the evening, when all of the most famous monuments are lit up and visible from your boat on the river.
The evening starts on the banks of the Seine at the foot of the Eiffel Tower. Be sure to choose the Service Premier option. You will be rewarded with front-of-the-line entry as well as VIP seating at the front of the boat for the best views and the best service.
The four-course dress-up dinner includes a variety of wines, coffee and liqueur. There is champagne served both at the beginning and the end of the dinner. The view and the leisurely pace are fantastic. There's nothing to do but to take in the many aspects of this beautiful city as the sun sets and the buildings light up. Did we mention the champagne?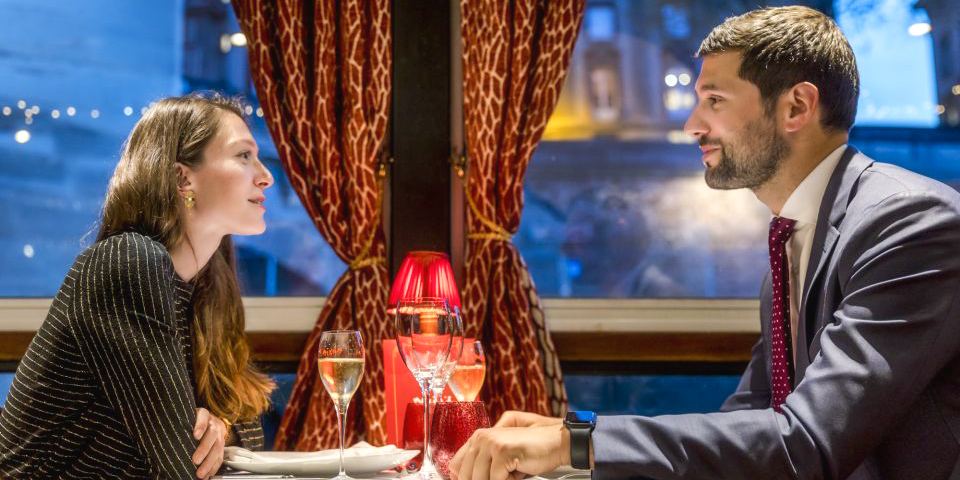 We think you're going to love this new dinnertime cruise that joins the Seine River with Maxim's of Paris, the Belle Époque bistro that debuted at the 1900 Paris Exposition. On this evening cruise you'll dine on specialties made famous at the historic bistro as you admire the lights of the city. With VIP treatment, including guaranteed window seating for the best views, you'll be immersed in an unforgettable romantic atmosphere. Travelers are are raving about the delicious meal, live jazz and friendly service.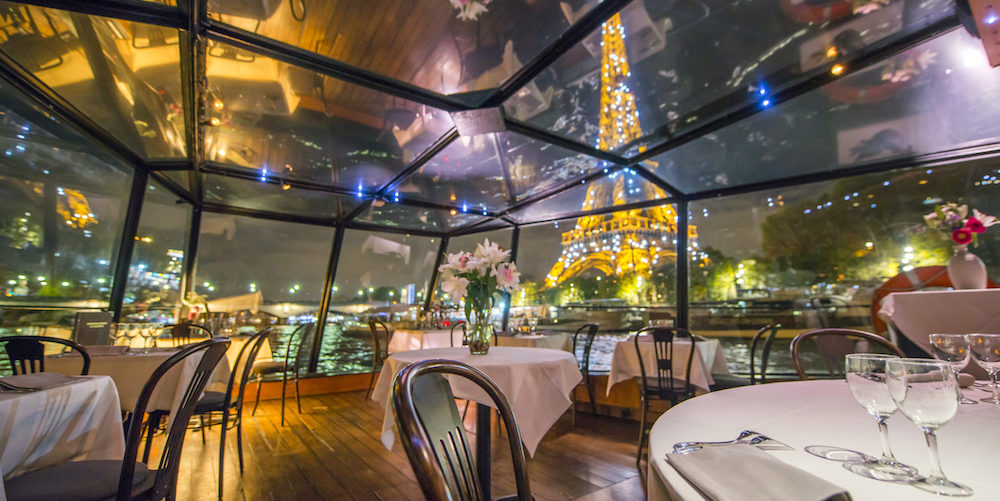 A Seine river cruise is an essential activity, so why not combine it with a leisurely dinner? This highly-rated Seine river cruise is conducted by Bateaux Mouches, a Paris river boat company that sails from a dock on the Right Bank. You'll relax in the glass-walled boat while a classic French dinner is served. Outside your window are spectacular views of the City of Light.
For the best experience, book the Dinner-Cruise Excellence option for a priority window table and a bottle of wine or champagne. Travelers are loving the experience: "Seeing the Eiffel Tower lit up was absolutely breathtaking."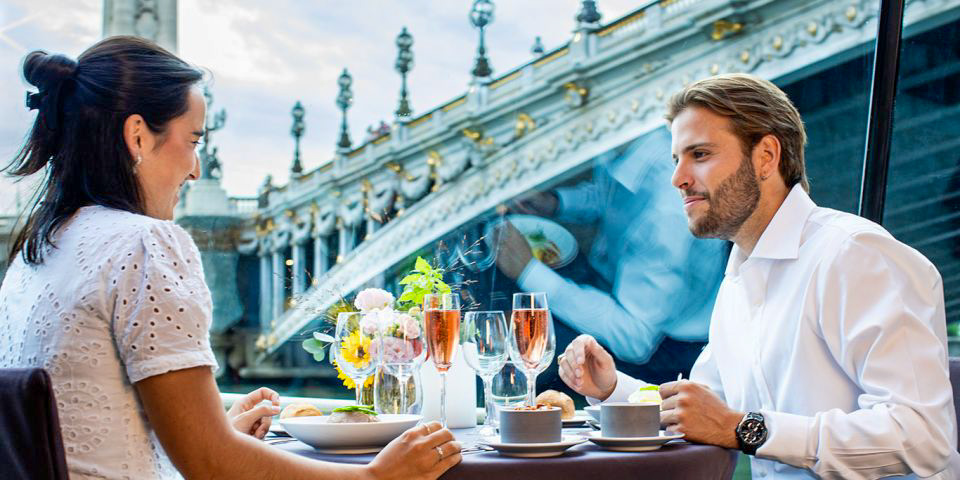 This sunset dinner has the advantage of showing you the best of Paris as day turns to night. Travelers rave about the scenery at sunset and the delicious French food. We insist you choose the Romance Package, with a guaranteed window seat, rose petals on your table, a bottle of chilled champagne, and a special heart-shaped chocolate fondant dessert. Aprés dîner there's time to stroll along the banks of the Seine. Romance will be in the air.
If you still have some pep in your step, consider this fun dinner cruise offered by our friends at Le Diamant Bleu river cruise line. This bateau is more casual than others and adds live music, a DJ, and a dance floor. But when it comes to dining, the multi-course meal is all business with classic French ingredients like truffles, long-simmered lamb, roasted vegetables, and desserts including a caramelized pear with vanilla crunch. The VIP option (our recommendation) is limited so book now.

Should I Choose an Upgrade for My Dinner Cruise?
In a word, yes. You may notice that we gently urge you to choose options such as Service Premier, Excellence, or the Romance package. Upgrades are well worth the investment when you consider that they include extras like champagne, more champagne, a better menu, seating at the front of the boat, and a few culinary surprises.
Best of all, you'll have the most desirable seats in the house… we mean, cabin! Who doesn't love being at a premier table close to a window, with privacy and a view onto the most spectacular sights of Paris? To our way of thinking, you're in Paris to feel like you're special and to get VIP treatment whenever possible.
What You Can Expect When You Dine on the Seine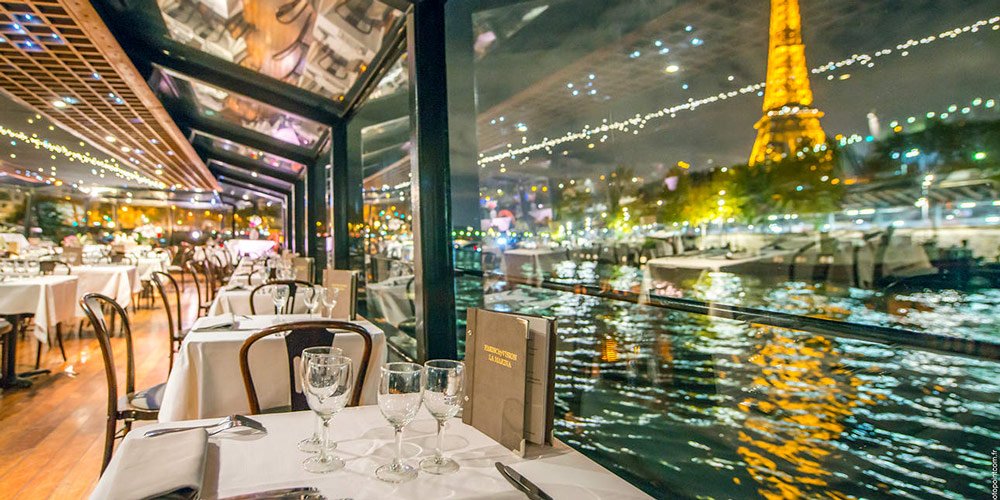 We've observed that the French consider good food essential to their culture. And so, on a Seine River dinner cruise, you can expect a fabulous multi-course meal with champagne & wine. Although the menus change with the seasons here's an idea of the type of menu you are likely to find on one of these dinner cruise along the city's beautiful river. All cruises offer vegetarian menus as well.
Entrée (first course)
• Marinated Scottish salmon over baby greens, or
• Foie gras with truffle shavings, or
• Chilled prawns, herb vinaigrette & baby vegetables, or
• Lobster chaud-froid cream sauce & a vegetable melange
Plat (main course)
• Beef filet with morel mushroom cream sauce & fresh pasta, or
• Duck breast with fig sauce & baby potatoes, or
• Grilled Veal with pomegranate sauce, chanterelles & rice pilaf, or
• Sea bass filet with grilled zucchini, olives & basil
Dessert
• Chocolate entremets — classic chocolate dessert selection, or
• Raspberry schuss — a vanilla and raspberry cake, or
• Raspberry macaron, or
• Vanilla and strawberry vacherin — a meringue-filled with cream and fruit
To Drink
In France, it's common to have an aperitif before dinner. Popular choices include kir (creme de cassis & white wine), a glass of champagne, or even a glass of fruit juice — we prefer a glass of rosé champagne. With the meal, wine is always the right choice! There will be a sommelier on board who can help with your selection.
Details
It's also common in France to pay a little extra (called a supplement) for some of the special items on a menu. This might mean a supplement is added for the cheese course, or if you select higher priced-items like lobster or foie gras. In general, the standard (lowest) price is offered on the menu and the high rollers can tailor their menu with extra supplements. And of course, vegetarian options are almost always available.
What to Wear on a Paris Dinner Cruise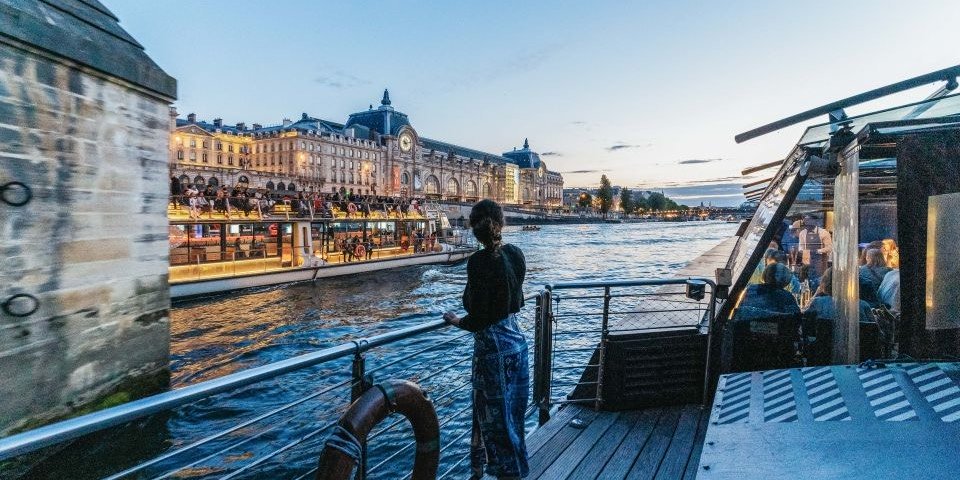 The dress code for the cruise is smart casual, meaning a blazer for men and elegant attire for women. It may sound obvious, but sportswear — including running shoes, baseball caps, flip-flops, crop-tops — are interdit (not allowed). This is a night to dress up! Here's your chance to wear your best dress, your best suit, your coolest shows, to be your best. It's a time to celebrate your evening in Paris in style.
The Boat Stops Here
Your travel e-documents will indicate where along the Seine you board your bateau. Check-in usually ends 15 minutes before departure time, so get there twenty to thirty minutes in advance. Better early than late. Here are the ports and quais where the various dinner cruise boats dock.
1. Port de la Bourdonnais
Located on the river across from Musée du Quai Branly, boats docking at Port de la Bourdonnais board at either Pontoon No. 5 or No. 7. Easy access from the Eiffel Tower.
• Metro – Trocadero, Bir-Hakeim
2. Port de Solférino
Sitting on the banks of the Seine in front of Musée d'Orsay, Port de Solférino is easy to find and easy to access at the base of the pedestrian bridge, Passerelle Léopold-Sédar-Senghor.
• Metro – Assemblé Nationale, Solferino
3. Quai Anatole France
Along Quai Anatole France, which runs downriver from Port de Solférino, is another bateau docking point. This quai, now closed to automobile traffic, has become a favorite destination for walkers.
• Metro – Assemblé Nationale, Solferino
4. Port de la Conférence
Head to the Right Bank, between Pont l'Alma and Pont des Invalides for the dock at Port de la Conférence. There's a staircase off of Cour Albert 1er (which is itself next to Voie Georges Pompidou) that takes you directly to the dock.
• Metro – Alma-Marceau
5. Quai d'Austerlitz
Quai d'Austerlitz is upriver, beyond Jardin des Plantes and Gare d'Austerlitz on the Left Bank in the 13th Arrondissement, yet it's easy to get to using the Metro. In fact, there's a lovely walk along the river from the Metro station to the dock.
• Metro – Quai de la Gare

Discover What's On When You're Here...
Discover What's On When You're Here
Scenes on the Seine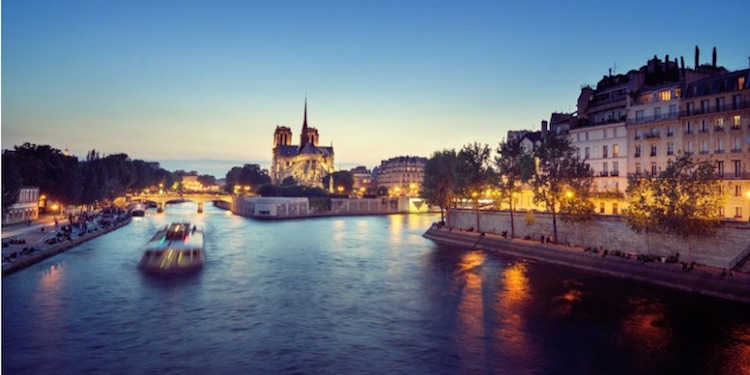 Viewing Paris from a dinner boat on the river you quickly realize just how many of the city's sights are found along the banks of the Seine. Iconic landmarks are strung along the river like pearls.
A typical Paris dinner cruise sails the boat below Notre Dame Cathedral, passing the Louvre, the Hotel de Ville, and the Conciergerie. Most boats turns around at the Institut du Monde Arabe and heads towards Île de la Cité for another, closer view of Notre Dame, before cruising past Musée d'Orsay towards the Eiffel Tower. You may even head downstream a bit to view the Statue of Liberty on L'île aux Cygnes. Here are some of the celebrated sights the boats pass.
The Eiffel Tower
Pont Alexandre III
Les Invalides
Musée d'Orsay
Grand Palais
Petit Palais
Pont des Arts
Institut du France
Île de la Cité
Notre Dame Cathedral
Hotel de Ville
Louvre Museum
Place de la Concorde
The Statue of Liberty
Three Dinner Cruise Companies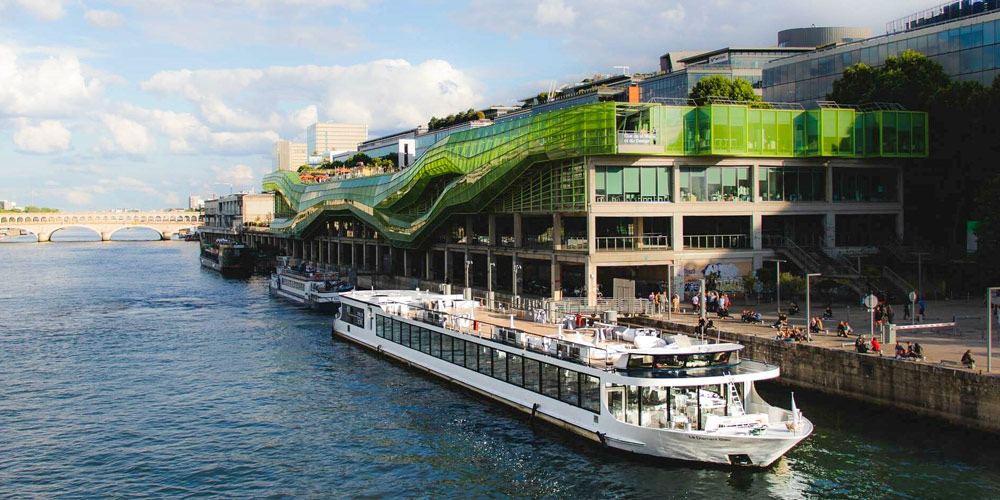 1. Bateaux Parisiens – Savoir-Faire Since 1956
Bateaux Parisiens was founded in 1956, and has become one of the leading river boat companies in Paris. With a fleet of a dozen boats, their Seine river dinner cruises pass beneath twenty-five bridges, and sail past just as many monuments. For the past few years, Bateaux Parisiens has been upgrading their fleet with innovation and sustainably in mind. The cruise cuisine emphasizes freshly-prepared meals made on board by a French chef and team. Bateaux Parisiens board at Port de La Bourdonnais in the 7th Arrondissement.
2. Bateaux Mouches – Elegance Beginning in 1949
Founder Jean Bruel began Bateaux Mouches in 1949 with a single steamboat salvaged from the Paris Universal Exhibition of 1900. His novel idea was to offer guided tours on the Seine River. Today, the cruise company has a fleet of fifteen boats that host more than two million Parisians and travelers each year, making Bateaux Mouches the fourth-most-visited attraction in Paris, after the Eiffel Tower, the Louvre Museum and the Pompidou Centre.
All the boats feature open-air top decks and all dining tables are next to windows, providing amazing views of the Seine. A team of professional chefs prepare the dishes on board with fresh, seasonal ingredients. The Bateaux Mouches dock is found near Pont de l'Alma on Port de la Conférence.
3. Le Diamant Bleu – Build It And They Will Come
Designed by restaurateur Alain Daien, whose dream was to build a yacht that could accommodate dinner cruises on the Seine, Le Diamant Bleu launched in 2015 — an innovative, modern high-tech concept by launching jewel, with two levels, including an expansive rooftop deck. Le Diamant Bleu offers comfort, clean lines, and panoramic windows for exceptional views. Board Le Diamant Bleu at 36 Quai d'Austerlitz in the 13th, under Cité de la Mode's green facade.