Train Travel In France – Making Traveling A Pleasure Again
Happily for those of us who travel to Paris and then to the rest of France, the country has one of the most efficient and most convenient rail systems in the world. SNCF (Société Nationale des Chemins de Fer), the public French national railroad system, serves almost every town in la Belle France.
France rightly takes great pride in its trains, including the world-famous TGV system (Trés Grande Vitesse). These and other high speed trains whoosh you to your destination in less than half the time it would take you to drive. The TGV and other supercharged trains serve all of France's major cities, including Angers, Avignon, Bordeaux, Dijon, Lyons, Strasbourg, Toulouse, Tours, and many others. Let's take a look at the extensive rail system, the easy way to buy your tickets, and the gares (train stations) of Paris.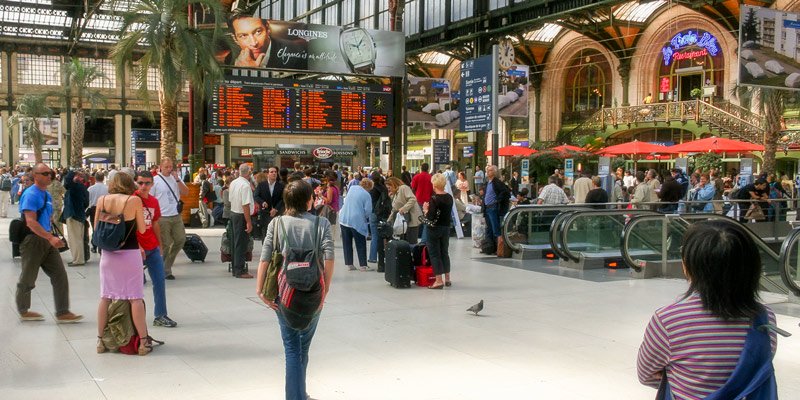 All of France and Europe are connected by rail, and, since Paris is a rail hub, traveling by train from Paris can get you almost anywhere on the continent, and quickly. Discover how to get where you want to go, and the best way to buy your train tickets before you leave home.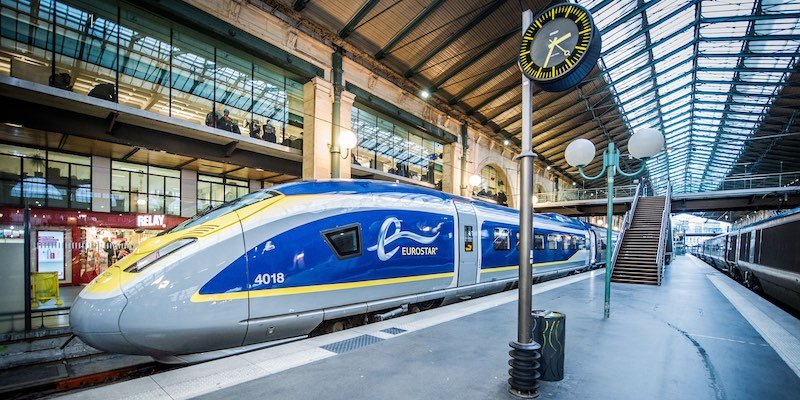 In only two hours and fifteen minutes, traveling in a luxury rail coach, you can zip from London to Paris — or back the other way. The internally-famous Eurostar that connects London & Paris is by far the the best way to travel between those two capitals. We've done it both by flying and railing and we can attest that the train beats airline travel hands down. You end up at the center of the city refreshed and ready to enjoy your time. We'll give you the details.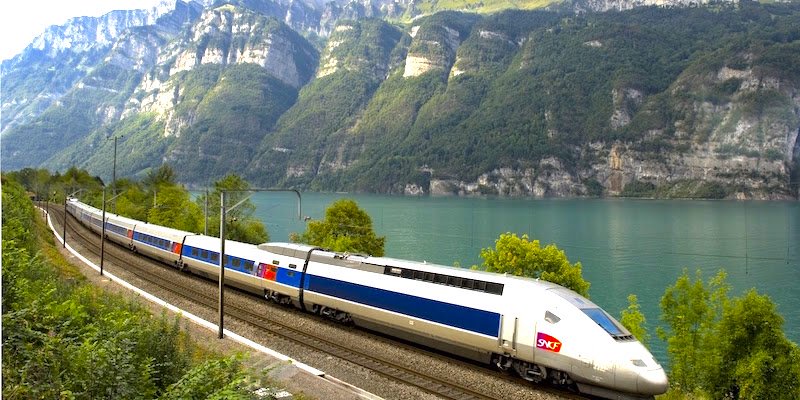 Buying train tickets online to print out (or send to your device) has become so easy in recent years that we've had to completely rewrite this section. Instead of purchasing a rail pass, or ordering from travel agent or ticket seller, or having tickets mailed to you, now you can simply buy online from a trusted source and partner of SCNF, the French rail network.
How easy is it? Try it — click on the link below and you'll be taken to an easy-to-use order form. Put in your departure and arrival stations or cities, choose the date and time of day you prefer… and that's about it! At the end of a process that takes only minutes you'll have your tickets (or e-tickets) in hand (or in device). We just wish it had been this simple in the past!
An important thing to know is that tickets for most European routes only become available three months before the travel date. For example, if you want to travel from Paris to Avignon (to pick a less-than-random example for us) on October 15, you can book and download your tickets starting on July 15. And so on.
To catch your train you'll need to know a bit about the gares of Paris. The six Paris train stations are where you make your connection to all of France and the rest of Europe. In our guide we'll tell you how to reach your gare, what destinations are serviced by each of the six Paris train stations, and how to book train tickets online.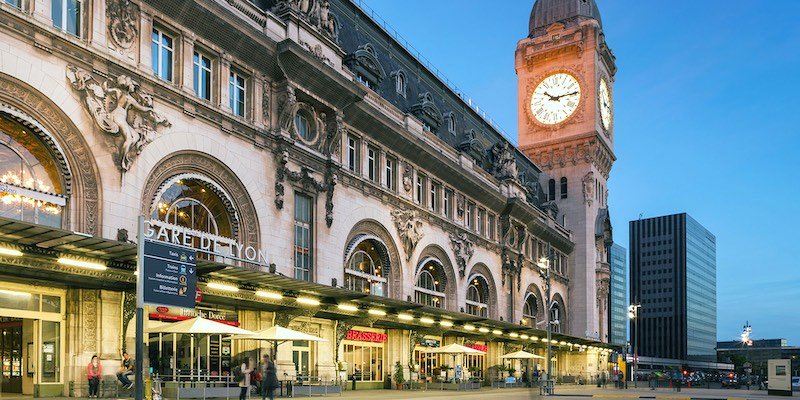 Of the six train stations in Paris we have a special fondness for Gare de Lyon in the 12th Arrondissement. We love the look and feel of the place, both inside and out — the clock tower alone signals that there's something special here. Built in the height of the Belle-Époqu era (1900) it's where we've been lucky enough to have boarded numerous trains to Provence and other points south.
History, beauty, utility, destinations — for us Gare de Lyon has it all.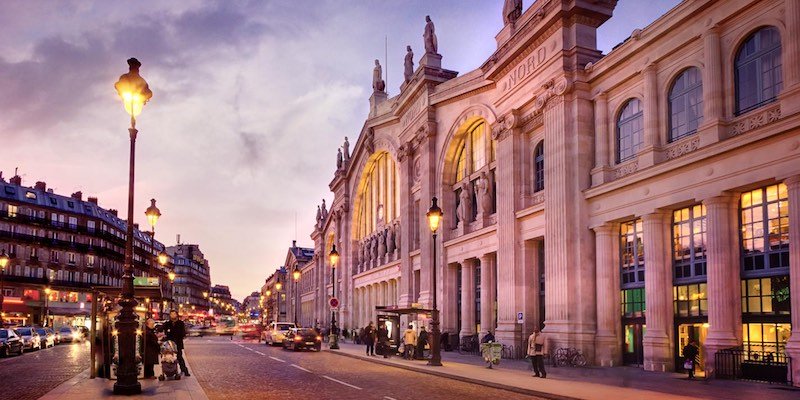 The busiest gare in Europe, it's from Gare du Nord that you catch trains to northern France and northern European cities like Brussels, Amsterdam, and Cologne. It's also where you find the luxurious Eurostar high-speed train to London. Discover where you can get to from here, the Metro lines that service the gare, the shopping, dining, history, and where to buy train tickets.
Gare Saint-Lazare is the second busiest train station in Paris, but local commuters make up 95% of the daily traffic. For visitors and other travelers, the gare is the gateway to Versailles, Monet's gardens in Giverny, and the cities and coast of Normandy, including the D-Day landing beaches.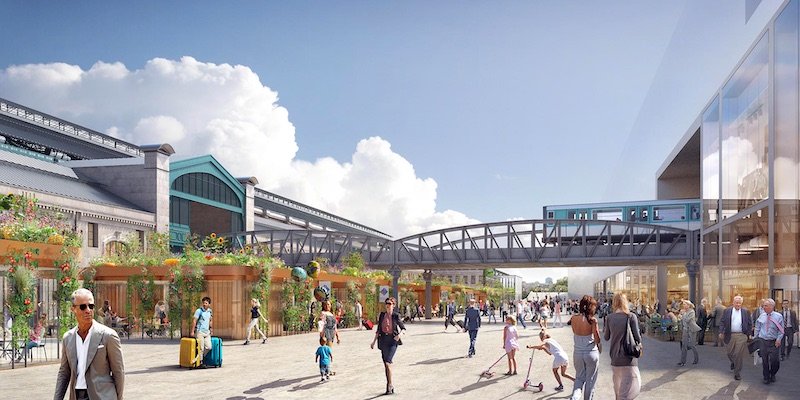 Gare d'Austerlitz is found at the northernmost tip of the 13th Arrondissement, right across from the Jardin des Plantes. For close to two centuries, Austerlitz has served the central part of France located due south from Paris, right down to the Spanish border, including Orléans, Limoges, and Cahors.
A €290 million expansion and restoration of the station (2016-2022) added new platforms and refurbished all the existing tracks. The station now has room for the high-speed trains that service the Lyons region and trains that go southwest to Le Mans and Tours, taking some of the rail burden from the even busier Gare de Lyon and Gare Montparnasse.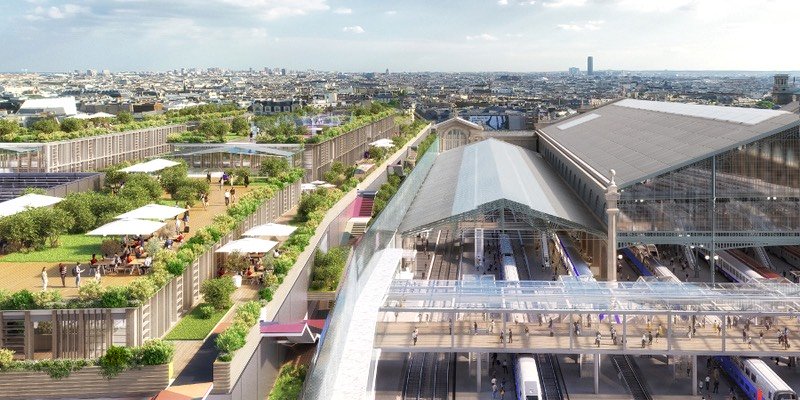 Rail service in France is always improving, and that applies to the train stations — gares — of Paris. To prepare for increased traffic during the 2024 Paris Olympics, to plan for the future, and to make riding the train an even more enjoyable experience, four stations in Paris are seeing major changes, expansions, and improvements. Let's find out what's happening at Gare du Nord, Gare de Lyon, Gare d'Austerlitz, and Gare Montparnasse.