The Paris Explorer #2 – Discover The Waterfalls Of Paris
Like "werewolves of London", hearing the words "waterfalls of Paris" makes you wonder if such a thing really exists. After all, Paris is a fairly flat city (except for, say, Montmartre and Belleville). How are waterfalls possible? Ingenuity, that's how. All of these waterfalls are man-made, created by redirecting streams and by using hydraulic pumps. Come with The Paris Explorer on a trip to the 19th century, where it all started with Napoleon Bonaparte's nephew.

Our Top-Rated Paris Experiences
1. La Grande Cascade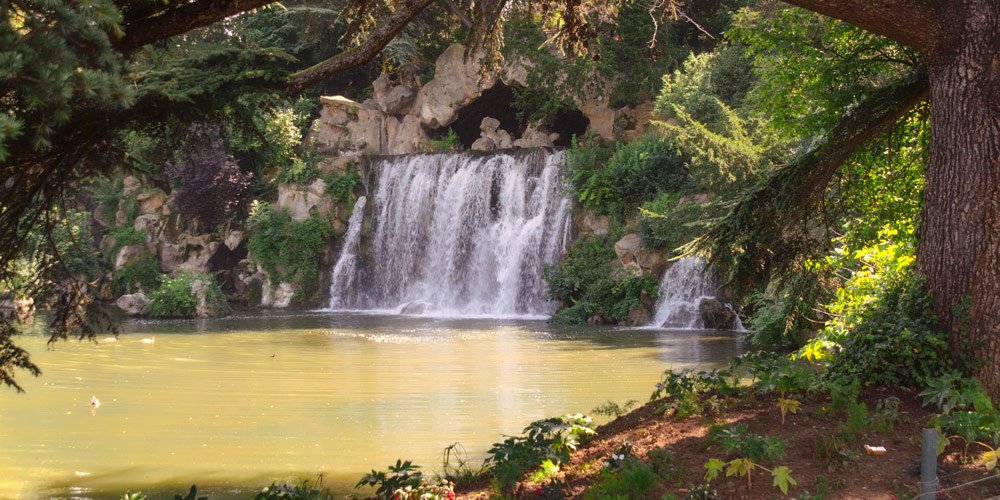 La Grande Cascade, Bois de Boulogne, photo by Mark Craft
Napoleon III, an emperor like his more-famous uncle, loved waterfalls as much as he loved hunting. So, when he ordered the massive renovation of Paris in the second half of the 19th century he was going to make sure there were waterfalls involved.
He instructed his city planner, Baron Haussmann, to turn the royal forest on the west of Paris, Bois de Boulogne, into a large park complete with lakes, 420,000 trees, waterfowl, and deer to hunt. And to satisfy his watery urges, a big waterfall. La Grande Cascade was built with a few tons of rock brought in from Fontainebleau. The lakes and the waterfall are fed with water from from a canal on the Ourcq River, so that in this case the waterfall is gravity-fed.
The water tumbles over two artificial grottos built by Haussmann into a small lake. What's special is that you can walk inside the grottos behind the cascade and view the lake and the park through the falling water.
Napoleon III was so enamored of his big waterfall that he had a hunting cabin built next to it. That hunting lodge was later expanded and turned into what is today a Michelin-starred restaurantalso called La Grande Cascade, one of our most enjoyable restaurant experiences in Paris.
Allée de Longchamp
Bois de Boulogne, 16th Arrondissement

Discover What's On When You're Here...
Discover What's On When You're Here
2. The Waterfall of Parc de Bagatelle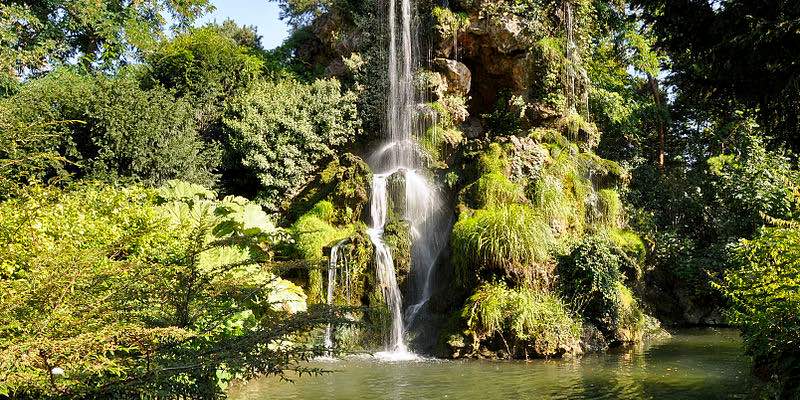 Waterfall at Parc de Bagatelle, photo Wikimedia by Moonik
Also at Bois de Boulogne is a kind of park within a park. Chateau de Bagatelle sits in its own grounds with gardens that today are famous for their roses. This parc was the playground of the 18th-century rich and famous. Louis XVI's brother bought the estate in 1775 and contemplated building a small chateau there. Marie-Antoinette bet her brother-in-law that the new chateau could not be built in three months or less. Sixty-three days later the building was complete and Marie lost the bet.
Building the chateau cost over three million of whatever the currency was back then, but the rich and famous could afford to waste money on things like that. That is until the French Revolution, ten years later. Following that event the Parc de Bagatelle changed hands numerous times and at some point, probably in the later 19th century, a waterfall was built here.
This is a taller, more cascading waterfall than La Grande Cascade, with narrow streams coming from a high rocky point and tumbling down on stones and vegetation below. You can also walk behind it. There's a small fee of a few Euros to enter Parc de Bagatelle, at least in the warm months.
By the way, Bagatelle has another Paris-and-water connection. One of the last private owners of the estate was an Englishman, Sir Richard Wallace. (Bagatelle was purchased by the City of Paris in 1905.) Following the hardships of the Prussian seige of Paris in 1871, when food and water were scarce, Wallace donated 50 fresh water fountains to the city. You can still find many of these today in Paris. They are green, about eight feet tall, with four female figures holding up a dome on top. And they still bear the donor's name — Wallace Fountains.
Route de Sèvres à Neuilly
Bois de Boulogne, 16th Arrondissement

3. Waterfall at Parc des Buttes Chaumont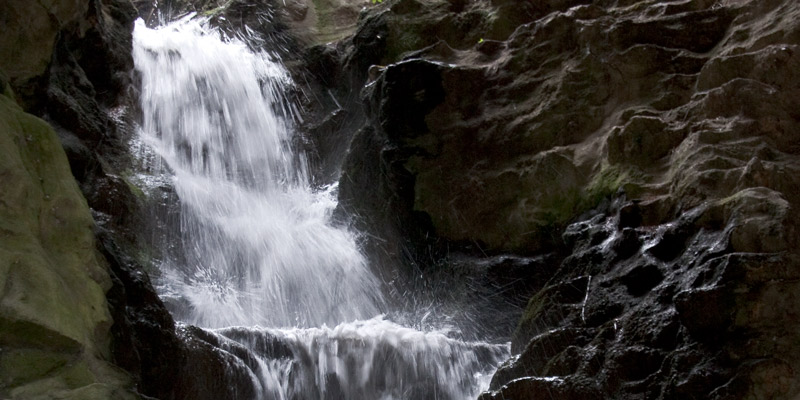 Parc des Buttes Chaumont, photo by Mark Craft"
On the other side of Paris is another park, built during Napoleon III's renovation of Paris, by the same engineer Haussmann had used at Bois de Boulogne, Jean-Charles Alphand. Not surprising, Parc des Buttes Chaumont also features a waterfall.
The site started as a big hole in the ground — the limestone blocks used in constructing Paris buildings were mined here. To build a park out of this site everything was cleaned up, tons of topsoil were brought in (along with, it is said, tons of horse manure collected from the streets of Paris), and the original hills (buttes) were dynamited to create the jagged peaks we see today.
Once again water from the Ourcq Canal was diverted here, but pumps are used to raise the water to the highest point, creating a dramatic waterfall. Today you can still walk underneath the cascade right where it falls into the lake below.
Parc des Buttes Chaumont is a good place to unwind and to let the kids run around. There's a lovely suspension bridge designed by Gustave Eiffel. Be sure to climb up to the Temple de la Sibylle for a wonderful view of Montmartre and Sacre-Coeur.
Metro Buttes-Chaumont, Line 7B
19th Arrondissement